PRISM+ is a Singaporean brand known around the region for doling out impressive monitors that are serious bang for your buck; their new X340 Pro 165Hz curved ultrawide gaming monitor is no different thanks to its plentiful features.  
For just RM1,799, we think this affordable ultrawide 1440p is a fantastic option if you're looking to upgrade your gaming rig. 
What's in the box and assembly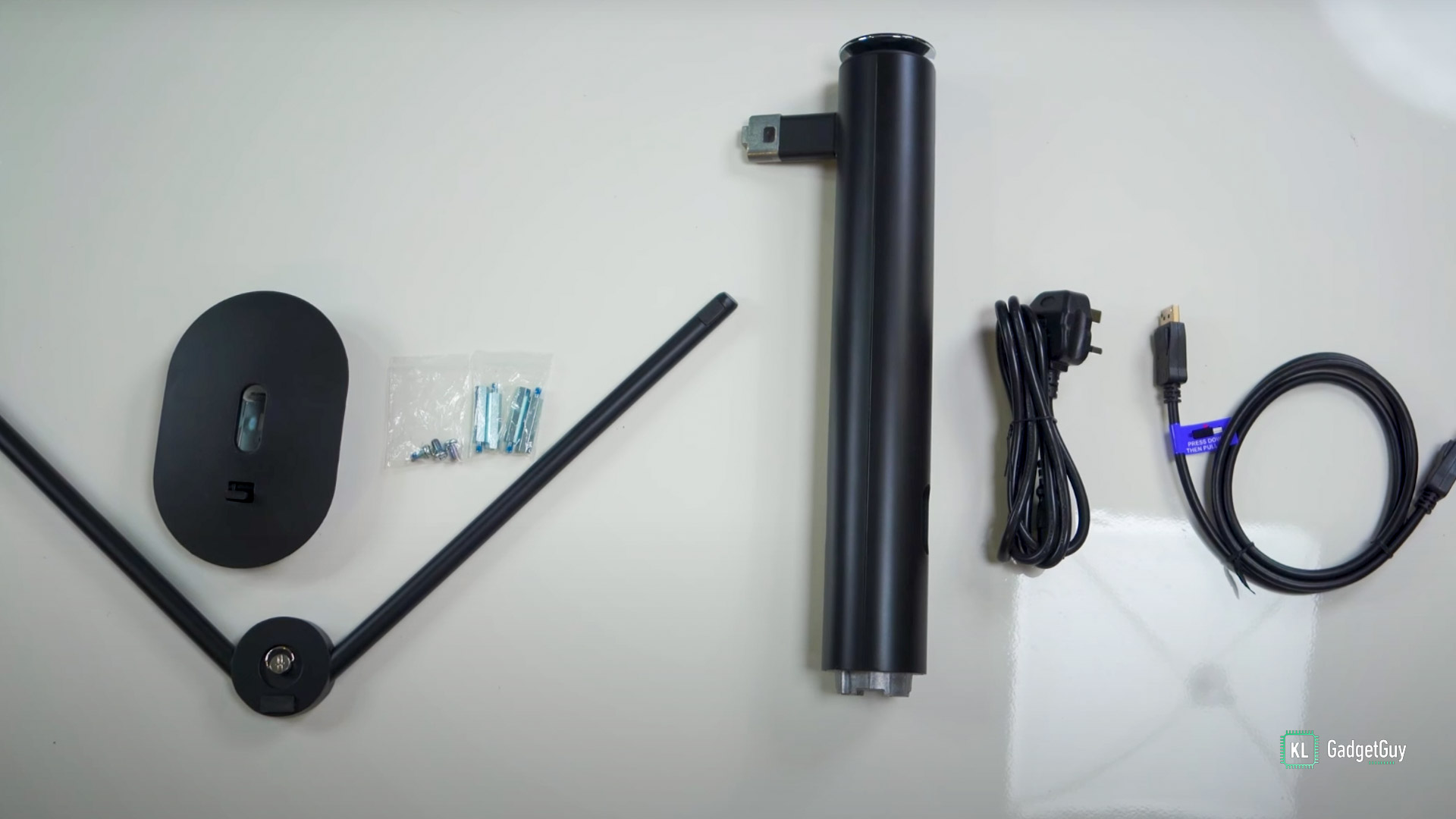 One of the reasons that make the X340 Pro 165Hz so enticing is its simple assembly process that only requires screwing in two to three nuts. All you need comes in the box including the stand, base, screws, and spacers if you want to wall mount. Simply assemble as instructed in the manual. 
Then, retrieve the included power cable, and the DisplayPort cable and hook them up to your PC. The entire process took me about 10 minutes to complete! 
Design
The monitor is all black which will fit most setups – the stand and base are sturdy and well-built; however, the stand protrudes quite a bit, so you will need quite a bit of space for this to fit. The reason for it being so hefty however, is so that it can properly support the display itself.
With that said, the device isn't all that heavy – for a 34-inch monitor, it weighs a standard 7.7KG – so moving it around a spacious table shouldn't be hard. 
Speaking of the stand, it has height adjustment, tilt, and pan – the full gamut. Also neat is a circular blue lighting accent at the back that adds a little flair to the otherwise muted overall aesthetics.
On top of that, the monitor boasts pretty thin bezels that, allows more screen real-estate and improves gaming immersion. 
At the bottom are five buttons for controlling your on-screen display menu as well as the power, and they're generally easy to navigate. 
Ports
In terms of ports, you get two HDMI 2.0 ports, two DisplayPort 1.4s, and one audio output jack – and no it doesn't come with built-in speakers. A nice little touch is a removable cover that keeps the back looking neat, and if you need to plug anything in, just pull the cover off.  
Display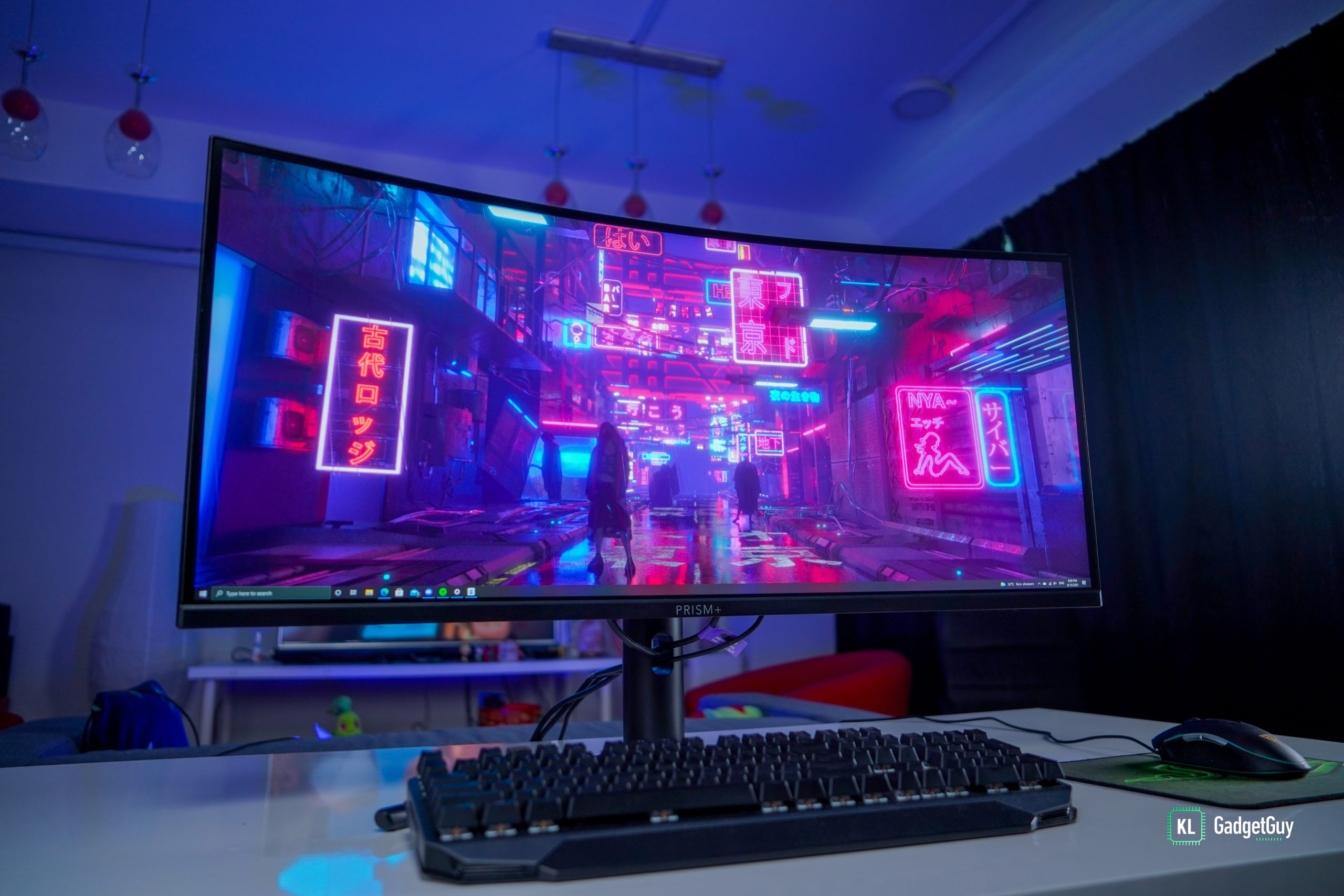 The X340 Pro 165Hz comes with an ultrawide 1440p VA panel with a 120% sRGB color gamut and HDR support. The display has a 1500R curve and I have to say, it looks great for a VA monitor. Colours pop and images look decent – but you do have to do your own calibration and make sure it's comfortable for you to look at. 
For gaming, it has an impressive 1ms response time, plus adaptive sync to minimize screen tearing. The panel's sheer size and subtle curve make gaming feel immersive – story-driven games feel the best on this especially with HDR turned on. But support for the 21:9 aspect ratio is still not very common – sometimes menus and cutscenes look off; but the gameplay usually works just fine.  
Also, for e-sports titles, the 165Hz refresh rate is a treat – but the catch is, a 34-inch monitor and that 21:9 aspect ratio may not be ideal for shooters where you need to see everything on screen all the time and be able to flick aim. Being the old-school gamer that I am, I like bumping down the aspect ratio to minimize the screen space I have to swipe across while aiming. 
For movies, with HDR again, content that supports the feature is great – but that 21:9 aspect ratio isn't widely supported – even if it's just the consequence of it being an ultrawide monitor. This is especially apparent on Netflix, but there are some hacks to get it to work, but I'm not getting into that.  
What huge screen is really good for is productivity – opening up programs side by side doesn't make either too small to see. Plus, video editing is great because you see more of your timeline. On top of that, there's PIP and PBP mode – so you can have the PlayStation on the main display while monitoring your crypto charts using your PC in the next panel. 
Verdict
The PRISM+ X340 Pro 165Hz offers a lot for RM1,799 – it's a monitor you should get for gaming, especially if you're into single players. If you don't mind playing at 21:9 aspect ratio, then e-sports titles work a treat as well thanks to the 165Hz refresh rate. 
It's great for productivity thanks to its ize, and it's relatively easy to set up and move around. Content consumption is its weakest point if you don't like seeing black bars when watching 16:9 content. 
With all that said, the X340 Pro 165Hz is a fantastic value option for that next PC rig upgrade that you're planning. If you're interested in getting it, visit the links down in our description below, and if you live within Klang Valley, the brand's Petaling Jaya warehouse can dispatch your unit pretty fast as well. 
Visit their website here to make your purchase. 
The Good
Easy to set up
165Hz refresh rate
Neat design
Good colour output
Plentiful features
The Not so Good
Protruding stand
Lack of USB ports
21:9 ratio not very commonly-supported