Today, Dreame Malaysia launched its DreameBot L20 Ultra Robot Vacuum, claiming it to be the first of its kind with Mop Extend Technology and an impressive 7000 Pa suction capability that ensures even corners are not neglected.
As for its features, the Dreame L20 Ultra is equipped with the unique MopExtend Technology, allowing the mop pad to extend up to 2mm from the edge. This is made possible through its state-of-the-art edge sensors that automatically detect corners and edges, thereby enhancing its ability to clean dirt, hair, dust, and even stubborn stains in hard-to-access spots. Additionally, the vacuum provides cleaning mode customization options that enable the device to either lift the mop pad up to 10.5mm or remove it entirely to avoid wetting carpets.
The vacuum also incorporates the advanced DuoScrub Mopping System, which uses two high-speed rotating mops to scrub surfaces under pressure without leaving any residue. The Vormax Suction System amplifies its cleaning prowess with a 7000Pa suction power, courtesy of sophisticated airflow engineering and a well-optimized brush design. Remarkably, the device operates quietly due to its auto-liftable vacuum brush feature.
Furthermore, the DreameBot L20 Ultra is the first robot vacuum in Malaysia to include a Smart Water Kit, a specially designed water tank and pump system that automatically refills clean water and drains dirty water. The device also offers a hassle-free maintenance experience with its 75-day 3.2L dust bag capacity and DualBoost 2.0 technology. All that's needed is to discard the dust bag; the mop is self-cleaning and even hot-air dried.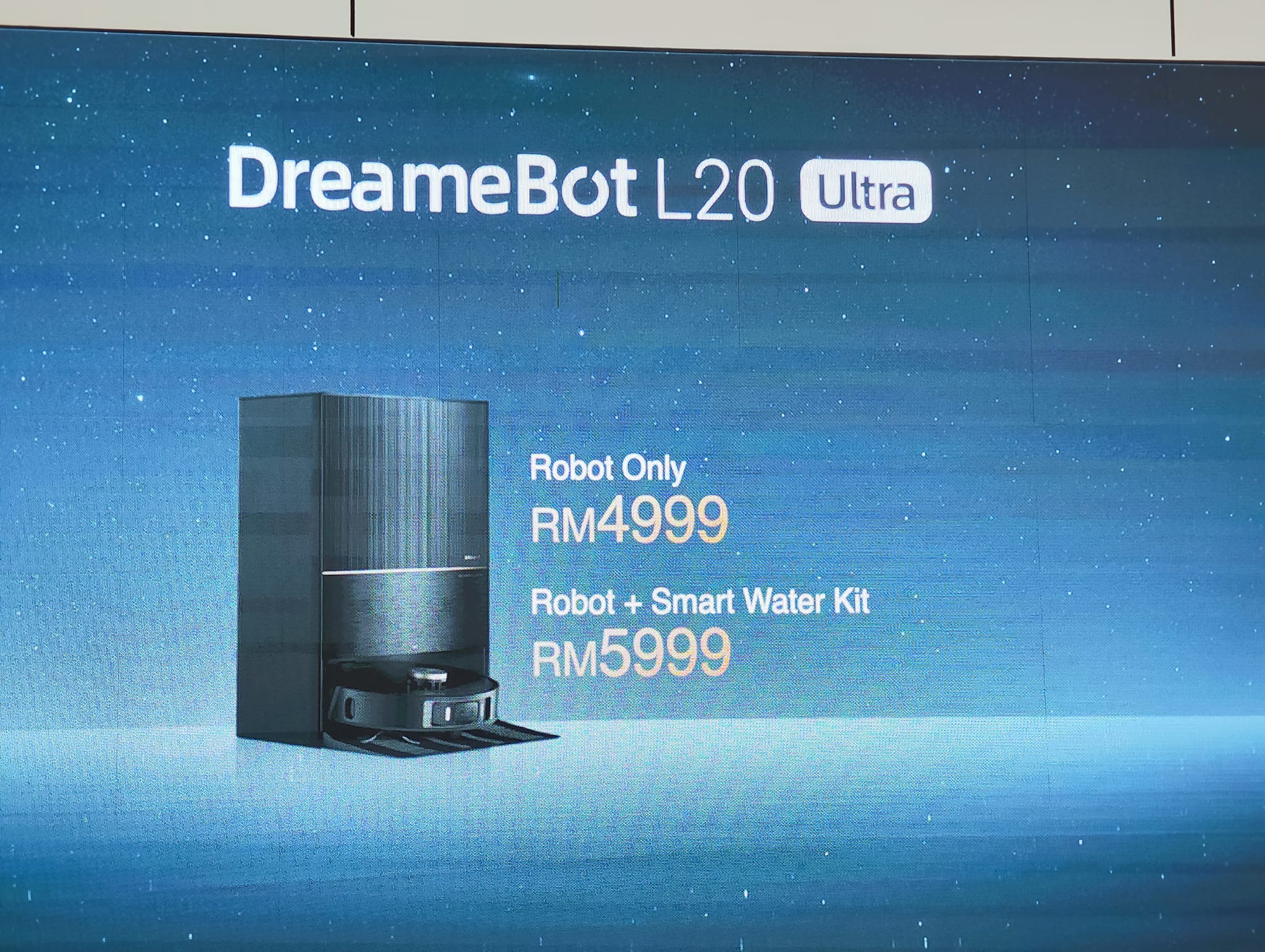 The DreameBot L20 Ultra is currently available for purchase at Dreame Malaysia's Official Stores on multiple online platforms. The robot vacuum is initially priced at RM4,999 and RM5,999 with the Smart Water Kit. However, an exclusive promotion offers a RM500 discount, lowering the price to RM4,499 and RM5,499 with the Smart Water Kit. Each purchase includes a complimentary Hair Gleam Hair Dryer, available until September 9, 2023.
Head here to purchase the DreameBot L20 Ultra.