Aside from launching the TCL 40 NXTPAPER smartphones, TCL Malaysia has also launched its newest collection of Smart TVs today.
Their lineup features innovative models like the TCL C845 Mini LED TV and the TCL C645 4K QLED TV, engineered for diverse consumer tastes and requirements. These state-of-the-art televisions combine outstanding audio-visual performance with smart features, making them an ideal choice for contemporary homes.
In 2022, TCL reported impressive global sales of 23.78 million TV sets, capturing approximately 11.7% of the market share. Their stake further grew to 12.4% during the first half of this year. As part of its growth strategy, TCL invested a massive $39 billion in TCL CSOT, which specializes in display industry innovations since 2009. Over the past five years, TCL channeled around USD 6.5 billion into R&D across its forty-three global centers and has accumulated over 100,000 patents.
TCL C845 Mini LED TV: A New Standard in Viewing Experience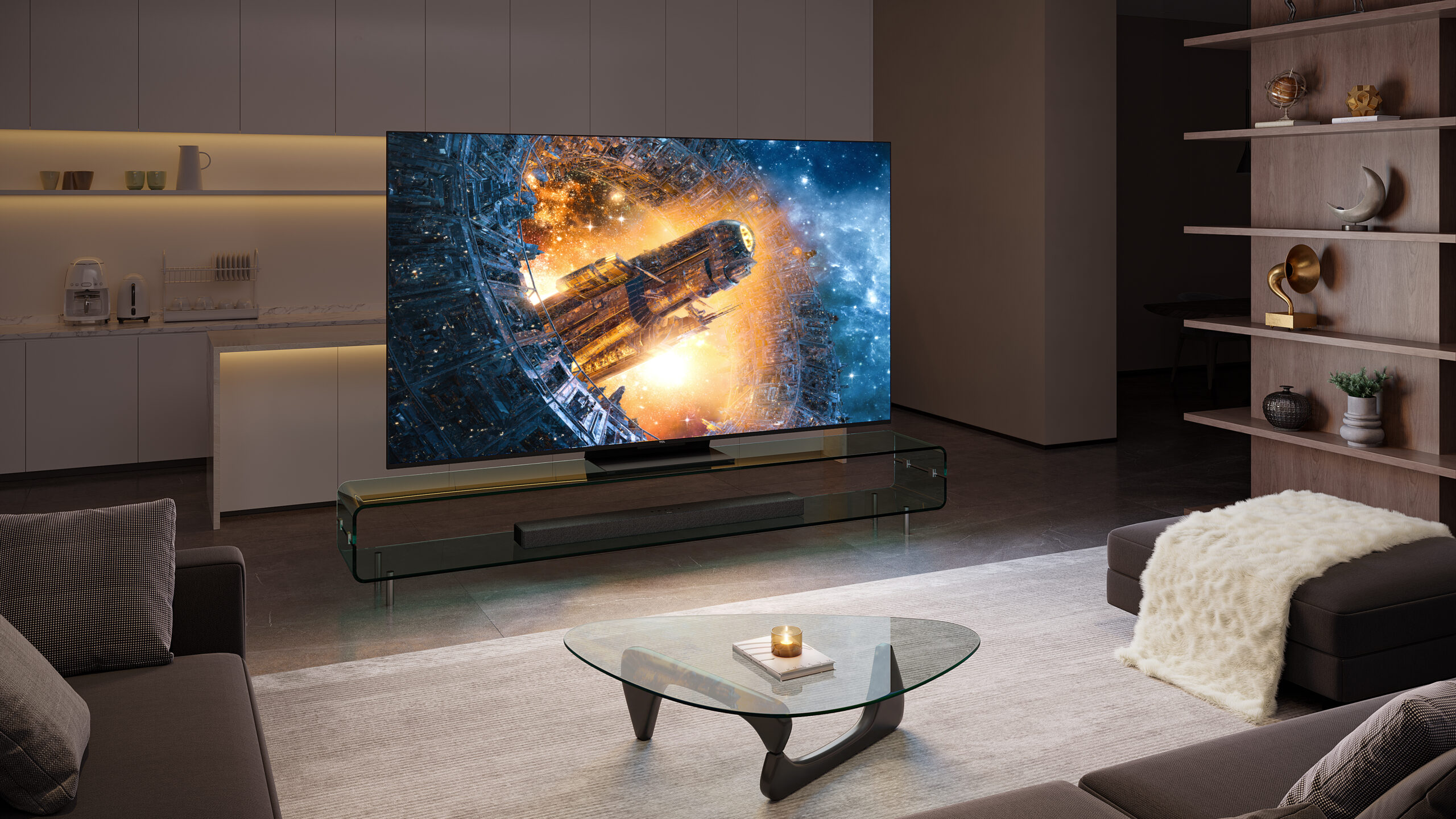 The TCL C845 Mini LED TV features a fusion of Mini LED backlight, QLED color technology, and the sophisticated AiPQ Processor 3.0. It boasts a remarkable peak brightness of HDR 2000 nits, delivering crystal-clear visuals with superior contrast. This model, available in sizes 65" and 75", promises lifelike colors thanks to its Quantum Dot nanocrystals and wide color gamut covering 97% of the DCI-P3 standard.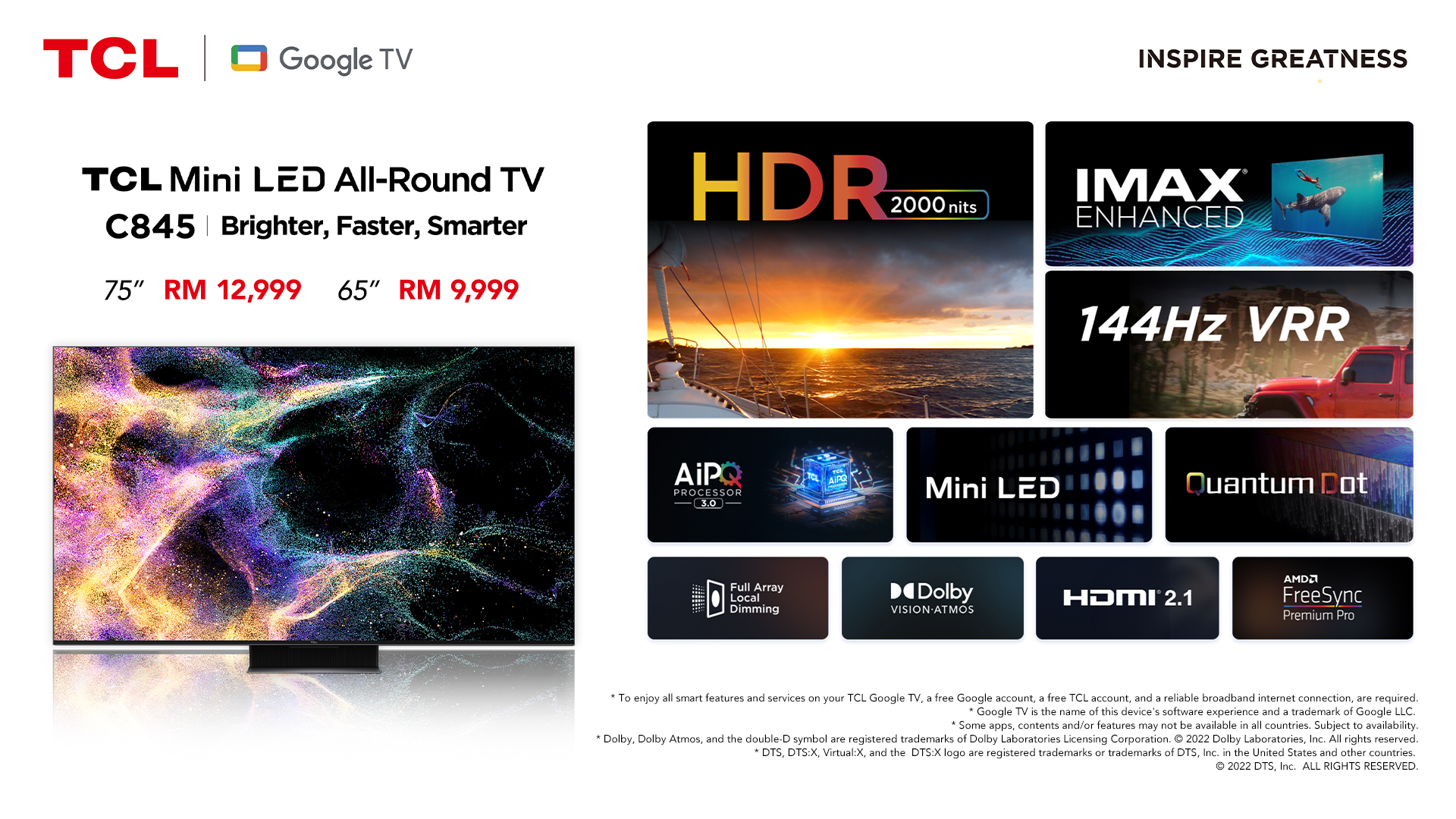 Powered by TCL's AiPQ Processor 3.0, the C845 guarantees optimal and realistic image displays. The TV also achieves IMAX Enhanced certification with Dolby Vision IQ and Dolby Atmos. Further enhancing its features, the C845 is designed with gamers in mind, offering high refresh rates and HDMI 2.1 support.
TCL C645 4K QLED TV: Beyond Vivid Colors and Immersive Entertainment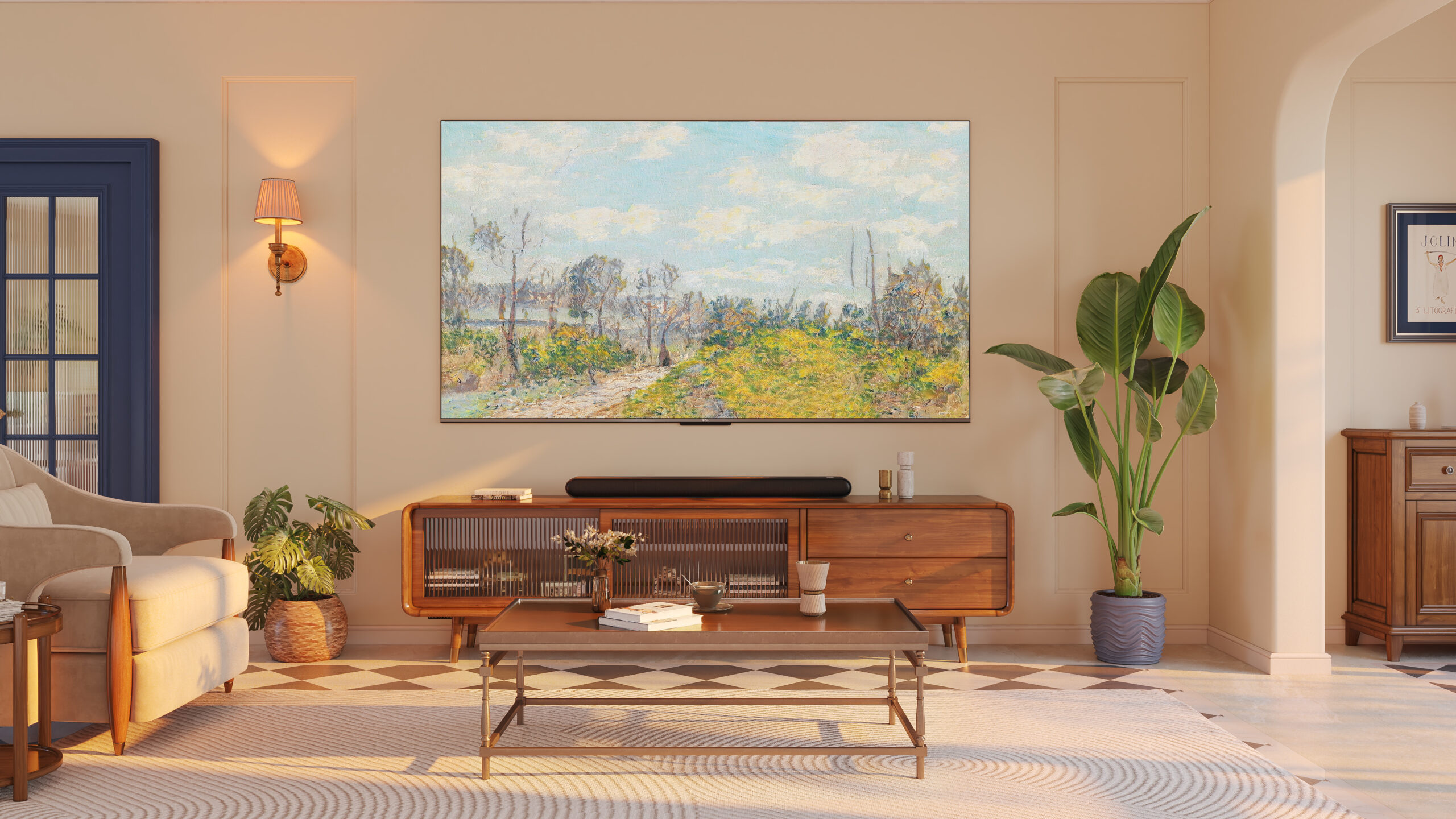 TCL's C645 4K QLED TV is crafted for the highest quality home entertainment. With sizes ranging from 50" to 85", this model employs Quantum Dot Technology, providing cinematic color reproduction. It also offers HDR10+ for unparalleled High Dynamic Range experiences and Dolby Vision for a theater-like ambiance at home.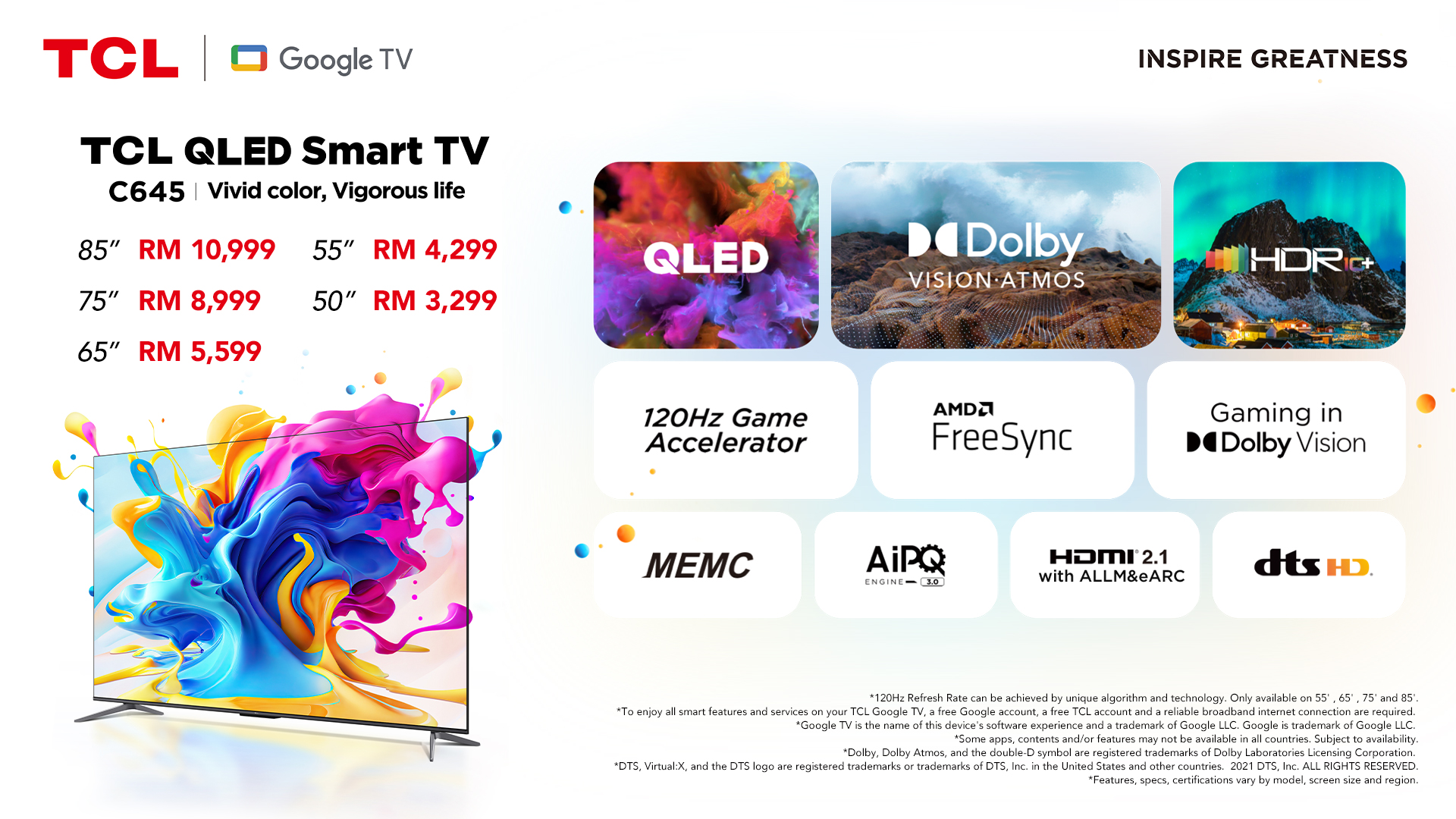 The C645, powered by the AiPQ Engine 3.0, promises stable and high-quality 4K resolution, making it ideal for gamers and movie enthusiasts. The TV comes with Google TV, presenting content from multiple streaming platforms and integrated hands-free voice control through Google Assistant.
Going Big with the 98" C755 and P745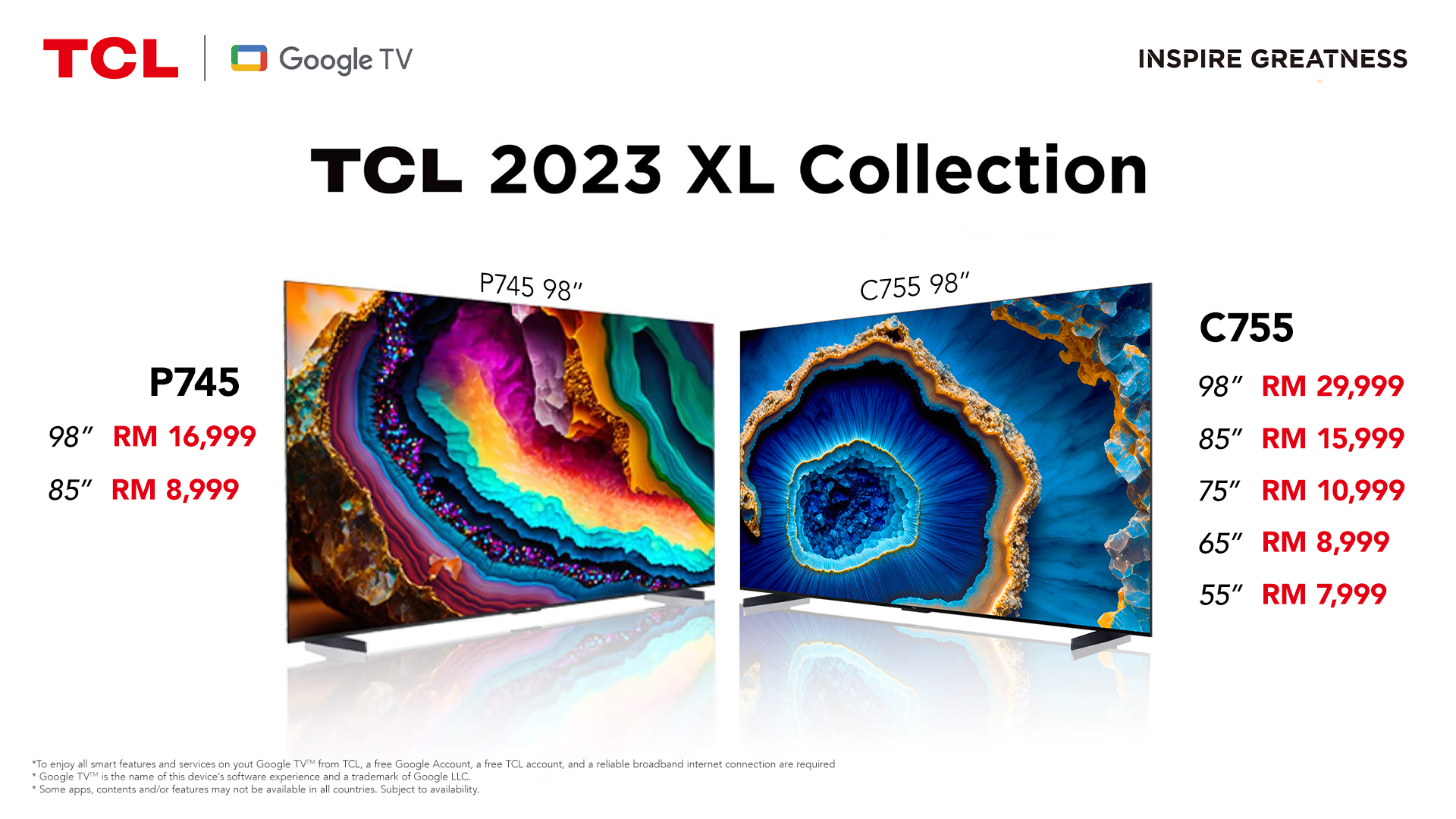 Apart from the above models, TCL has expanded its QD-Mini LED TV range with the C755 Series and introduced the large 4K UHD TV, P745. These offerings demonstrate TCL's unwavering commitment to delivering superior viewing experiences, especially on larger screens.
TCL Malaysia TV Pricing Details
TCL C845:
65" – RM 9,999
75" – RM 12,999
TCL C645:
50" – RM 3,299
55" – RM 4,299
65" – RM 5,599
75" – RM 8,999
85" – RM 10,999
TCL C755:
55" – RM 7,999
65" – RM 8,999
75" – RM 10,999
85" – RM 15,999
98" – RM 29,999
TCL P745:
85" – RM 8,999
98" – RM 16,999
TCL TVs can be purhcased in Malaysia at TCL Malaysia online store on Lazada and Shopee.