After refreshing its postpaid plans, Digi Prepaid customers are also given an upgrade with more data at a cheaper value, though it does come with a catch.
At RM35/month, customers will get 30GB of high-speed all usage Internet quota along with unlimited calls, along with unlimited data quota for social media apps such as Tiktok, Instagram, Twitter and Facebook, this is a superb value compared to prepaid plans from other telcos.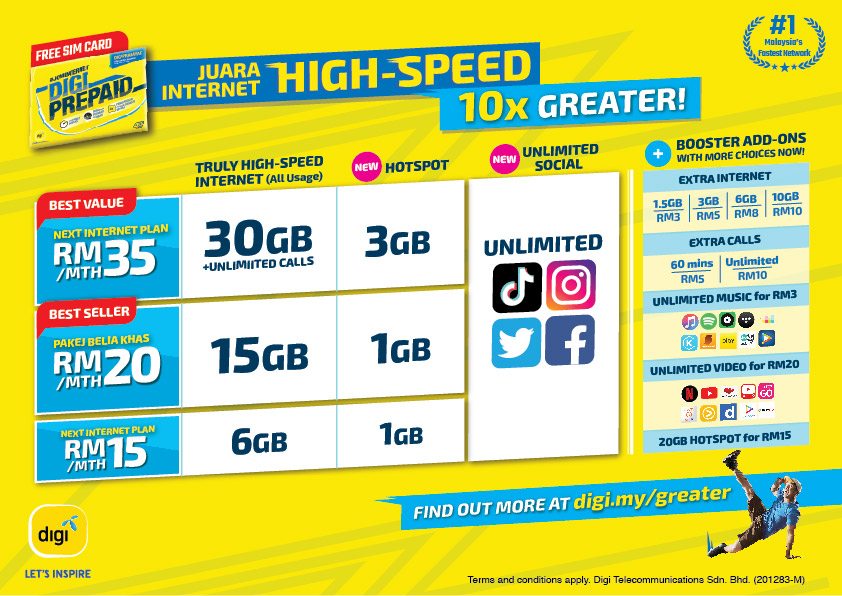 However, the only limitation here is that only 3GB of data can be used as mobile hotspot data, so unless you aren't the type of user that always tether your phone's connection to your computer, you should be fine here.
Other plans include the NEXT 20 and NEXT 15 monthly plan, which you will get 15GB and 6GB of data respectively while calls are charged pay as you use, they are also complemented with unlimited social apps usage but with even lesser mobile hotspot quota at 1GB.
Booster add-ons are available and they are pretty reasonably priced if you run out of data during the period, where you will only need to pay up to RM10 for the 10GB quota, there's also unlimited music and video data that can be purchased at RM3 and RM20 respectively, while additional 20GB hotspot will cost you RM15. Overall, the charges are extremely reasonable.
You can find out more about the new Digi Prepaid NEXT here.