The Amazfit T-Rex Pro impresses in many accounts, especially when you compare it to its predecessor – and at just RM659, this rugged device should be high up in your shortlist if you're looking for a new smartwatch. 
Design
At the risk of stating the obvious, the T-Rex Pro boasts a brawny build thanks to its high-performance and metal-sprayed bezel construction. It comes in three colours – Meteorite Black, Desert Grey, and Steel Blue; my unit is the blue, and I'm not going to lie – it reminds me of classic G-Shock watches, which is not a bad thing at all. 
Despite its chonky exterior, the device weighs just 59.4 grams, and I like that it doesn't weigh me down especially during a workout. There's no getting around the fact that it has a large 47.7×47.7×13.5mm dimension, meaning it may not suit people with smaller wrists.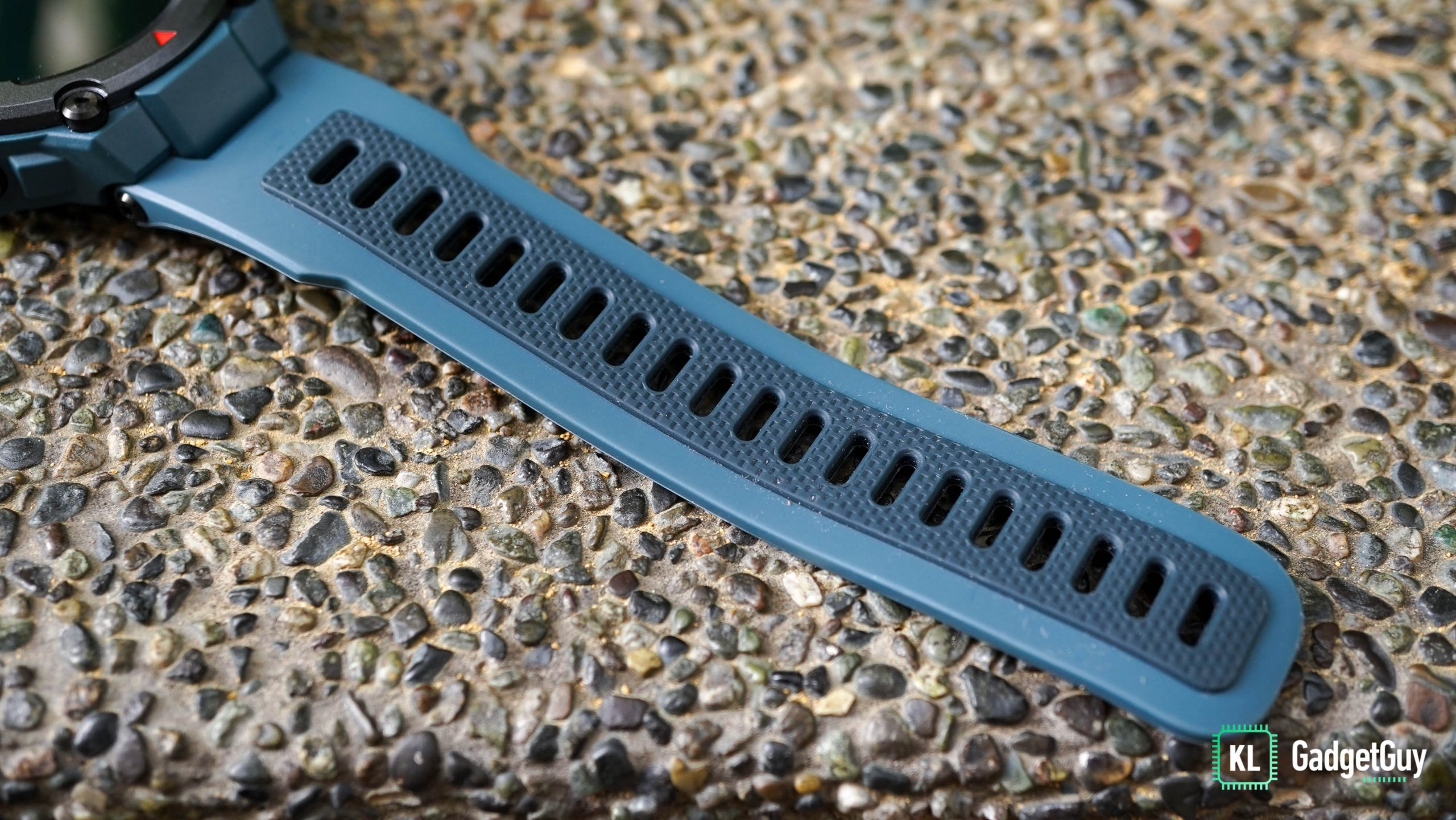 The strap measures at 122mm in length, and is made of silicone with a sweat-wicking design – it is one of the more flexible straps you get on an outdoor-centric watch, and a great plus point is that it feels comfortable on the skin. 
Display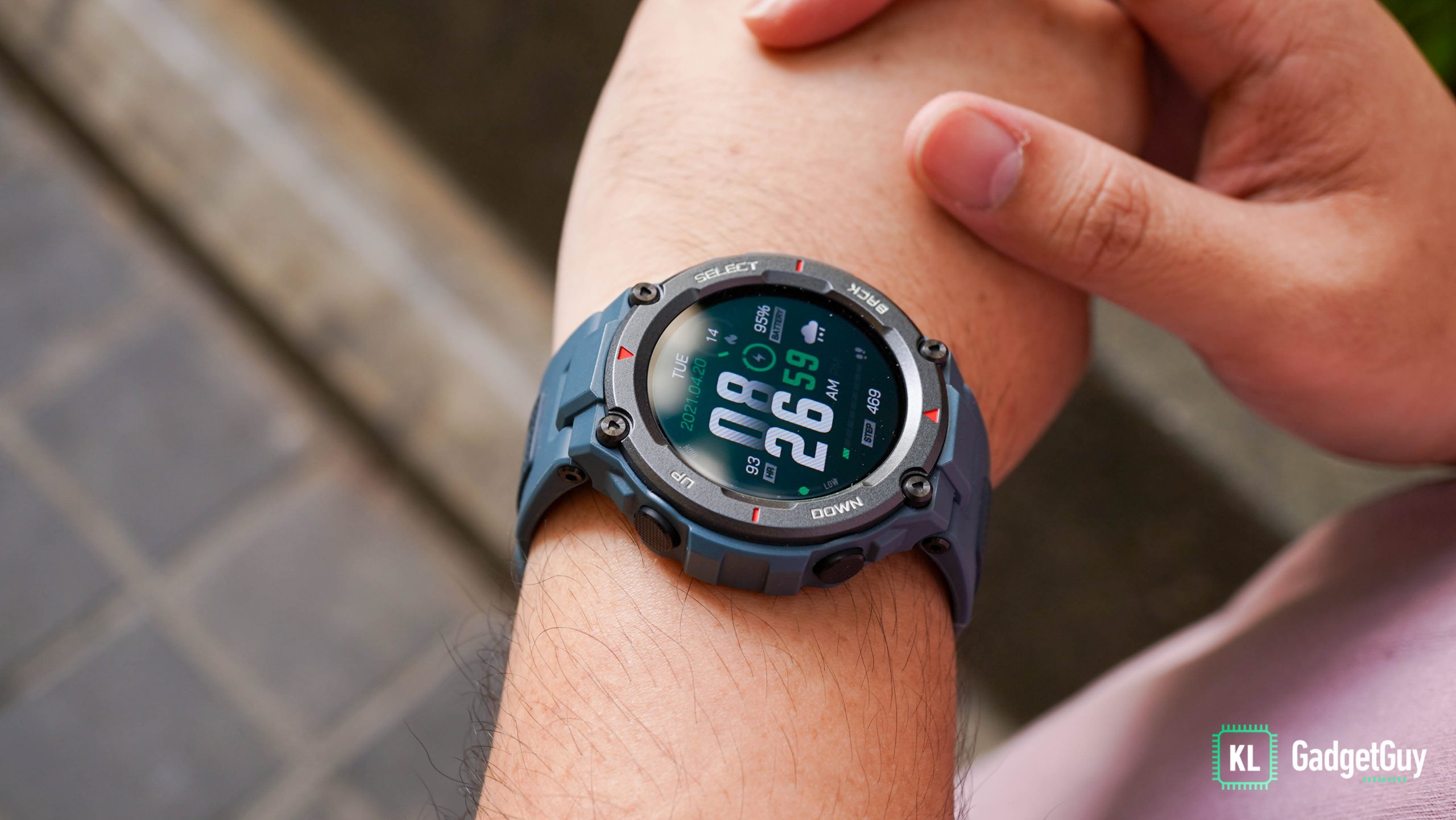 Arguably one of the most important parts of what makes a great smartwatch is a decent display – thankfully, the T-Rex Pro comes with a pretty nice 1.3-inch AMOLED panel that pushes a 360x360p resolution.  
The tempered glass screen is layered with an anti-fingerprint matte coating that is also useful for reducing glare and scratches.  
Other plus points include decent colour output, and maximum brightness – they make staring at the screen everyday a pleasure.   
Toughness
According to Amazfit, they've put the T-Rex Pro trough 15 military-grade tests (MIL-STD-810G) which include withstanding heat of up to 70°C and low temperatures of -40°C among other things. It is also built to resist humidity for up to 240 hours, or 96 hours of salt spraying; withstand freezing rain, as well as drops. 
As standard of a proper 2021 smartwatch, the T-Rex Pro is also 10 ATM rated for water resistance, which lets you take the watch for up to a 100m dive.   
Health and fitness tracking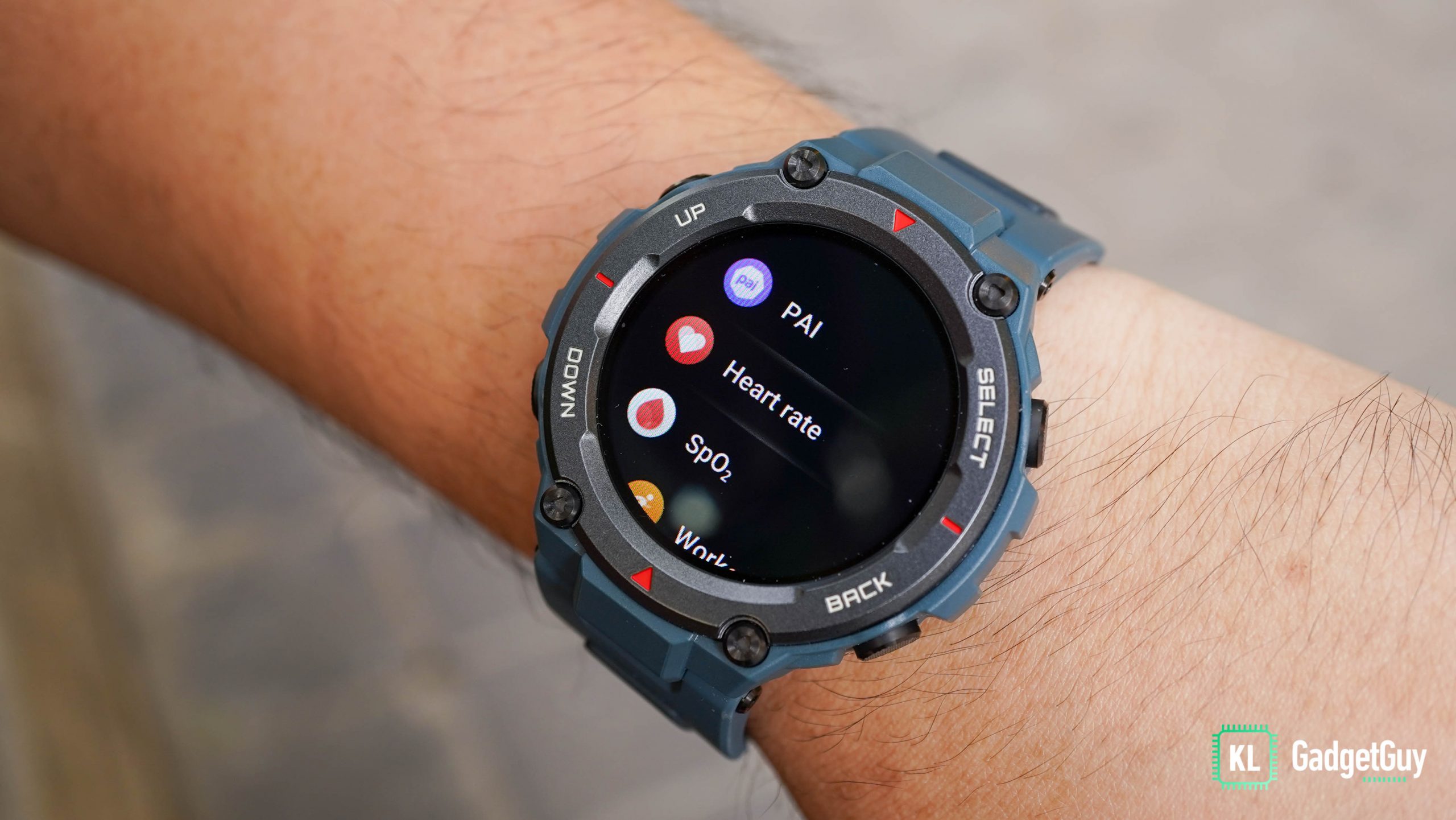 The watch comes with over 100 sports and workout modes, which can all be accessed by tapping the select button – each workout shows you key stats like heart rate, intensity, time, and more. There's also the useful PAI Health Assessment System that gives you a score based on a conglomeration of your health stats.  
While we're on the topic of workouts, there's ExerSense which is a new workout recognition system that automatically detects and recognize the type of activity you're performing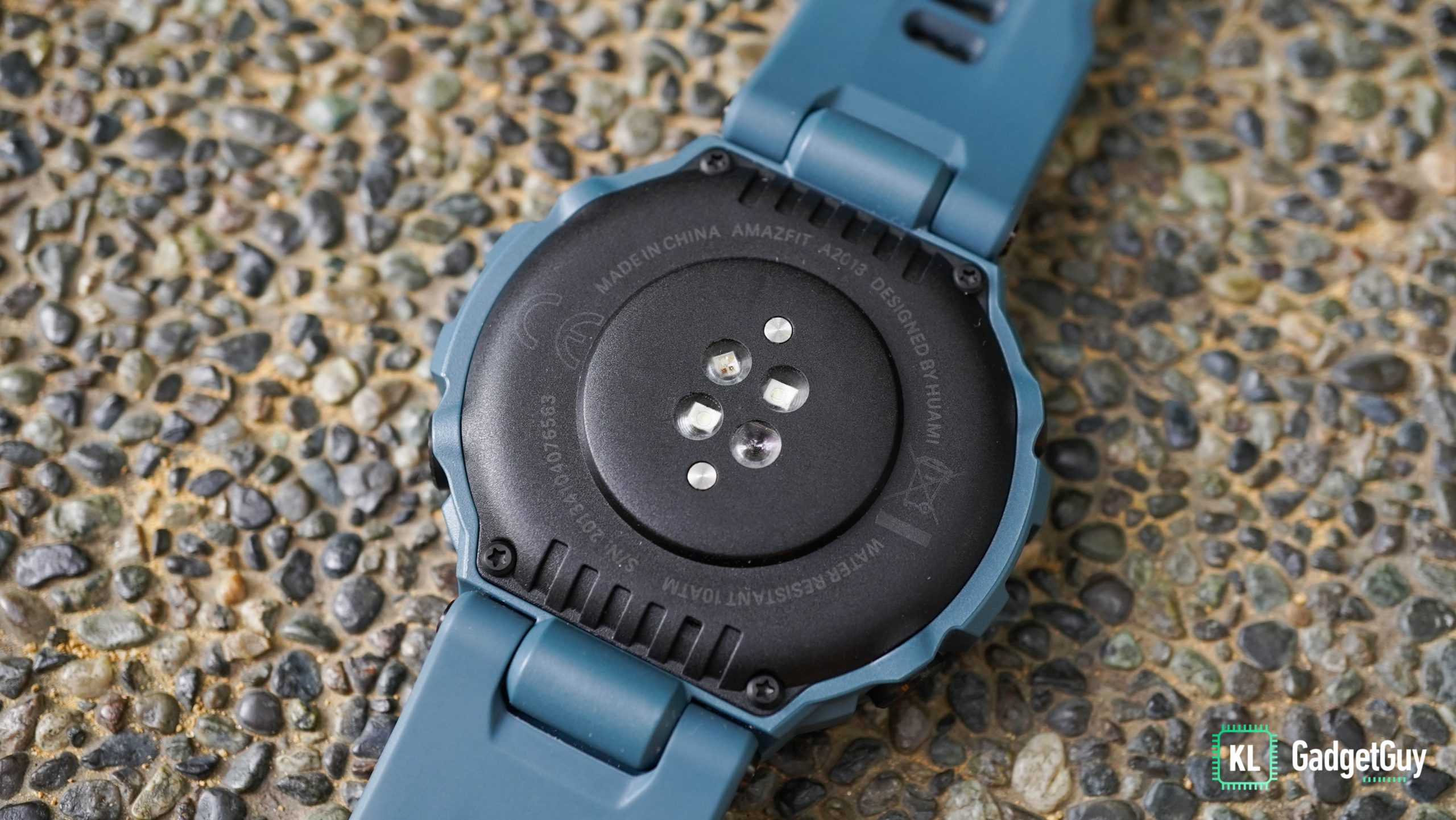 When it comes to health tracking, the watch is equipped with Amazfit's BioTracker 2 PPG optical sensor that improves 24-hour heart-rate tracking accuracy. as well as stress levels, and sleep quality. For the most part, these tracking features work as advertised and can be accessed on the watch. 
If you're outdoors – which is where you should really be using the watch – there's now Galileo and BeiDou positioning systems on top of the usual GPS and GLONASS satellites.  
Companion app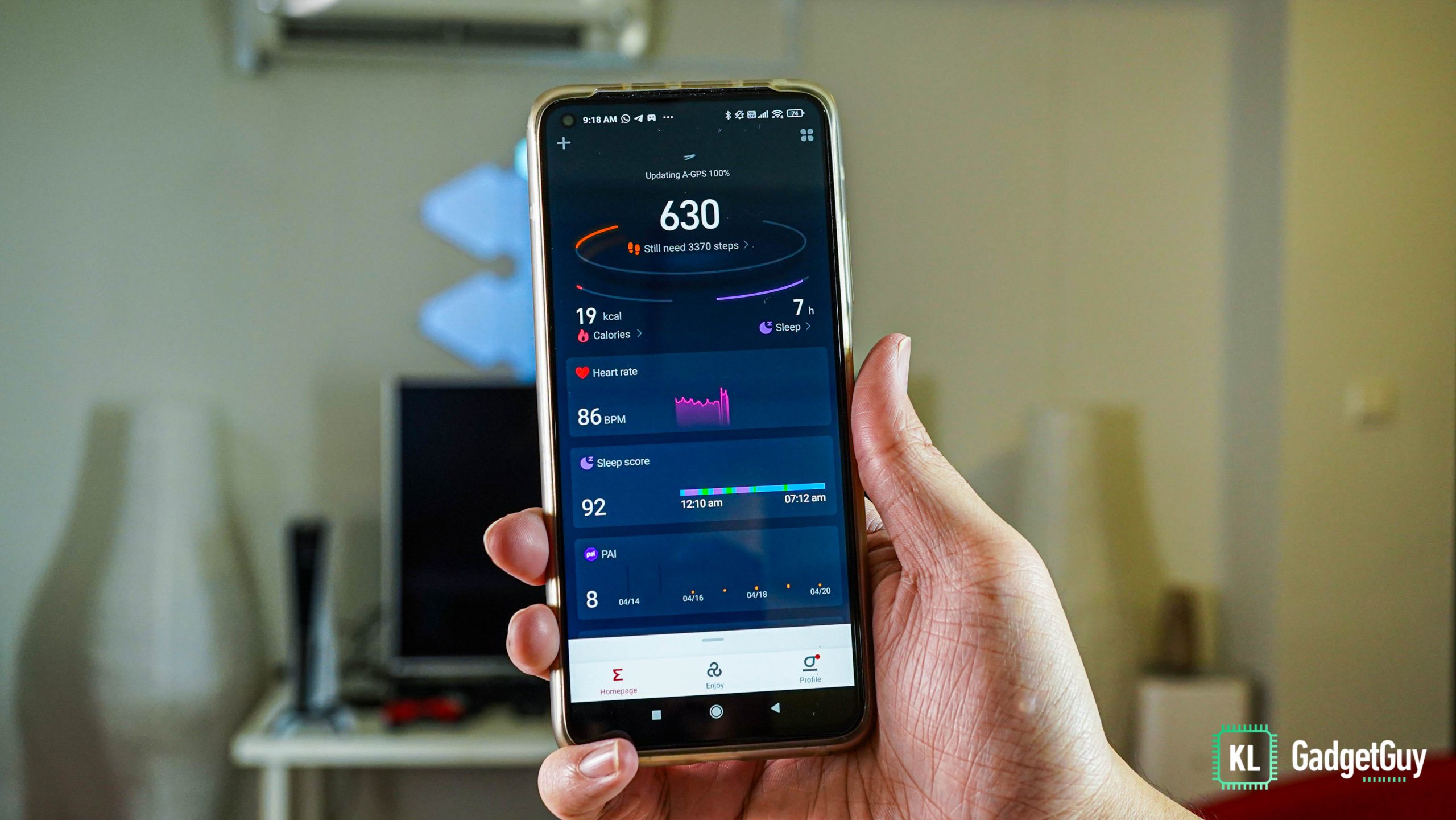 Although you get a decent amount of information on your watch itself, it's the Zepp companion app that'll you need in order to dig deeper into your data. Like I mentioned before in my review of the Amazfit Bip U, Zepp is a fuss-free companion app that's easy to use – and I give it points for that. 
You can view your health scores and be presented with a more comprehensive breakdown of your data – you'll also be presented with recommendations on how to improve your stats. Through Zepp, you can also change your watch face – however options are limited even on the app store. 
Software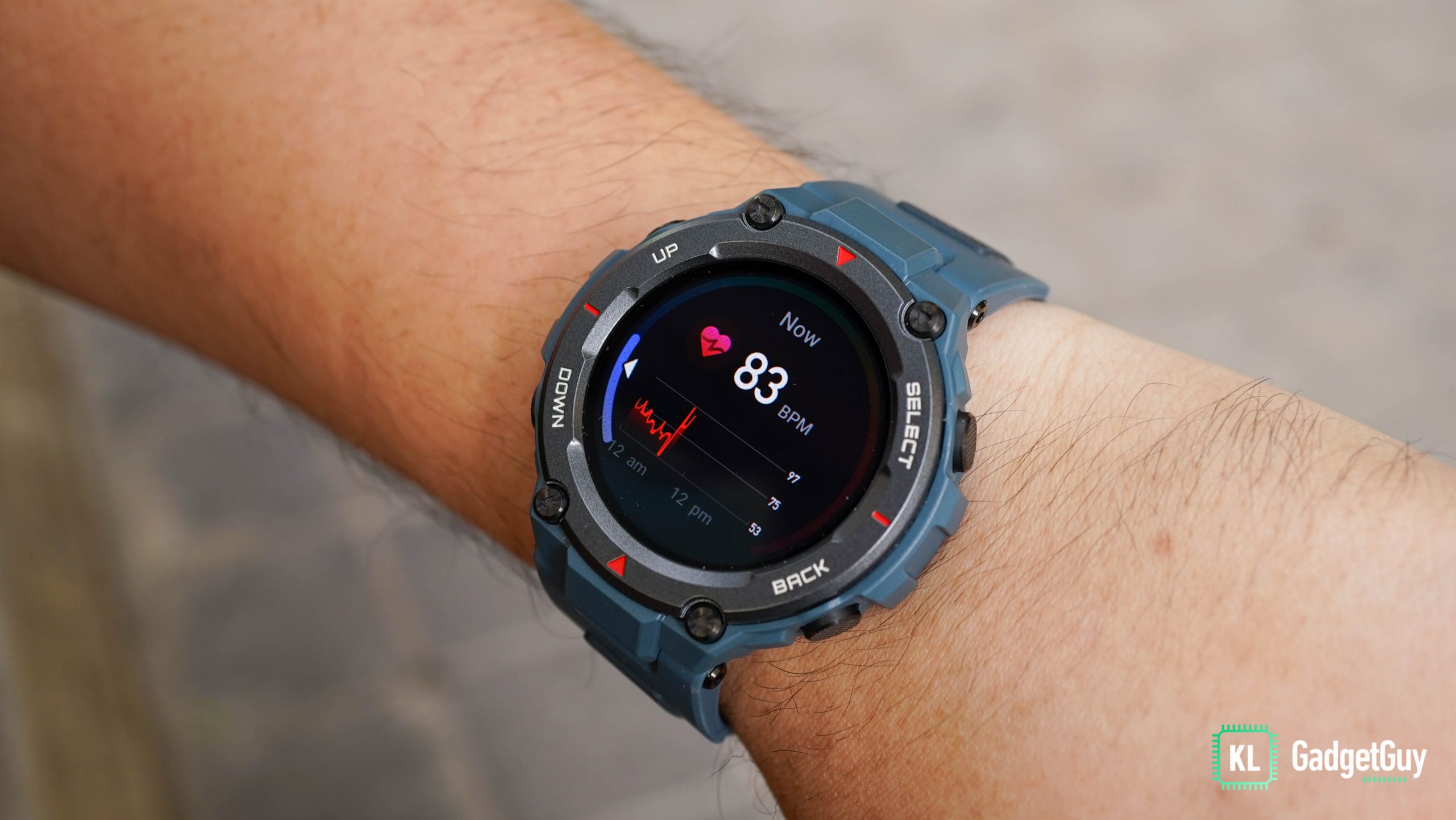 Scrolling through the watch's menus and apps feel snappy, and I didn't really experience any slowdowns after a month of using the device. The lack of widgets and pages could be a bane or a boon depending on who you ask – it simplifies the user experience a bit, but those who rely on widgets for ease of access may find this frustrating. 
You get notifications and music playback too which syncs to Spotify – I appreciate watches that do both these features well simply because they help make my daily commutes a little easier to get through. 
Battery life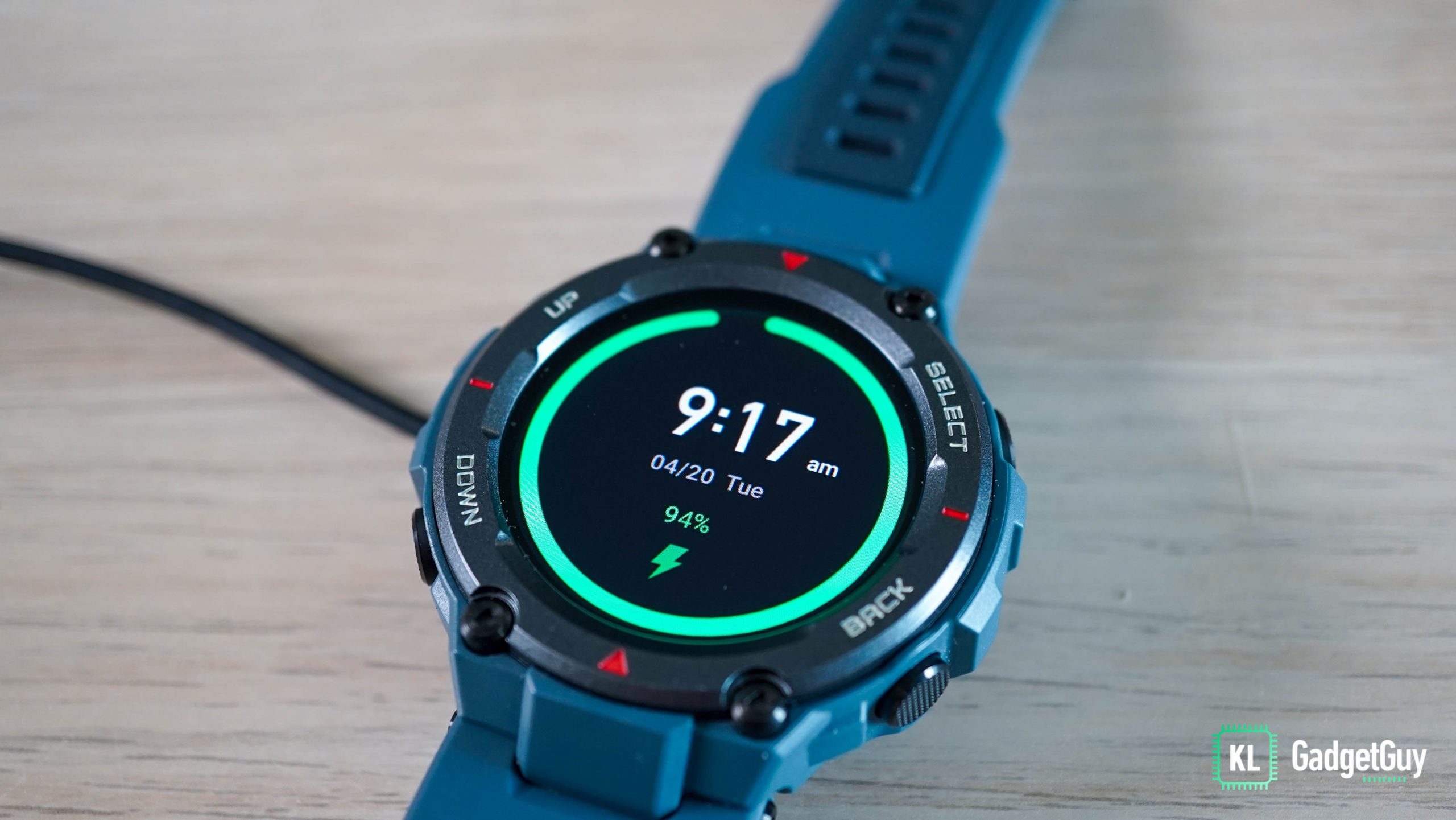 In my experience, the watch can last about 14 days on regular use – I had 24-hour heart rate tracking and adaptive brightness enabled, along with short 15 to 30-minute workout sessions three to five times a week.  
When it runs out of juice, you can power the watch up to full in about 1.5 hours – not bad considering the impressive battery life you're getting. 
Verdict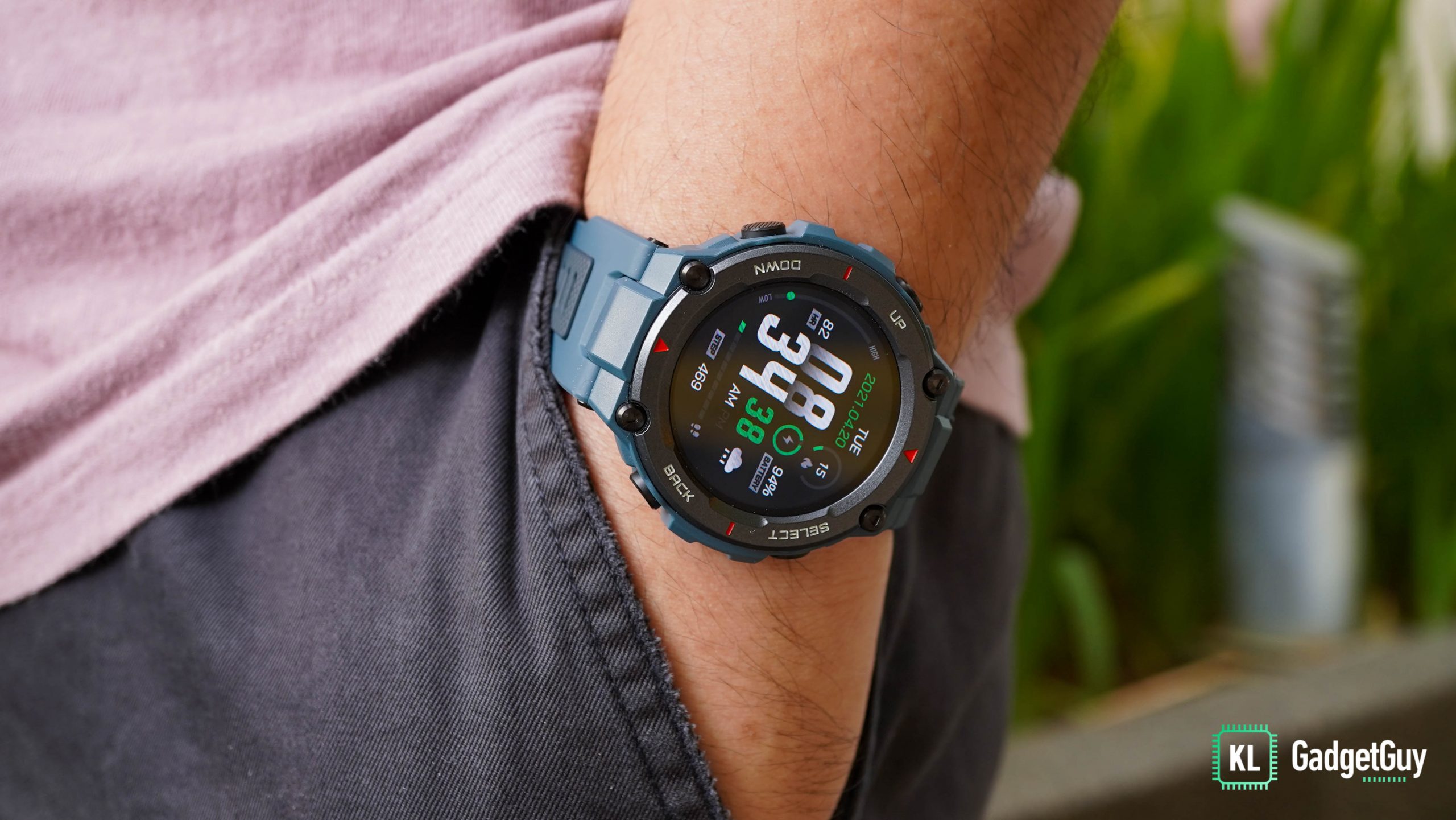 The Amazfit T-Rex Pro is a great all-rounder that – although is made for the great outdoors – is a fantastic option for day-to-day use as well. Its vast selection of features and workout modes, as well as impressive battery life complete a very enticing modern-day smartwatch – one that costs just RM659 no less.  
If you're interested in getting the T-Rex Pro, you can visit Amazfit's official Shopee and Lazada pages here to make your purchase. 
The Good
Rugged build
Impressive battery life
Plenty of health tracking features
Lightweight
The Not So Good
May be too large for small hands
No voice assistant support
Limited watch face options
This article is sponsored by Amazfit