The Amazfit T-Rex smartwatch from last year was all about toughness, and a long battery life offered at an affordable price tag – this year, we're treated to a much better version of the watch in the form of the Amazfit T-Rex Pro. 
It's brings added sturdiness and more features suited to the outdoorsy person – but how much better is the new T-Rex Pro compared its older sibling? Here's a breakdown of the key differences between the two. 
Built like an absolute unit
Picture this: present-day Dwyane 'The Rock' Johnson with all his gains, standing next to himself but from his wrestling days, who was at least half as small. That's a pretty fitting analogy for how to differentiate these two watches. 
The Amazfit T-Rex Pro is present-day Dwayne Johnson, and here's why: the device has passed a whopping 15 military-grade toughness tests compared to the regular Amazfit T-Rex's 12. Plus, you can take it up to 100m underwater if you want, because it also has 10 ATM water-resistance rating, compared to the regular T-Rex's 5 ATM rating.  
On top of that, the watch is heat resistant up to 70°C, can be withstand humidity for up to 240 hours, as well as 96 hours of salt spraying. It's all around bigger and tougher, just like our man Dwayne Johnson.
The better-looking brother
The watch still comes with a pretty 1.3-inch AMOLED display that pushes a 360×360 resolution; a tempered glass layer protects the display and it's coated with an anti-fingerprint finish to boot. 
What's new is that the Amazfit T-Rex Pro gets a metallic-painted polycarbonate body, and a classier two-tone skin-friendly silicon wristband. These improvements complement the watch's signature rugged aesthetic.  
The fitter companion
The Amazfit T-Rex Pro improves on its predecessor's vast set of features with even more new additions for a more holistic monitoring, and tracking experience. 
For health, the T-Rex Pro now offers blood-oxygen level (SpO2) monitoring, which is important for keeping an eye on the wearer's overall health. The heart-rate tracker is now improved thanks to a new BioTracker PPG 2 optical sensor. Lastly, Amazfit adds a stress-monitoring feature to round off the suite of new additions to the health-tracking side of things. 
Moving on to sports modes and navigation, the watch now packs over 100 sports modes to choose from, which is a far cry from the 14 that the original T-Rex offered. There's also smart automatic sports recognition for 8 types of activities, so you can immediately start your workout without swiping through menus first.   
For outdoor activities, an altimeter measurement feature has been added; plus, Galileo and BeiDou for navigation on top of the existing GPS and GLONASS systems. Add to that VO2max monitoring, you've got a complete outdoor smartwatch on your hands.   
How to buy the Amazfit T-Rex Pro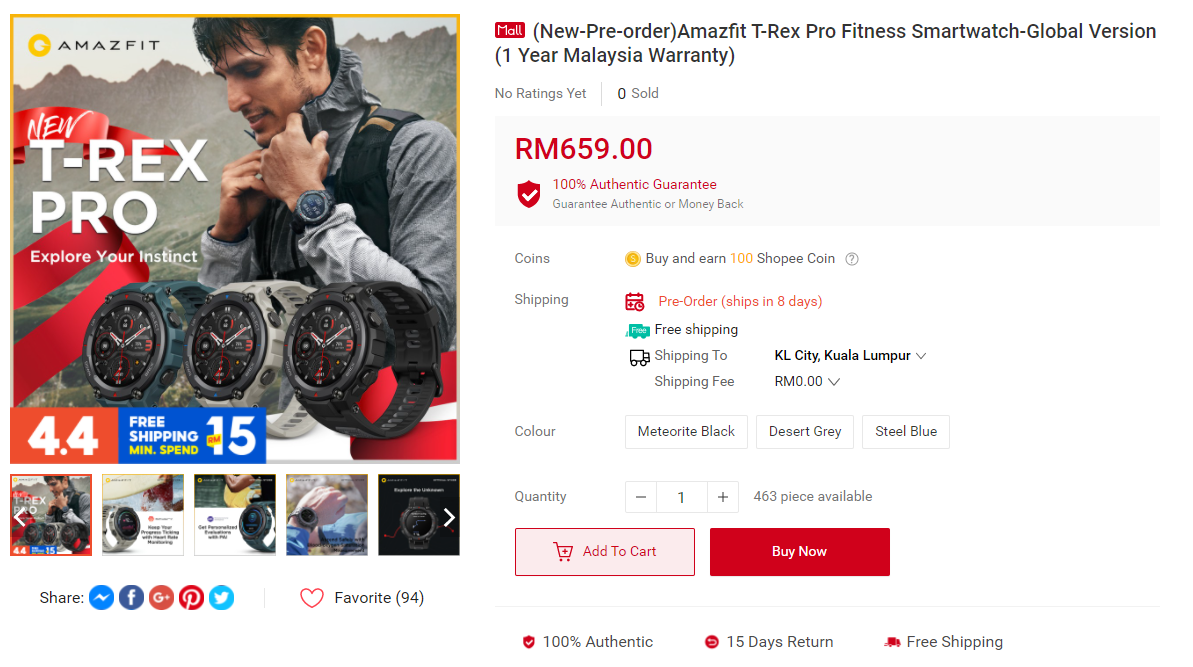 The Amazfit T-Rex Pro is available in Meteorite Black, Desert Grey, and Steel Blue; it's priced at RM659 and will be available to pre-order via the brand's Shopee store until 31 March.  
This article is sponsored by Amazfit