Portable SSDs are basically boring gadgets that lets you store and access your files faster than a conventional portable hard drives, while they have the benefit of smaller form factors and are less prone to damages when you drop them, there's hardly one that helps you get more organized with file management and backups, this is where Synology, a company that mainly produces NAS servers, sees a gap that it can fill with years of experience in hardware and software solutions, and the end product is the Synology BeeDrive.
Synology BeeDrive Video Review
The BeeDrive is a cute little device with a discrete matte black paint job, I'm glad that it doesn't have any glossy or rubbery surfaces as I would hate to see it with smudges. the device measures just 65mm wide and weighs 42g, which is ideal for storing in pockets if you want to do that, the drive has a white LED activity indicator, and a USB-C port that offers up to 10Gbps transfer speeds.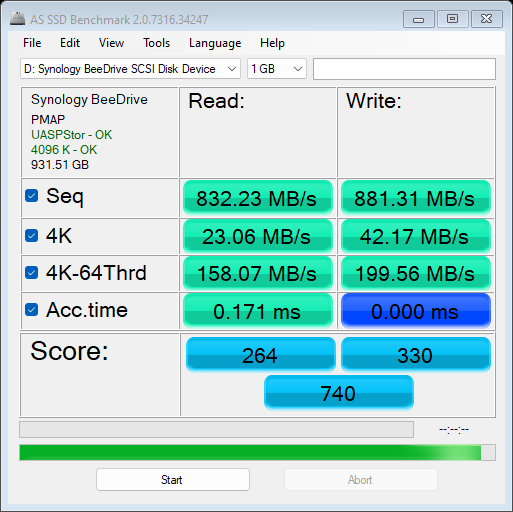 The BeeDrive managed to achieve up to 832MB/s of sequential read and 881MB/s of sequential write speeds when I ran a speed test on AS SSD benchmark, which is considerably fast for such a compact device and makes it ideal for a video editing or game storage drive.
However, the BeeDrive isn't all about storing files and fast storage speeds, but rather, it is more intended as a backup hub, and you will need to install the BeeDrive app on your computer to enjoy a suite of file backup features.
At this time of writing, the BeeDrive Desktop app is only available for Windows computers and Synology will release a macOS version at a later time.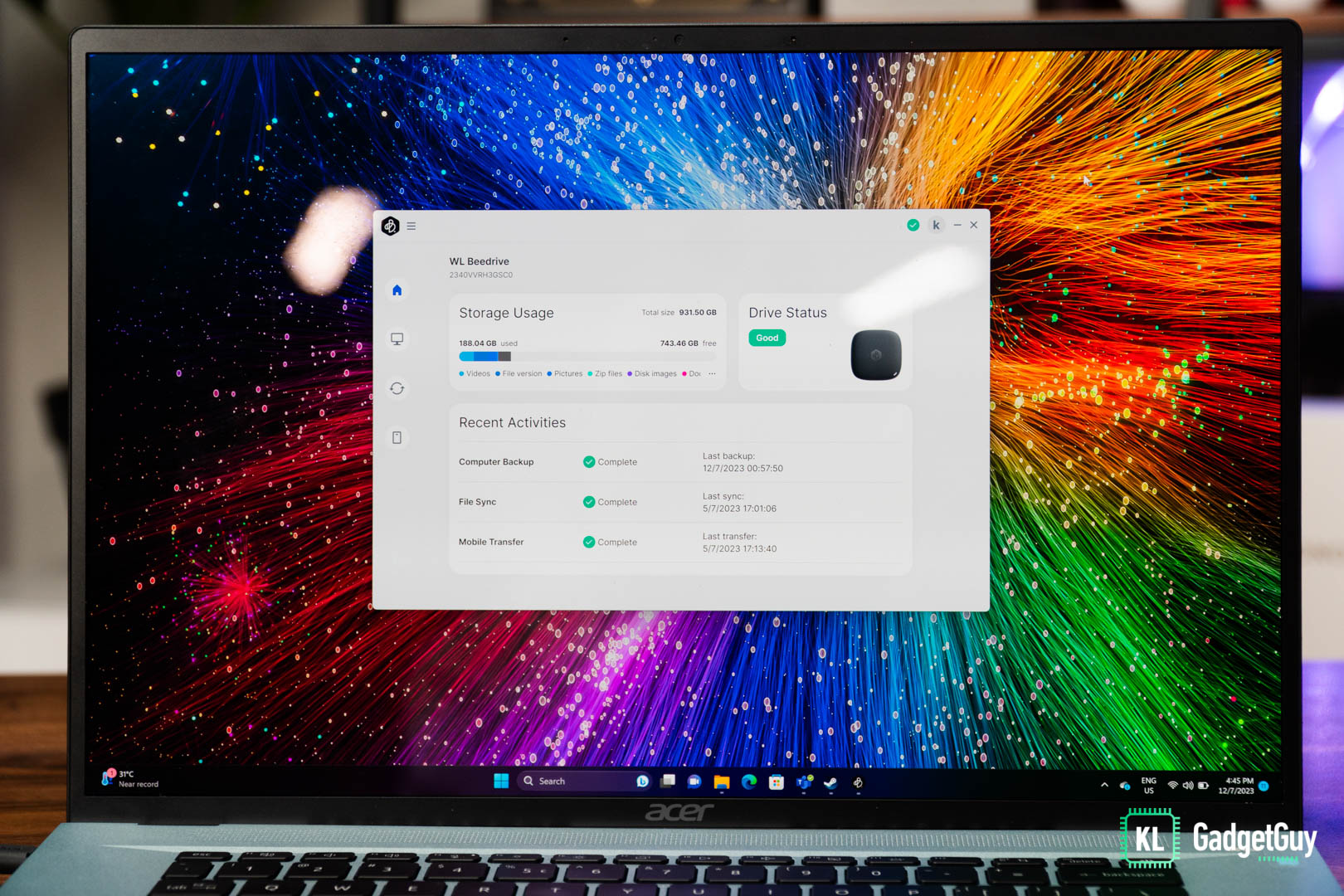 Once you have installed the BeeDrive app, it will require you to register or sign into your Synology account, and you will be given three options to start backing up your files – Computer Backup, File Sync and Mobile Backup.
Computer Backup is pretty self explanatory, this feature lets you choose which folder or drive on your computer you want to back up to the BeeDrive, the backup runs as soon as you connect the BeeDrive to your computer, and when you add new files to the folder you chose to backup.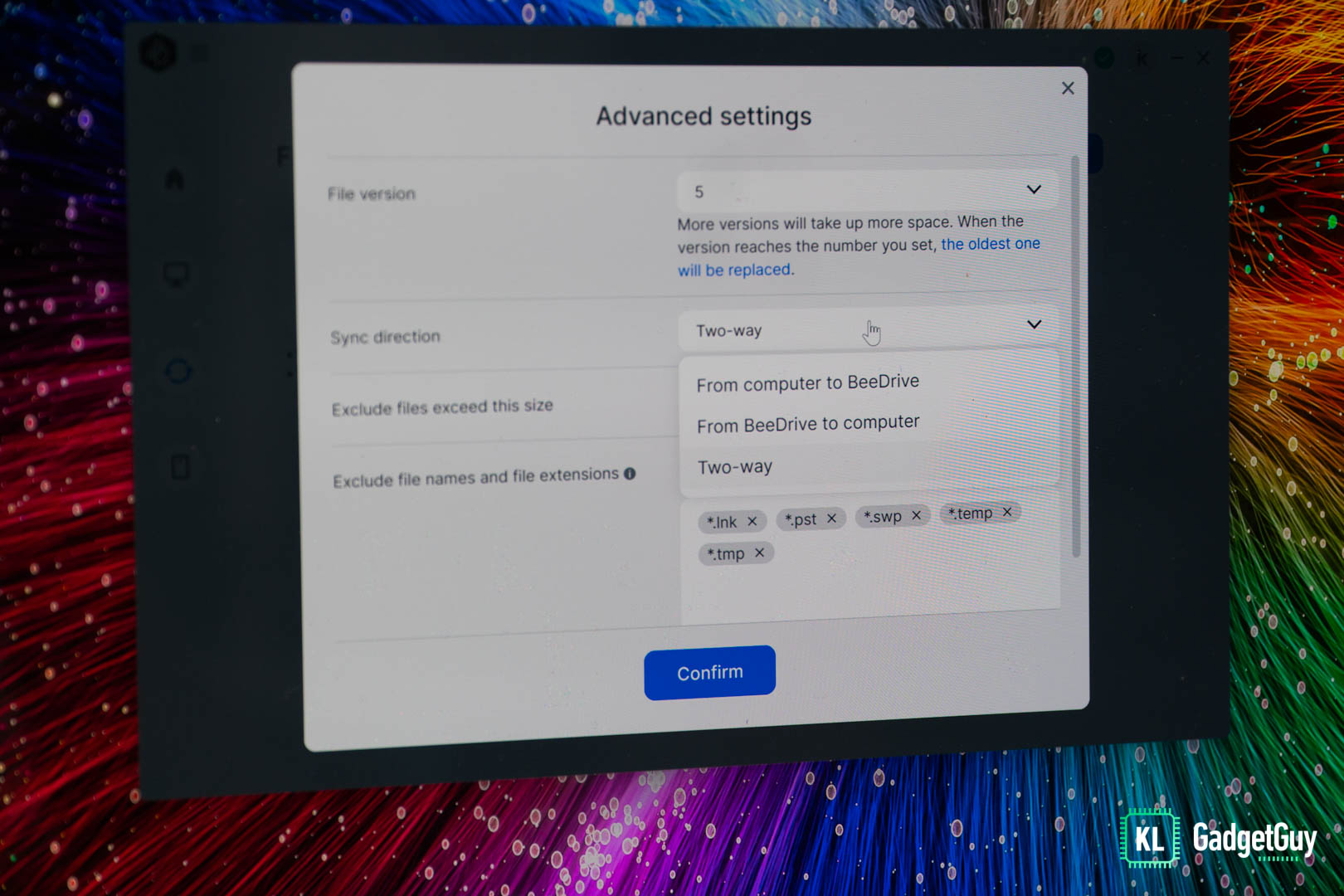 As for File Sync, it works similar to Computer Backup but lets you choose how you want your files to be synchronized between your computer and BeeDrive, you can have the BeeDrive's files replaced by your computer's version or vice versa, and this feature is very useful if you tend to work on different computers as you can setup different sync folders and direction.
On top of that, what makes both Computer Backup and File Sync really powerful as compared to regular backup solutions is the File version feature, which essentially stores up to 5 versions of the same file in a hidden folder on your BeeDrive and lets you restore them when you need it.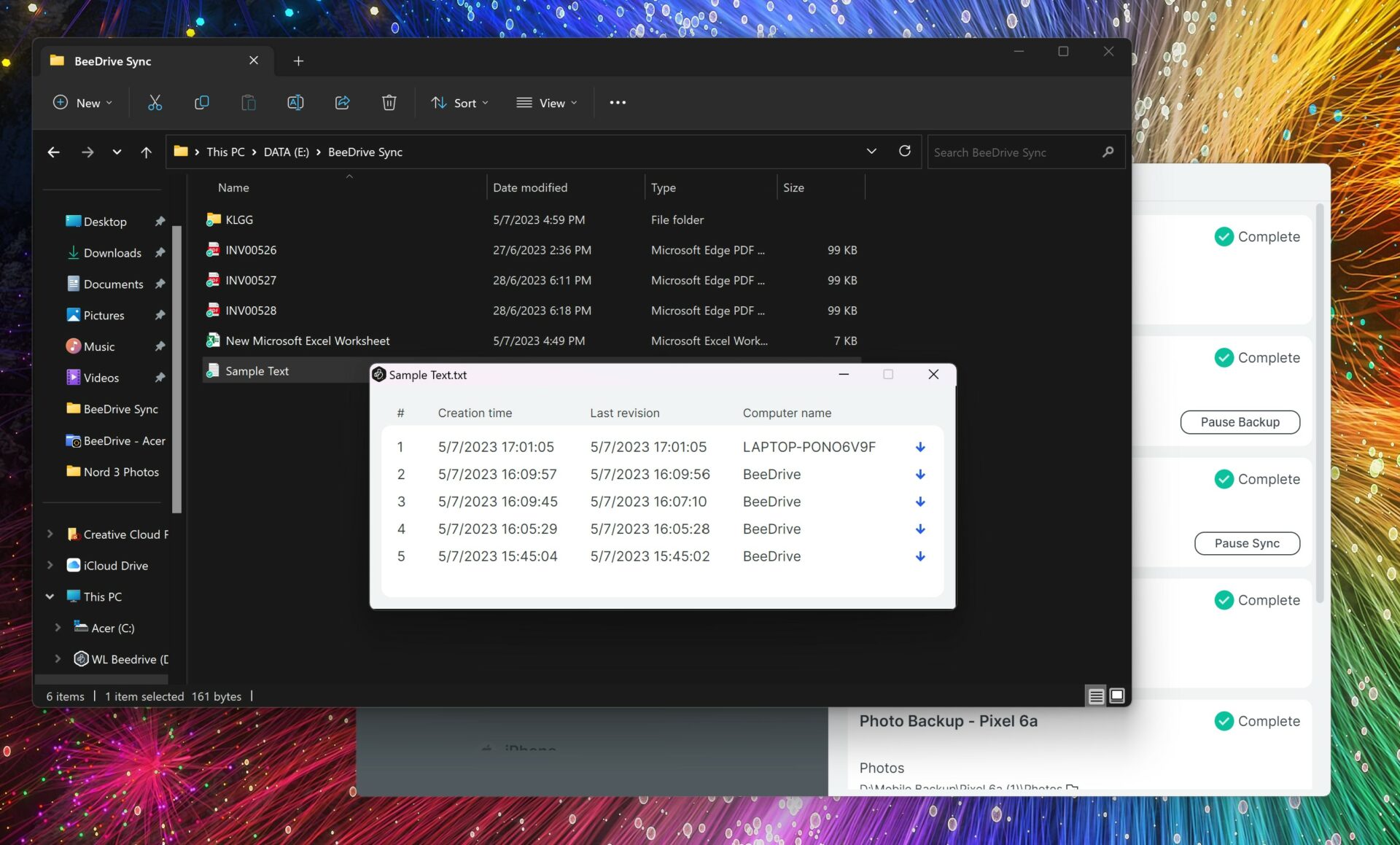 For instance, if you accidentally deleted a whole lot of presentation slides in a Powerpoint file stored on your computer's local folder, you can quickly revert the file by Right clicking on it and click on Browse Previous Version, you will be shown up to 5 most recent version of the same file with timestamps and simply choose the one you want it restored.
Speaking of accidents, you can recover accidentally deleted files on you computer's local storage from the BeeDrive if you have the Archive Deleted Files option enabled on the Computer Backup feature, which is a pretty neat feature if you tend to mess things up.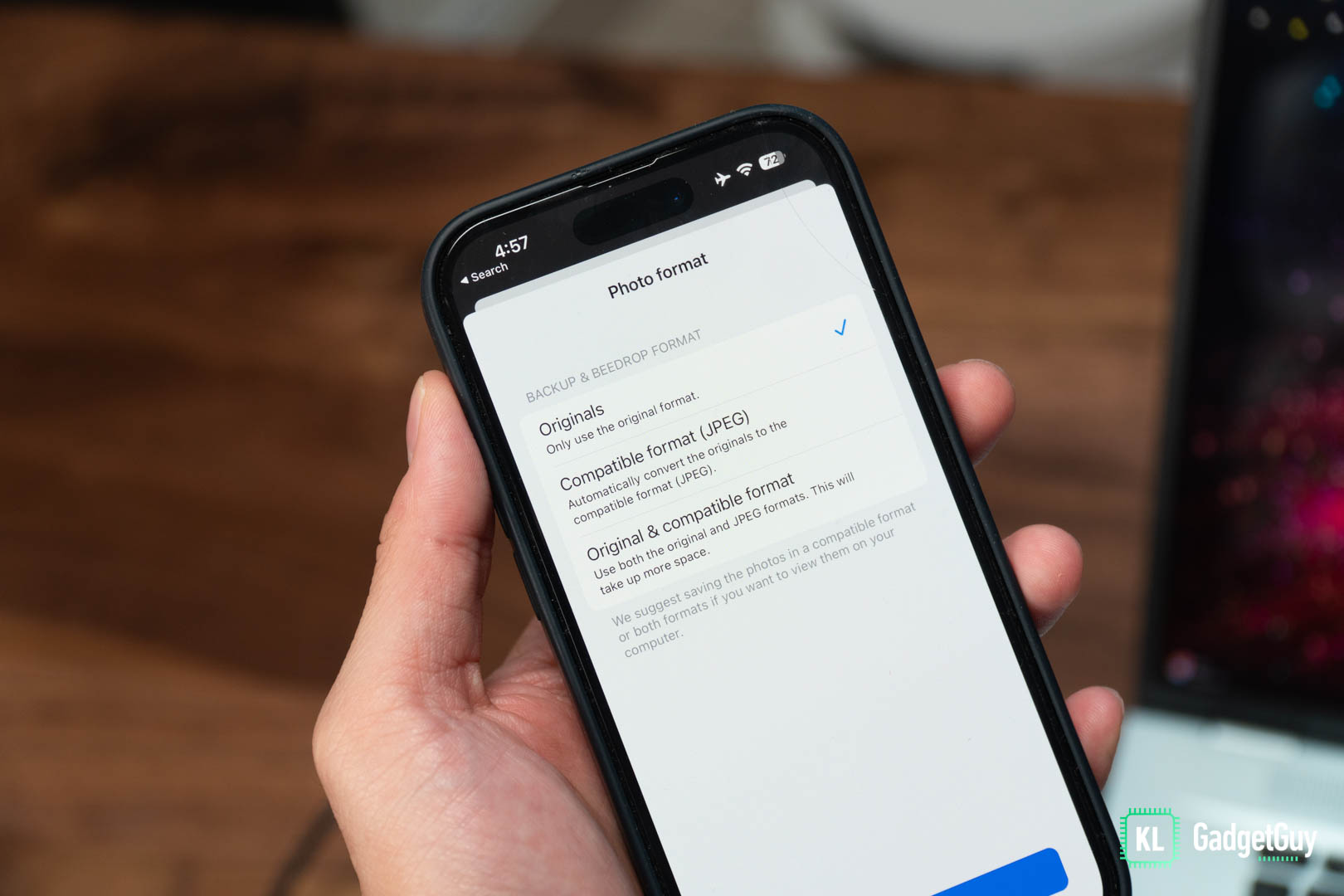 Mobile Backup is where things get really interesting, it allows you to backup your phone's photo album over WiFi to your BeeDrive and works very similarly to DS Photo on Synology's NAS servers, you will need to download the BeeDrive mobile app on Google Play Store or Apple App Store, then use the app to scan the QR code when prompted on your computer's screen, and when connected to the same WiFi network, the BeeDrive mobile app backs up your phone's photos effortlessly to the BeeDrive.
Aside from that, the BeeDrive mobile app is capable of converting HEIC files to JPG for iPhone users when you backup photos to the BeeDrive, which is very thoughtful of Synology to do that.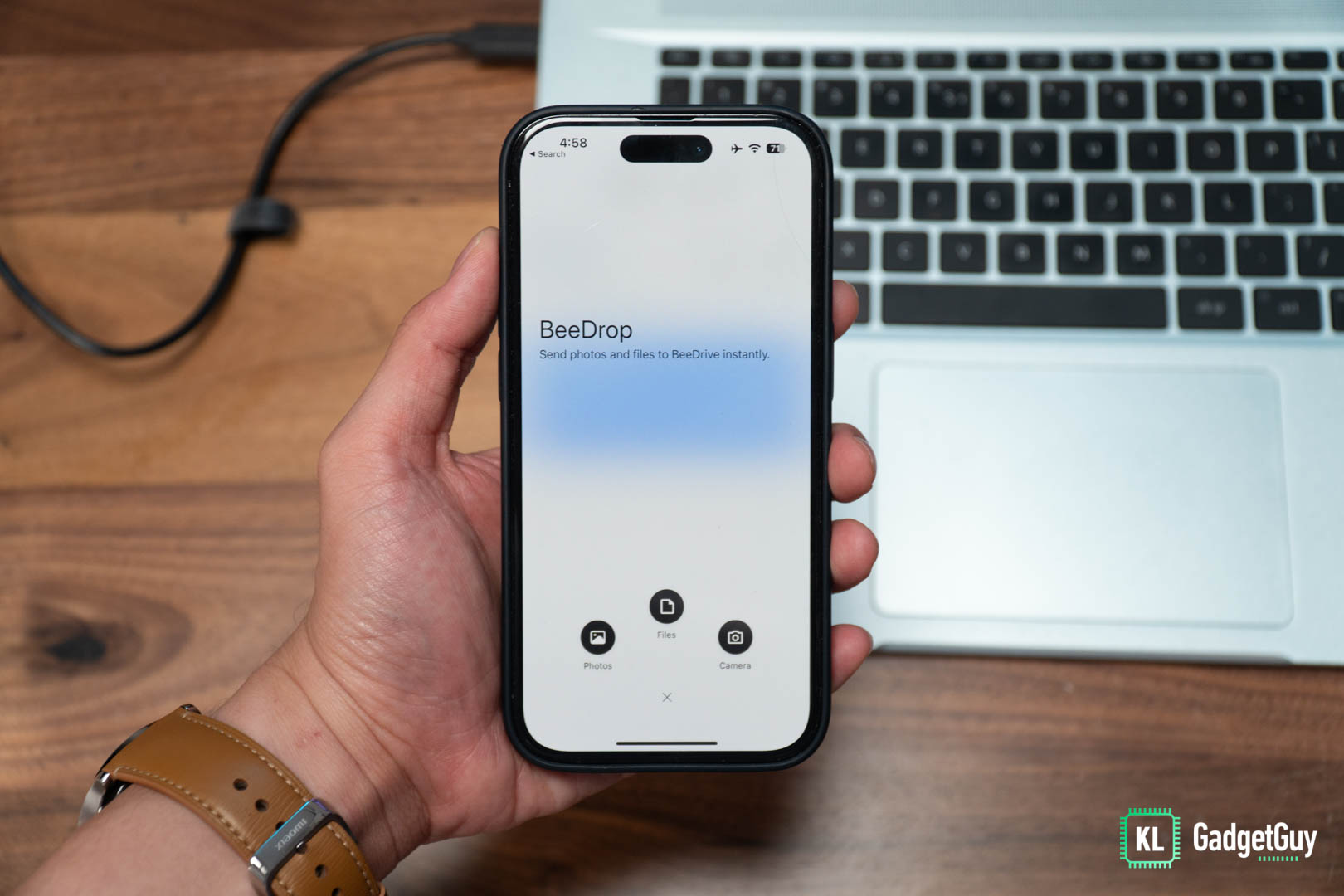 Probably the most powerful feature within the BeeDrive app is BeeDrop, which works essentially like AirDrop and lets you send files, photos and instant camera shots to the BeeDrive, I personally use this a lot when I don't want to mess around with cables.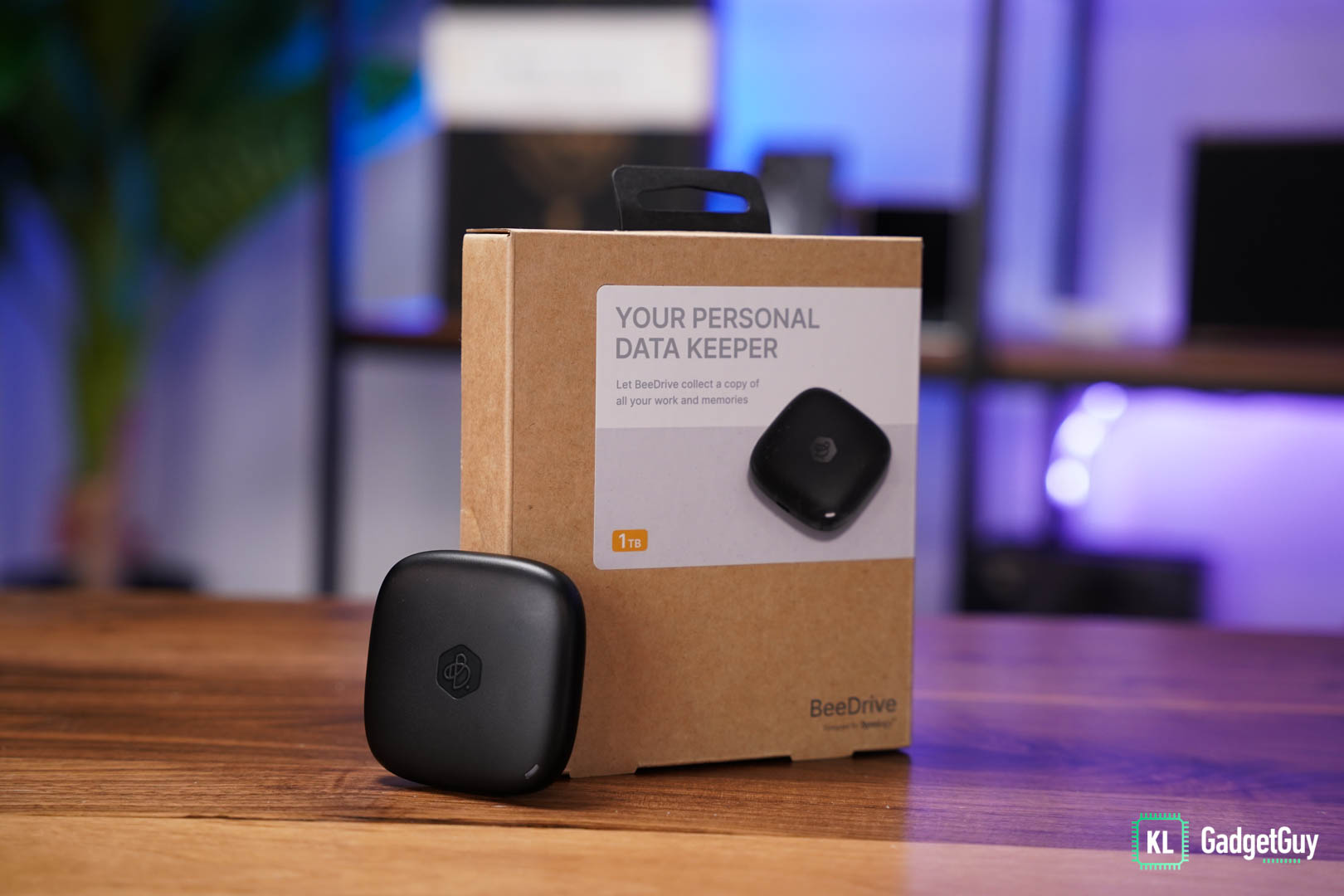 The Synology BeeDrive is available in storage capacities of 1TB and 2TB, it retails for RM829 and RM1429 respectively, it is rather pricey if you consider it as a mere storage device, but if you truly value the software features that the BeeDrive offers without needing to invest in a NAS server or monthly cloud storage subscriptions, let alone dealing with complex configurations, the BeeDrive is a compelling choice and I just wished Synology had offered higher storage capacities.
The Synology BeeDrive can be purchased at Lazada and Shopee.