One of the first gadgets that any parent would want to get for their kids when they start schooling is unquestionably a smartphone, while most kids of that age are probably more tech-savvy than their parents in using a smartphone, the problem ultimately arises when there isn't proper parental control and monitoring features on what kids are doing on their smartphones, most schools still prohibit smartphone usage as they can hinder a kid's attention in class, this is where devices like the myFirst Fone R1s kids smartwatch comes in, but will it spark joy for kids and parents?
The myFirst Fone R1s features a rather huge case to be considered a kids watch, it measures around the same size as a Galaxy Watch 5 40mm but thankfully feels very lightweight, the provided strap is also a rather lengthy one that will fit wrist sizes from 125mm-177mm, which can fit my adult sized wrists when buckled to the last third notch, I daresay that this is a pretty good adult smartwatch too if you intend to buy it for your own.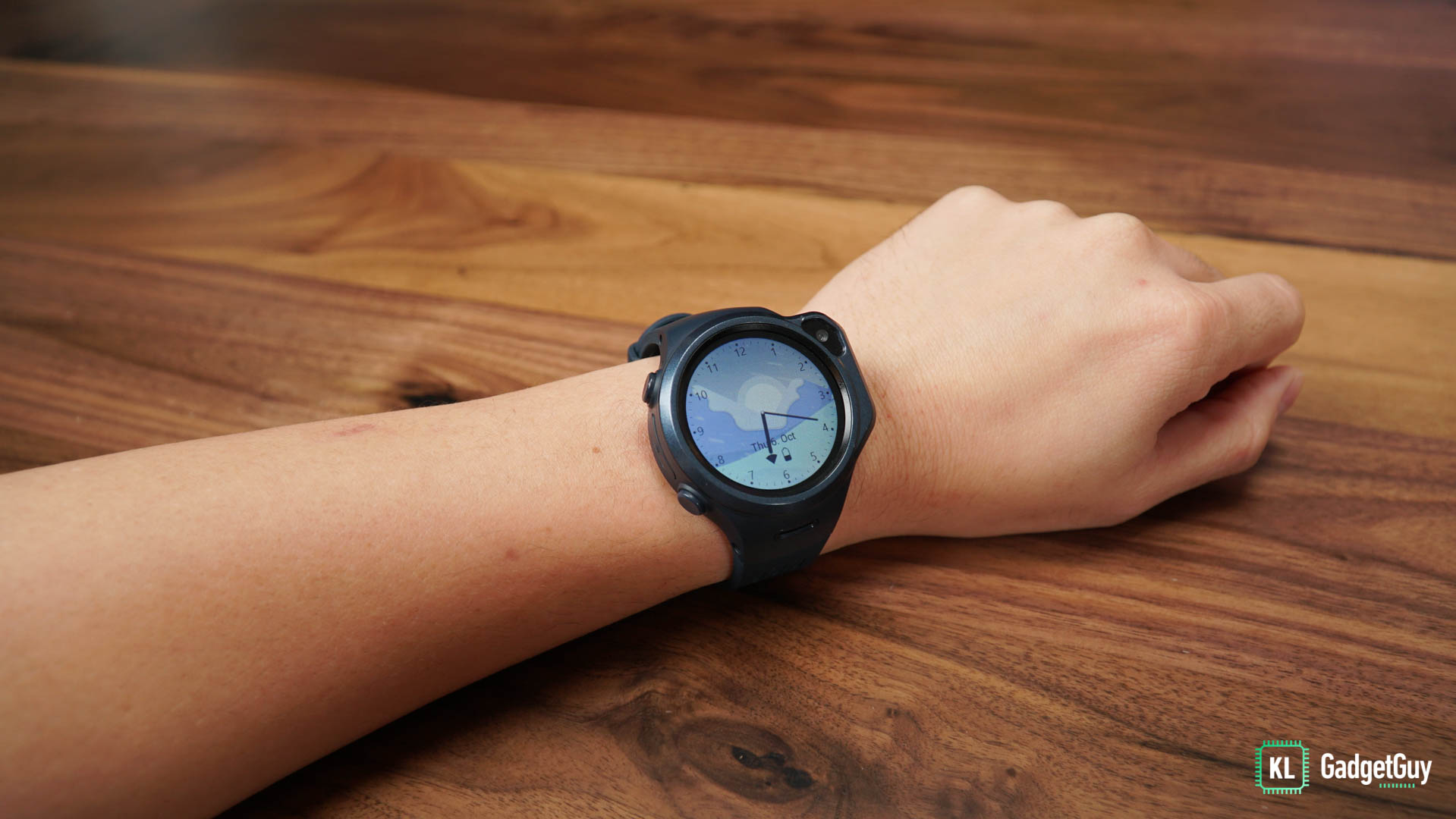 The Fone R1s employs a 1.3" TFT display that looks pretty nice to my eyes, though I'd hope that it could be a higher resolution and brighter display, as it can be hard to view while outdoors. myFirst didn't mention the use of any strong glass on the display, but after wearing for the past three months with occasional bumps and drops, it survived without a single scratch but just a small dent on the frame.
A 2MP camera resides next to the screen can be used for photos and video calling, though don't expect it to be as good as a typical smartphone camera, it is sufficient for seeing what's going on around your kid. Additionally, the Fone R1s comes with 8GB of storage, though only 6GB can be used for storing music and photos.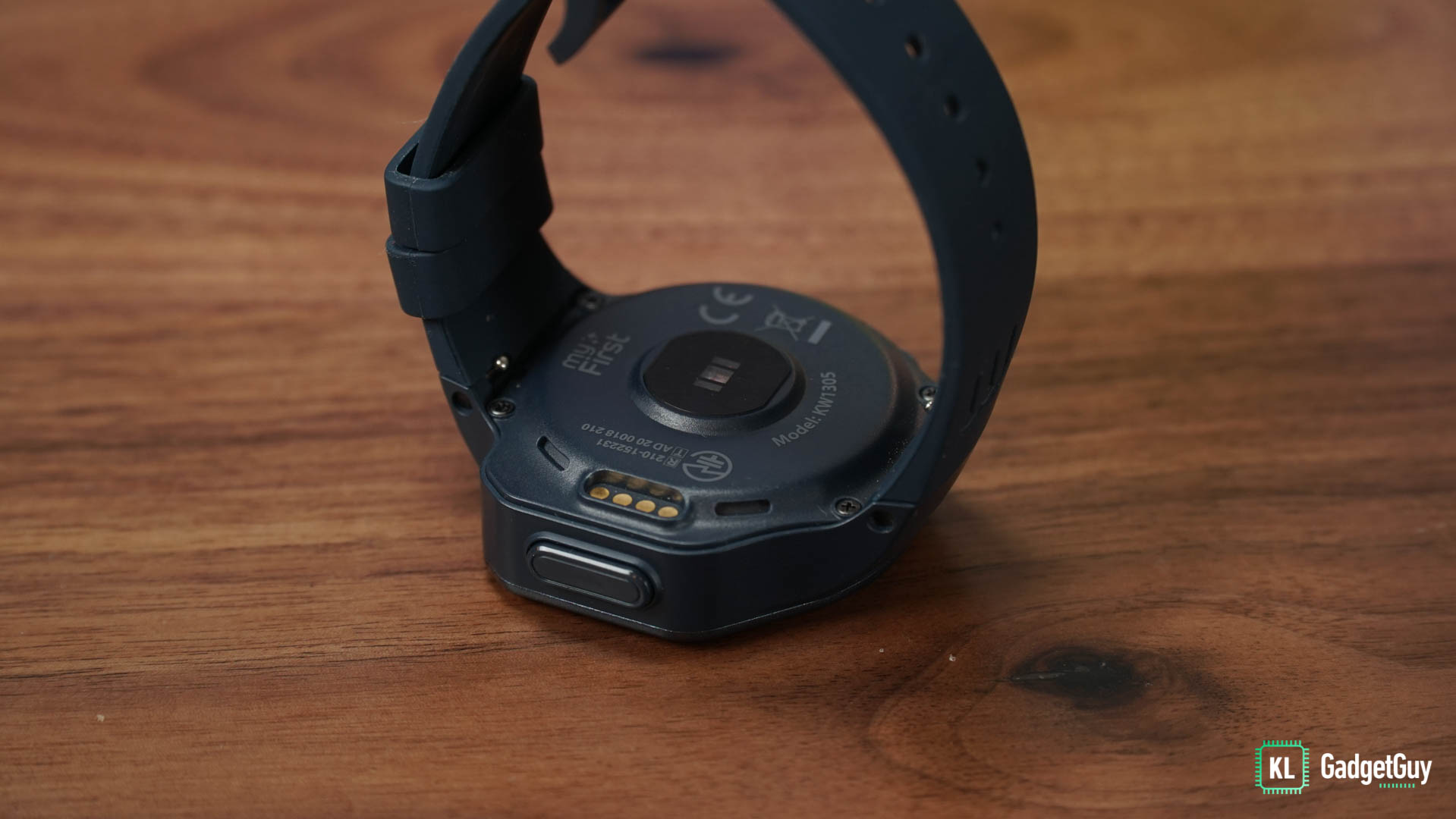 Under the watch, you find an optical heart rate sensor and a magnetic 4-pin connector for charging and data transfer, which I think any kid will appreciate for simple fitness tracking and they will only need to attach the provided charging cable to any smartphone chargers to charge the watch.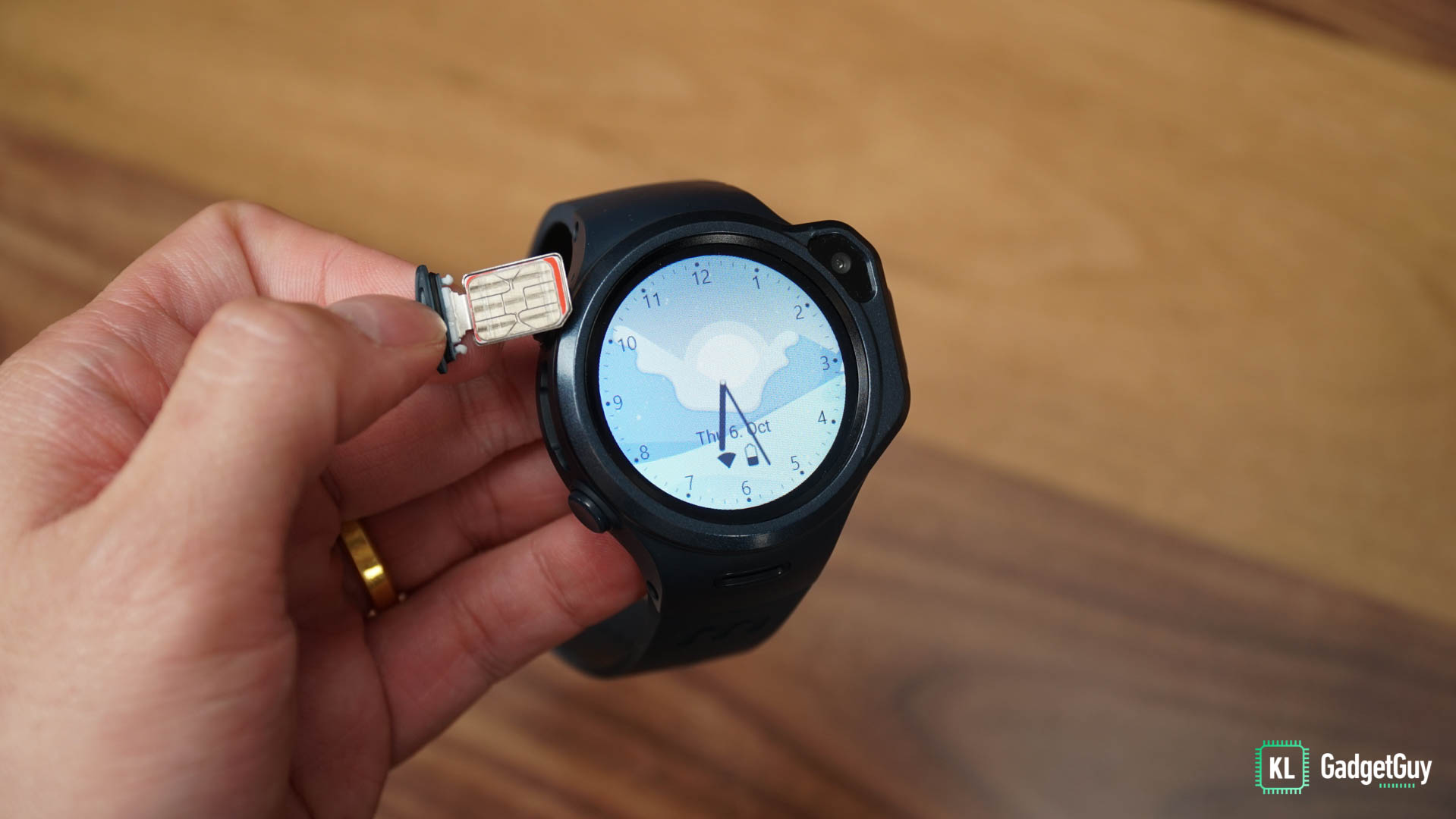 In terms of connectivity, the watch accepts a single Nano SIM card which supports 4G connectivity and VoLTE, which can be accessed by just pulling out the SIM slot on the left with your finger, I was using a unifi mobile SIM card during the review period and it worked without issues, the watch also supports WiFi connectivity if your kid is at home and will help conserve a little battery.
The Fone R1s requires a one-time pairing with an iPhone or Android phone when turning on for the first time, it is very straightforward and any parents should be able to do it without too much effort with the myFirstFone app, the watch itself uses a modified AOSP version of Android, which you will find many familiar user elements that's similar to a regular Android smartphone.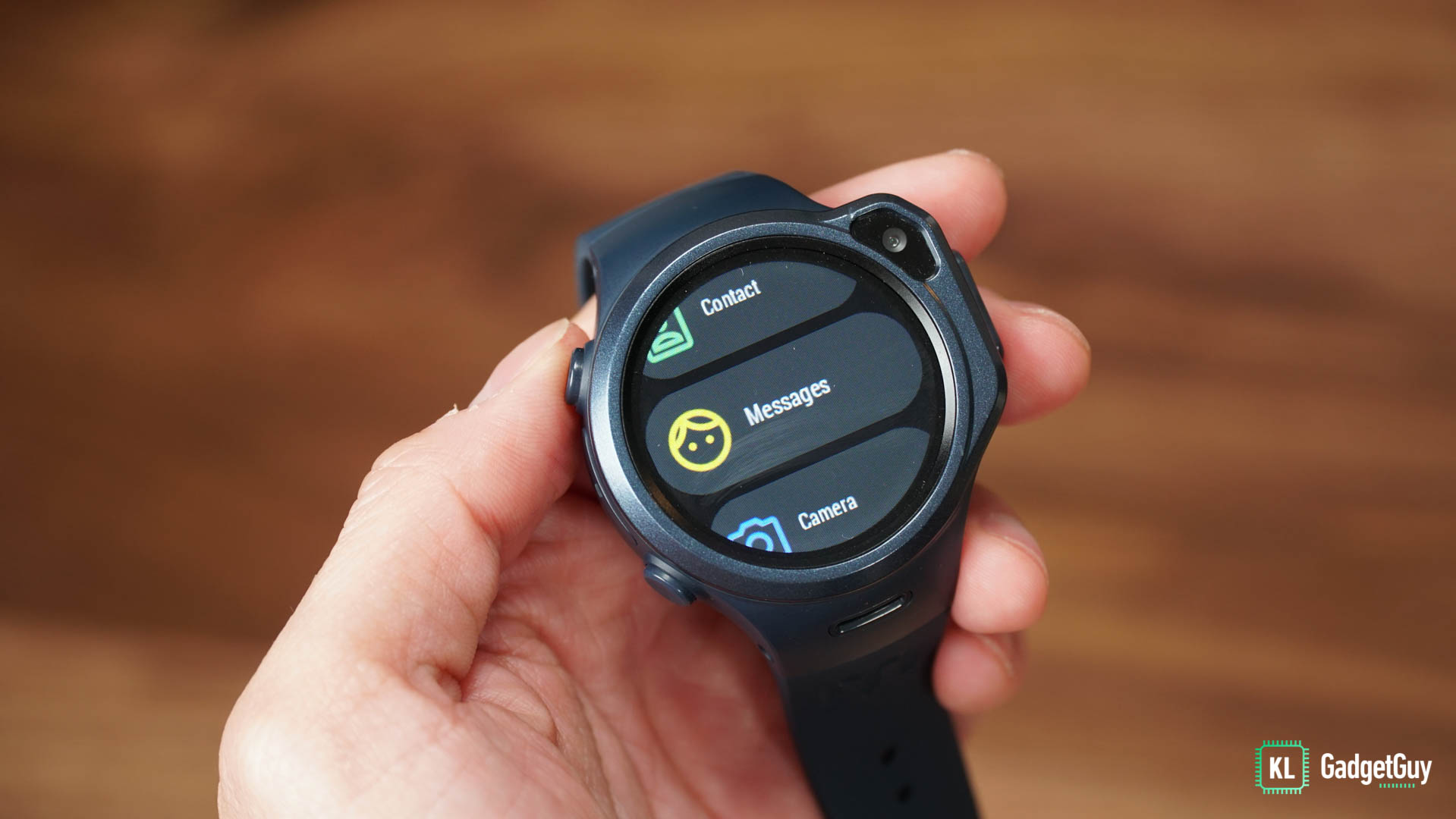 Navigation is straightforward as it works similarly to other smartwatches, swiping left shows you a list of apps, swiping right reveals a simple fitness tracking progress with steps and heart rate, swiping up shows incoming notifications and messages, and swiping down gets you access to connectivity toggles and other settings.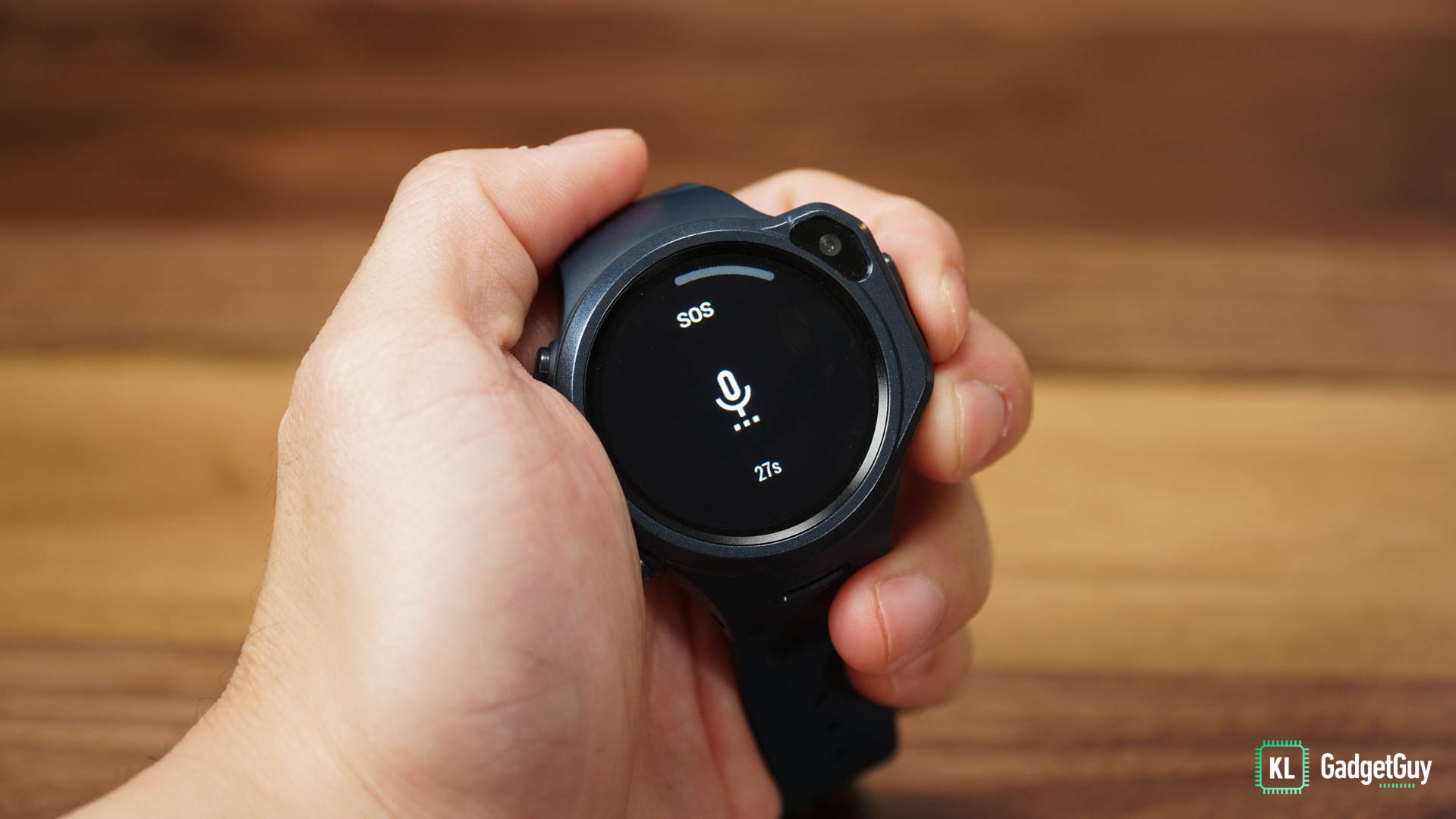 A total of three physical buttons are available on the Fone R1s and they are unfortunately not customizable, the two buttons on the left are used for powering on and going back to the previous screen respectively, while the right big vertical button is used for SOS when long pressed, where it will record a 30-second voice clip and send an SOS emergency notification back to the paired phone if the watch is connected to WiFi or cellular data, though it seems odd why it doesn't take photos or videos from the camera while doing so as it'd be more useful than just sending a voice clip.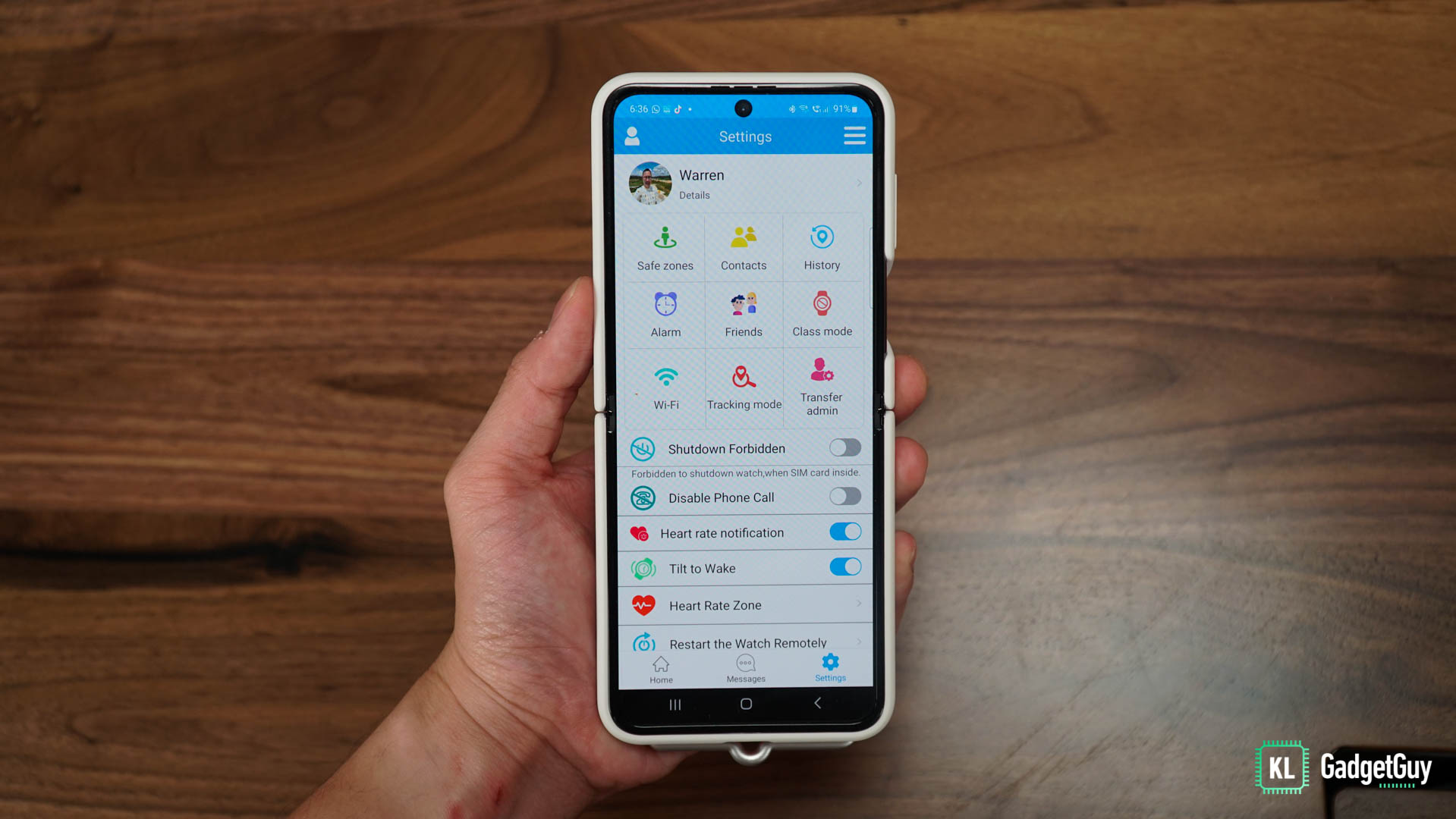 The software experience on the Fone R1s is very much like a limited feature phone and most of the settings are done via the myFirstFone app, the Contacts app can only view contacts saved by the parent and kids can't add any new contacts through the watch, the Messages app will only let kids compose and reply to messages from the paired phone and other friends who uses the same watch, and there are no sports tracking feature despite having the needed sensors for doing so.
No one will be able to dial into the Fone R1s if the contact number isn't saved in the Contacts, so you will be rest assured that your kids won't be picking up phone calls from strangers and unknown numbers.
On the parent's phone, the myFirstFone app allows you to do several parental controls such as geofencing, a class mode that only shows the time at a certain time period so that your kid doesn't get distracted and a forbidden shutdown mode that prevents the watch from being shutdown manually, which works very well in my tests.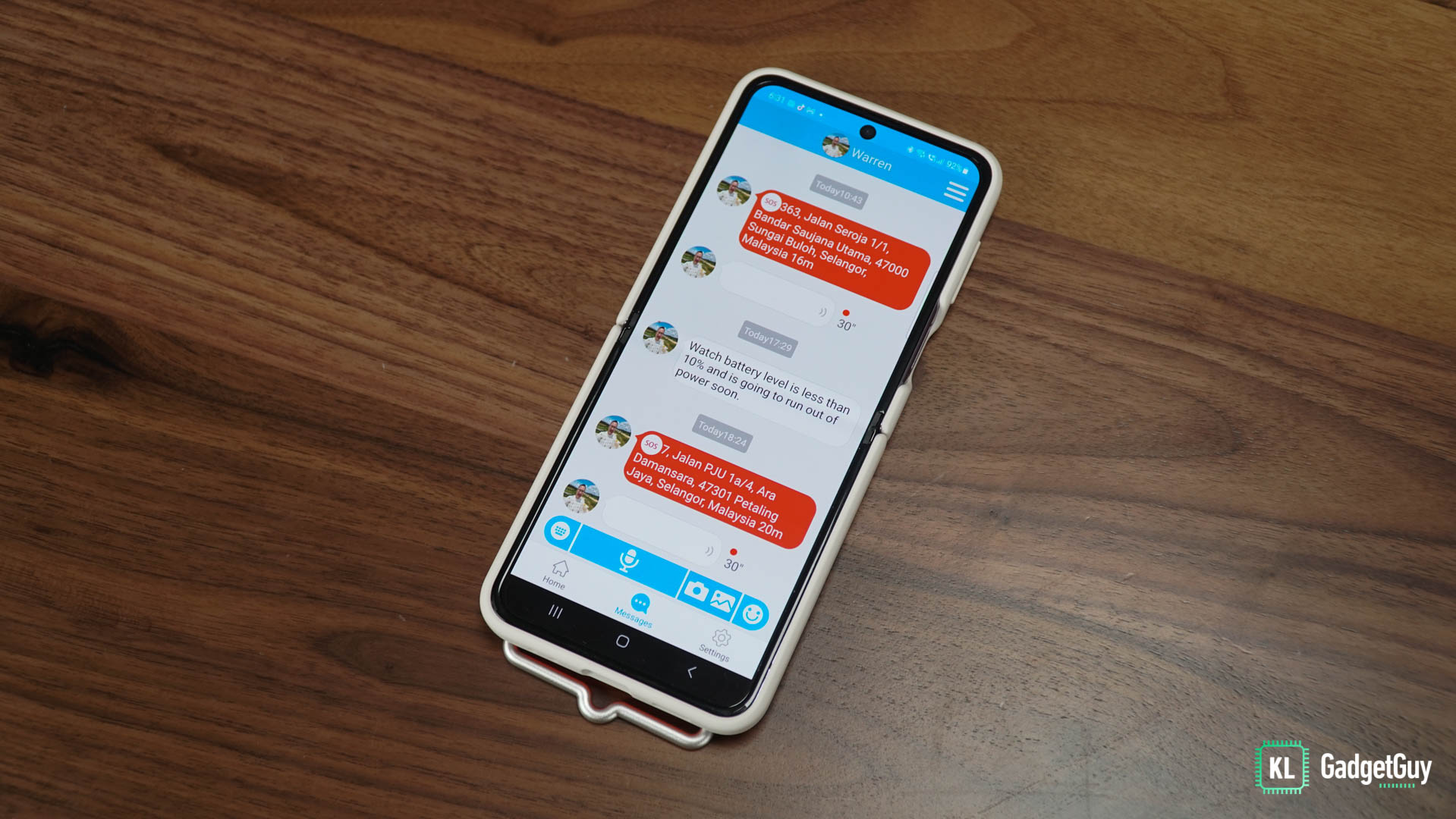 Communication between the watch and paired phone works fine, but there are some occasions that notifications wouldn't reach me on time unless I run the app, which can be risky if you don't monitor after some time, the SOS alert from the watch also doesn't trigger a different notification and I can't configure it to differentiate from my regular notifications, and since this is a kids watch, I would really appreciate if I can have access to my kid's heart rate and fitness activities remotely so that I know he's doing fine.
Battery life is unfortunately one thing that I have to spat on the Fone R1s, as running on Android can terribly drain a smartwatch's battery just like Wear OS smartwatches, the watch will mostly require a daily charge and battery can even run out half way through the day if it is on 4G connectivity all the time, and if you or your kid isn't disciplined enough to hook it up to the charger everyday, the low battery notification can become increasingly frustrating and you or your kid might ultimately give up the watch for a regular one that doesn't even require a charge, despite losing all that tracking functionality.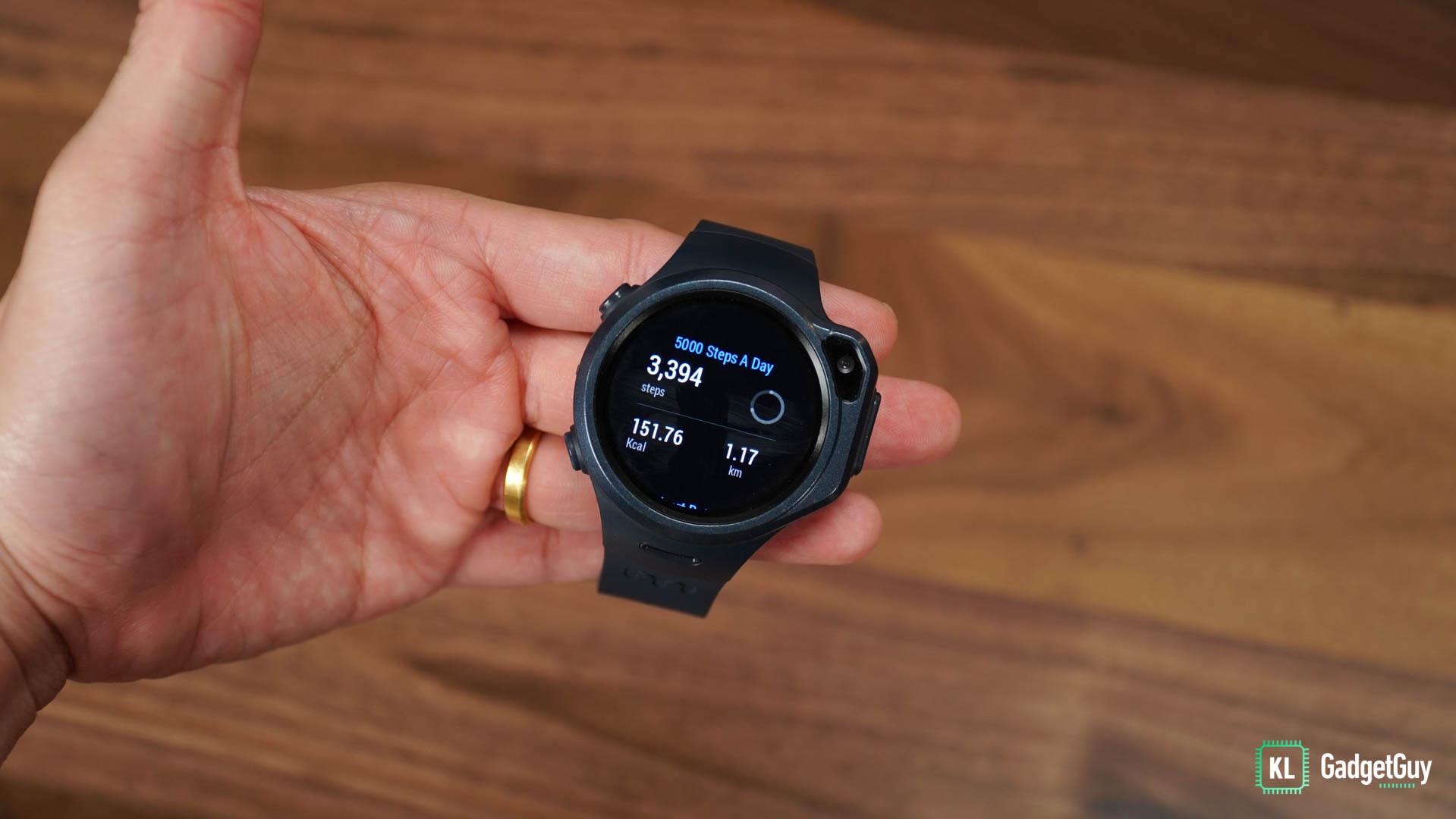 I won't disagree that the myFirst Fone R1s is a fun smartwatch that can potentially improve the interaction between a kid and parent, while keeping kids safe when they aren't near parents. However, the myFirst Fone R1s' asking price of RM899 leaves a lot to be desired when you consider its poor battery life and limited features, and it would probably make more sense buying an entry-level phone and fitness tracker for the same amount, given if your kid's school allow smartphones.
The myFirst Fone R1s can be purchased at Shopee for RM899.