Often times it's not the most outrageous hardware that gets gamers excited – it's the sensibly-priced hardware-laden rigs that we drool over; and I'm glad to report that the ASUS ROG Strix SCAR is exactly that. 
Review unit specs:
CPU: Intel Core i7 10875H, 8-Core, up to 5.1GHz
RAM: 16GB DDR4-3200MHz (up to 32GB)
Storage: Intel 660p 1TB NVMe SSD
Display: 15.6″ Full HD (1920×1080),240Hz 100% sRGB
GPU: NVIDIA GeForce RTX 2070 6GB GDDR6
Battery: 66Wh
Display and design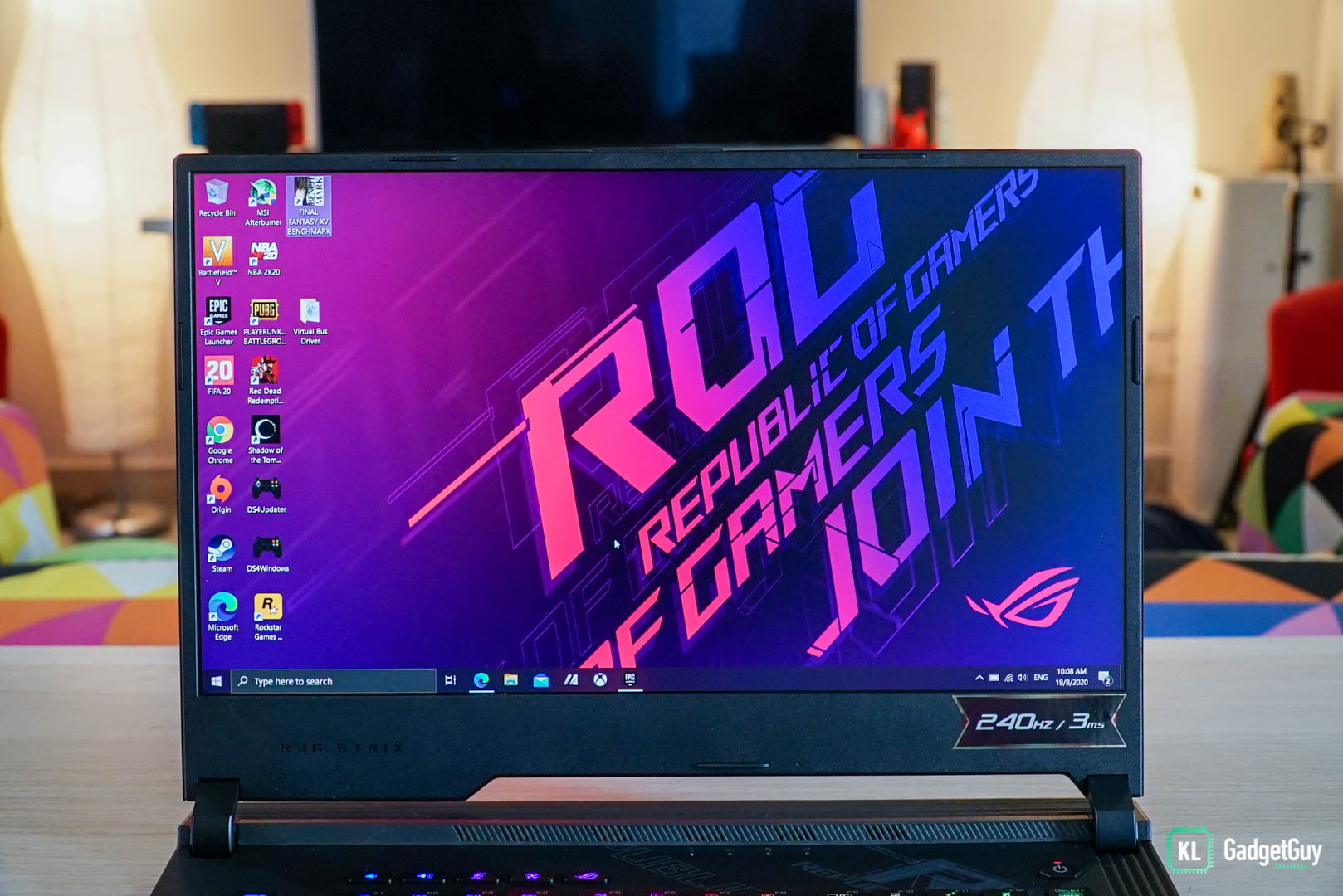 This is a 15.6-inch laptop with a FHD 240Hz display that offers an 100% sRGB colour output. The display is also Pantone validated so you get accurate colour reproduction – which is useful for creators. Out of the box, the display looks crisp and vivid, especially while gaming – even at 1080p resolution, details and colours were fantastic.  
You can also load up GameVisual via Armoury Crate to tweak your display settings using presets. The display bezels are also relatively thin, but with that, ASUS omits the built-in webcam for lack of space.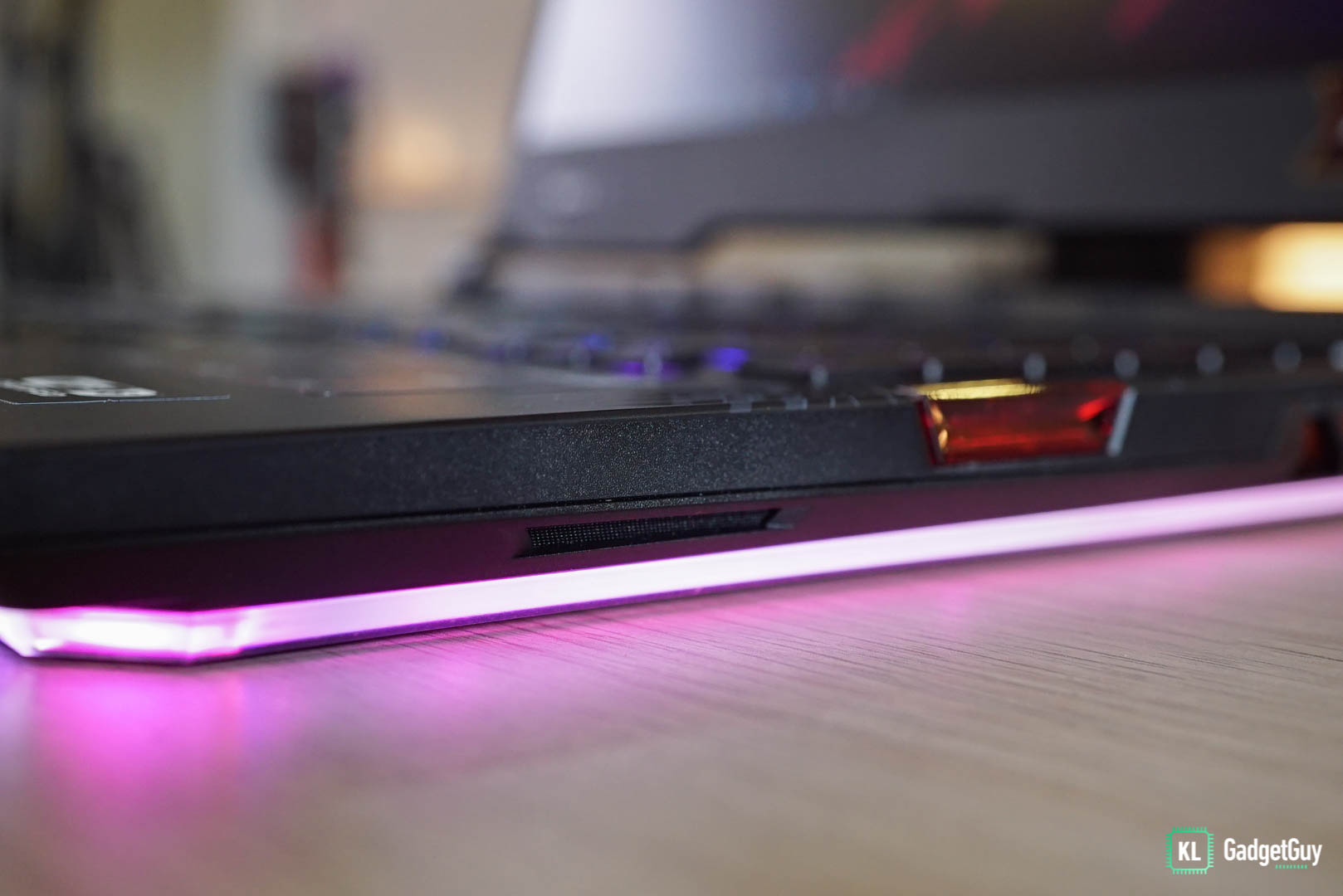 Despite its upper-midrange positioning, the Strix SCAR 15 is one of the best-looking gaming laptops around. The all-back finish serves as a canvas for the stunning wraparound light bar at the bottom of the laptop. The lighting spans across both sides, and on the front of the bottom panel; you can have it glow in any colour you choose via Armoury Crate. 
When it comes to build quality, the laptop feels like an absolute unit, but its plastic materials are skin oil magnets, so a frequent wipe down is a must if smudges bother you, which it did for me. The Strix SCAR 15 is hefty too weighing at 2.57kg without the charging brick; meaning this laptop is mostly going to be hunkered down at home most of the time. 
Keyboard and touchpad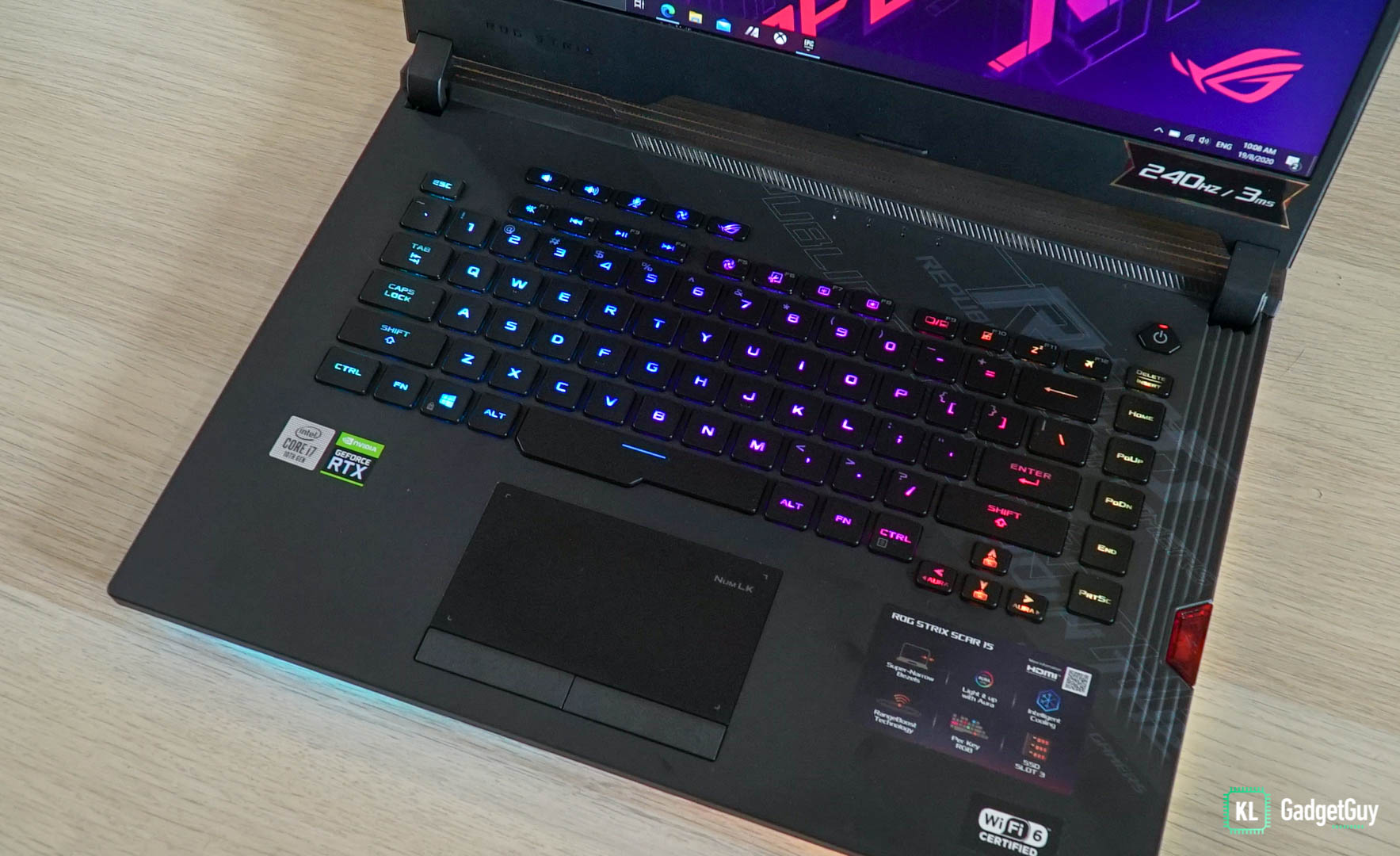 It's your usual per-key addressable RGB affair here and it's the sort of thing ASUS has mastered by now; so as usual of the Taiwanese giants, the keyboard looks great. Thankfully, they type fantastically as well – there's a medium travel with good key spacing.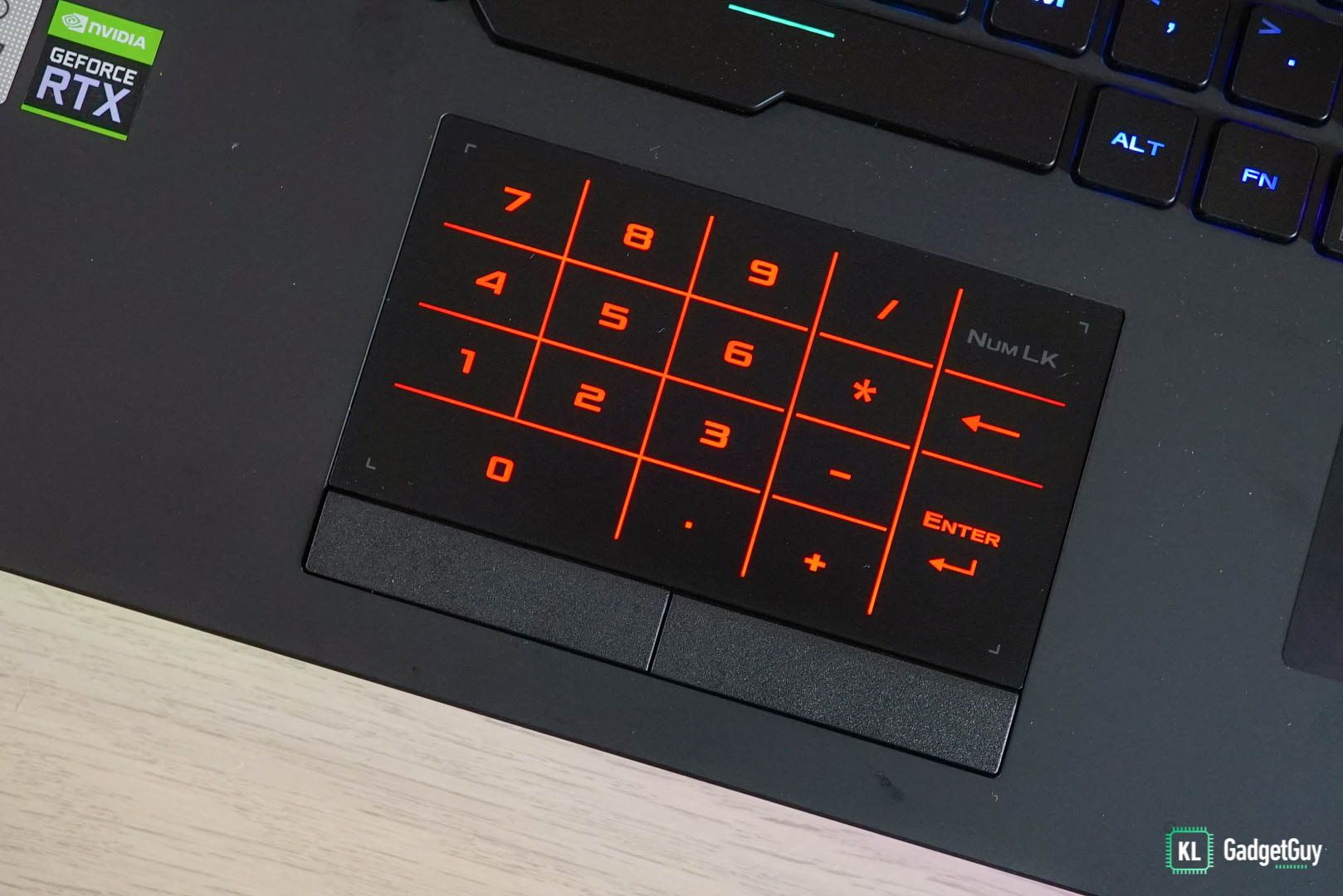 The touchpad is also decently sized and have a glossy finish – this too is a grease magnet and you'll need a frequent wipe-down to keep it presentable. On the Strix SCAR 15 is also a digital numpad that, although won't impress accountants, does looks mightily cool and can come in handy for some folk.  
Audio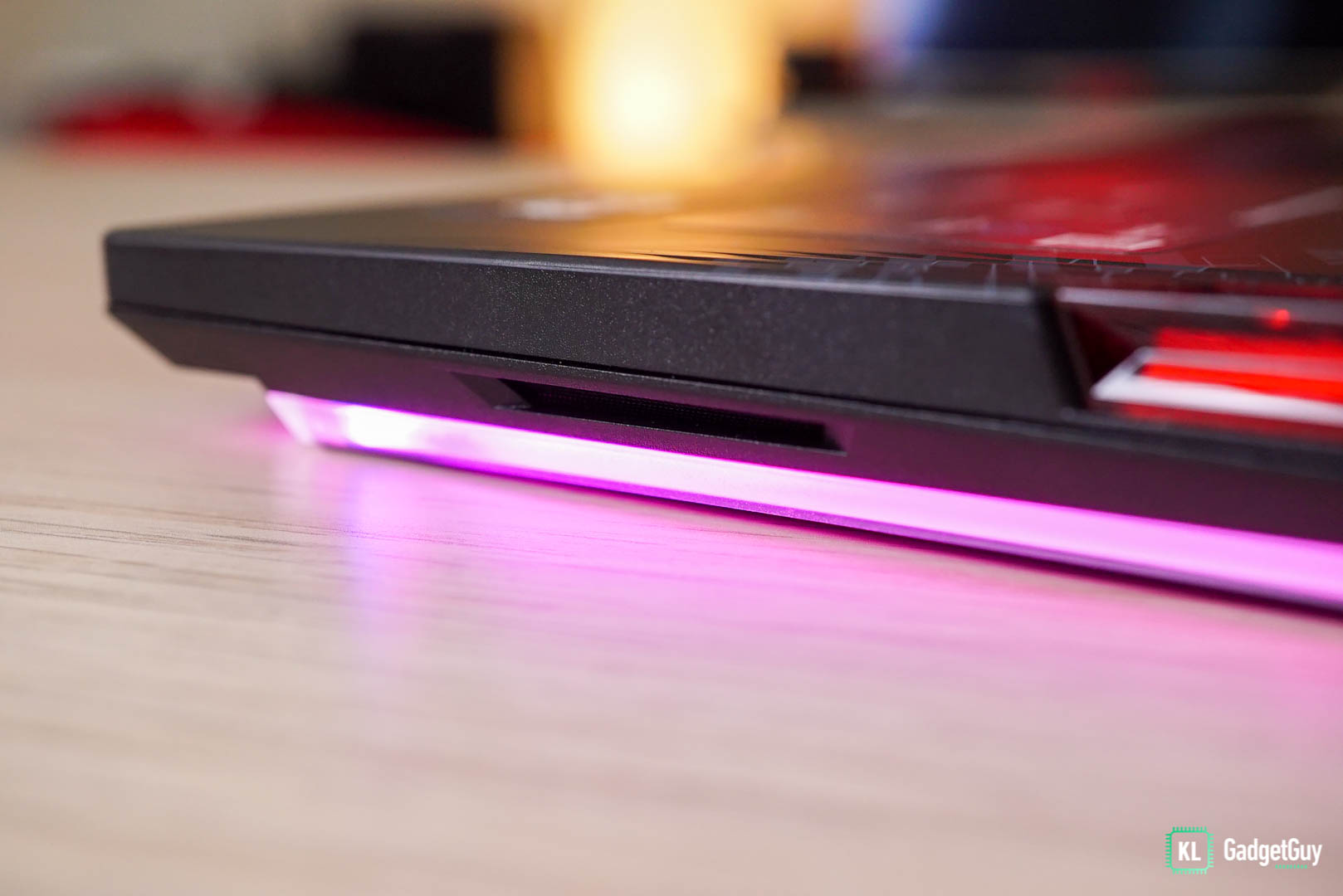 There are two side-firing speakers on this device and they sound fine without being spectacular – in fact, I think they're good enough for casual gaming and media consumption. Highs and mids are crisp, and there's depth in the audio that I found added to experience when binging Netflix. 
It's the low frequency tones that are lacking and that plays a role in disengaging gamers from their experience with atmosphere-heavy games like Red Dead Redemption 2 (sound effects and music aren't as apparent). But if you just want something loud, the pair will do just fine. 
I/O ports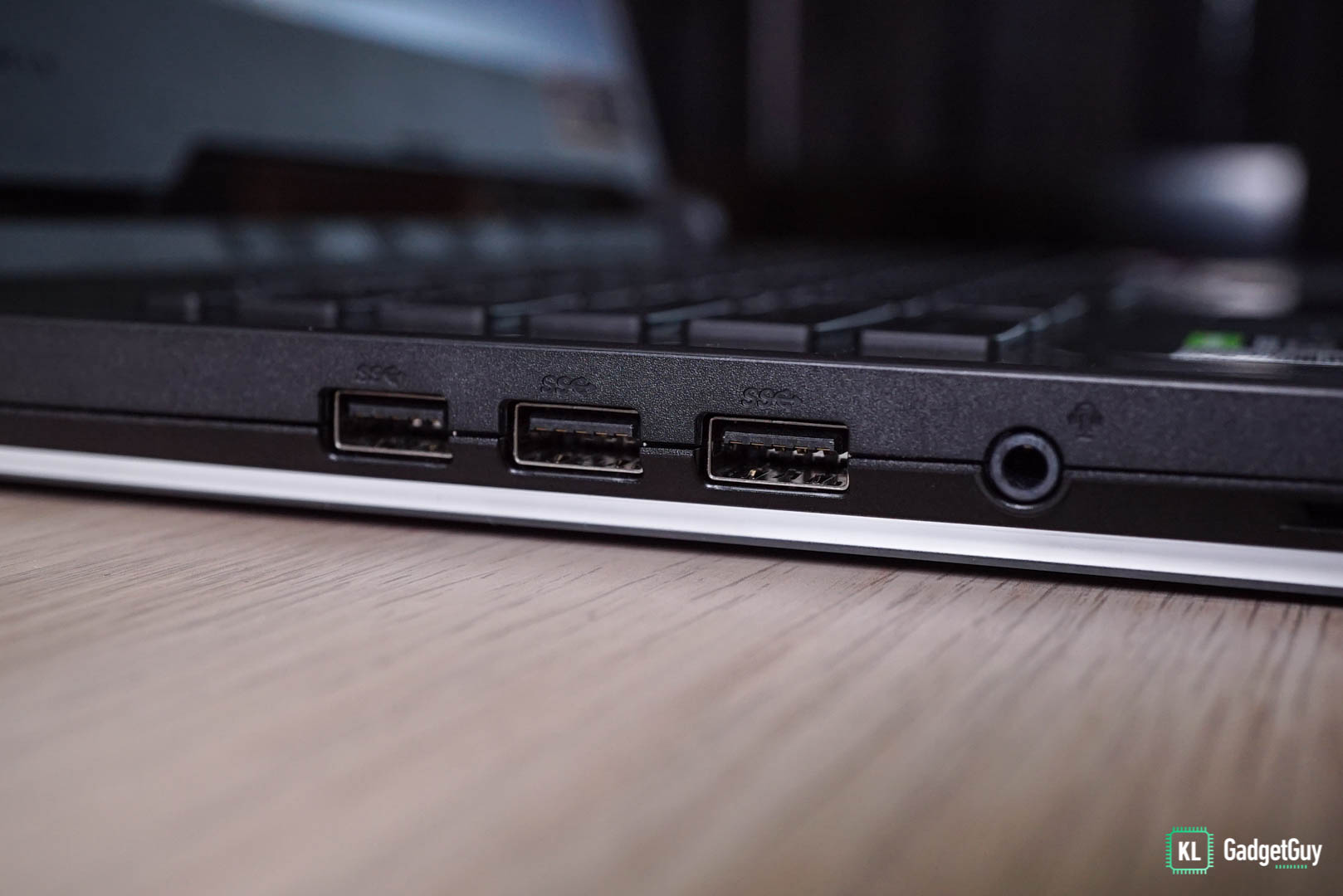 There are 3x USB 3.2 Gen 1 Type-A ports on the left side so all peripherals go there, including your headphone as the 3.5mm jack is also located on the left. The right side only houses the keystone port while the back houses 1x USB3.2 Gen 2 Type-C port (supports DisplayPort), 1x ethernet jack, and 1x HDMI port.  
Performance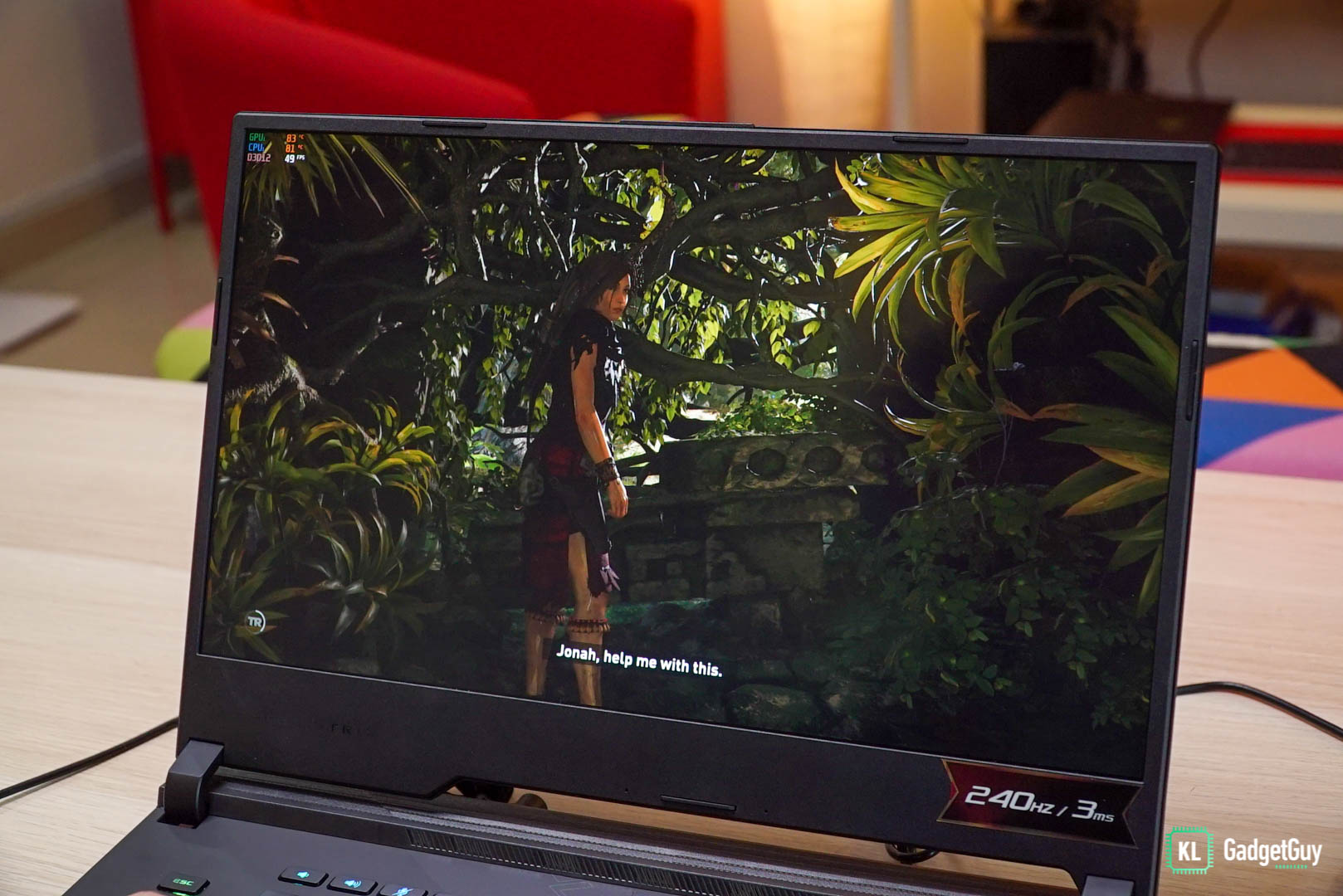 Now, let's talk about performance – the laptop comes equipped with an Intel Core i7-10875H alongside and NVIDIA GeForce RTX 2070. There's 16GB 3,200Mhz DDR4 RAM which are both removable to make way for up to 32GB of memory.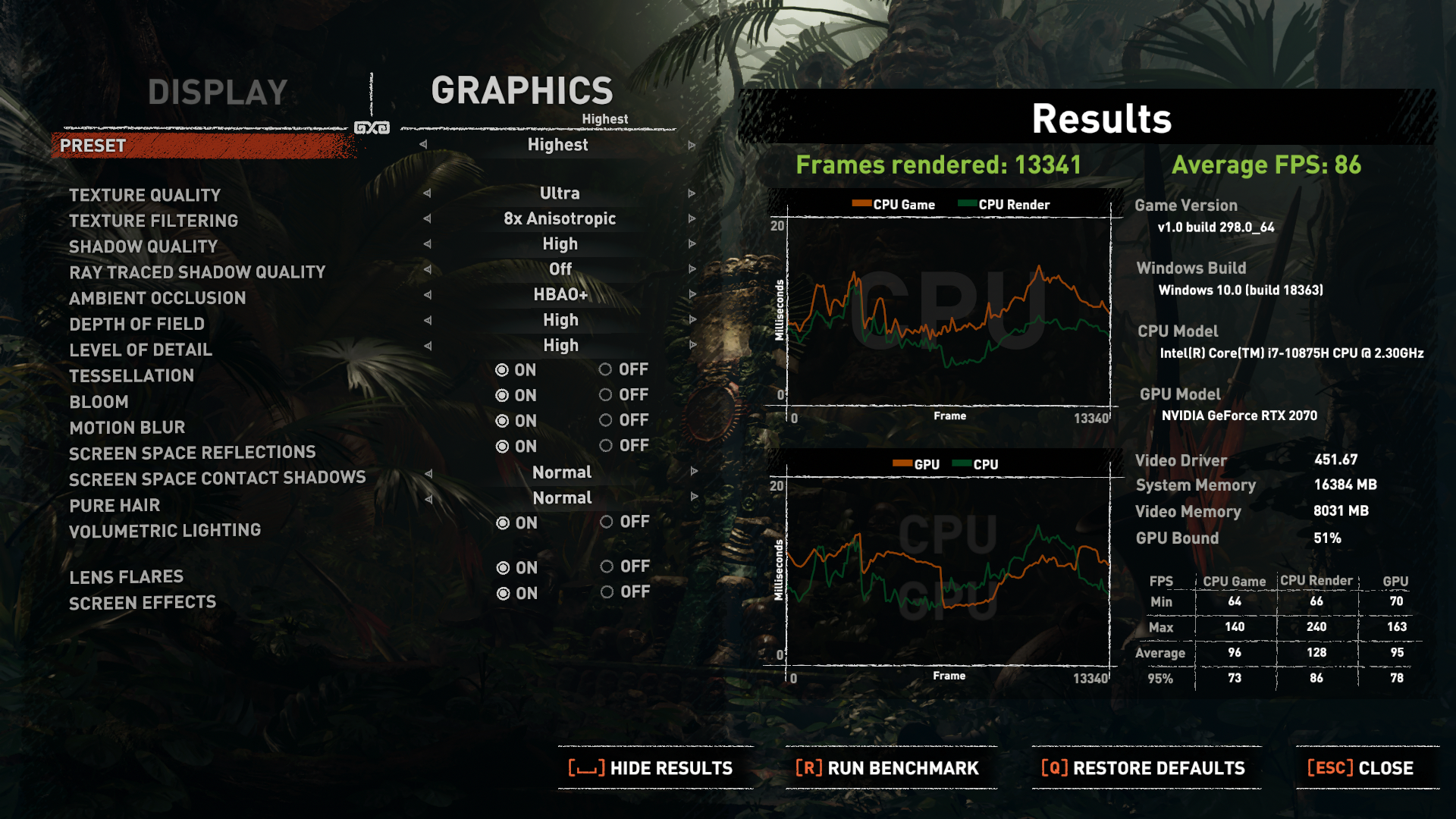 I first tested out the game with Shadow of the Tomb Raider's benchmark tool – our first test had everything on Ultra, but with RTX shadows turned off, and we achieved an average FPS of 86FPS which is mightily impressive.  
With RTX Shadows set at Ultra and everything else left unchanged, we got an average FPS of around 56FPS. So, it'll be necessary to tweak your settings a bit should you want RTX shadows enabled.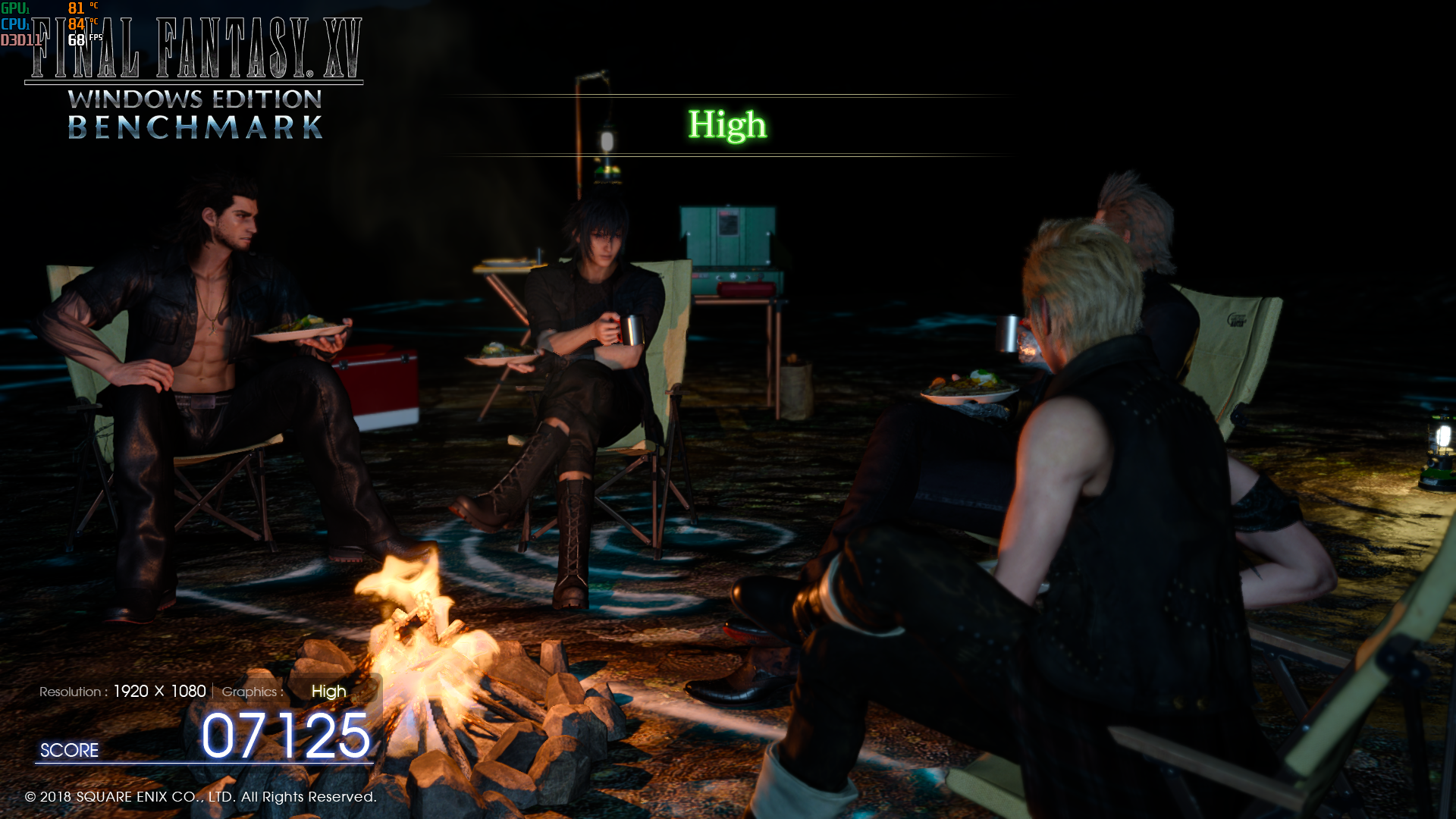 The next game on my list is the Final Fantasy XV benchmark tool – with everything set at the highest but with the NVIDIA settings turned off, I scored 7125 (High) points; I then turned on all the NVIDIA settings, and enabled DLSS which meant the program had to run at 4K resolution – the end result was respectable at 3209 (Standard).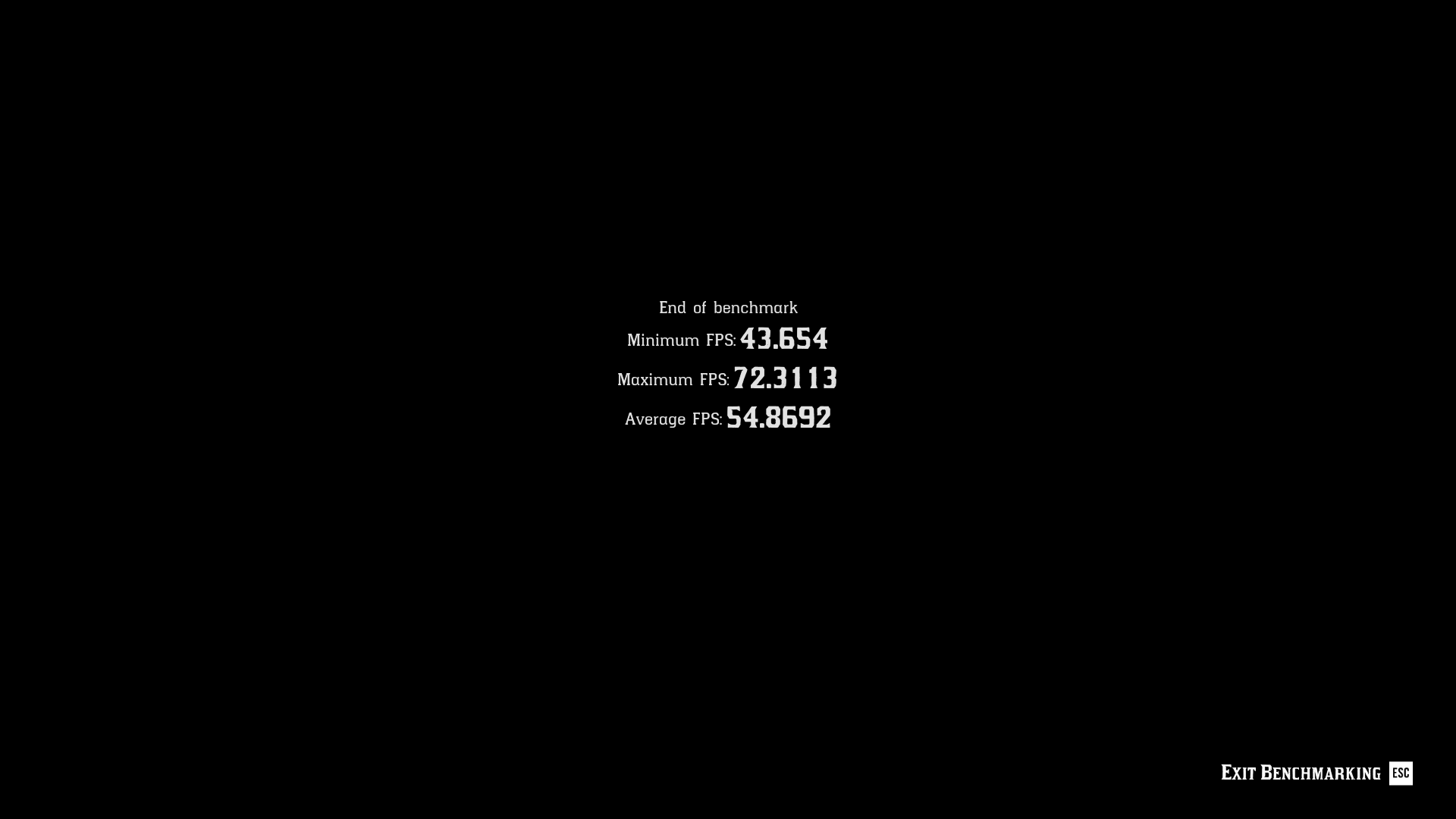 Next up is my, and possibly everyone's personal favourite, Red Dead Redemption 2 – yes, I'm running the benchmark tool again for this; just bear with me. With no expenses spared in the graphics settings, the game scored an average score of about 55FPS – which isn't too bad since RDR2 is a taxing game. Getting it to achieve a steady 60FPS will merely require a one-step bump down for certain settings like lighting and shadows – so you're not losing out on much for a smoother gaming experience.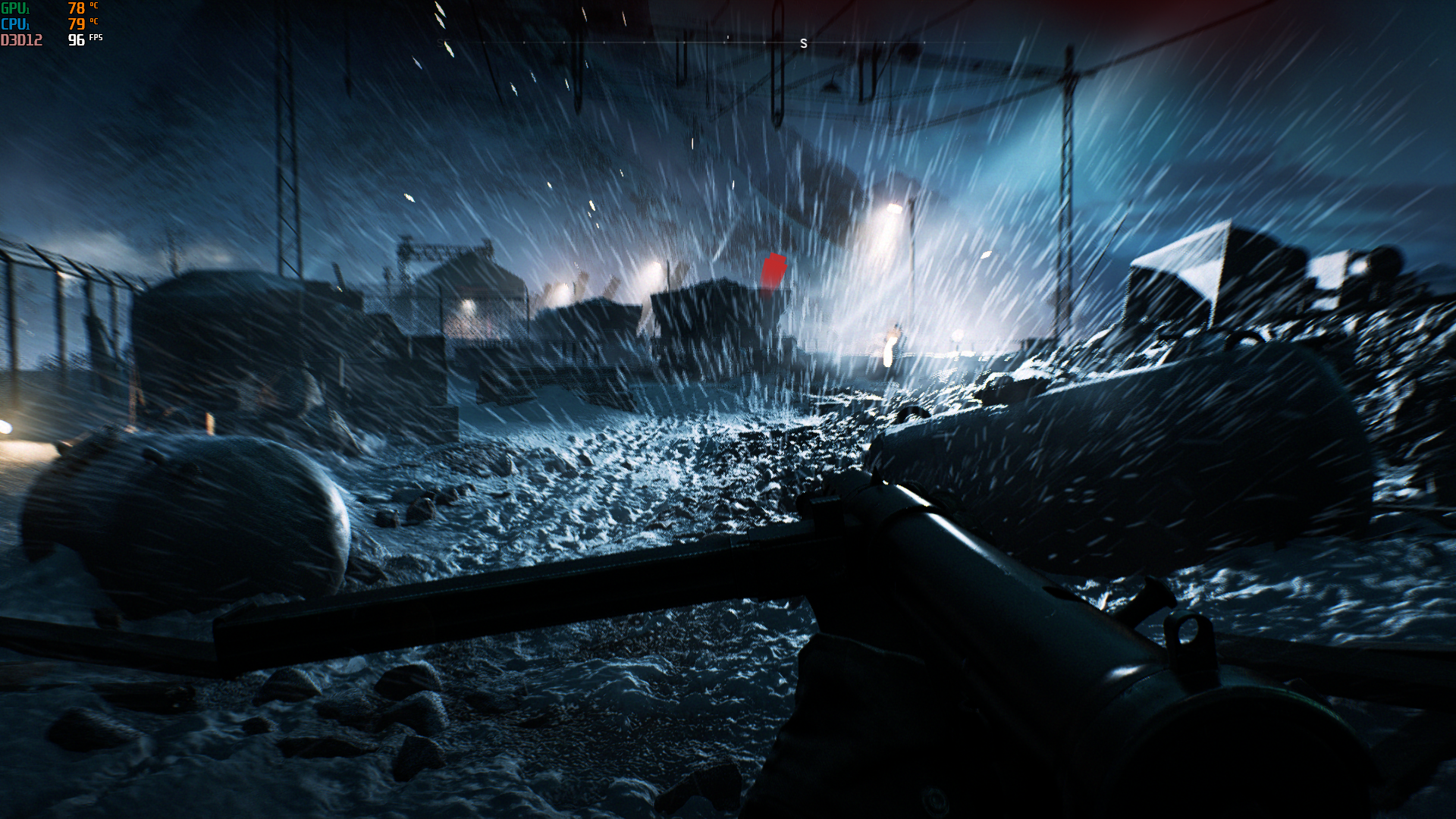 Lastly, we come to our last graphic-intensive title, Battlefied V – as usual, I put the laptop through its paces using the first story mission in the game. With the highest graphics settings without RTX enabled, I got an average FPS of around low 90s when the action is heavy; with ray-tracing turned on, you can expect frequent dips into low 60s, which is decent.  
Next up are synthetic benchmarks – the laptop managed a score of 7,489 on 3DMark's Time Spy, which is standard for this setup; we also ran Blender tests using the bmw27 and classroom scenes – the former was rendered in a respectable 3 minutes 40 seconds, while the latter concluded at 11 minutes and 35 seconds. This machine is definitely capable of light to medium-heavy creative work. 
Thermals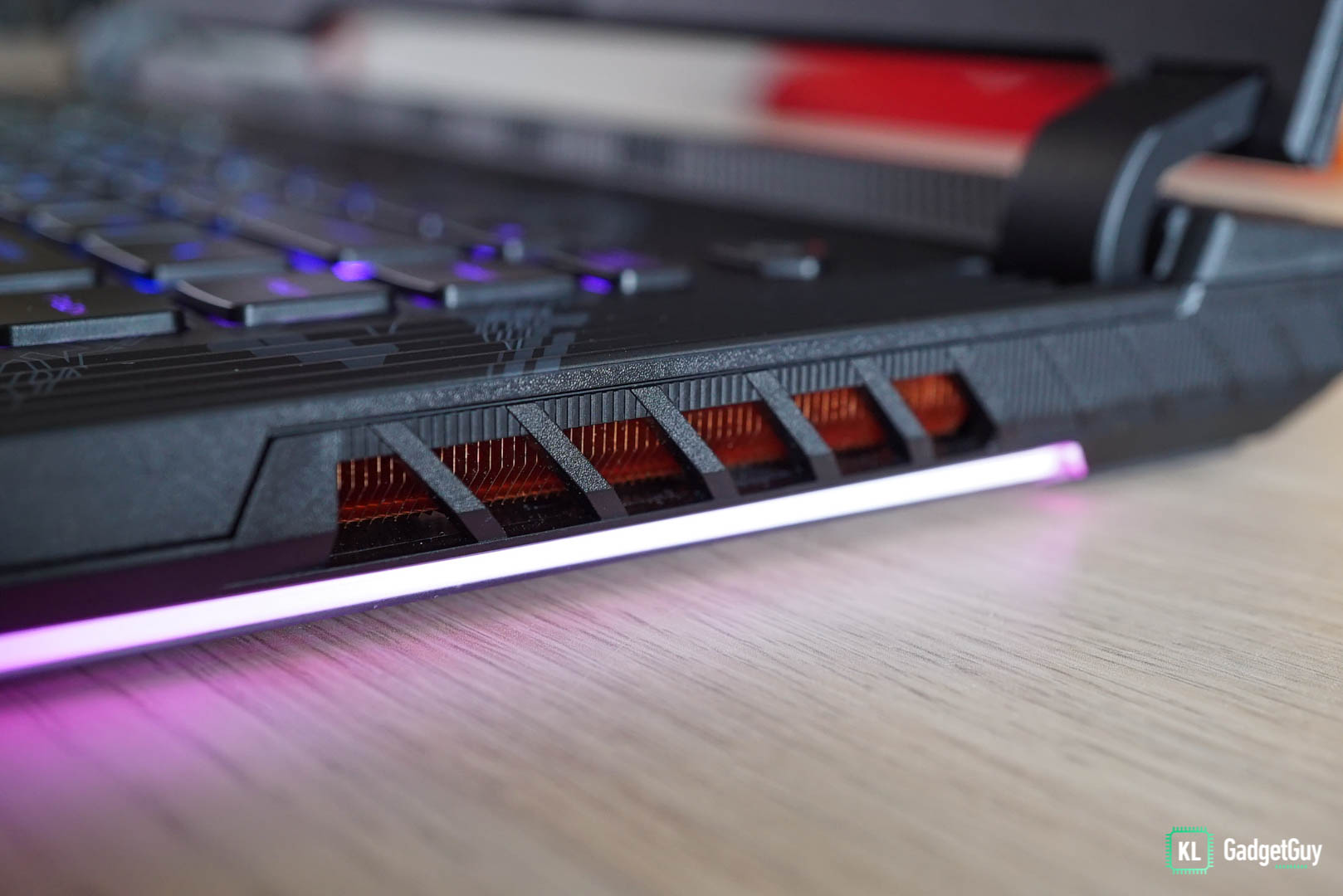 You get one side-firing exhaust vent and two more at the back; the bottom intake vents on the cover panel are smaller than I would've liked – this translates into warmer component temperatures. The CPU recorded a max temperature of 94 degrees Celsius while at a frequency of around 4.4GHz; not quite the 5.1GHz it's rated to achieve. This is after about an hour and a half of gaming too. 
The GPU hit a maximum of 81 degrees Celsius so no qualms there. Note that the tests were all done on the Turbo power mode which cranks up the fans to around 5,000RPM throughout the whole testing period. ASUS says that the laptops are equipped with dual 'N-Blade' fans that have thinner blades that are also strong enough to withstand spinning at high RPMs.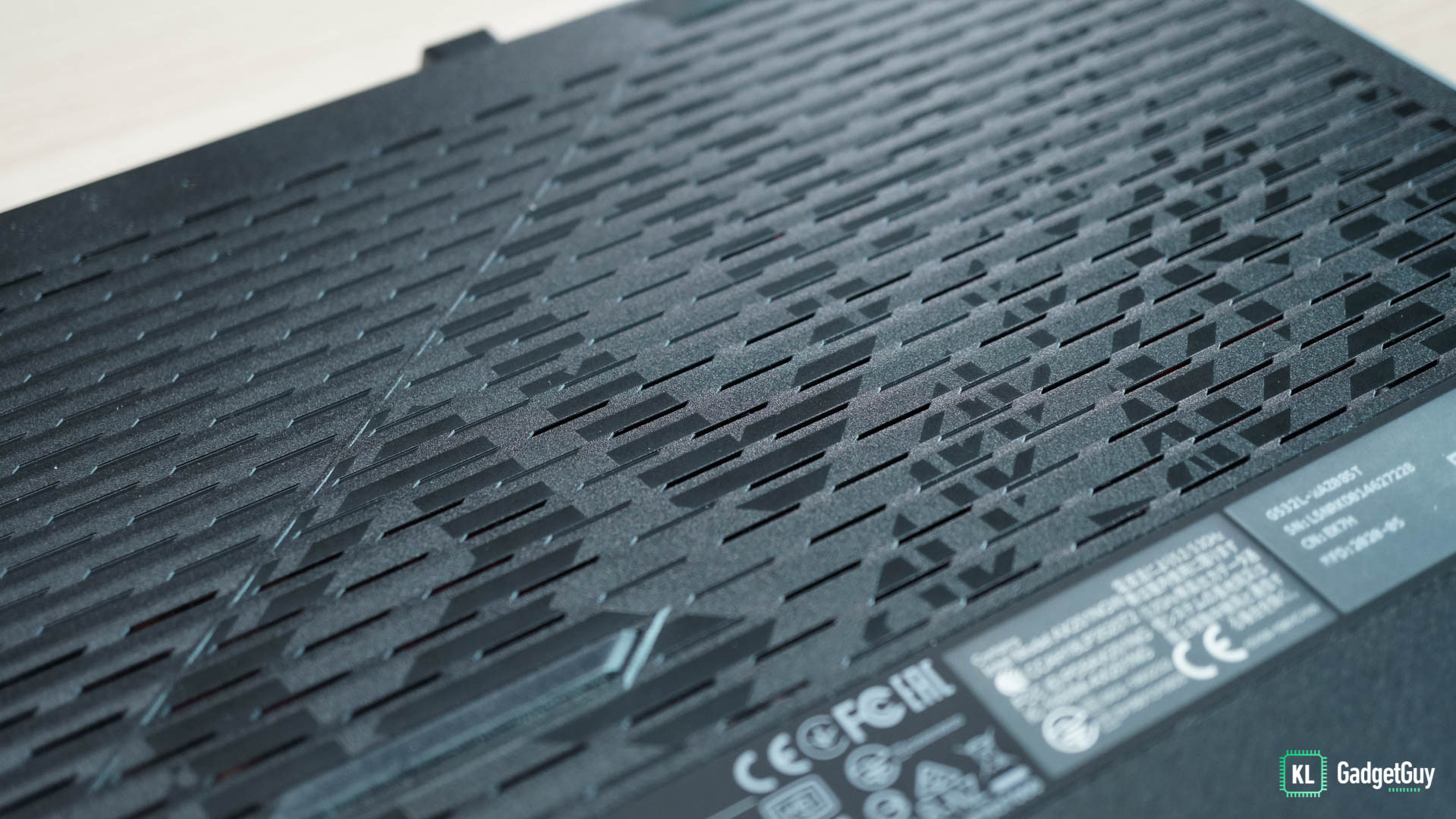 In terms of chassis heat – It gets slightly warm on both palm rests but it never got uncomfortable for me. But with the side intake placed on the right side of the laptop, right-handers may find it difficult to place their hands close to the laptop – this of course depends on how you position your hands. 
Upgradability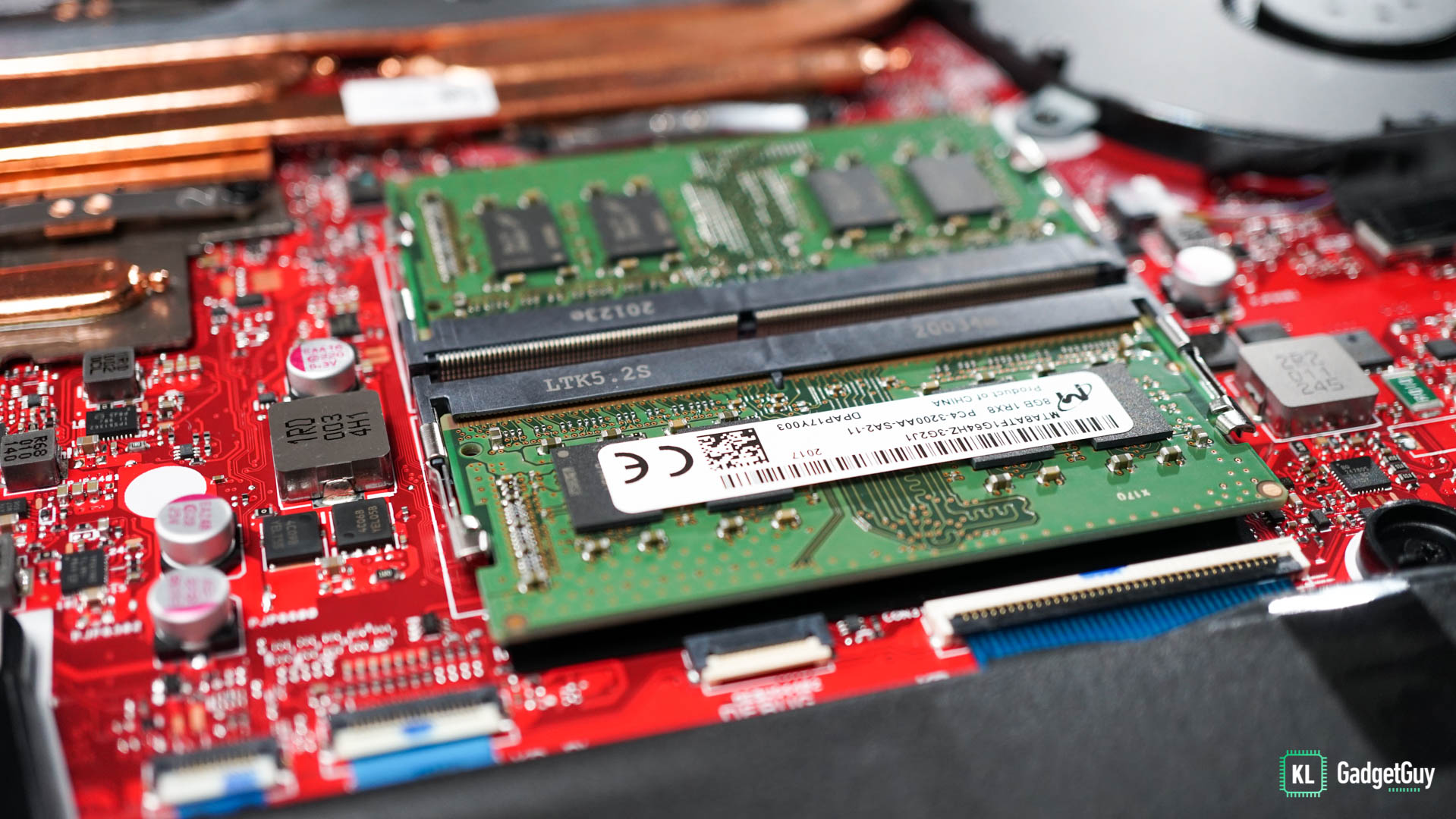 There's not much to say here besides the two slots of RAM that supports up to 32GB of 3200Mhz DDR4 RAM; and the two additional M.2 SSD slots which gives you a total of three ports for storage. You can also configure them to run at RAID 0 if you want blistering speeds.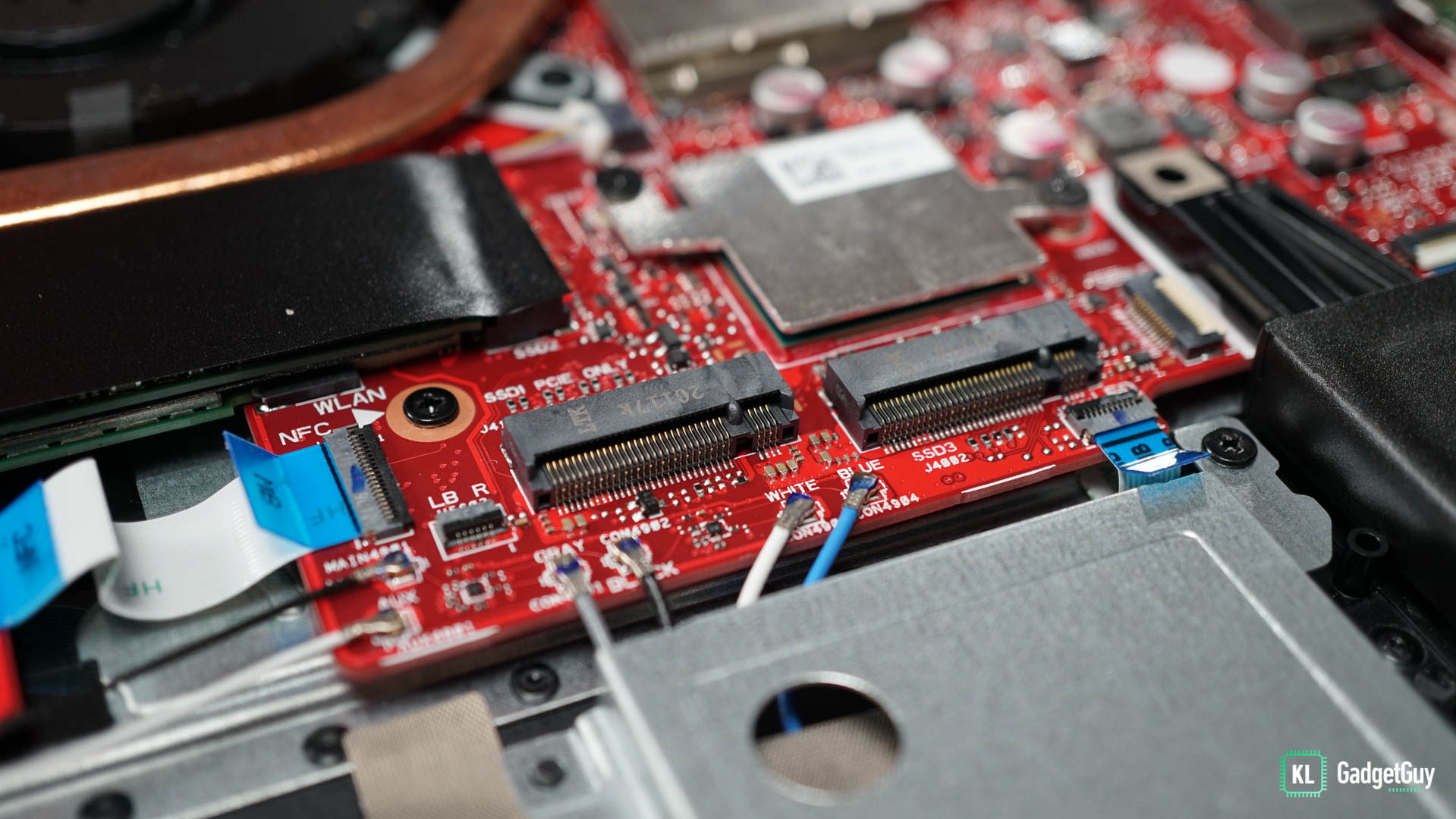 Opening up the bottom panel is easy enough with a regular Philips-head screwdriver; on the bottom right of the cover is ASUS' signature pop-up screw which, when unfastened, props up the panel so you can easily pry it open. It's also important note that there are two connectors tethered to the motherboard from the panel – it powers the wraparound light bar.
Battery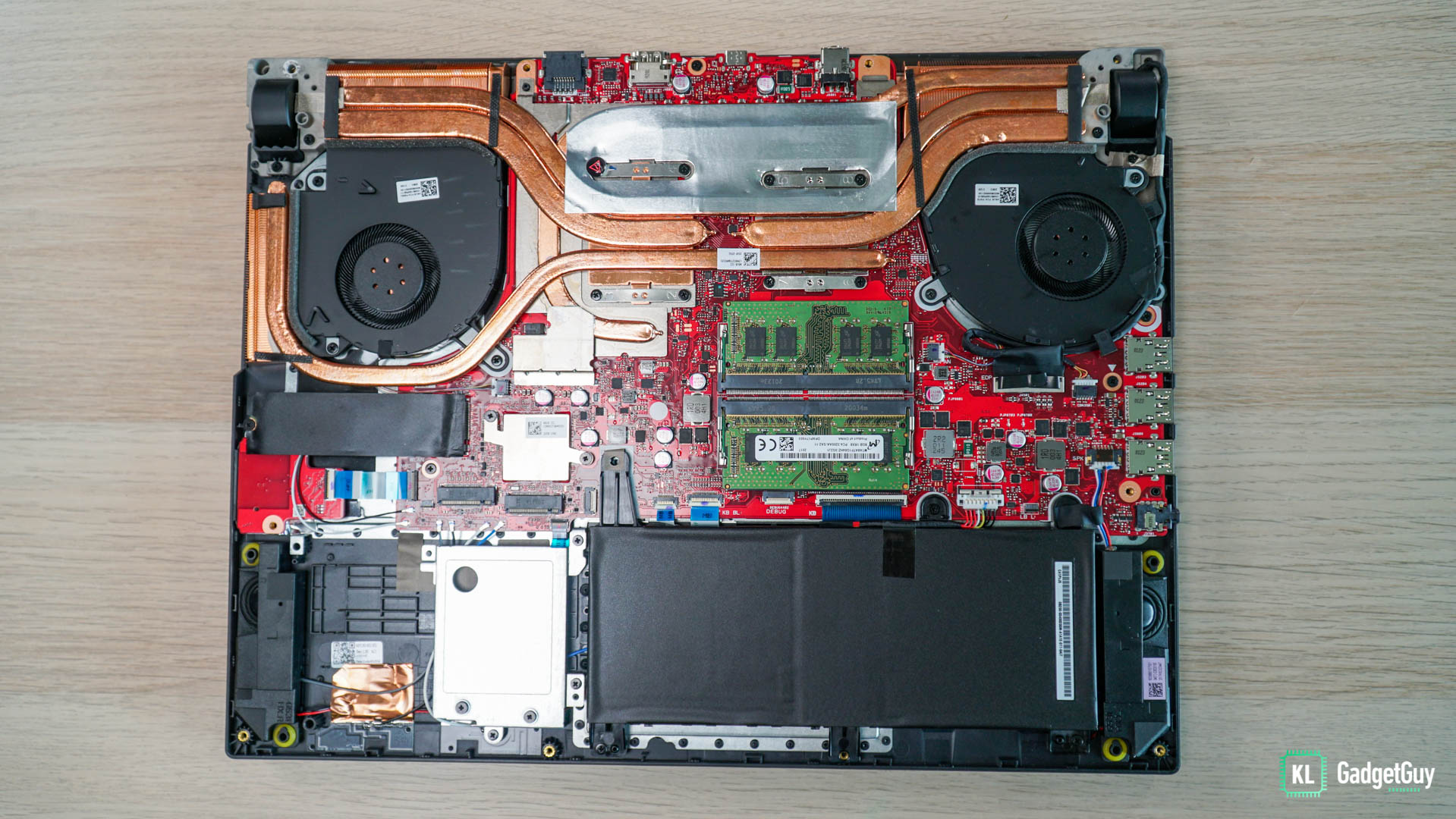 This laptop comes with a 66Wh battery and with power saving mode on, the laptop can last about three to four hours if you use it for work and casual web browsing.  
Verdict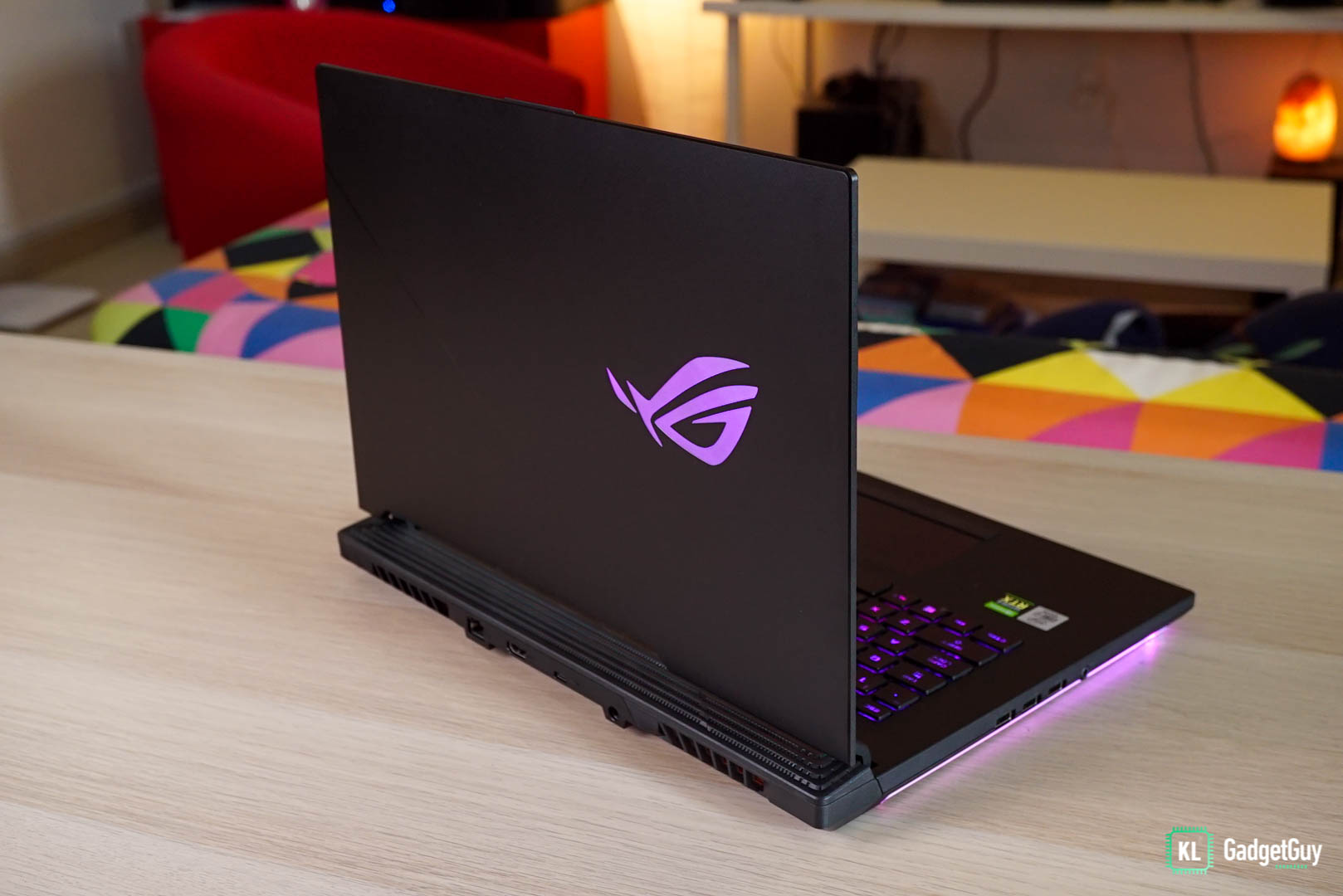 For RM7,999, the ROD Strix SCAR 15 does it all, and does them with aplomb – its impressive upgradability, coupled with the specs you're getting future proofs you for at least another 3 years.  
Its gaming prowess is indisputable, while other features like its gorgeous 240Hz monitor, comfortable keyboard, and impressive audio make the SCAR 15 feel like top-range premium device. What also contributes to the classy feel of the laptop are its simple, yet sleek aesthetics which are accented by RGB lighting that, as much as some people detest, add extra flare to the rig. 
Its weight may make it tiresome to lug around for people who travel a lot, while its plastic finish attracts grease like nothing else. I also think the bottom intake panel could have larger vents, or more of it for better airflow.  
These issues aside, ASUS has hit a home-run with the ROG Strix SCAR 15 is one of the best buys of 2020. Visit ASUS' website here for more information on how to buy the laptop.
The Good
Fantastic 240Hz display
Ample room for upgradability
Good gaming and rendering performance
Classy design
Decent battery life
The Not so Good
On the heavier side
Thermals could be better
No webcam