Ever since owning my first ultrawide monitor, I have become quite a fan of what I can do on it especially when it comes to productivity use, but gaming on an ultrawide monitor was never on my mind as I still prefer the regular 16:9 aspect ratio, not to mention that the 21:9 aspect ratio only works for a number of game titles.
Samsung Odyssey G9 Neo Unboxing and First Impressions Video
Samsung's 49-inch Odyssey G9 NEO is a very different kind of ultrawide gaming monitor, it is curvy, humungous and stunningly impressive with a bright Quantum Mini-LED VA panel that 'kind of' wraps you around with a 1000R curvature, in fact the curve is so extreme that you'd probably find it hard to accept when you view it up close, the ultrawide screen estate would also make your default Windows desktop super awkward with everything aligned to the left, but man, there's just so much to love about this gaming monitor once you are done setting up everything.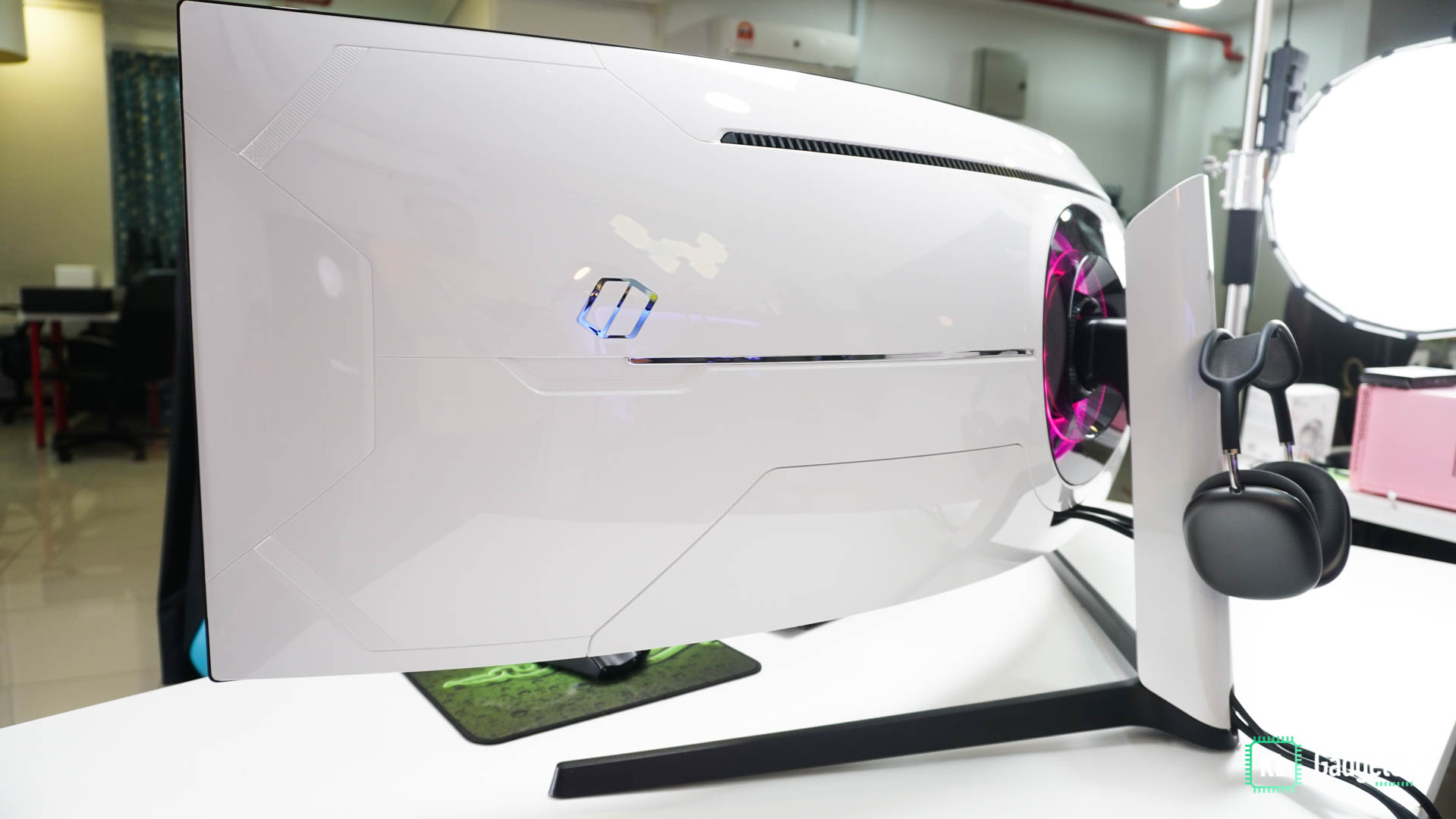 Like other Odyssey gaming monitors, the G9 NEO features a space cyberpunk like design on the back that sets it different from the rest, the Ironman like CoreSync lighting is a cool feature to flex off to your friends visiting your mancave, while it features a few lighting styles for you to choose from, it however doesn't support addressable RGB or work with other RGB lighting systems.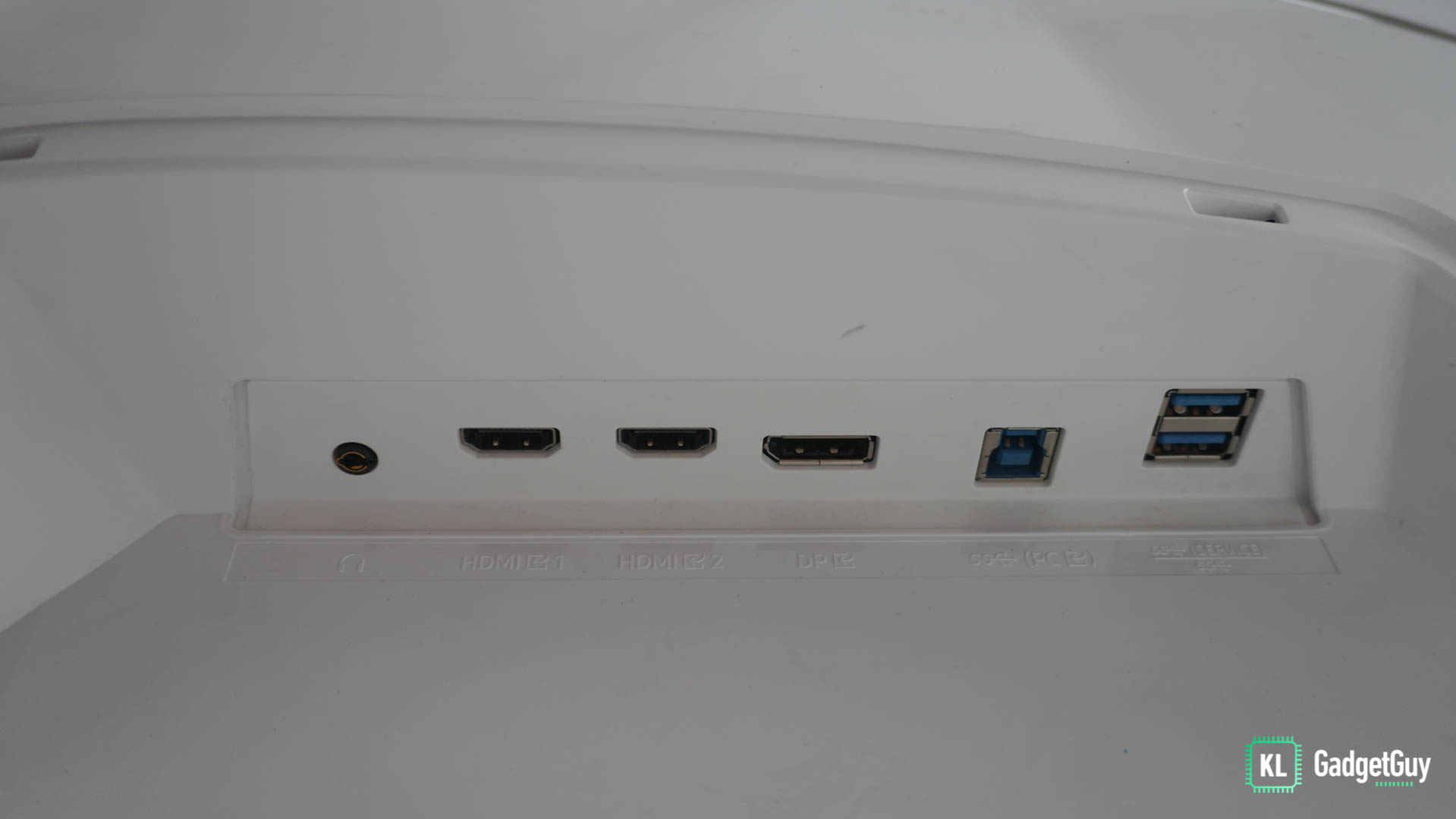 In terms of ports, the monitor has two HDMI 2.1, one DisplayPort 1.4, one headphone output, two USB 3.0 downstream and one USB 3.0 upstream ports, which are very standard set of ports you find on premium gaming monitors, but I was a little disappointed with the lack of a USB-C port, which Samsung should have included with support for USB PD charging, as it will allow users to charge certain gaming laptops and extend their displays at the same time, it would even benefit the company's smartphones with Samsung DeX.
The controls of the monitor are pretty well hidden at the slight bottom right, which you will be able to locate them if you notice the subtly labelled dots, they comprise of three recessed buttons which lets you save display profiles and presets, and a button joystick combo that lets you access and navigate the on-screen display menu.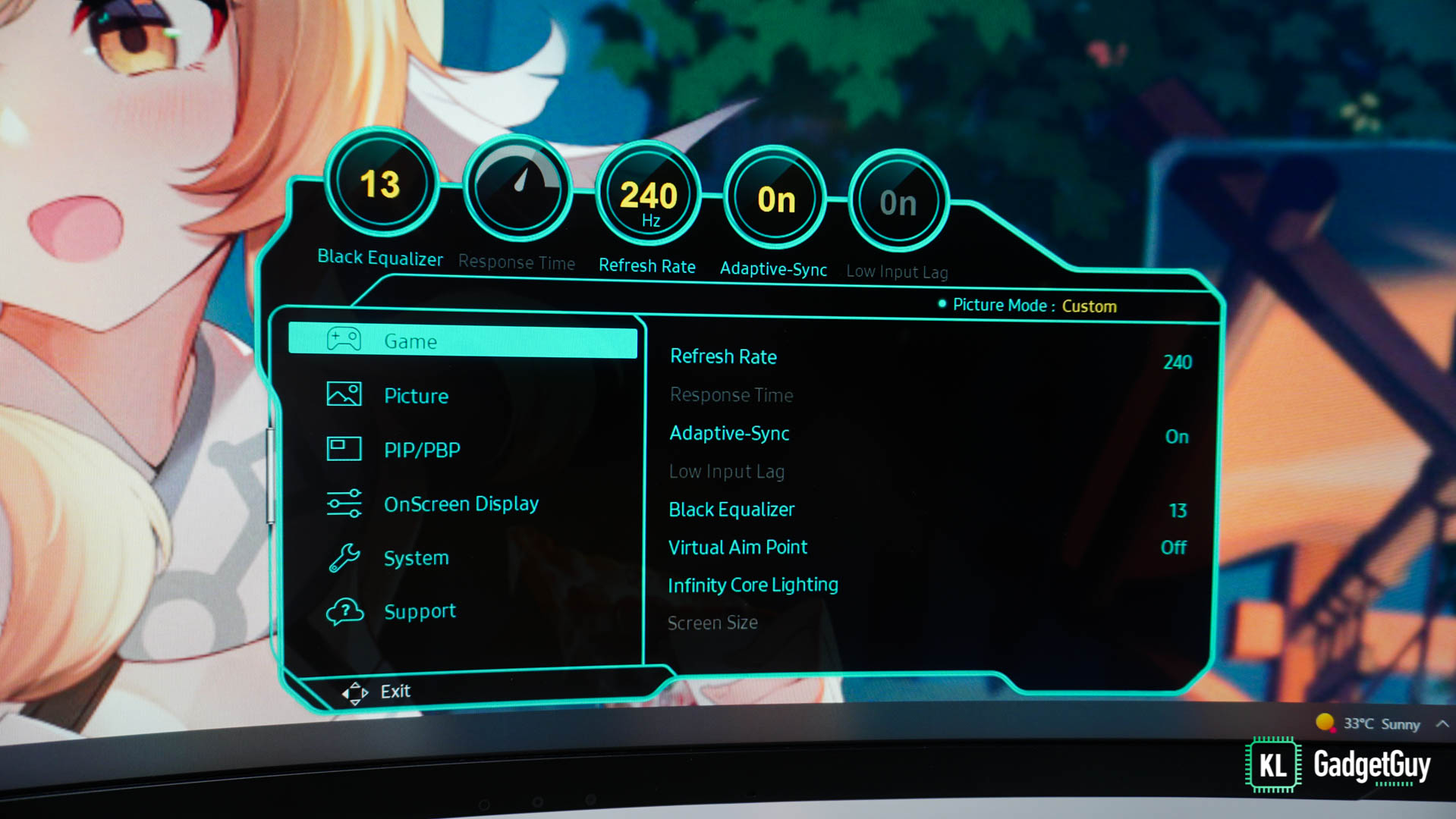 The on-screen display menu is one of the best I have seen on gaming monitors, it has readable fonts and self-explanatory configurations that even first-time users should have no problems getting the hang off, while it shows you the display status such as refresh rate and input response.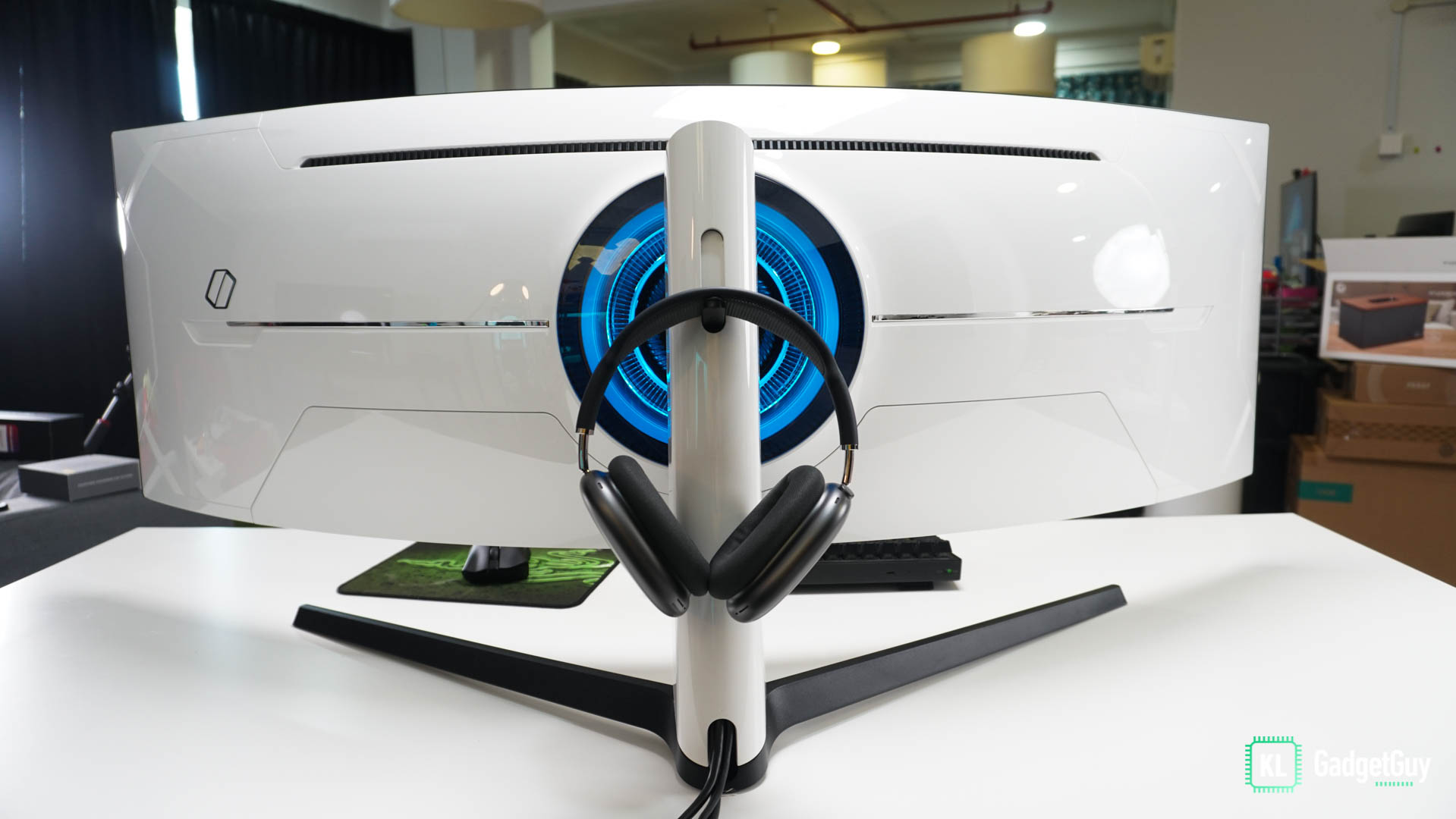 The G9 Neo has excellent cable management, though it requires a little effort to route cables to the centre of the monitor which the back cover has a rather tight and small opening for them to flow through, which isn't ideal if you use up all of the available ports and have thick cables, you then route the cables to the monitor arm which has an L-shaped opening and you simply slide down the white arm cover to properly hide them.
The monitor stand cover also serves as a headphone stand, which is convenient if your table no longer has space for one. In addition, the monitor stand is height adjustable and can be swiveled and tilted, which you will definitely find the best angle that suits you.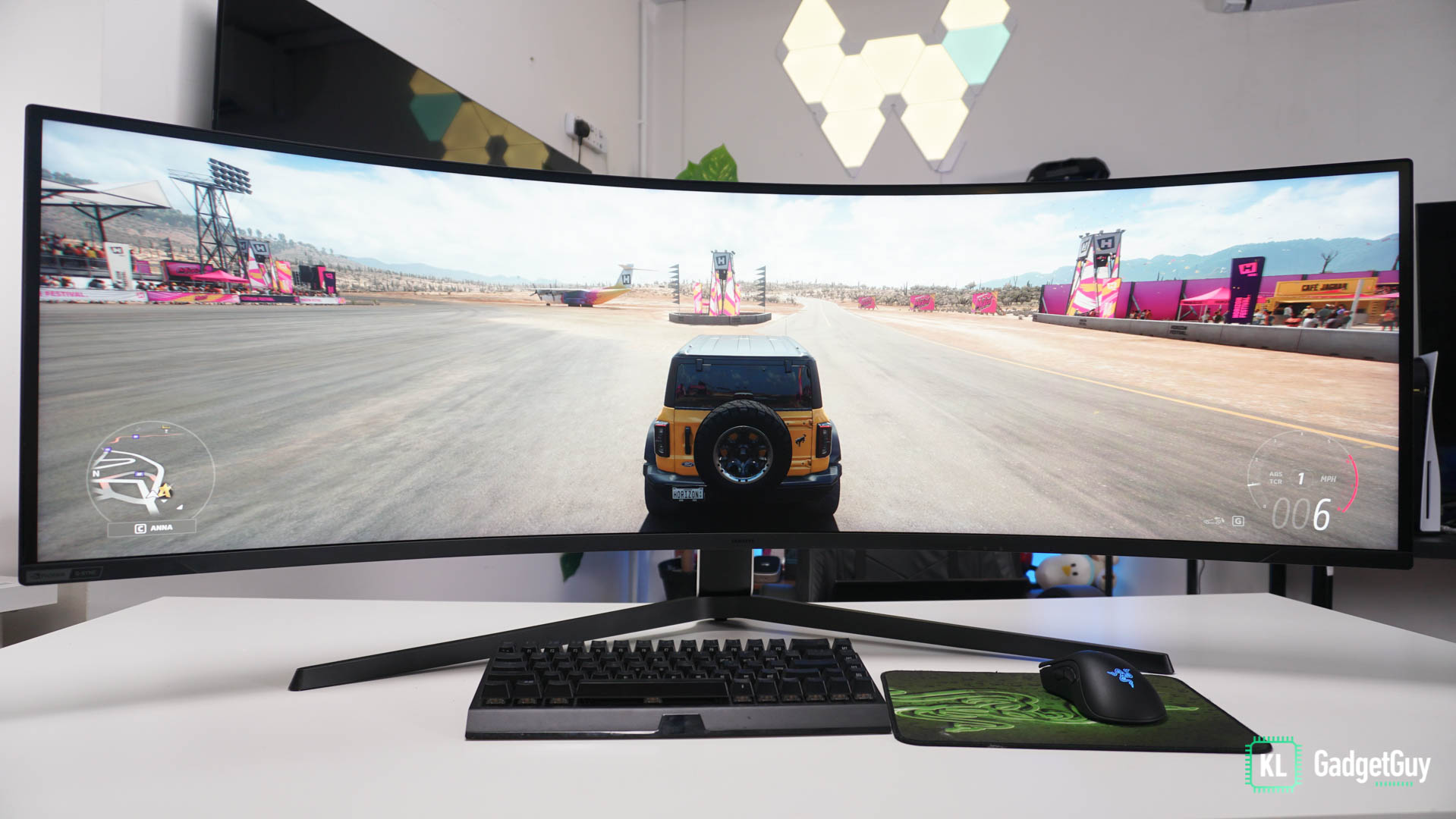 Sporting a resolution of 5120×1440 that refreshes at 240Hz and a 1ms response time, the G9 Neo's VA panel uses the company's Quantum Matrix and Mini-LED technology to achieve a peak brightness of 2000nits when playing HDR content, the panel also covers 125% sRGB and 95% DCI-P3 color gamut, this is the brightest and most colorful ultrawide gaming display you can own.
Despite the G9 Neo's excellent display quality, consuming video content on a 32:9 aspect ratio isn't quite as enjoyable due to the large amount of blank space, especially when I wanted to binge watch HDR Netflix shows on it, I have to force myself to ignore the black curved corners and it is simply a waste of screen estate when videos are viewed in full screen.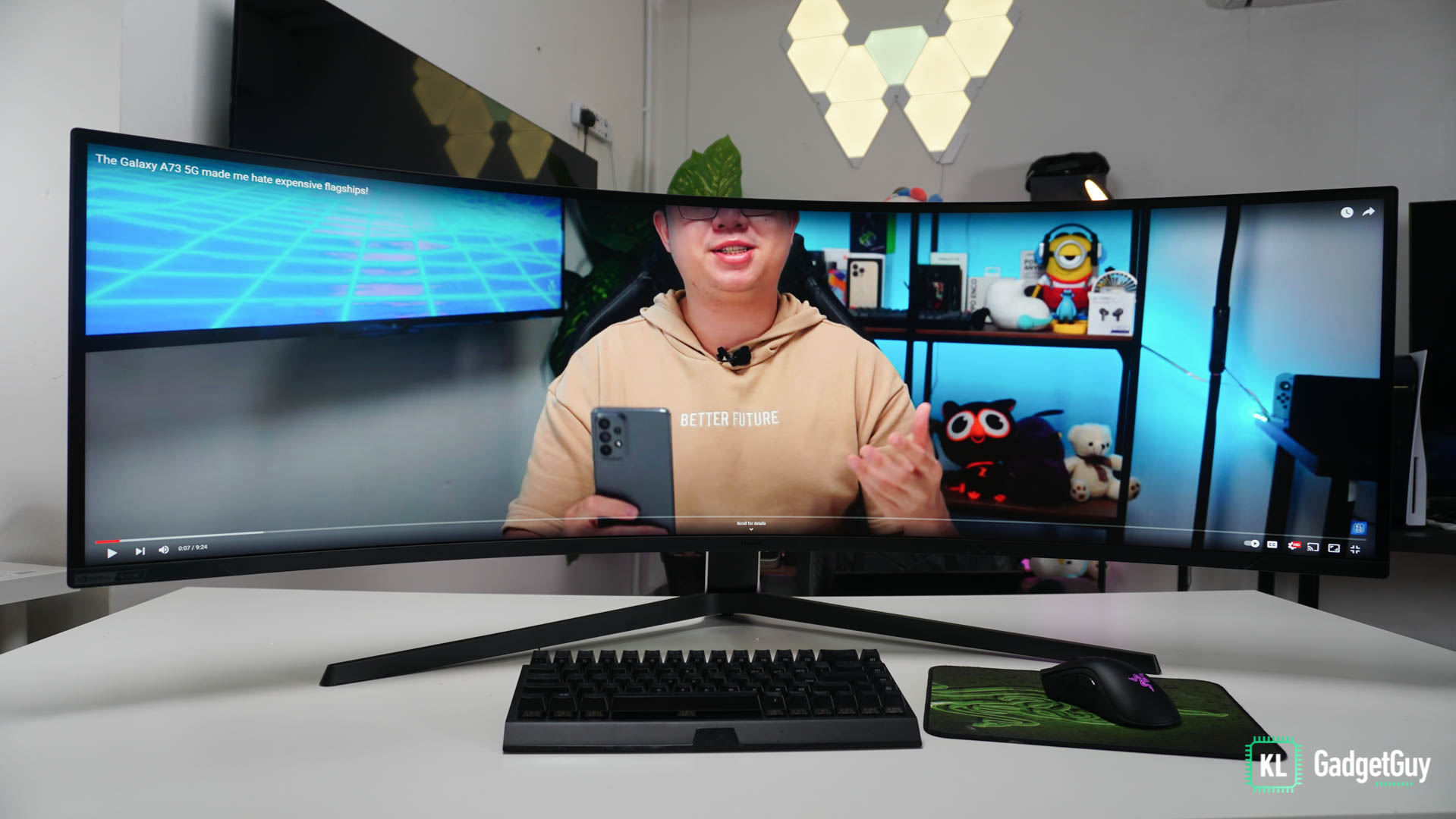 You can however force videos to be viewed in the 32:9 aspect ratio by installing a browser extension, but they looked even weirder as the plugin merely crops in and stretches the image.
Thankfully, having such aspect ratio will allow one to multitask as if there are two 24-inch QHD monitors, which I have used it to my advantage during the review period for reading emails and writing on our website, if you intend to have your laptop connect to the monitor, you'll be happy to know the PBP mode works extremely well.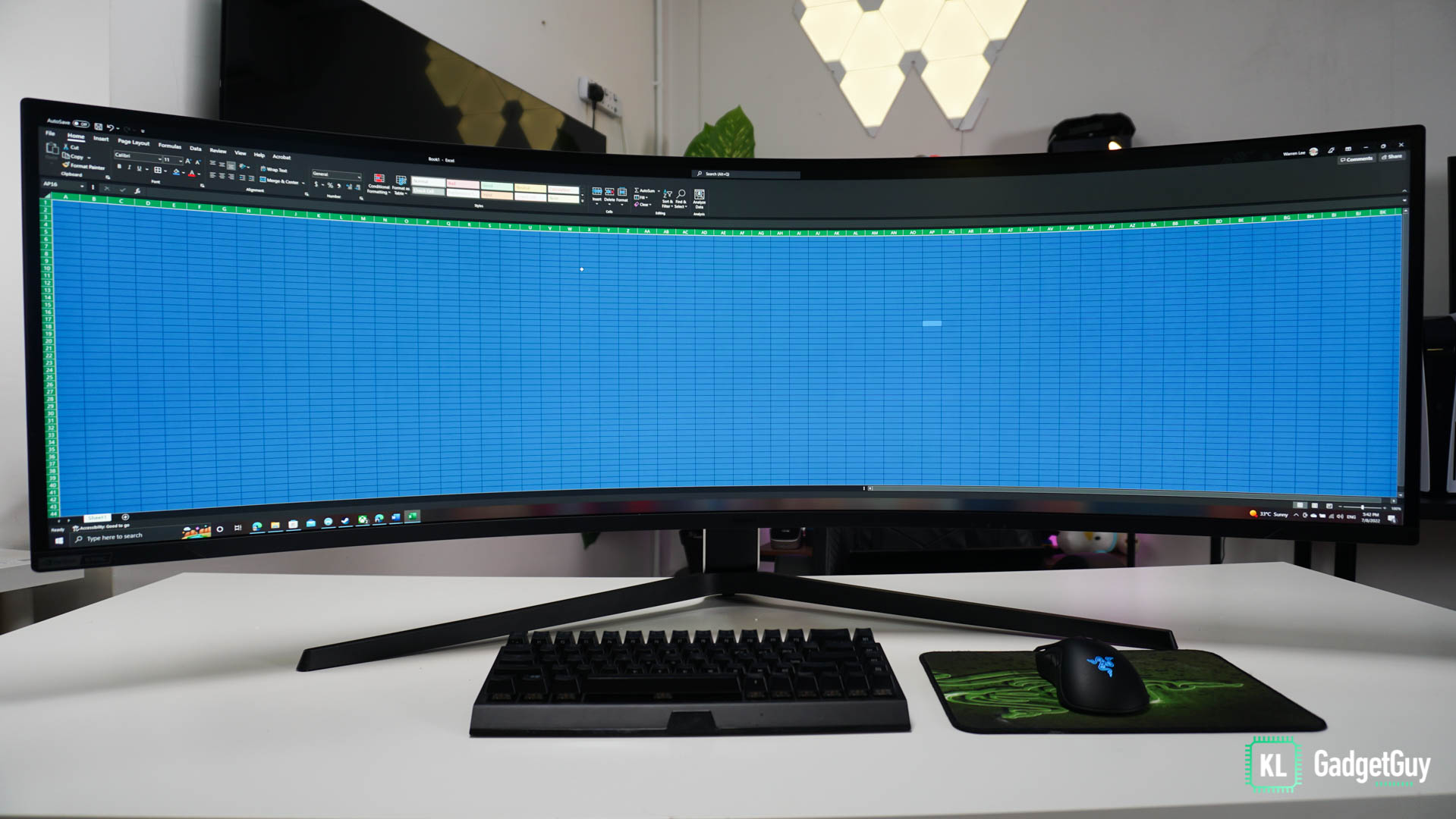 Taking an empty Excel spreadsheet as a reference, the G9 Neo is able to show as wide as up to the BZ column and 52nd row, which should delight those working on documents and spreadsheets if they ever want to use it for work.
Gaming on the G9 Neo is an unbelievably enjoyable experience and due to the comfortable viewing experience, I never felt strained after gaming for a straight two hours on Cyberpunk 2077 and Forza Horizon 5, never before I have felt this immersive in a game and the input response is excellent, the display is also G-SYNC compatible and supports AMD's FreeSync Premium, which eliminates tearing in high refresh rate games.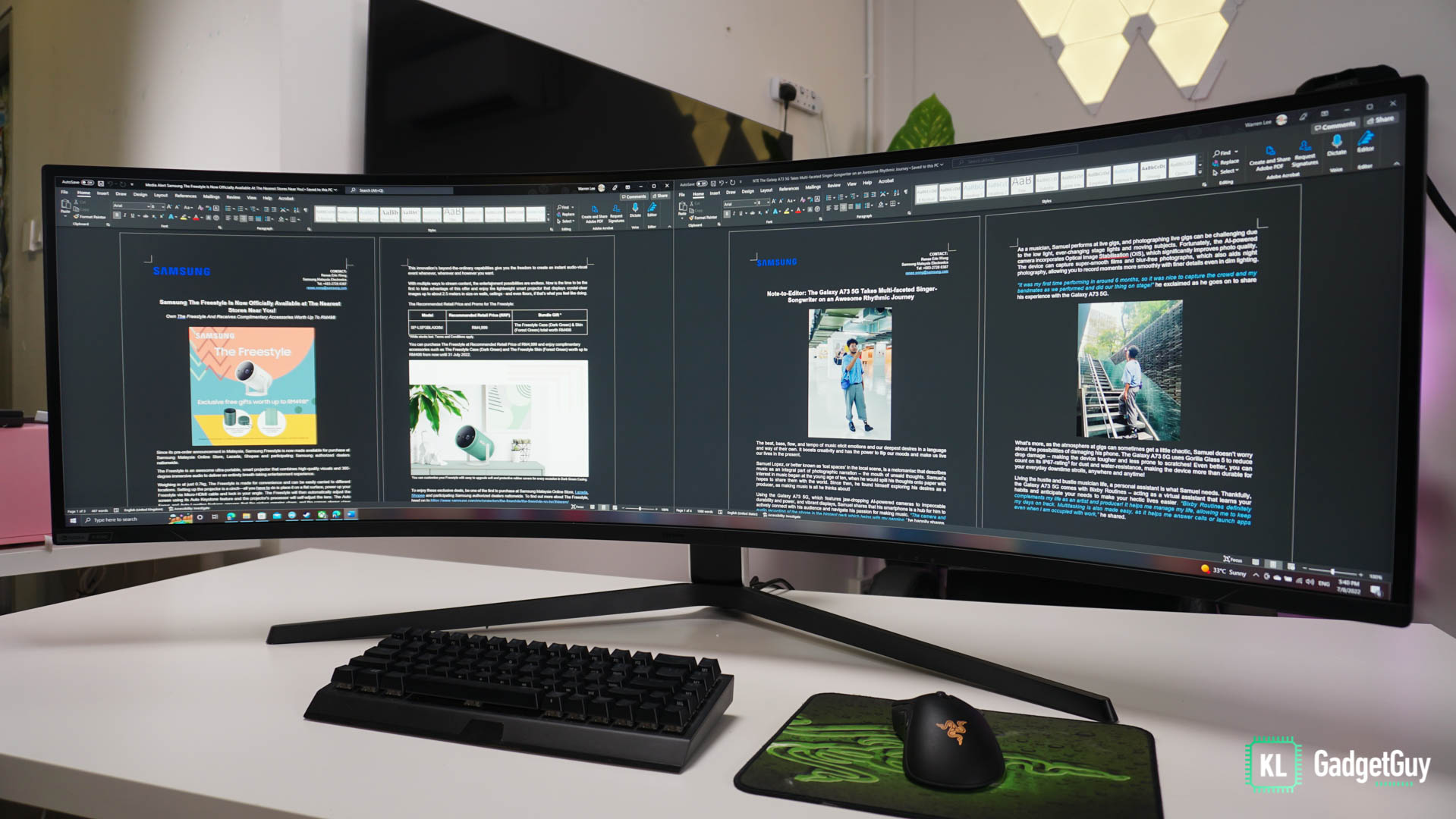 After a month of testing out the Odyssey G9 Neo, it feels really weird to go back to my regular 21:9 or 16:9 monitor, it isn't just one super impressive ultrawide gaming monitor with a superb Quantum Mini-LED VA panel, but also one great productivity monitor that gives me the horizontal screen estate I can't have on my regular monitors.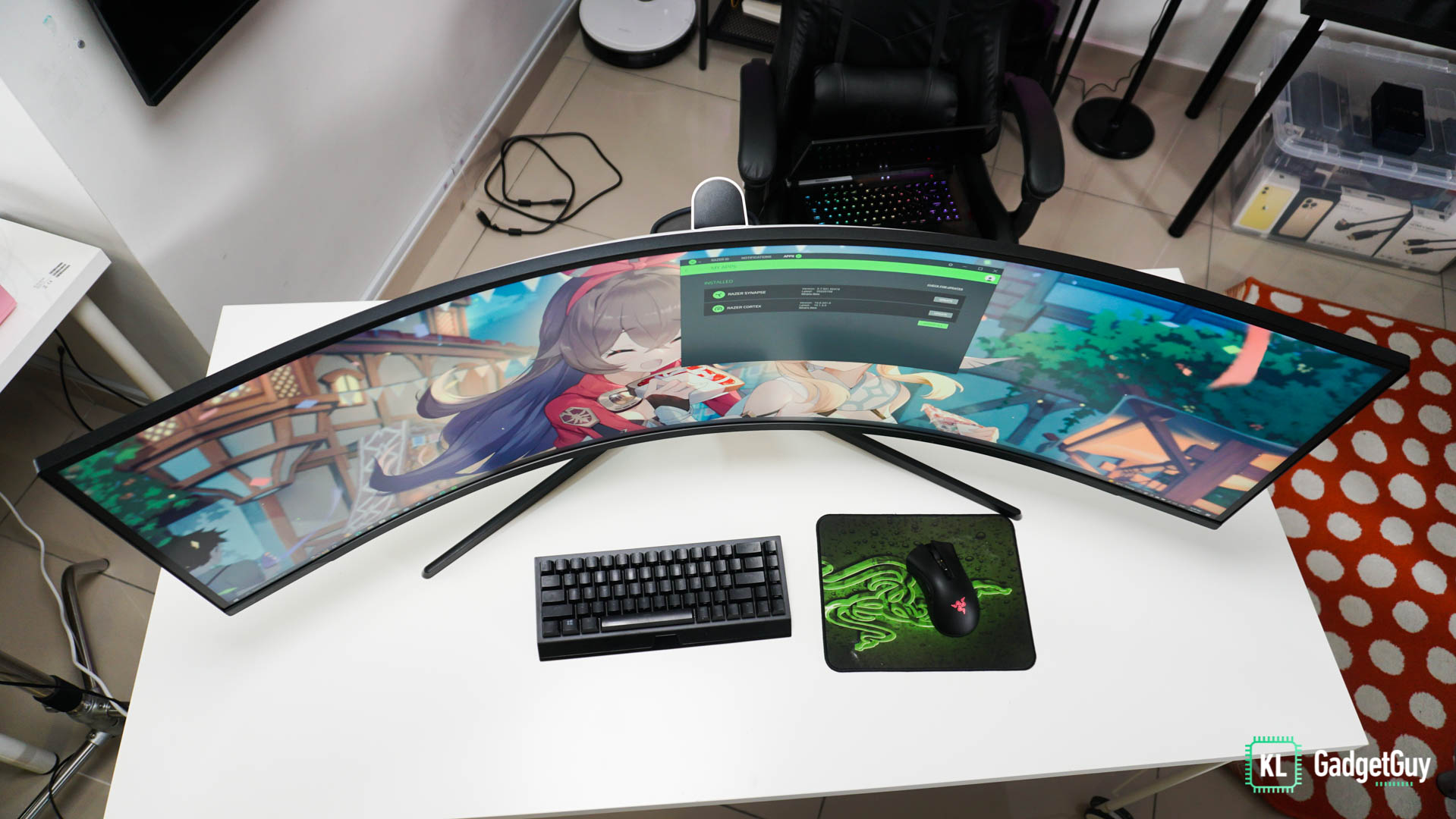 Like most premium display products, the monitor has a steep asking price of RM7,999, though it has been reduced from its initial RM9,499 retail price, I can't say it is worth the purchase or an easy recommendation for any gamers, as it really depends how much you appreciate the ultrawide 32:9 aspect ratio and the type of games you play on it, but if you want the absolute best display quality on a gaming monitor and can spend that much of money, the Samsung Odyssey G9 Neo is unquestionably the one for you.
If you are interested, click here to buy the Samsung Odyssey G9 Neo.