It's hard being a gamer right now. With chip shortages and slightly broken triple-A titles leaving a bitter taste in many enthusiasts' mouths, will the launch of Intel's Rocket Lake be the right tonic for gamers out there?
Intel's Rocket Lake is now upon us!
Launched on 30 March 2021, the latest offering from Big Blue covers 19 SKUs, ranging from the flagship Core i9-11900K all the way down to the Core i5-11400F. Aside from the usual i9, i7 and i5 product lines, we've also got a bevy of K, F, T and KF variants.
Here's every single Rocket Lake CPU available.
We know – that's a lot of numbers and letters to look through. But fret not, weary internet reader! We've got plenty of reasons for you to be excited about the latest and greatest from Intel.
PCIe 4.0 Support
Why does PCIe 4.0 matter?
In a nutshell? SPEED.
With double the transfer speed of its predecessor standard (16 G/Ts vs 8 G/Ts) and with support for PCIe 4.0 baked into the new Rocket Lake architecture, you're looking at doubling your theoretical bandwidth over the same number of PCIe lanes. The upshot is incredibly fast loading times and, wait for it, more time to game.
It's not just faster storage for Rocket Lake
PCIe 4.0 also means future proofing for future graphics solutions. With games like Cyberpunk 2077 showing the way of just how bandwidth-hungry gaming is going to be, it's good to know that when the next generation of graphics cards lands (and the generation after that), your Rocket Lake PC will be more than capable of keeping you in the game.
19% Higher IPC
Back To the (Microarchitecture) Future
The backporting of Sunny Cove architecture that was first introduced by Intel in 2019 introduces improvements that translate to a reported 19% IPC gain. Instructions per clock (IPC, for short) is an incredibly important consideration in gaming, as it gives a rough guide as to how many calculations / operations can be carried out for every CPU cycle (or 'clock').
What does this mean?
More IPC = better gaming performance!
Intel has always ruled the roost when it comes to gaming, especially at 1080p (which, according to Steam, is still the most common gaming resolution in the world). As these graphs show, those IPC gains are not to be sniffed at, with generational improvements versus the 10th Gen Ice Lake chips.
Native DDR4-3200 memory support
Who doesn't love (memory) speed?
Yes, Intel's Rocket Lake natively supports DDR4-3200 memory speeds, which means better performance in your favourite titles! No more worrying about compatibility issues, or concern about whether or not your uber-fast RAM will work in a Rocket Lake system.
It just works!
Even better XMP Performance
Great performance with DDR4-3200 sticks? ✔ Check.
Even crazier performance with XMP? ✔ Check.
Memory kits from the likes of G.Skill are promising to go as fast as DDR-5333, and have been specifically developed for Intel's Z590 chipsets. The onboard memory controller now supports geared memory ratios between the memory controller and DRAM speeds, ensuring that Rocket Lake users can get every last drop out of their systems.
Speaking of speed…
Overclocking options on ALL boards (Z, H, B)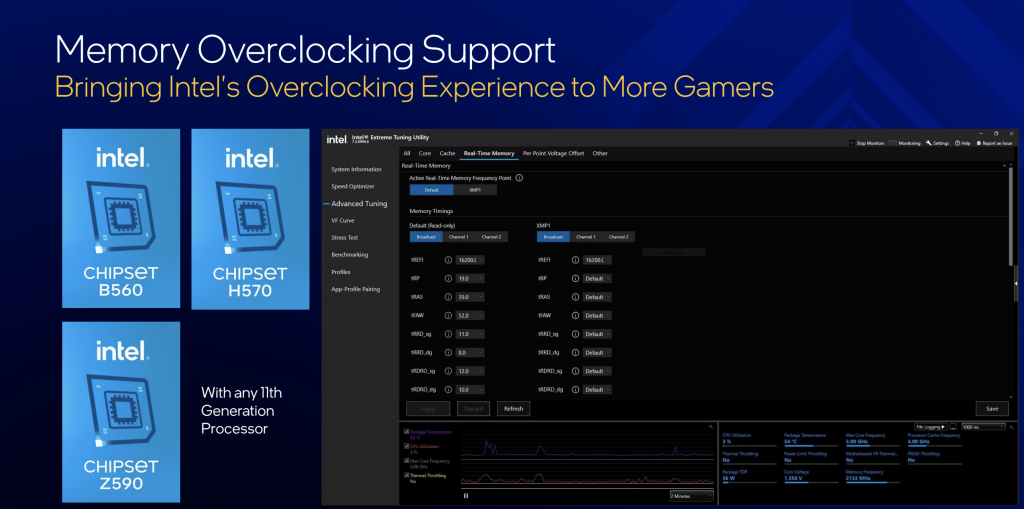 Clocking it Up For the Masses
Humanity's obsession with speed permeates EVERYTHING. When it comes to computers, that impulse seems to take on a life of its own – we are ruled by GHz, MHz, FPS and Mbps.
To that end, such acceleration-afflicted ambitions were limited to just Z-series board owners with K or KF processors – you know, those elites that could overclock their CPUs or tune their memory to get even more bang for their buck.
Times have now changed.
Memory Overclocking For All
Mid-level and budget PC enthusiasts, rejoice! In addition to the Z590, the upcoming H570 and B560 series of boards will give you the option of real-time memory overclocking (via changes in DDR4 frequency), allowing even the most cost-conscious gamer a chance to experience the joys of extra speed. What's not to love?
Improved Media & Streaming Capabilities
Stream It All Away!
Those of us that are of an older disposition are slightly envious of the fact that streaming gameplay these days is a viable profession. Where was the internet to capture our speed runs on Sega MegaDrive Sonic? Jokes aside, we're happy that streaming has taken off, as it means more mainstream acceptance of gaming.
How does Rocket Lake fit into this? With enhanced media capabilities!
The Intel Xe integrated graphics architecture has up to 50% better performance than their previous integrated solution, resulting in better encoding (thanks to support for 10-bit AVI/12-bit HEVC) and a load taken off your GPU and CPU cores when it comes to streaming. The upshot is a smoother streaming experience for you and your audience.
But that's not all!
Rocket Lake brings a whole host of productivity-related improvements too, such as improved Intel QuickSync Video, enhanced technologies for AI/Deep-Learning (GNA 2.0/VNNI), and support for Thunderbolt 4 and WiFi 6. All add up to a package that just doesn't game well, but can handle content creation (for those awesome highlight videos) with aplomb!
The 11th Gen Intel desktop processors are currently available at Malaysian retailers, visit this link to find out more on what it has to offer.