Business laptops have rarely been our choice when it comes to owning a work laptop, as they are usually pricier than consumer laptops and don't necessarily feature better specs on paper, however companies like ASUS have decided to break the tradition with the ExpertBook B9, which I have reviewed last year and found it to be a very impressive ultraportable laptop and if not for its expensive price tag, I would have bought it without a heartbeat.
Watch our ExpertBook B9 video review last year
The ExpertBook B9 I received this time is refreshed with Intel's 11th Gen Tiger Lake laptop processor and naturally, it is an Intel EVO certified device just like how its predecessor is certified on the 'Project Athena' platform. Given how satisfied I was with last year's ExpertBook B9, I have no doubt that this is going to be one heck of a business machine that you will want to consider this year if you are looking for a new laptop to boost productivity.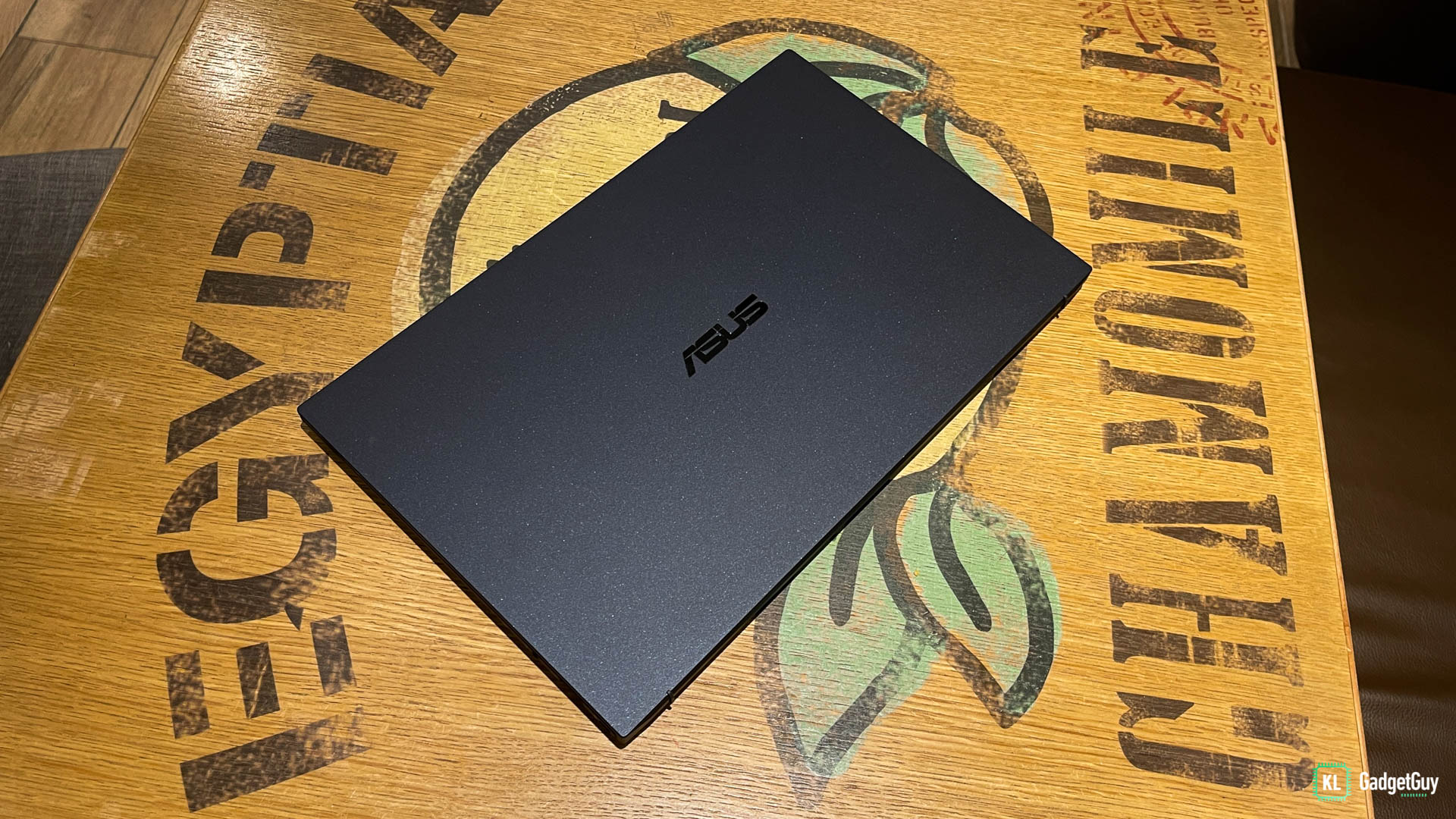 Design and aesthetics wise, the ExpertBook B9 isn't too different from last year's model as it continues to sport an extremely lightweight profile of 995g (my unit comes with a 66Wh battery) all thanks to the magnesium lithium chassis, the screen bezels are also pretty thin which enables it to take up a very small footprint for a 13-inch laptop, although some might prefer if it came with a 16:10 aspect ratio display for more vertical space.
Therefore, it has always been a joy to transport the ExpertBook B9 around compared to my 13-inch MacBook Pro, it fits on most small coffee tables and doesn't weigh down my backpack, a total life saver when I need to have other things on the table while working on it.
Despite its slim profile, ASUS has managed to squeeze in a full-sized USB and HDMI port that's usually not possible on some other ultraportable laptops, it also has two USB-C ports that has been upgraded with Thunderbolt 4 connectivity with 65W USB PD charging, and if you ever need wired network connection, ASUS provides a Gigabit ethernet dongle out of the box that plugs into the micro HDMI port, however with WiFi 6 connectivity built in, I have never used it during the review period not unless I need to do some large file transfers over the network.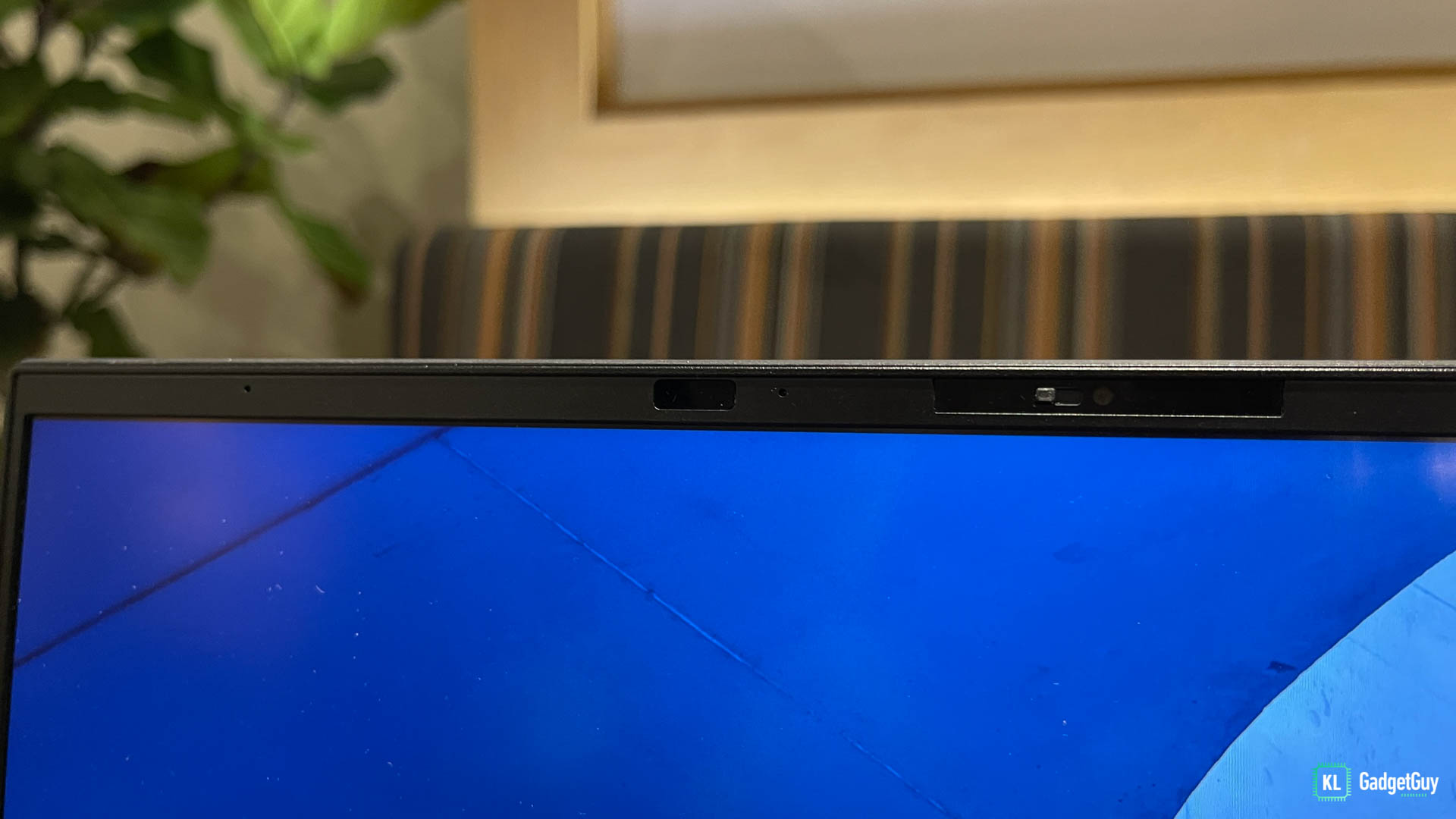 Privacy and on-device security remains to be the ExpertBook B9's top selling point, as it comes with a privacy shutter for the Windows Hello enabled webcam and a fingerprint reader, one new security hardware feature is a proximity sensor built next to the webcam that senses your presence with the AdaptiveLock feature, which immediately activates as soon as you walk away from the laptop and depending on the timeout you configure, it locks the laptop and dims the screen, and once you return to your seat it turns on instantly and logs you in even before your hand reaches the trackpad.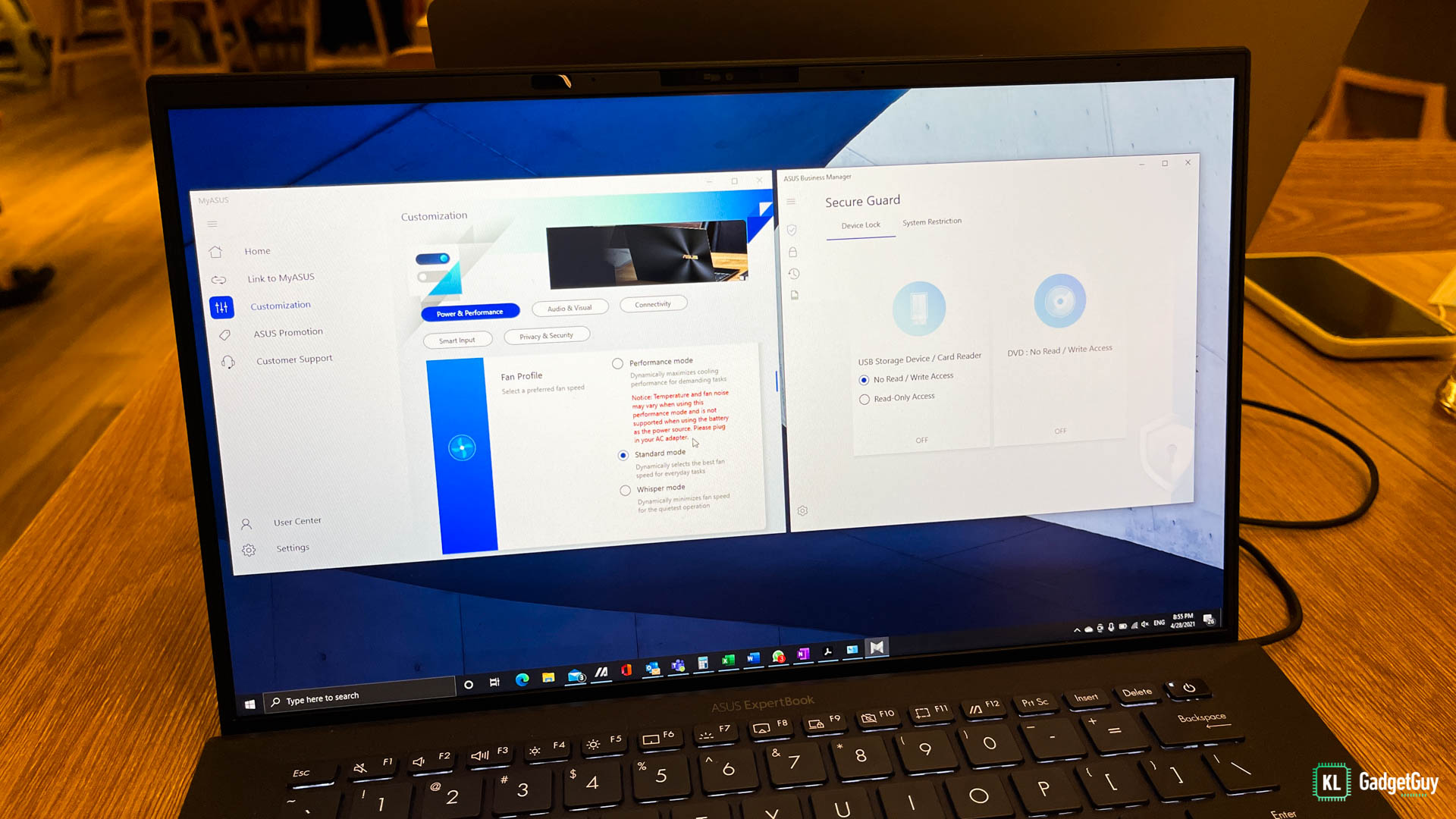 For tighter security control, the ASUS Business Manager app allows you to lock access to external storage and restricts changes to system settings such as date and time and the registry, the laptop's NVMe drives can also be encrypted with the app so it cannot be accessed on other laptops when removed, a system backtrack feature allows you to set a restore point while a file shredder feature ensures the file you deleted can never be retrieved with a recovery software.
The review unit I had with me is an impressively maxed out configuration model, it comes with 32GB of LPDDR4 RAM and 2TB of storage, which on top of the Core i7-1165G7 processor, is quite an overkill for many business users, but hey, you no longer need to crack open the laptop to perform any upgrades so I'd say that's a total win.
Intel's Tiger Lake processors introduced several improvements over the old Comet Lake-U processors, which in the case of the ExpertBook B9, it has gotten more responsive when you wake up the device from sleep, starting up from a cold boot also feels like a breeze, and more importantly the laptop's fan is barely audible when I have several browser tabs opened on Microsoft Edge.
With the new Intel Xe iGPU, graphics performance is significantly boosted over the previous generation which you can technically do some graphics intensive tasks such as video editing and lightweight gaming, the processor's thermal power can also be boosted up to 28W when set to Performance mode in the fan profile section of the MyASUS app, which will require you to remain plugged in for that added performance.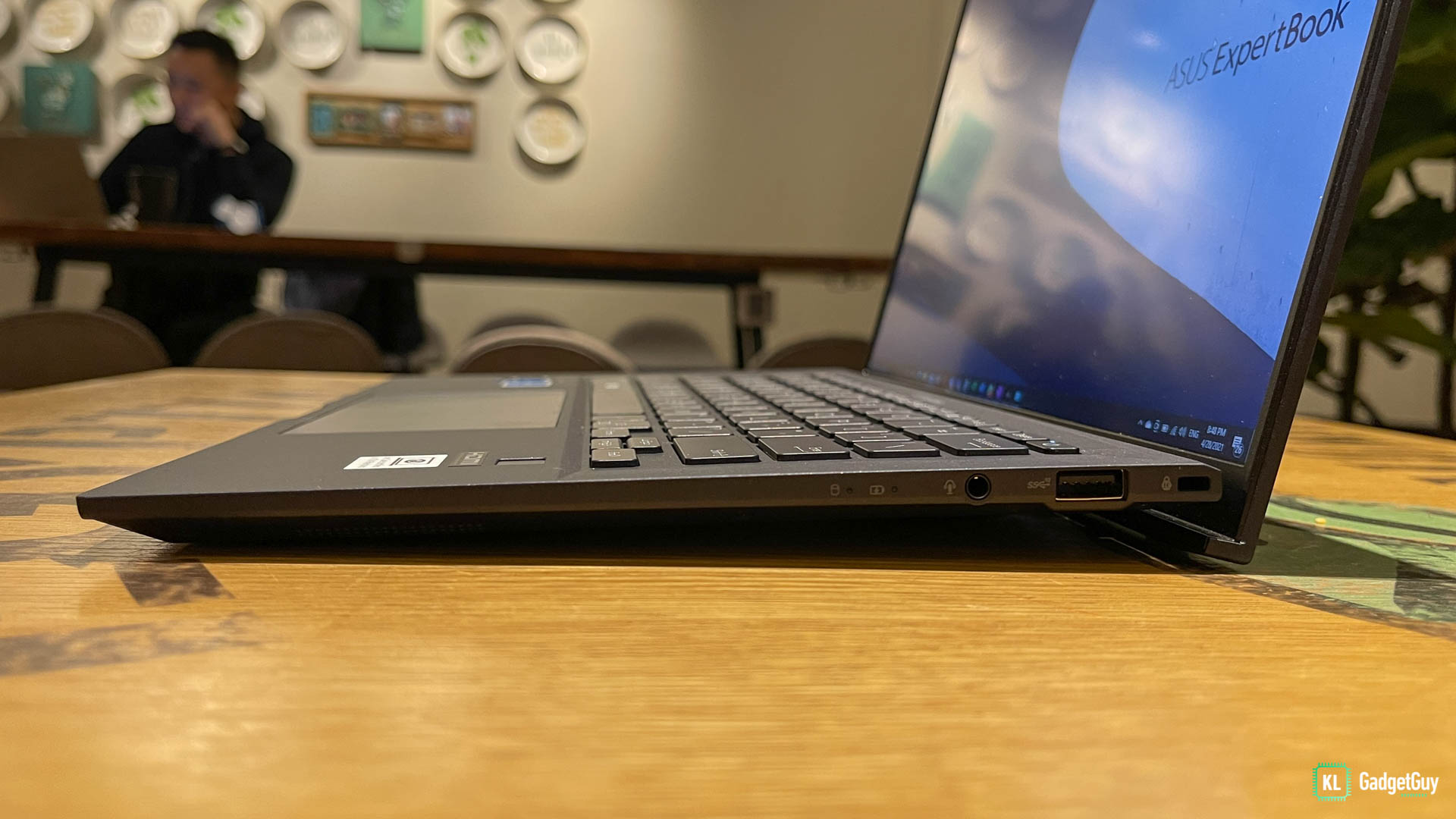 Just like its predecessor, the ExpertBook B9 is a very comfortable device to work on all thanks to the ErgoLift hinge that raises the keyboard height, the keycaps are also reasonably sized for fast and accurate typing and the trackpad has good tracking performance, however what continues to annoy me is the NumberPad 2.0 capacitive numpad,  which by all means isn't a bad feature for those who requires to use a numpad on such a compact machine, but it can be easily activated when my palm rests near the capacitive button as I'm typing, a palm rejection feature in the drivers should resolve the issue but I doubt ASUS would implement that any time.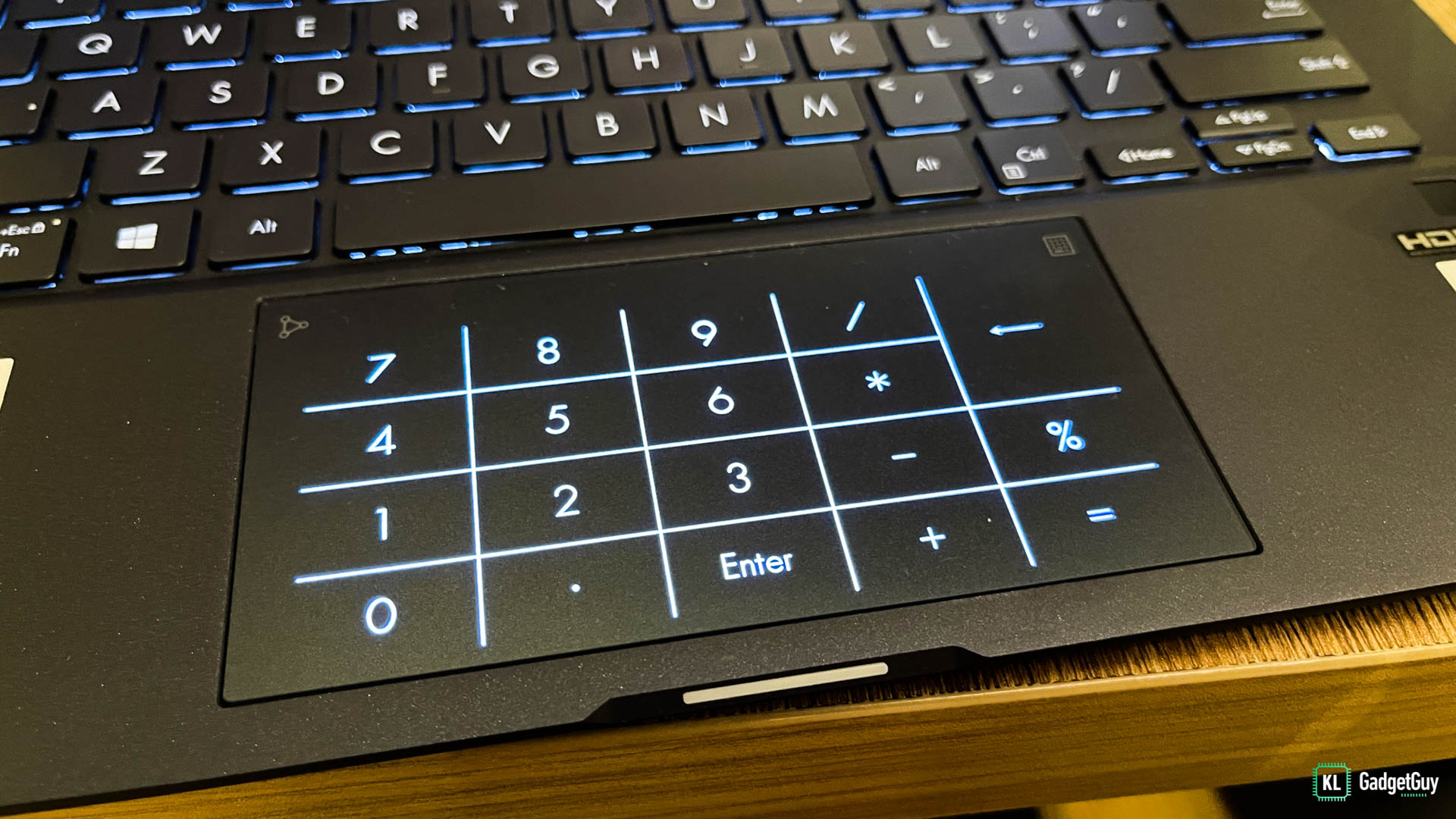 Apart from the M1 MacBook Pro, the ExpertBook B9 is the only laptop I have ever come across to exceed the 10-hour battery life mark, while ASUS' advertised that it could go up to 24 hours on a single charge with a 66Wh battery, I managed to get around 14 hours when I was using it entirely for mostly web browsing and writing, which is darn good for its specs and quite on par with my M1 MacBook Pro.
The refreshed ExpertBook B9 continues to be one of the best ultraportable business laptop you can buy in the market with many of its features surpassing the competition, Intel's Tiger Lake has certainly made it an even more attractive buy with its improved response and power efficiency, but one thing you do have to look out when you own this laptop is to always check if it is in your bags, because it really feels too light to handle.
The Good
Extremely lightweight and portable
Full-sized USB and HDMI port
Intel Tiger Lake delivers improved performance
Great privacy and security features
Strong battery life
The Not so Good
NumberPad 2.0 on trackpad easily activated
16:9 display
Expensive