Feeling a little tired of your 1Gbps Internet connection? TIME Internet has just announced a new 2Gbps plan that is set to go live on 7th October 2022, it costs RM379/month which is almost double the cost of the 1Gbps plan, but as a consolation, it is merely RM30 more expensive than rival TM's much slower 800Mbps plan, making this ultimately still the fastest and most affordable fixed fibre optic broadband service in Malaysia.
TIME Internet says that the 2Gbps connectivity is achieved through the implementation of the 10G Passive Optical Network (PON) technology, which it has partnered with Huawei to build a pilot since 2019 as noted by Lowyat.NET. As a reference, the asymmetrical 10G PON standard enables transfer speeds of up to 10Gbps downstream and 2.5Gbps upstream, while the symmetrical 10G PON standard enables 10Gbps for both downstream and upstream.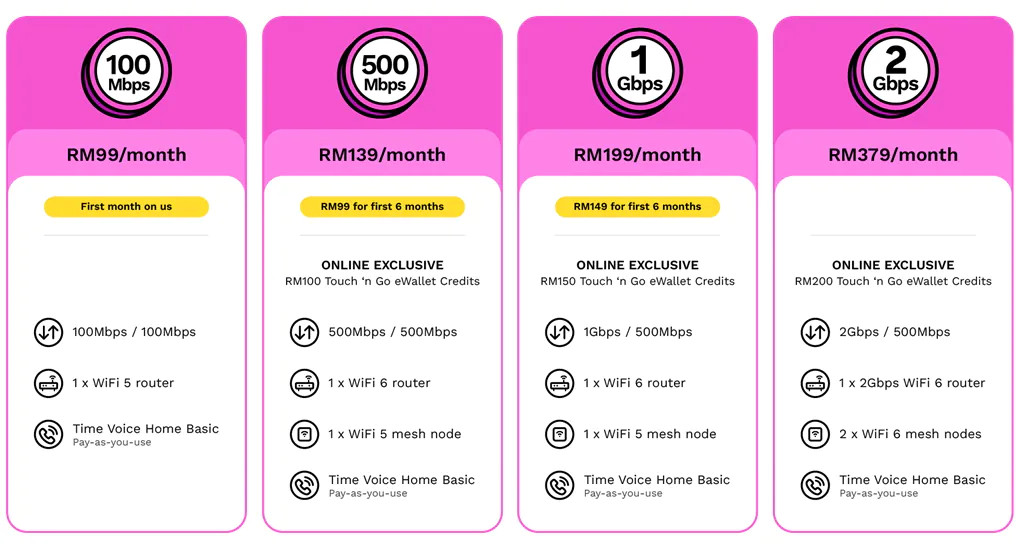 With the 2Gbps plan, TIME Internet will include a 2Gbps WiFi 6 router and 2 x WiFi 6 mesh nodes as part of the sign up package with a 24-month contract, upload speed remains the same as the 1Gbps plan at 500Mbps, customers will also receive a RM200 Touch 'n Go eWallet credits as a reward for signing up to the plan on TIME Internet's website.
Thankfully, TIME Internet has retained existing offers if you choose to subscribe to its more affordable package, and as of now it is unclear if the company will offer an early-bird sign up promo for the 2Gbps to make it more attractive. With that said, you will also need to have at least a WiFi 6 or 2.5GbE LAN device to be able to take advantage of that download speed.
So, is your home ready for 2Gbps?