In the recent OPPO Future Imaging Event, OPPO introduced four technologies to be implemented in its future phones — an RGBW sensor, a continuous zoom lens, a 5-axis OIS system and an under-screen camera solution.
An all-new RGBW sensor
OPPO's new image sensor uses a pixel array with four colours, calling it the RGBW sensor. With the additional white sub-pixels, the sensor will be able to receive 60% more light and reduce up to 35% of noise in images, resulting in better lowlight photos.
This was once introduced in the OPPO R7 Plus back in 2015, but it wasn't perfect due to colour accuracy issues. To fix that, OPPO used Deep Trench Isolation (DTI) technology which adds blue barriers between photodiodes to avoid crosstalks between photodiodes, and also its proprietary Quadra-binning algorithm that prevents interpolation when each super pixel obtain white signals.
OPPO's continuous zoom lens promises stable zoom and better image details 
OPPO also unveiled a new module that supports continuous optical zoom equivalent to 85-200mm focal length. This removes the need for users to switch between sensors, eliminating sudden jumps in field of view. OPPO uses two ultra-thin, high-precision aspheric glass lenses to reduce light dispersion and replaces the ball-type motor with a guiding shaft motor that has higher precision and stability.
Simply put, users will be able to enjoy smoother zoom when using telephoto lenses without sacrificing image quality.
5-axis OIS – get better videos and photos with less shakiness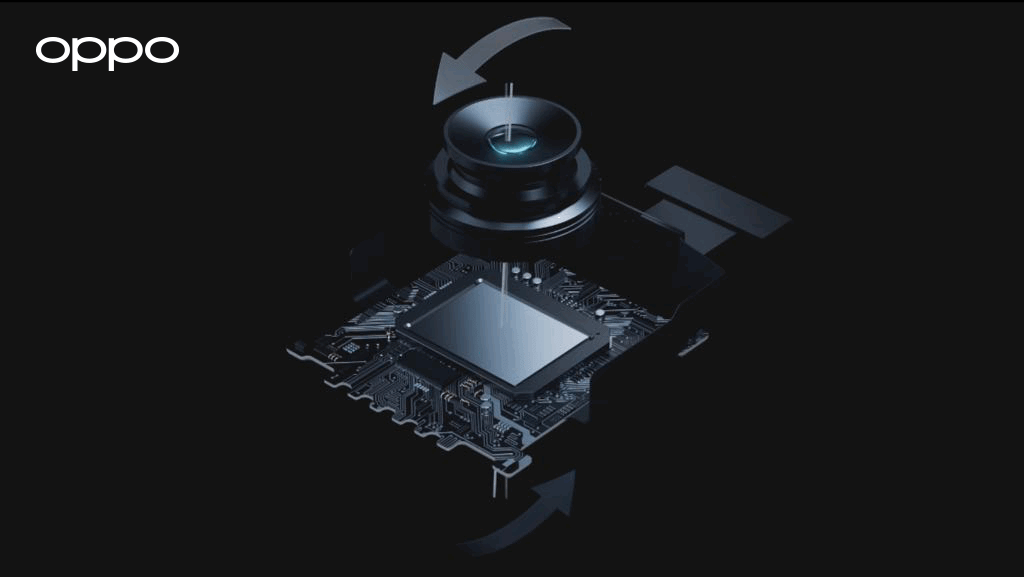 OPPO's 5-axis OIS system consists of three parts — lens shifting, sensor shifting and sensor rolling. This combo provides 3x better stabilisation than your typical OIS camera modules and will offer better details around the edges of your images.
This is coupled with OPPO's proprietary algorithm technology which further enhances stability and clarity when it comes to night or moving shots. The 5-axis OIS system will be commercialised in the first quarter of 2022.
Next-generation under-screen camera solution
OPPO's new solution for an under-screen camera features a redesigned sub-pixel array of the camera area on the panel with transparent wiring, in addition to new imaging AI algorithms with diffraction compensation, de-haze function and more. We've covered this previously, you can read about it here.