It's exciting to be able to gather with friends and family again this Hari Raya, while keeping your home spotless and hygienic is utmost importance for their safety, you also don't want your Raya mood to be affected by tiring cleaning chores, hence here's why the Samsung BESPOKE Jet premium stick vacuum cleaner should is your best cleaning companion this festive season.
All-in-one Clean Station™ keeps it convenient and hygienic
The Samsung BESPOKE Jet premium keeps things simple with an all-in-one Clean Station™, which charges the vacuum and automatically empties the dust bin after every cleaning session, so you don't need to think of more cleaning up unlike other stick vacuums, keeping your hands clean and your surroundings dust-free.
Effortless cleaning with powerful 210W suction power
Did someone drop food crumbles on the floor? Don't worry, the Samsung BESPOKE Jet premium's Jet Cyclone features a powerful suction power up to 210W* that sucks up every single bit of dust, debris and even pet fur on the floor that easily beats a Mak Cik's broom, it is also a lightweight stick vacuum all thanks to the Digital Inverter Motor, while a three-level telescopic pipe lets you reach higher corners effortlessly, cleaning your home is finally less tiring and more satisfying.
*Suction tested based on the IEC62885-2 Cl. 5.8 standard, tested at the inlet of the non-motorized tool, using Jet mode. Based on SLG Prüf- und Zertifizierungs GmbH tests.
Multi-layered Filtration system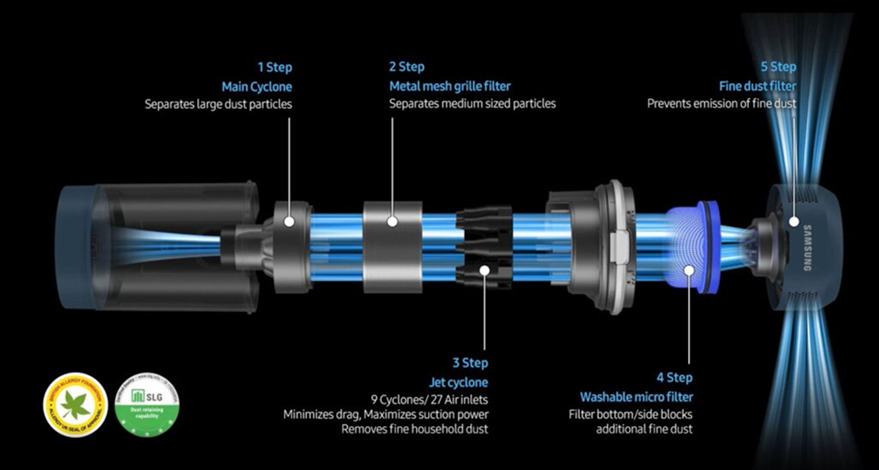 30
Vacuum cleaners exhaust air as they operate and most of them don't come with a proper filtration system as the Samsung BESPOKE Jet premium, it comprises 5 steps that traps 99.999%* of dust** and reduces allergens*** to keep the air clean as you use it, which is crucial if you or any of your household member have sensitive sinuses.
* Tested based on IEC 62885-2, CL.5.11 using the Jet mode by SLG Prüf- und Zertifizierungs GmbH. Results may vary depending on actual usage.
** Refers to dust particles in the size range of 0.5 to 4.2µm.
*** Based on the Allergy UK Seal of Approval by BAF (British Allergy Foundation).
Don't hesitate, own a Samsung BESPOKE Jet premium now with this limited time promotion:
from today until 5th June 2022, you can make this Hari Raya a more memorable one when you purchase the BESPOKE Jet premium at RM3699 (RRP RM3899).
For more details on how the Samsung BESPOKE Jet premium can help clean your home, visit this link.
To find out more about the Impian Raya Bersama promotion, visit this link.