Chinese New Year is upon us! Although we can't quite celebrate the festivity like how we used to due to the pandemic, it doesn't mean we can't still make a grand occasion with what we have – and what we have are technology and sweet, sweet internet.  
Family reunions 
Of all the many traditions and customs carried out during the Lunar New Year, visiting family and relatives is probably the most vital of the lot. This year, we can't physically clink beers with our uncles, or have chopstick fights during yee sang tosses – connecting though video calls is still a great way to bring the family together. 
We know this is an obvious option, but it works – and you have a plethora of platforms to choose; WhatsApp will likely be the go-to app since you can have massive group video chats of up to 8 people with their families in the frame as well; plus, practically aunty in Malaysia knows how to operate WhatsApp.
Just get yourself a tripod and you're set to chow-down on that reunion lunch from the comforts of your own dining room. 
Another app you could use is Facebook Messenger – again mainly because every aunty in Malaysia has a Facebook account. Plus, you can add filters and funny AI skins to yourself, which will make for an interesting bai nian (paying respects) experience for grandpa. 
Giving/receiving ang paus 
It's a shame that the age-old tradition of exchanging ang paus can't be done face-face-face this year, particularly for those who're still single (you know how you are); not for married folks though – they'll be glad that they get to keep their wallets full this year…right?
Wrong! electronic ang paus or e-ang paus are a thing and they keep the tradition alive, even if it means your uncle's bank account isn't.
Depending on which bank you use, you can enjoy goodies  too when you make these e-ang pau transactions – for example, using Maybank's MAE app to do so will give you a chance to participate in games that could earn you huge cash prizes! 
Game nights 
When all the formalities are over, that's when the gloves come off – game time with the family is always a must (we're not suggesting you gamble, but you do you).  
To usher in the cheers and cries of CNY game nights, you can turn to online multiplayer games! If you're up for some treachery and deceit, then Among Us is the perfect game to play – all you need is a smartphone, and it's free! It's such a great game to you and your cousins on edge for hours on end, fun! 
If you want something with less kill-y but with the same amount of sabotage-y – Uno is a great pick-up! You can play Ubisoft's version on PC (RM31 on Steam) which has plenty of modes and skins to spice things up; or you try UNO Friends on mobile which is free, but still offers multiplayer! 
Any other online game is fine too – maybe even Genshin Impact with its bright and cheery world; have a virtual gathering at the Liyue region and let its Chinese aesthetics and soundtrack generate that oh-so important CNY vibe. 
Movie nights 
One downside of visiting relatives living outside of KL involves nights where there's jack-all to do – dinner has been had, grandpa's gone to bed, and there's nothing left to do but bond.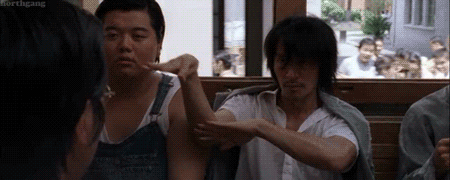 So, what better time than to catch a movie! Netflix is a great source of Hong Kong comedy classics such as God of Gamblers, All's Well End's Well, and basically anything by the great Stephen Chow!
Get the cousins involved using Teleparty (formerly Netflix Party) so you can enjoy the films together and chat using the browser extension! 
If you're not up for a movie, you could always fire up Spotify and get a group session going – Spotify has just added a Lunar New Year playlist full of obnoxiously loud, but cheery hits!  
These are only a few ways you can celebrate this festive season from the comforts of your own home – we'll leave everything else up to your level of creativity and means. This writer would like to wish every Malaysian a Happy (and safe) Lunar New Year!