Wireless earbuds are a dime a dozen nowadays, and some try to satisfy a growing demand for affordable quality earbuds. You'll be hard-pressed to find a pair that meet that description; but the Tronsmart Onyx Ace has enough in the bag to properly fill that gap.  
With a price tag of RM299, it's indeed affordable when compared to the best earbuds around, which includes the one that started the whole 'sorry, can't hear you. I have AirPods in' fad, the Apple AirPods.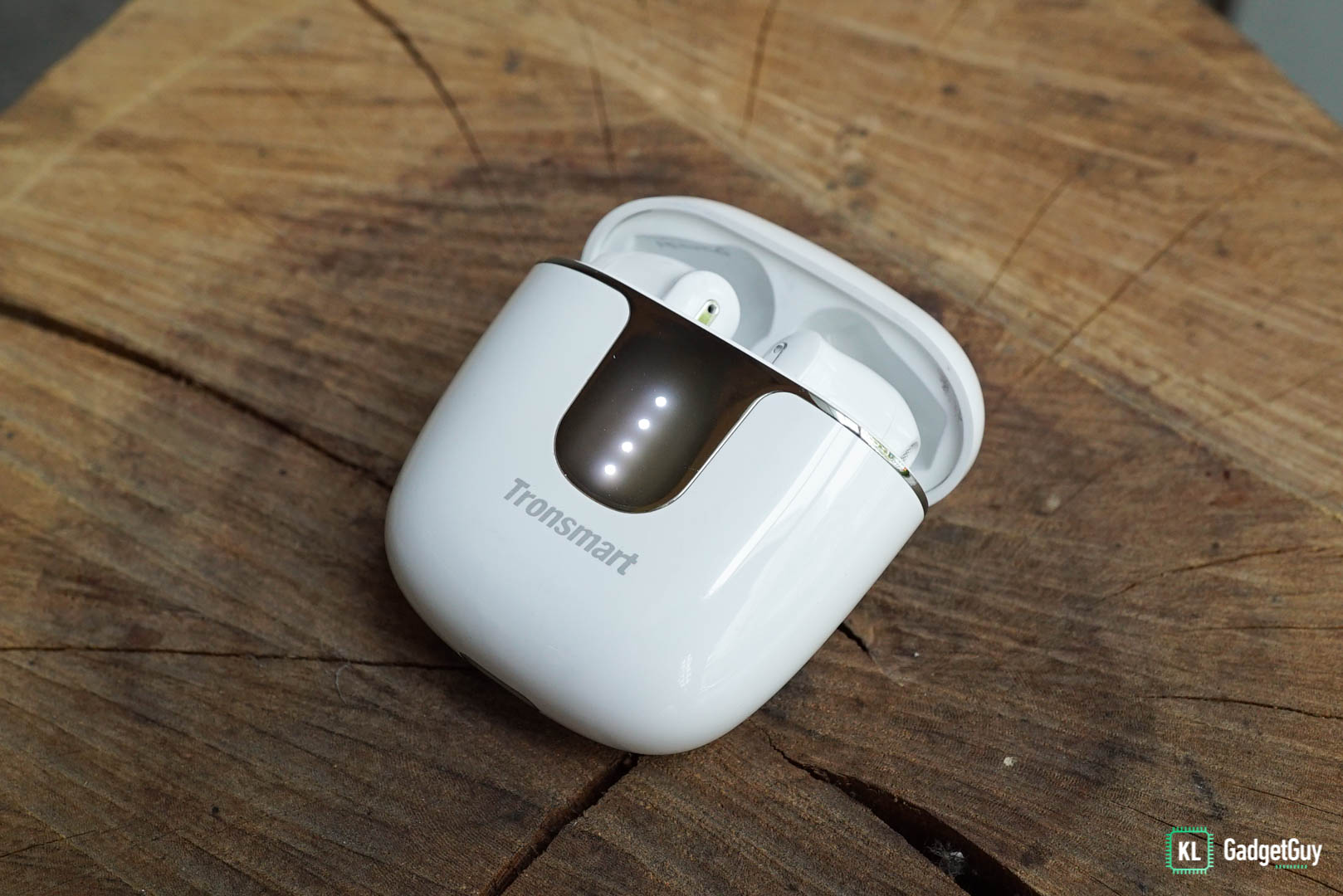 Design
The Tronsmart Onyx Ace doesn't scream premium at first glance – you get an unassuming white charging case that ships in a generic white box. But it has chrome accents where the LED indicators are placed to give it a bit of flavour, but it's nothing fancy.  
The earbuds themselves sport a semi-in-ear design with no swappable silicon eargels; for me, the Onyx Ace fits well for the most part, bar some twisting and turning needed for the right earbud to stay in. Once it is, it stays snug in your ear making it suitable for workout sessions too.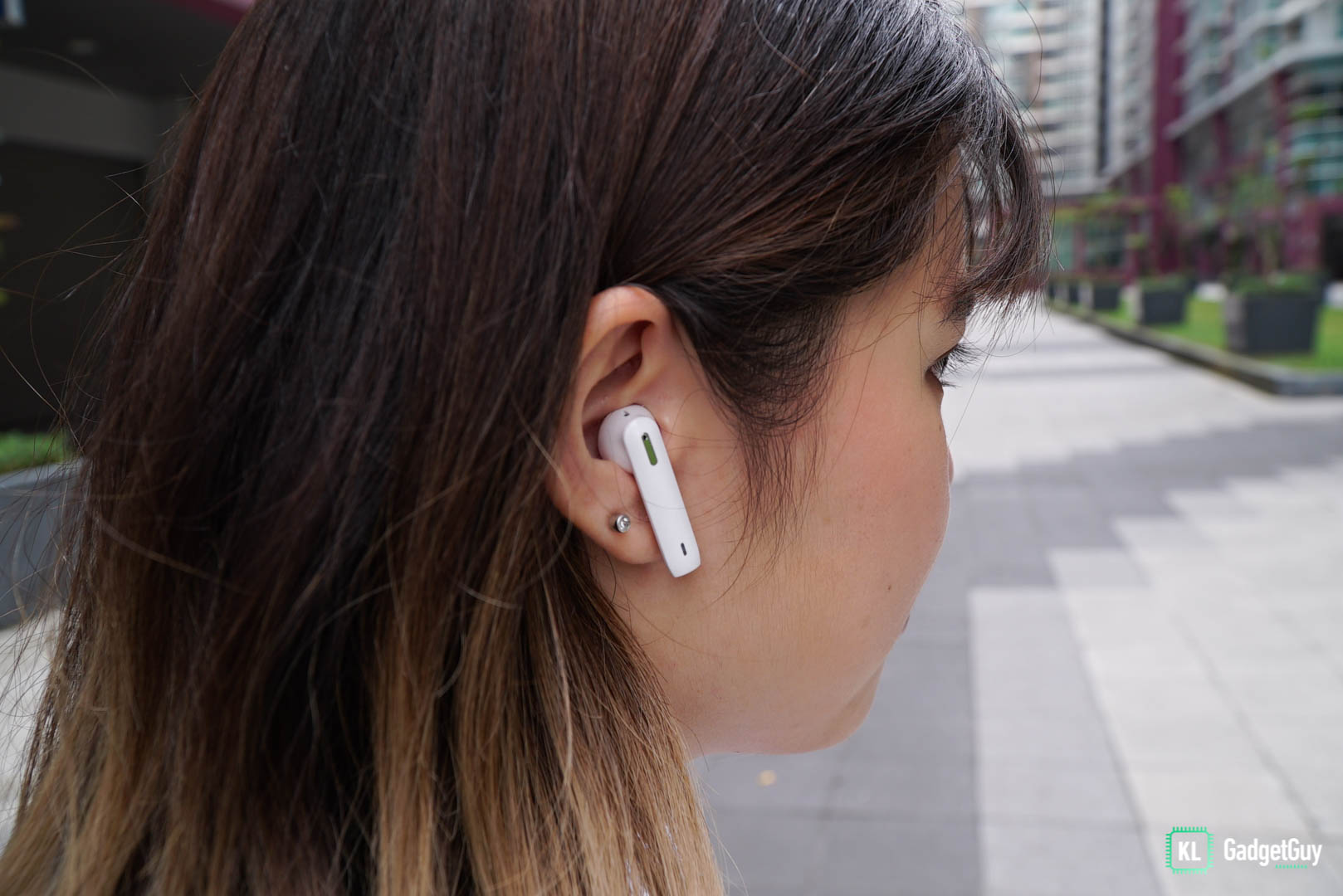 Durability and pairing
What also makes it good for exercising is its IPX5 sweat and waterproof rating. Tronsmart also claims that the Onyx Ace is capable of withstanding rain and splashes, so that's a plus. However, it's important to note that the charging case is not waterproof. 
Setting up the device is as easy as pairing it on your smartphone or laptop. After the initial pairing, the earbuds turn right on and connect as soon as you remove them from the charging case.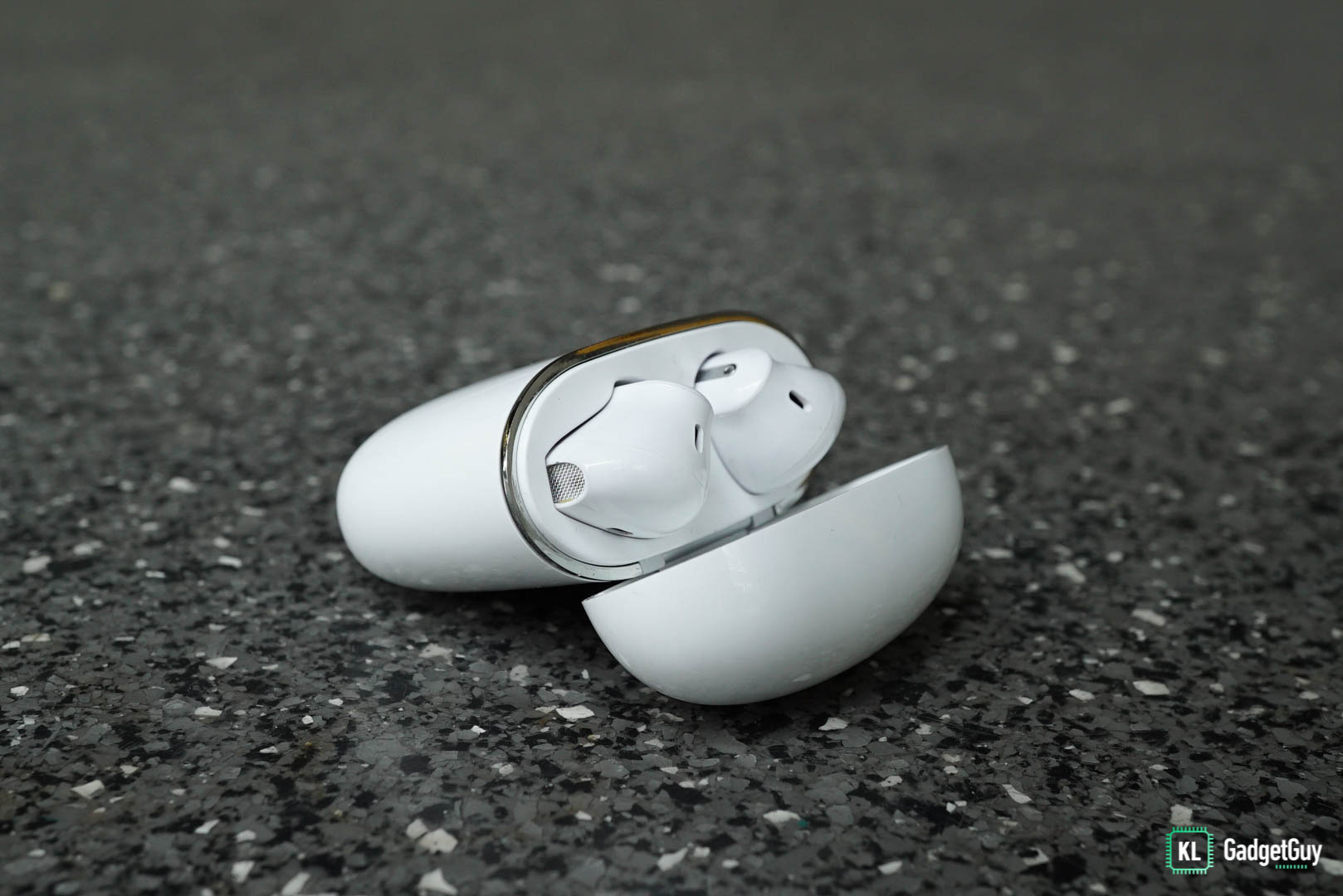 Audio quality
Jumping straight into audio quality, it's got impressive punchy bass for a pair of wireless earbuds, but it teeters on the boomy side occasionally. Also impressive is the depth when listening to instrumental tunes. Unfortunately, the highs are more blanketed than I would've liked, so vocals may be drowned out the mids and lows.  
Allowing all this is the Qualcomm aptX tech that gets you high quality audio without adding to the latency. However, that doesn't mean there isn't any – this is, of course, noticeable when watching videos, which can be an issue for some people.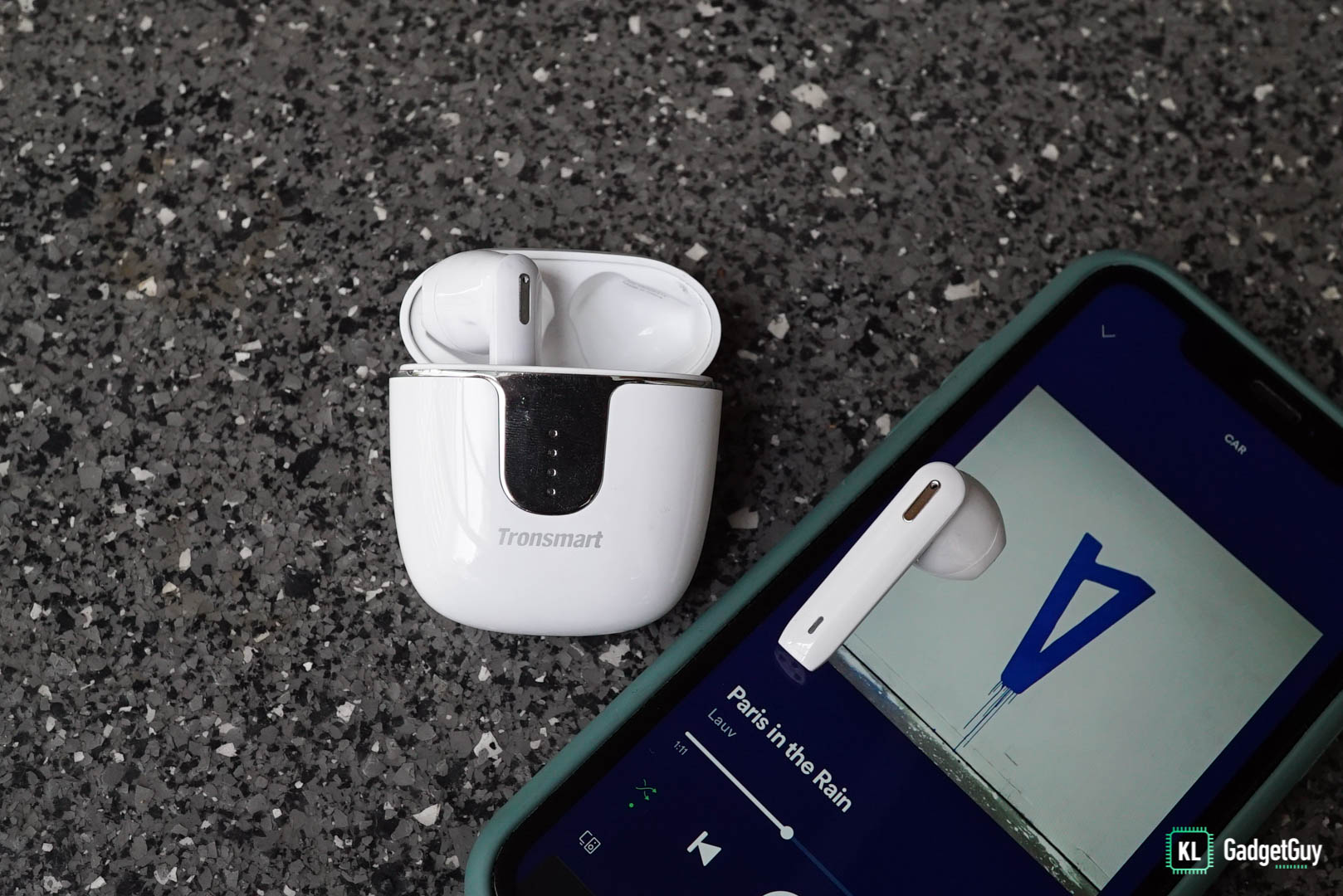 Smartphone app
Tronsmart doesn't have a dedicated equalizer app for the Onyx Ace, but anything you can download off the App Store or Google Play Store will work. The earbuds doesn't have an ambient sound mode either, but the deisgn offers some hear-through which should let you pick up enough of your surroundings in a busy urban setting. You can also use either side of the earbuds on its own, which is useful in case you really need to hear what's around you. 
Call quality
The Onyx Ace excels when it comes to calls with crisp audio and a clear mic. The environmental noise cancellation kicks in and you'll be able to hear very clearly without having to amp up the volume.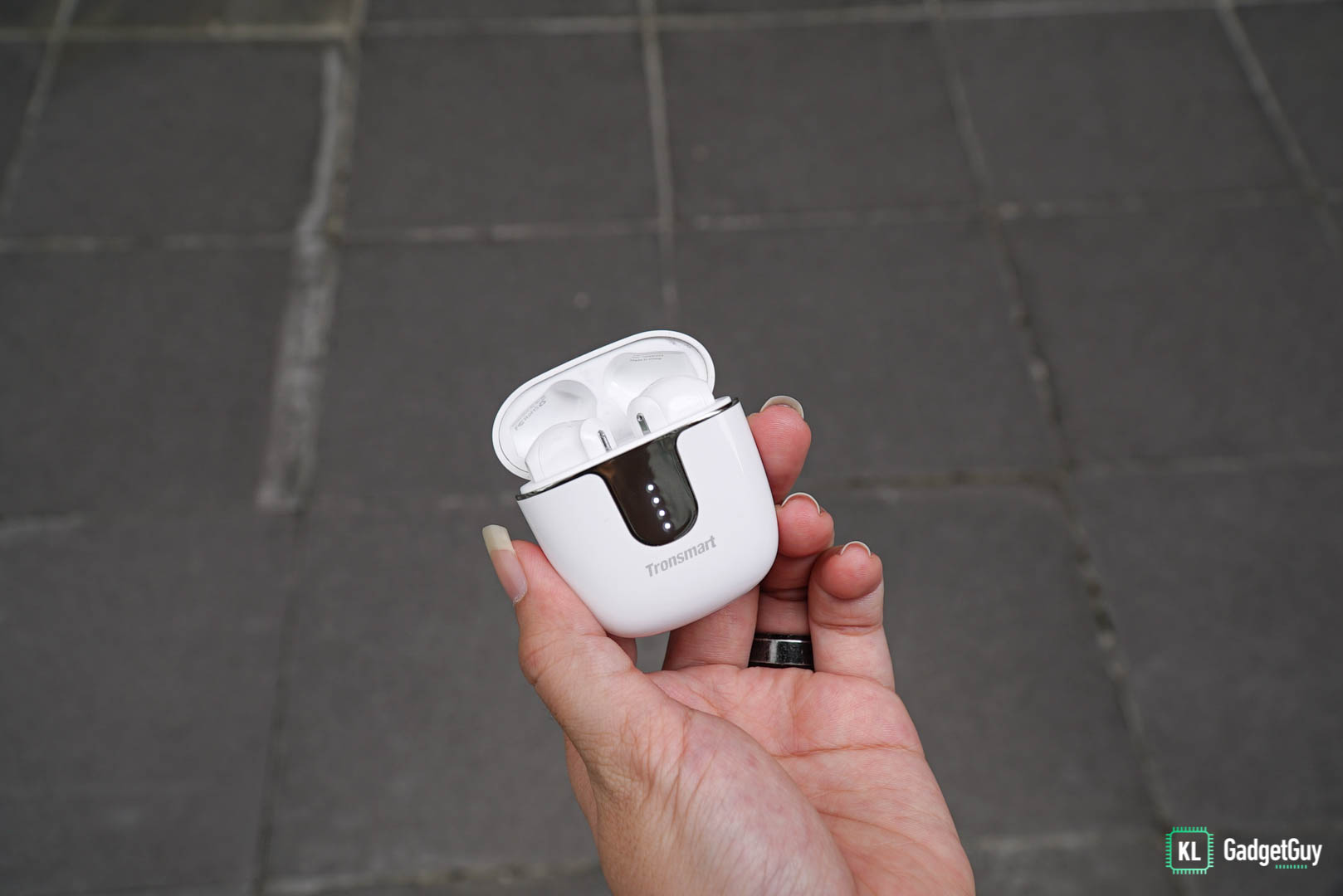 Touch functions
You can simply double tap either side to answer and reject calls, or do the same to play and pause tracks. To access your voice assistant, simply triple tap either side to activate it. To adjust the volume, single tap the left bud to decrease the level, and the right to increase the volume. 
Perhaps the biggest and only issue I have with the Onyx Ace is that the single tap functionality is too sensitive; should you hold onto the detection zones while putting on or adjusting them, your earbuds will go into a volume change frenzy. So, you have to be careful to grab them buds by the stem only, which proved to be a tough ask for someone with sausage for fingers, such as myself.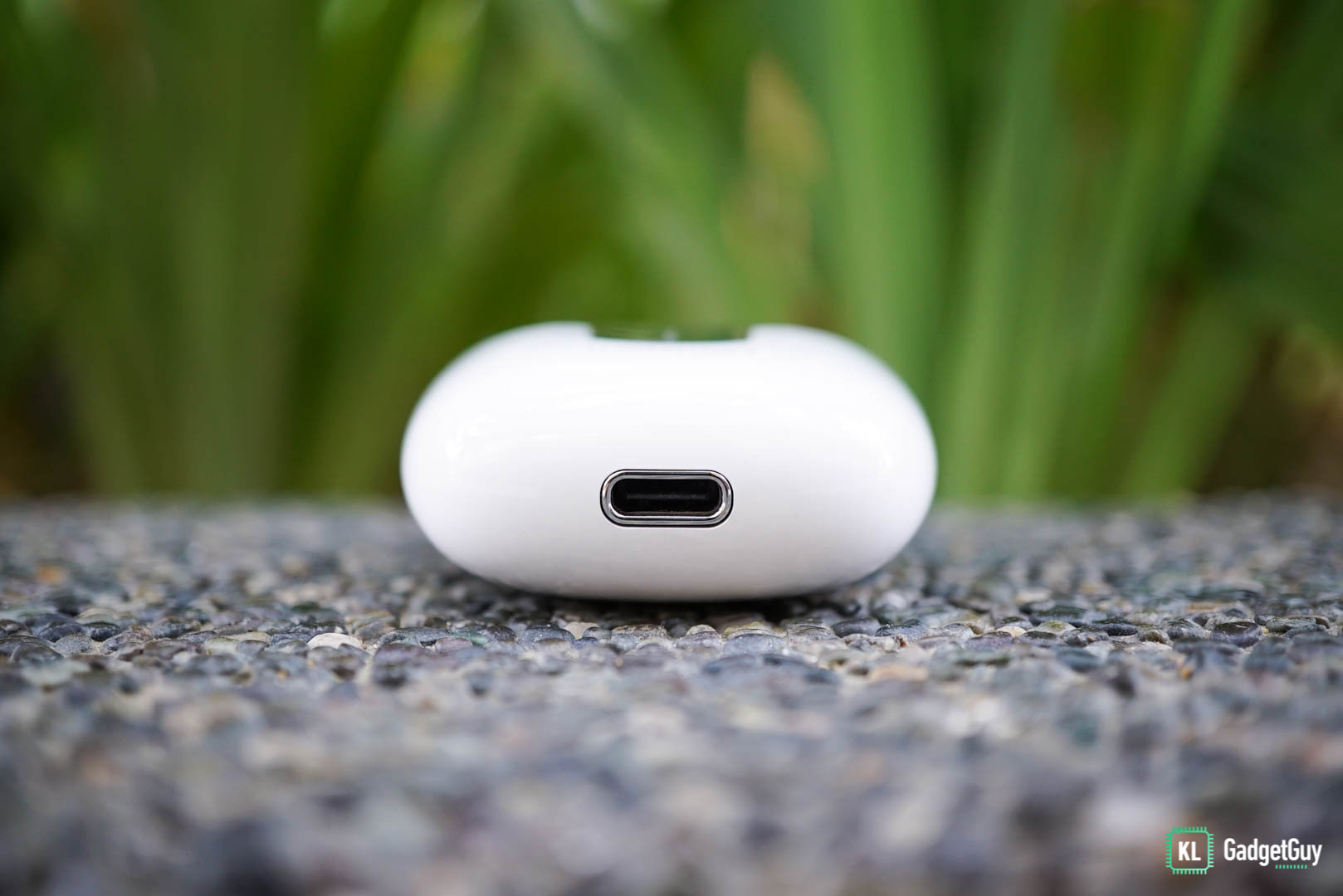 Battery life
In terms of battery life, you get the standard 5 hours of listening time, or up to 24 hours with the charging case. Charging the earbuds take a little over an hour with the charging case; and it takes the same amount of time to power the case itself. The best part about the Onyx Ace is that it charges via a USB Type-C cable which is a much-appreciated addition by Tronsmart. There's also no wireless charging, but that's a cost-saving measure and doesn't hinder in the experience of using the earbuds. 
Verdict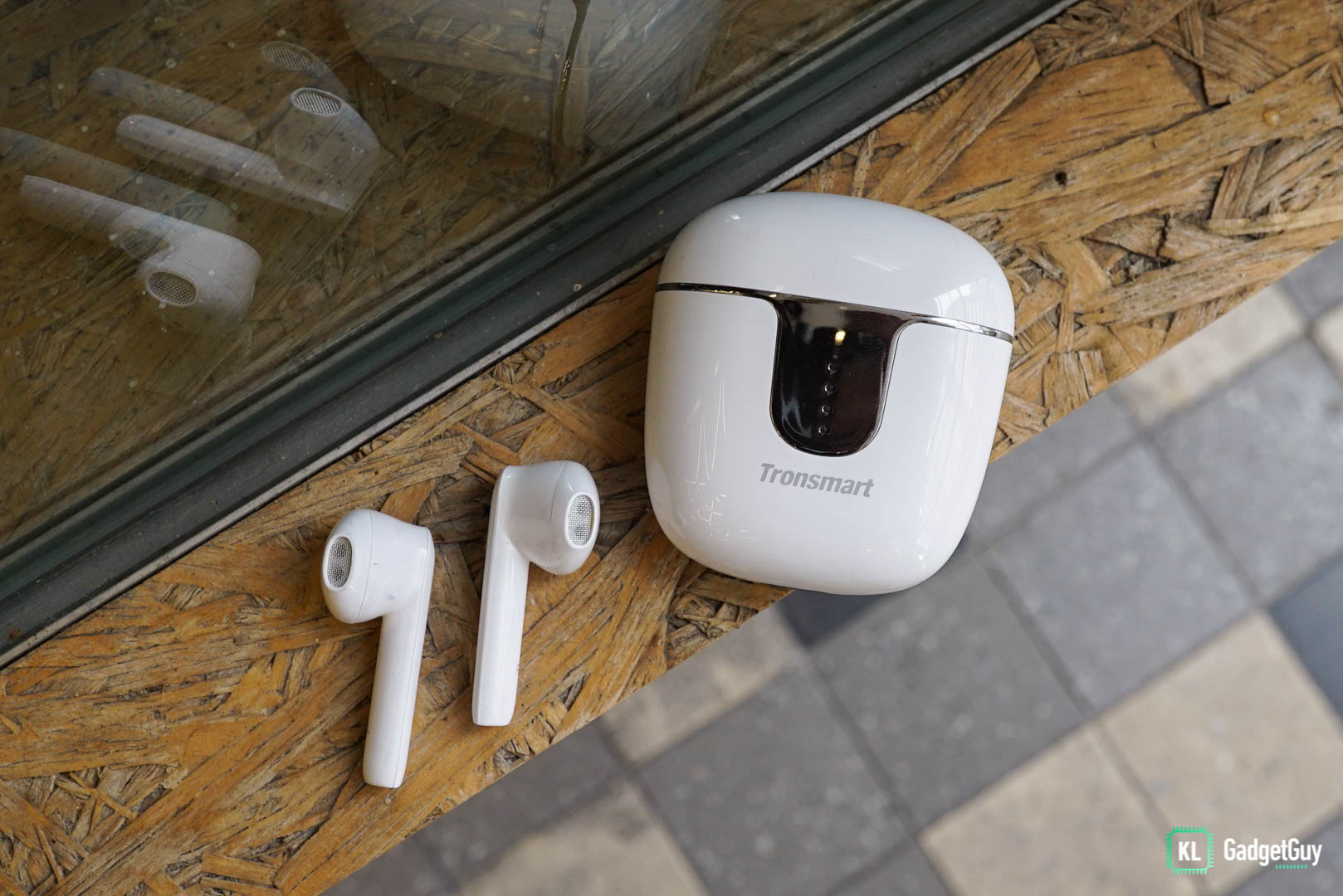 At the time of writing, you can get the Tronsmart Onyx Ace for just RM169 via their official Shopee and Lazada pages; that's a whopping 43% off a pair of earbuds that is already affordable to begin with. The Onyx Ace has impressed me with its no-frill approach – it gets the basics spot on and for what it's going for now, I'd say it's an absolute bargain.  
The Good
Good bass and depth
Great call quality
Sweat- and splash-resistant
Easy pairing and connecting
Decent battery life
The Not So Good
Highs are blanketed
Single tap volume function too sensitive
Boring design