Despite being a long overdue effort, TM has taken the first step as Malaysia's largest broadband service provider to reduce its fibre broadband prices, this is done in response to MCMC's enforcement of the latest Mandatory Standard on Access Pricing (MSAP).
Not only did TM lower the monthly subscription prices of Unifi Home Broadband, but they also introduced a special combo price should you want to pair your Unifi Home Broadband service with Unifi TV and Unifi Mobile, but first of all, here are the prices of Unifi Home broadband:
Unifi 100Mbps – RM99/month (U/P: RM129/month)
Unifi 300Mbps – RM139/month (U/P: RM149/month)
Unifi 500Mbps – RM159/month (U/P: RM209/month)
Unifi 1Gbps – RM289/month
Unifi 2Gbps – RM319/month
Unfortunately, the faster 1Gbps and 2Gbps plan don't get reduced prices, while for a limited time, TM is offering the 100Mbps plan for RM89/month throughout the 24-month contract period.
On top of that, there is an even cheaper Unifi Pakej Rahmah plan that offers 30Mbps speed for RM69/month instead of RM89/month, though it is only available to selected customers such as senior citizens aged above 60 years old, disabled individuals, household with B40 income, veteran army and police.
For existing subscribers, TM will be offering a free speed upgrade and it is done automatically, Unifi 30Mbps customers will be upgraded to 100Mbps, 100Mbps customers will be upgraded to 300Mbps, and 300Mbps customers will be upgraded to 500Mbps, the monthly subscription charges will remain the same and no recontract is required.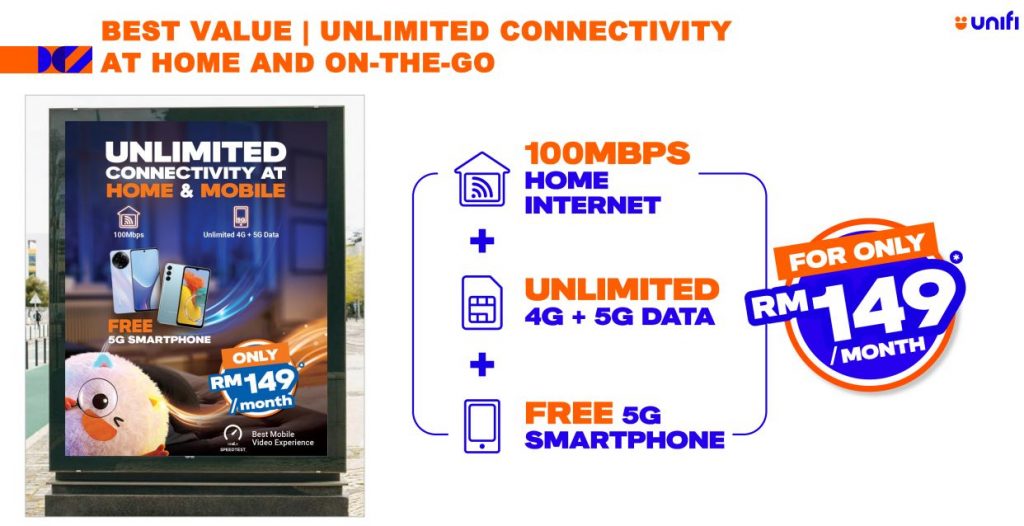 If you are looking to pair your Unifi Home broadband with other services, TM has a pretty attractive offer where you can get an unlimited 4G+5G data Unifi Mobile Postpaid line and a free 5G smartphone from RM149/month depending on the Unifi Home Broadband speed you are subscribed to.
As for pairing with Unifi TV service, it can be had for as low as RM144.90/month which will get you Disney+Hostar and HBO GO streaming service when paired with Unifi 100Mbps, this is a very competitive offering to Astro's WiFi Kencang service.
To learn more about the new Unifi Broadband subscription, you can head here to apply the service.