Like the Galaxy S23 FE, Samsung also skipped a generation of Fan Edition tablets, the Galaxy Tab S7 FE was one of the best RM2,000 Android tablets that I reviewed two years ago, as it was a much lower priced 12-inch tablet as opposed to the Galaxy Tab S7+, and Android tablets with that screen size at the price segment was scarce back then, but for some people, the Tab S7 FE was still too big and there wasn't a smaller FE tablet.
This brings us to the Galaxy Tab S9 FE, which is essentially the more budget friendly variant of the flagship Galaxy Tab S9, and the direct competition to Apple's 10th Generation iPad and iPad Air M1 in terms of price segment, and there's much to love after having it for a few days.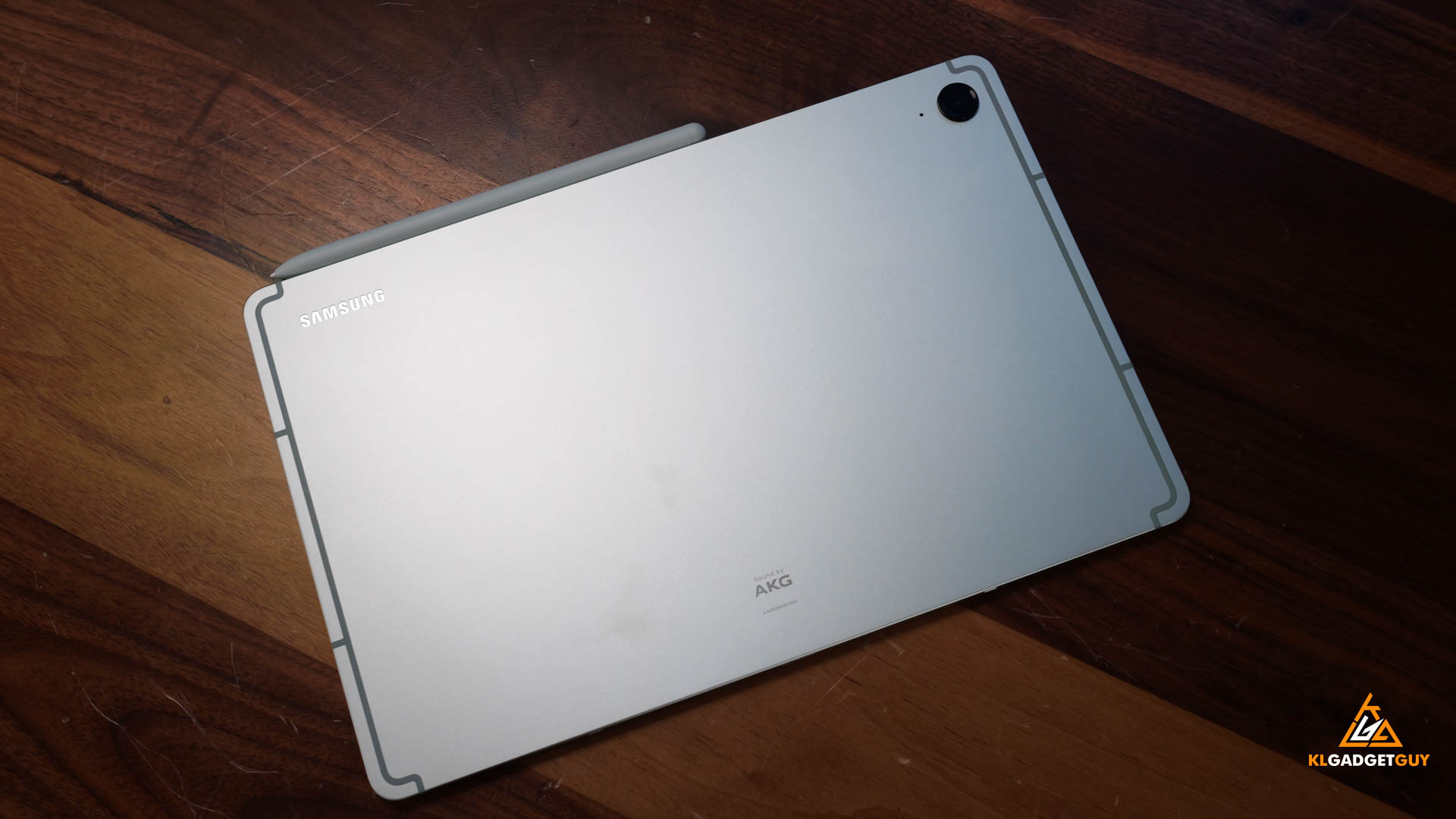 The Galaxy Tab S9 FE has a solid aluminum unibody with rounded corners that feels very nice to hold when you are not using a case but compared to the Galaxy Tab S9 and the iPad Air, it is oddly a rather heavy tablet weighing at 523g despite having almost similar display sizes.
I appreciate the Galaxy Tab S9 FE's IP68 water and dust resistance, though I won't be using the tablet at the pool nor submerge it to take photos, it at least gives me a peace of mind if I accidentally spill my coffee over the slate on a table, and for some people who watches K-Dramas with their tablets in the shower, this is going to be an absolute favorite feature.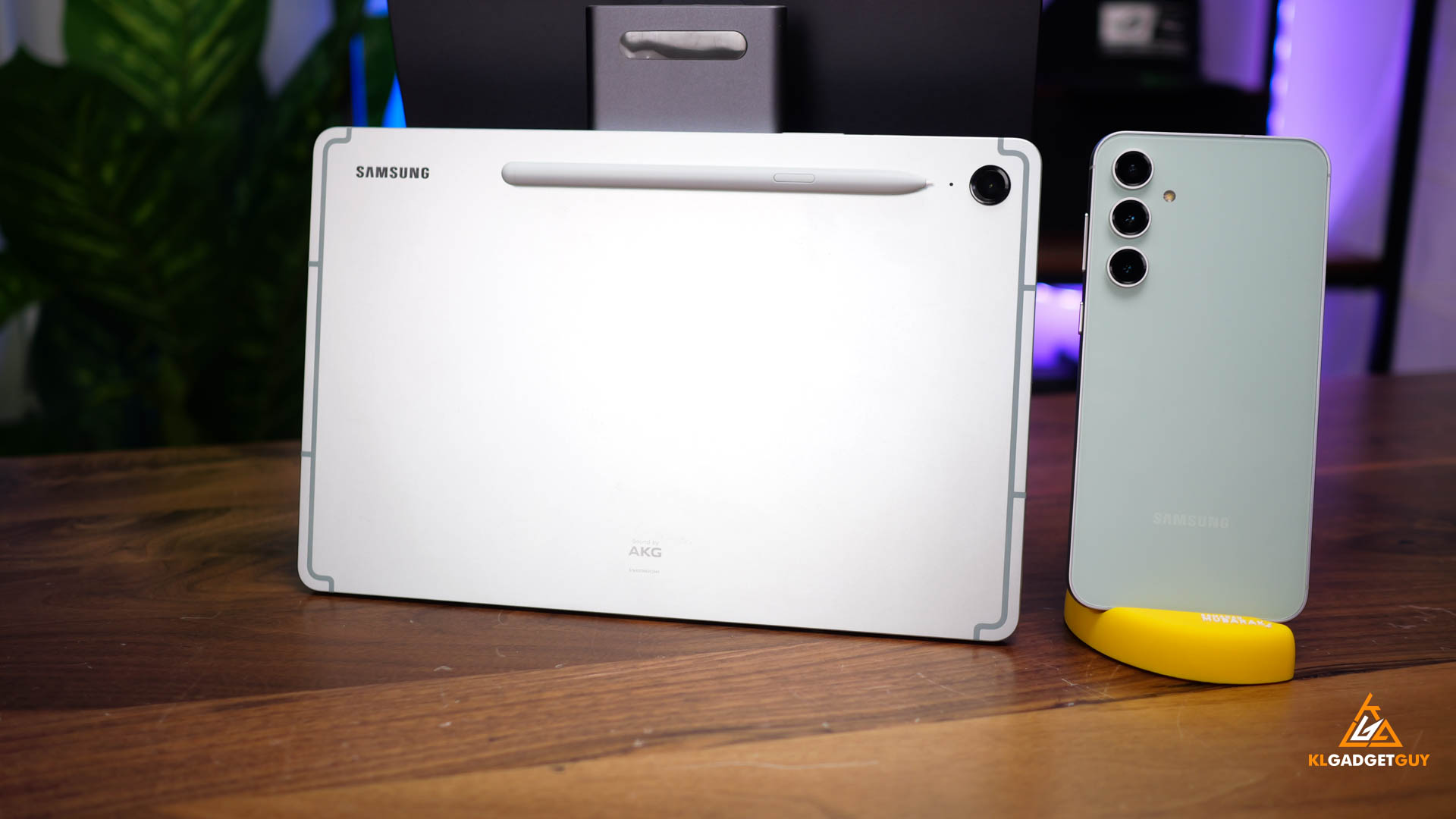 Unlike its premium sibling, the Galaxy Tab S9 FE comes with a refreshing selection of colors that sets it apart from the rest. I received the Mint color, which has an even lighter green tone than my Mint color Galaxy S23 FE, and to be honest you can kind of mistake it as a greyish white color when you put it under studio lighting, but regardless it is a unique color for a tablet compared to the regular silver and black finishing.
In addition, Samsung also color matched the S Pen of the Galaxy Tab S9 FE, which is really cool and also water and dust resistant, the S Pen can be attached magnetically on the top or back of the tablet, it doesn't require to be charged to use and supports palm rejection but isn't pressure sensitive, which is only ideal for scribbling and basic doodling.
For doing more precise strokes and shadings, Samsung does sell a S Pen Creator Edition that will also work on the Galaxy Tab S9 FE.
One of the things that I didn't like about the Galaxy Tab S7 FE back then was the lack of a high refresh rate display, and Samsung at least included a 90Hz TFT panel on the Galaxy Tab S9 FE, which is still no match to the Dynamic AMOLED 2X display on the Tab S9, but it is at least a bright display that feels smoother to scroll through webpages and menus compared to a regular 60Hz display.
Complementing the Galaxy Tab S9 FE is the stereo speakers that has been tuned by AKG, which sounds good when volume is maxed out and produces some great punches from my favorite K-Pop tracks, it offers an overall good media consumption experience.
Powering the Galaxy Tab S9 FE is the Exynos 1380 chipset, which also powers the Galaxy A54 and my unit comes with 8GB RAM and 256GB of expandable storage. Although I was hoping for a more powerful chipset, the tablet overall performed decent for basic web browsing and productivity on Samsung DeX, there was no issues of slowing down or stutters like one tend to worry about Exynos powered devices.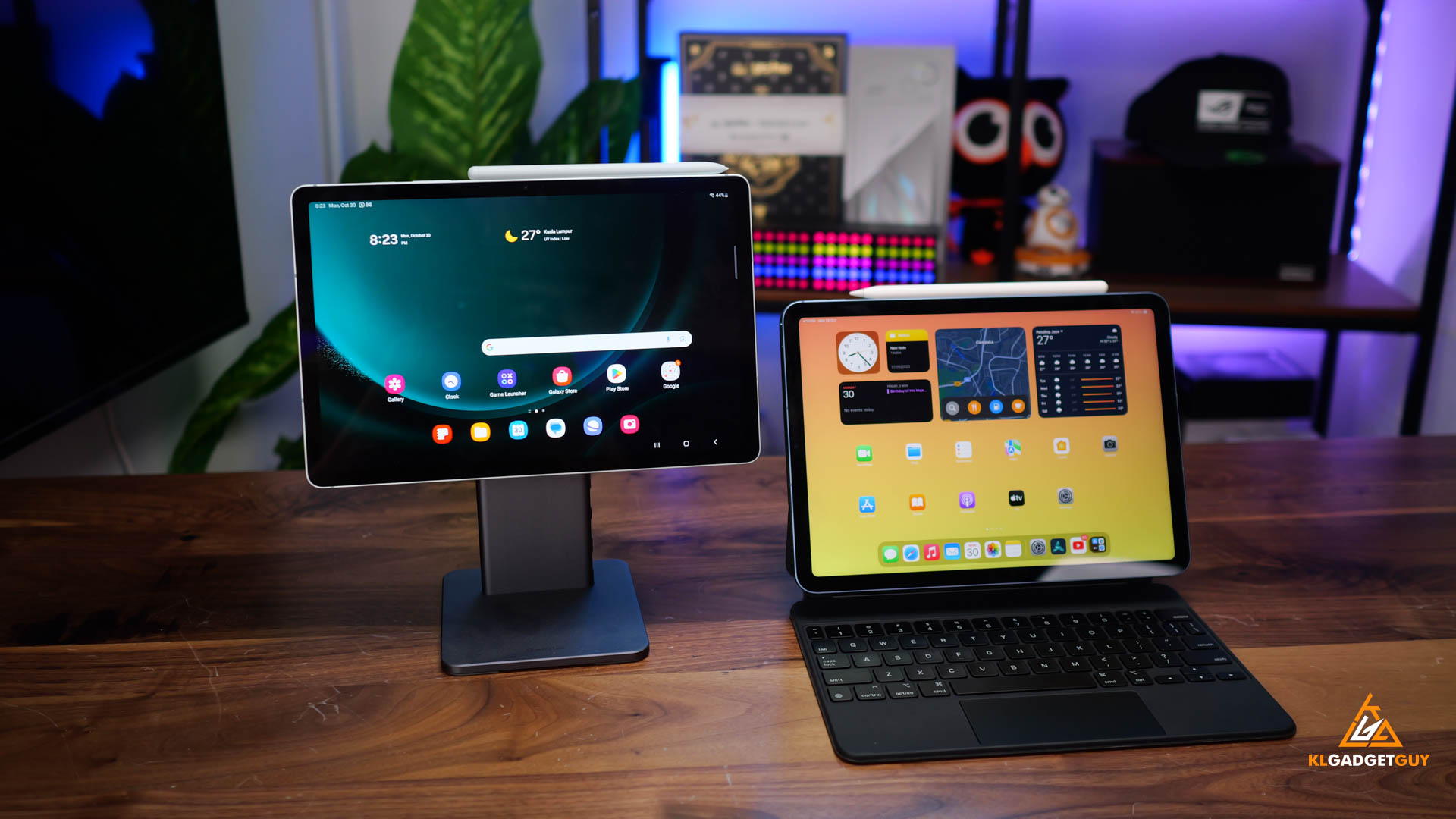 Overall, I am satisfied with the Galaxy Tab S9 FE and find it to be a good all-rounder tablet, but there's more to conclude in the final review such as its battery life, camera, and how it compares to the competition, so definitely stay tuned for that in the coming weeks.
The Galaxy Tab S9 FE starts at RM2,099 and can be purchased on Samsung.com, Lazada and Shopee.