Nearly 3 years after its release, NVIDIA has added onto the 20 series, with the addition of a 2050 graphics card for laptops, alongside an MX550 and MX570 for work and gaming. A lot of affordable work and gaming laptops still use older chips like the GTX1650 and MX450, but now NVIDIA has announced these 3 new GPUs for better performance on affordable devices.
RTX 2050
The most notable release was the GeForce RTX 2050, which is meant to be a good mid-range gaming GPU for upcoming laptops. It will pack 4GB of VRAM with a memory bandwidth of 112GB/s and will have 2,048 CUDA cores and a thermal design power (TDP) of 30 – 45W. Additionally, it has the same amount of CUDA cores as the RTX 3050 but won't perform as well because it is limited to a 64-bit memory interface width.
The RTX 2050 also uses the Ampere architecture that the RTX 30 series had, rather than the Turing architecture that was used in RTX 20 series. This graphics card also will not have G-Sync or VR Ready support, but it does have Real-Time Ray-Tracing, deep learning super sampling (DLSS), NVIDIA BatteryBoost support, and more.
GeForce MX570 and MX550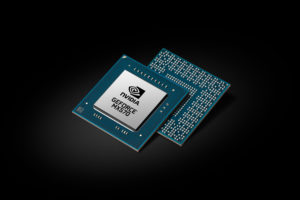 We did not get any specifications revealed about the MX570 or the MX550, but NVIDIA did claim that the MX570 graphics processor will be the fastest MX GPU. Its focus is on work and gaming and will have more power-efficient CUDA Cores and faster memory speeds. So you can expect it to be more efficient for editing, gaming, and work compared to their previous MX GPUs.
In terms of the MX550, it will be a successor to the MX450 and would be focused more on performance for creative work. NVIDIA promises a "leap in performance" and improved speeds for photo and video-editing tasks while using Adobe apps. They also mentioned that it will include more CUDA cores for some light gaming.
We didn't get an exact date on when these chips would be fully revealed, but NVIDIA did say that they are coming in Spring 2022. Especially with CES 2022 on the way, you can expect more information on these chips to come out soon. If you want to see more about the new NVIDIA graphics cards, you can head to their official website.