While most enterprises have already understood the importance and benefits of going digital in this pandemic, such as using social media and e-commerce platforms to boost sales and improve certain business processes, many are still unfortunately lacking behind when it comes to human resource and payroll, which usually takes up a lot of time on the business owner if the organization doesn't employ a HR personnel or department. Don't be surprised if you are still seeing payslips being processed using a Microsoft Excel form or worse, a handwritten payslip that can easily get destroyed and lost.
Although there are already many HR and payroll software available in the market, many enterprises haven't invested in one mainly due to their subscription price and complex feature set, while some free software tend to have missing features and your employee's data can potentially be compromised due to the lack of security and compliance.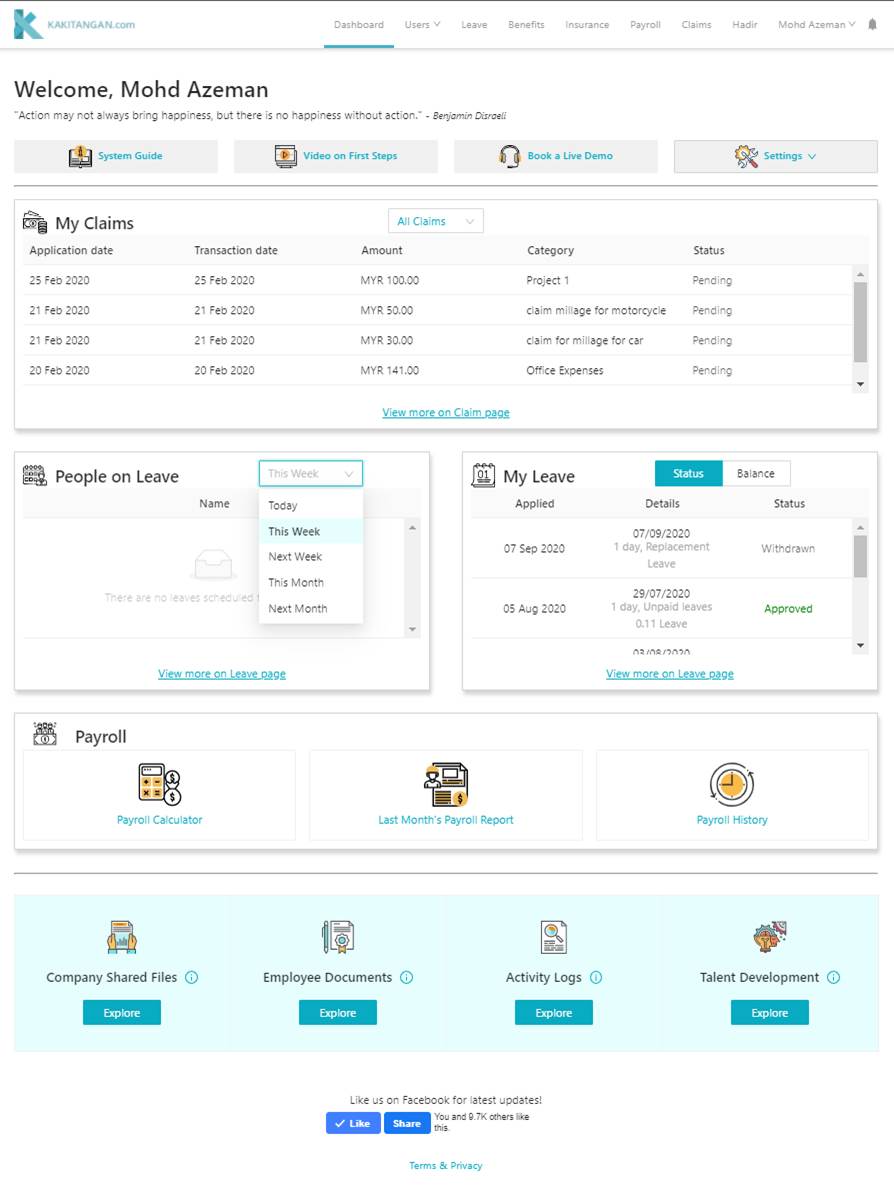 This is where Kakitangan.com comes in as a life-saver for business owners and enterprises struggling with managing human resource and payroll processes, rather than being a mere solution, it is a cost effective one-stop HR and payroll platform that lets you do more than just managing your employees and issuing pay slips, it is also trusted by Malaysian banks and meets all the required compliances by the Malaysian government.
Starting from as low as RM8/user for a 5-10 employee enterprise, Kakitangan.com offers a comprehensive set of modules that most enterprises would have struggled with manual work, here's why business owners and HR personnels will love Kakitangan.com.
User friendly and effortless Payroll module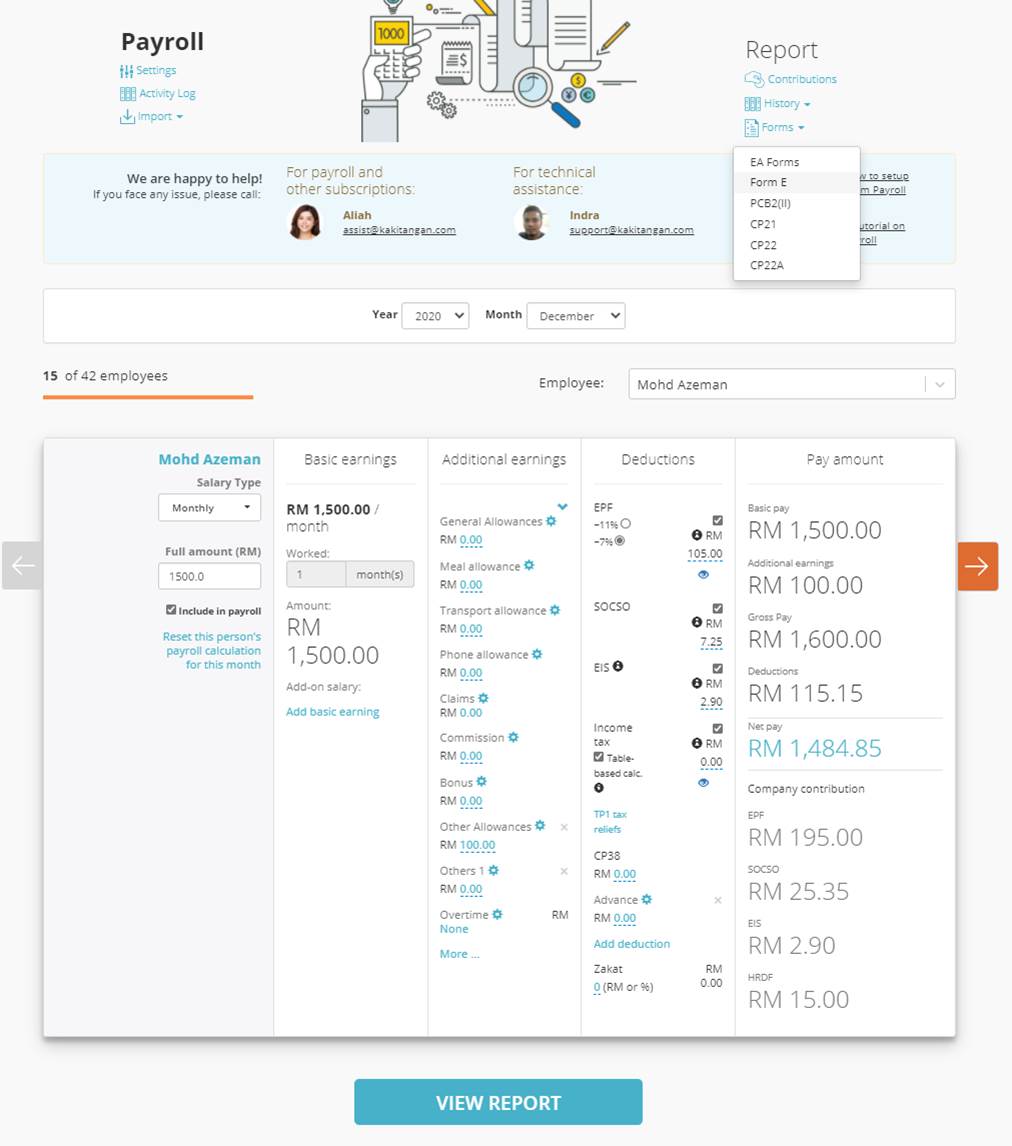 Payroll is definitely the most tedious of all HR processes and one that employers can make many errors that result in unwanted trouble. Once the relevant employee information has been entered for the first time, it is able to automatically calculate pro-rate salary based on employee's join and leave date and deduction of statutory bodies (EPF, SOSCO, LHDN and HRDF). In addition, you are also able to customize additional allowances and deductions from the same page, no need to go through any complicated settings.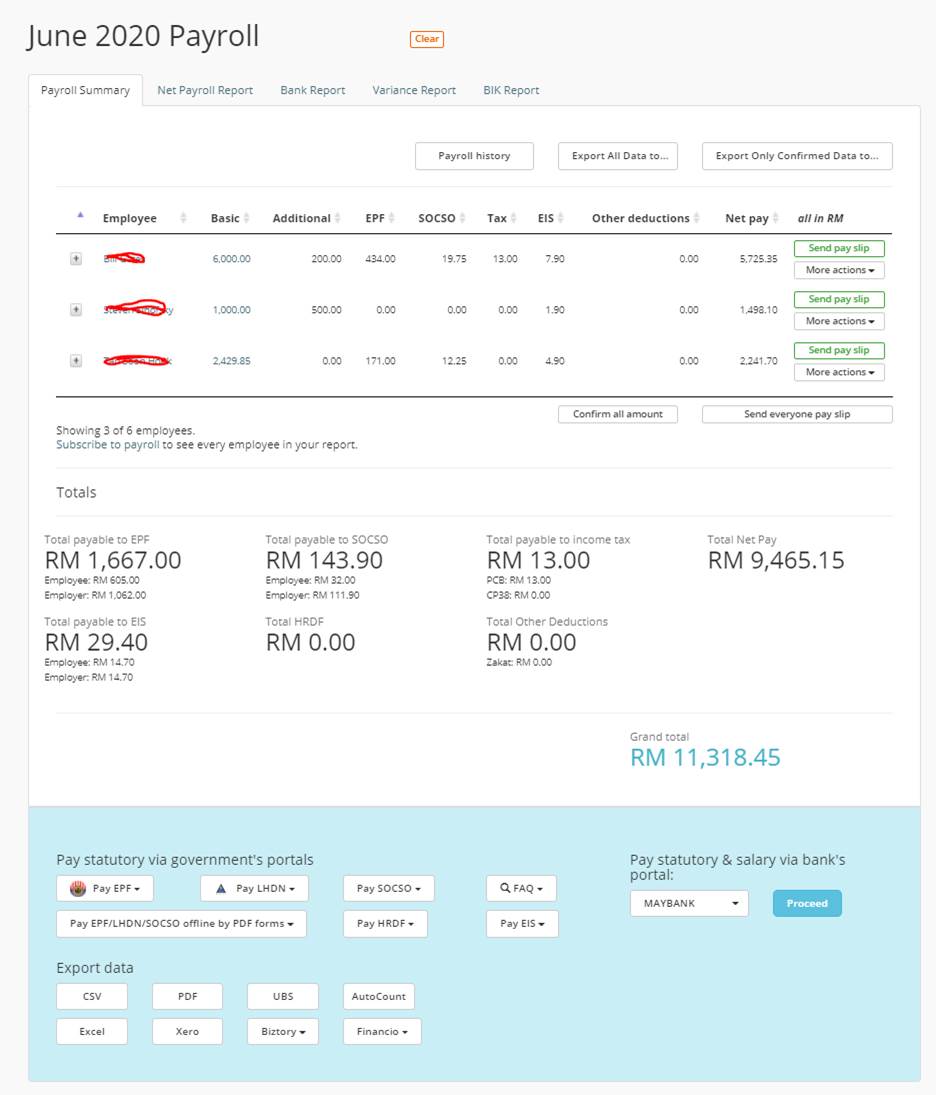 The Payroll dashboard gives you a clear overview of your current month payroll, at the bottom section is where things start to get simplified as Kakitangan.com is able to export all payroll data to be executed by your preferred bank, you can also choose to have these data export into other file formats to be imported into your accounting system.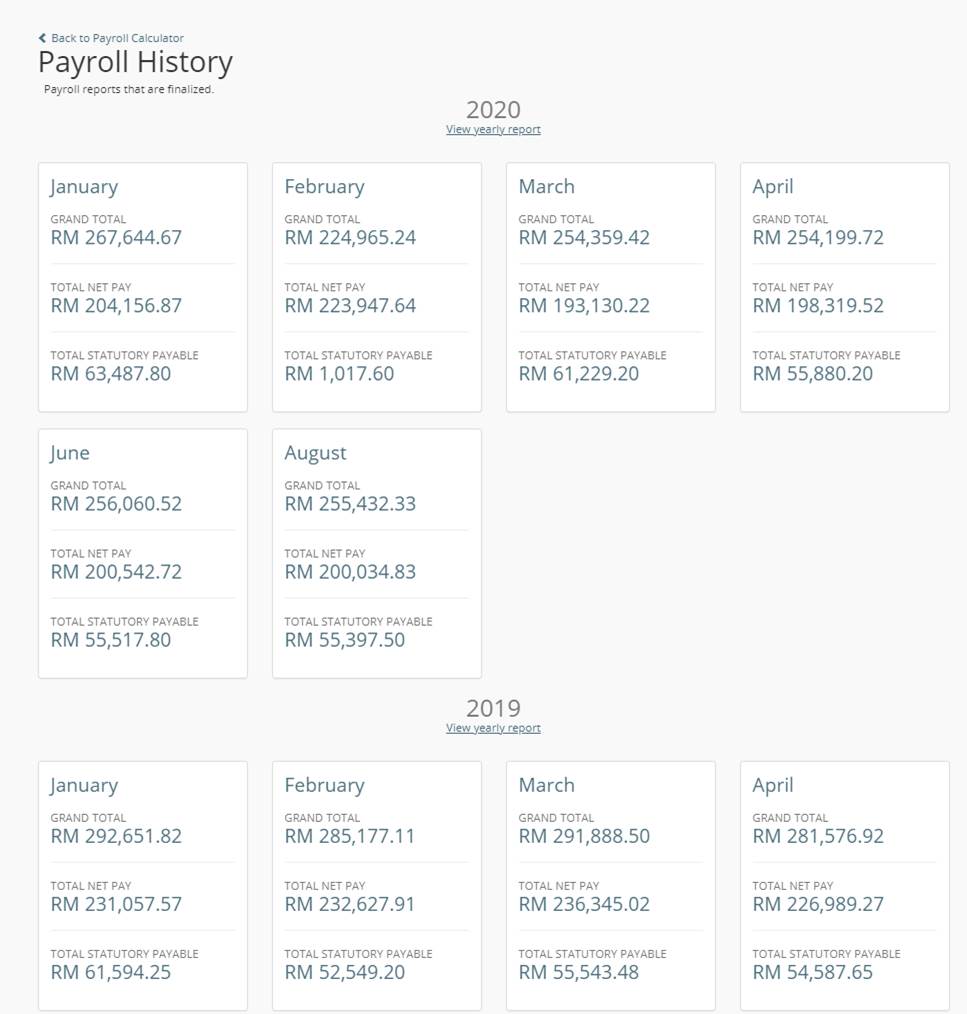 Instead of going through your files to check on your payroll information, Kakitangan.com allows you to view payroll history with a clean dashboard like interface so that you can easily zoom in to the payroll month you want to revisit, this is a big time saver compared to many other payroll solutions.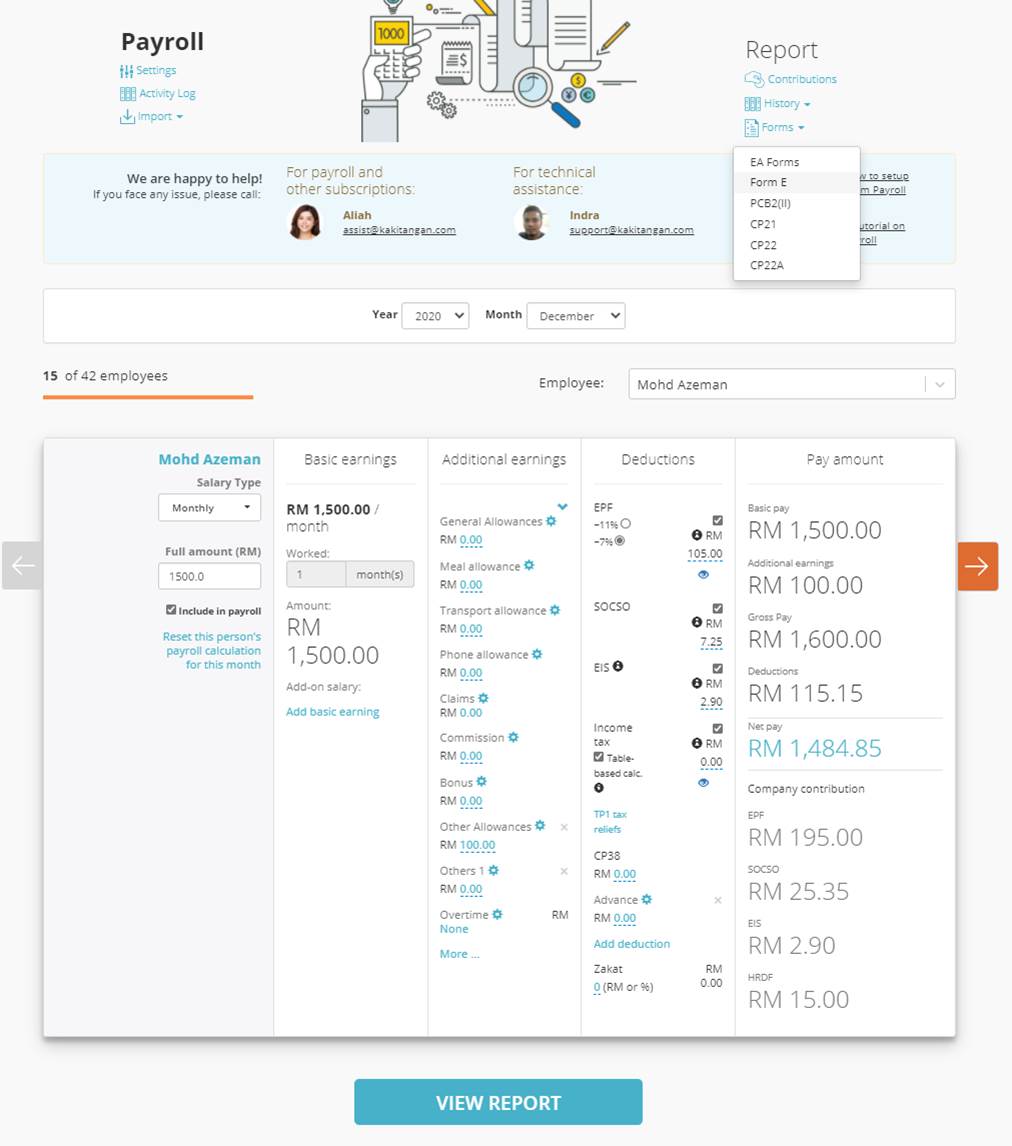 With all of these payroll data, Kakitangan.com's Payroll module is also able to generate forms such as EA, E, PCB2(II), CP21, CP22 and CP22A without the need for manual entry, this is something that many conventional payroll systems aren't able to do and will require the HR personnel to manually perform data entry, imagine if this is done for a company of over 100 employees every year, it would be disastrous.
Keep track of business expenses with the Claims module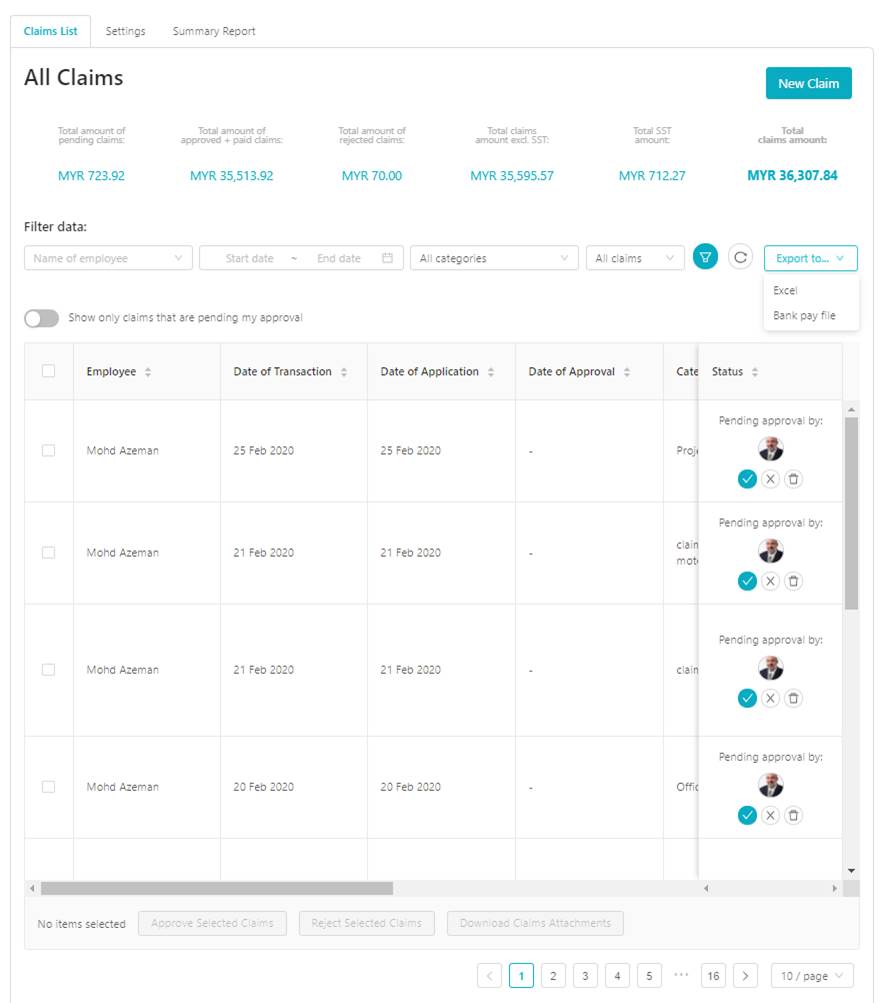 You and your employees are probably sick of keeping track of business expenses related receipts, this can be easily resolved with the Claims module, which allows your employees to submit claims and attach documents by either using their computer or via Kakitangan.com's mobile app, which is available as a free download for iOS and Android devices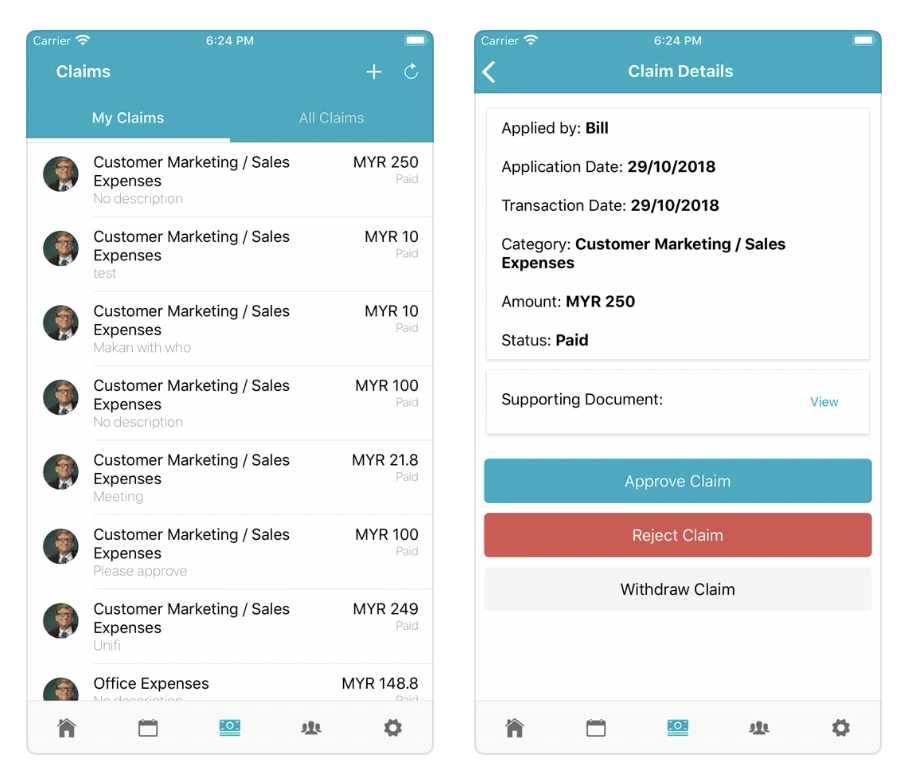 To review a claim, the manager can also use his or her smartphone to review the claims submitted through their way, which unlike some conventional HR systems, you can only do it through a web-based user interface which isn't optimised for mobile devices, which makes it an unpleasant experience and this is a feature that only premium and expensive software can offer.
The Claims module isn't some half baked feature either, as you can also customize approval workflows, cut off dates and set limits to each category of claims, which once again helps the HR personnel and business owner in ensuring the employee's claims are in good order. All of the approved claim figures will automatically be populated on to that month's payroll, saving the need for manual entry.
HRIS Premium – Store Documents and Track Activity Log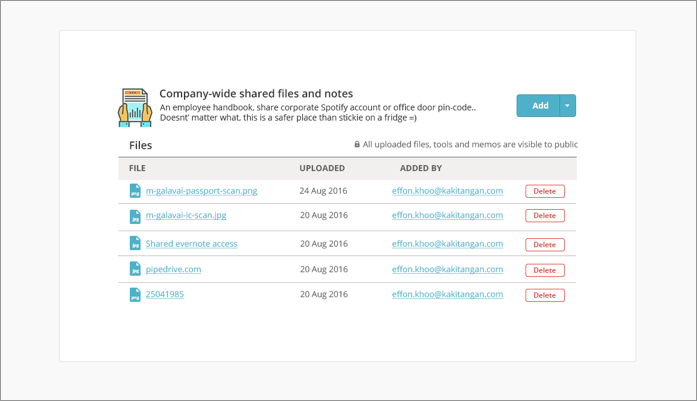 For just RM106/month, HRIS Premium on Kakitangan.com allows you to store employee and company documents securely so that you no longer need to get to those files and folders should you want to quickly pull them out. Furthermore, Kakitangan.com is protected by a bank-level security system and complies with the Personal Data Protection Act (PDPA) of Malaysia, hence they are perfectly encrypted and only you yourself have access to those documents stored on the system.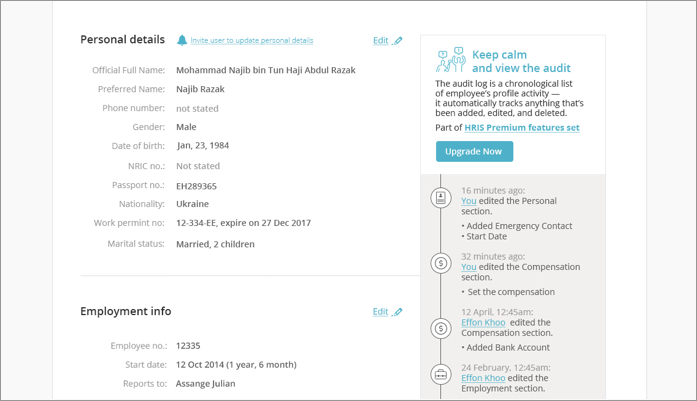 In addition, HRIS Premium features a useful activity log that lets you trace back user activity, this is particularly useful for companies with multiple admin access to the system, so that you can have full transparency on who modifies the employee's information and potentially reduce errors.
In our opinion, this is probably the most unique feature of any HR system that we have ever come across, particularly the documents storage feature which will definitely help business owners to manage company and employee information better by not losing them when they need it at the most crucial moment.
Hadir – Time Attendance, Scheduling and Payroll Integration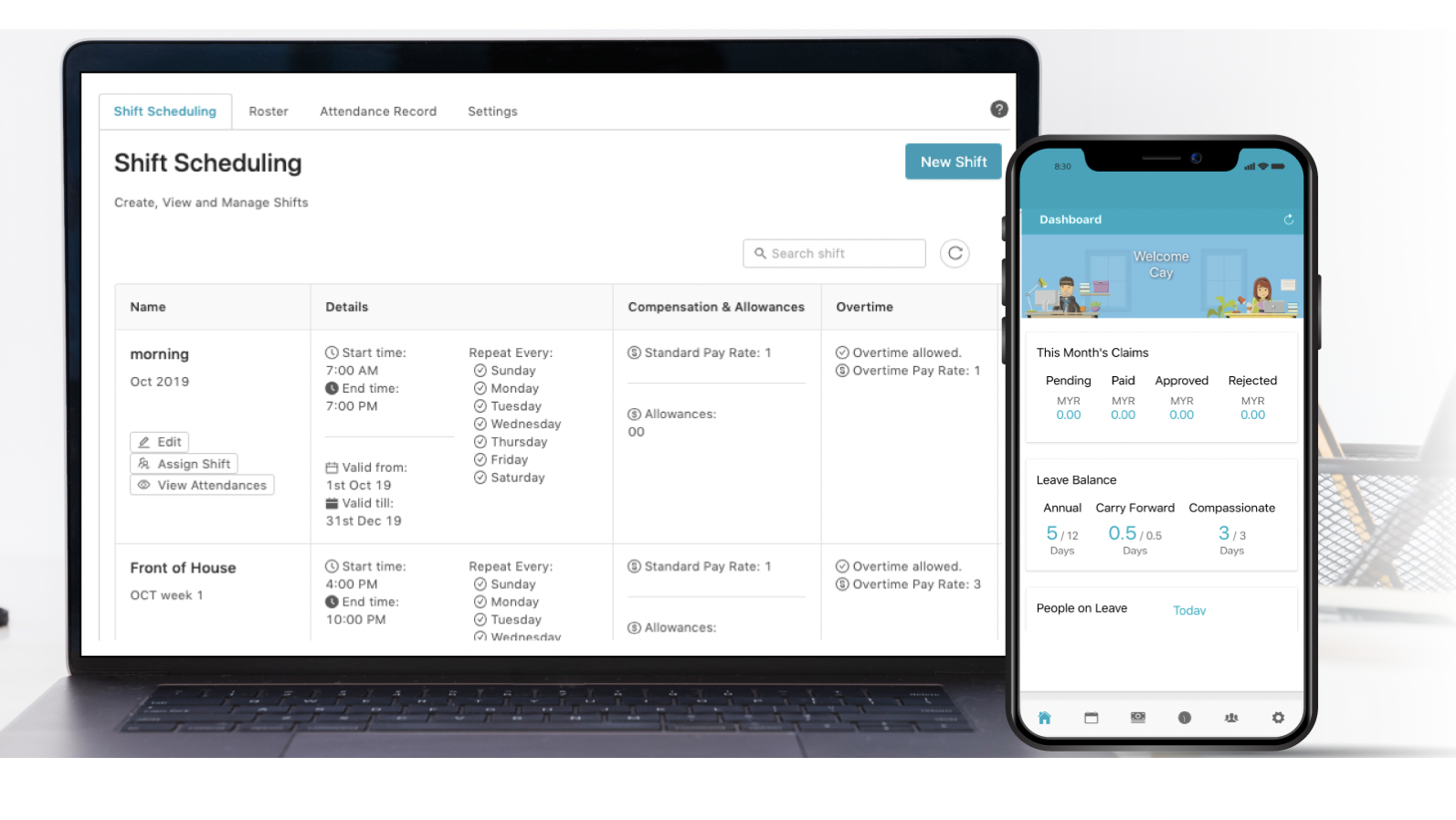 Still using that old punch card clock-in system and manually recording time attendance to calculate your employee's payroll? The Hadir module takes care of everything and all you need to do is to have your employees install the Kakitangan.com app on their phones, clock in and out when they are at the workplace and you are all set, no additional hardware investment needed, and nope, they can't clock-in and out wherever they are as you are able to set a location geofence.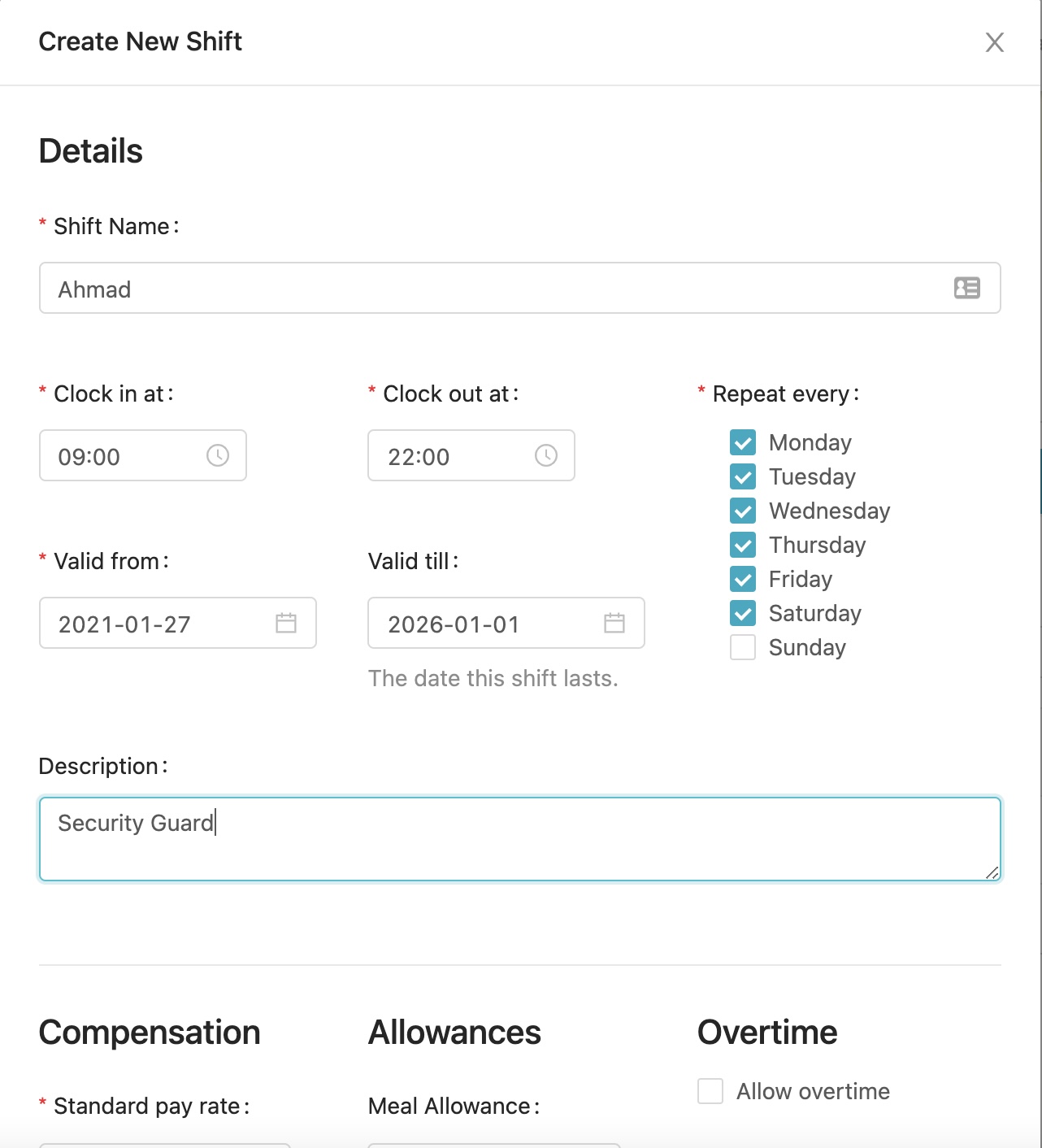 Hadir comes complete with a time scheduling feature where managers can take advantage of to manage employee work shifts, while on the backend Kakitangan.com works magically to calculate the employee's working hours and pay rate, managers also have real-time access to employee attendance records and set auto approvals for marking attendance.
If your company is already using a time attendance management system such as Timetec, Kakitangan.com already has an interface ready to have data populated over for payroll calculation, the team is also ready to perform any customization as required should you have other solutions, this is one thing that not many HR solution providers can offer.
Established Market Presence with Trust and Integrity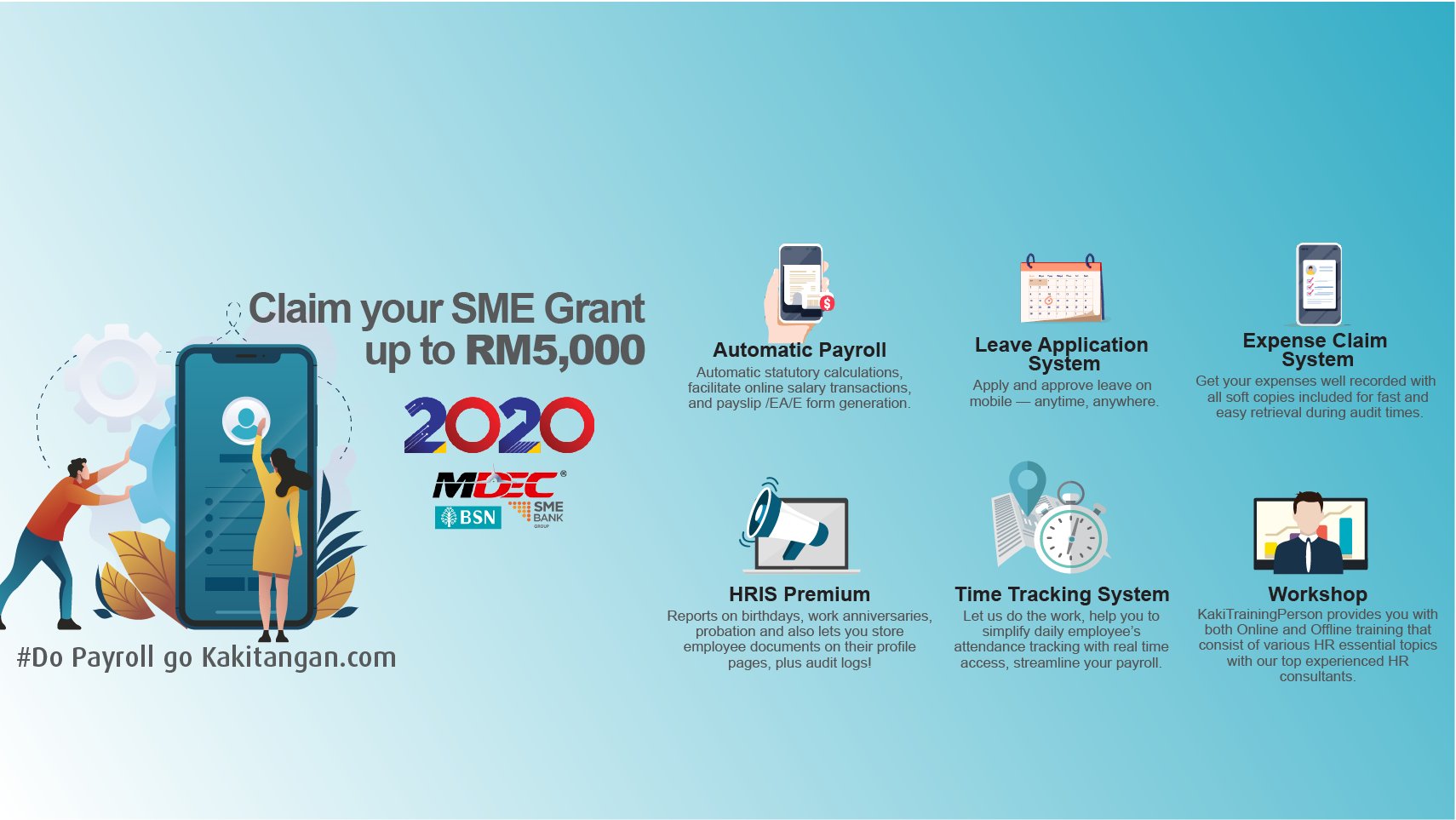 Despite its young age, Kakitangan.com is strongly backed by well known investors and visionary founders that take business continuity more seriously than other vendors in the market. The platform is trusted and supported by 16 banks in Malaysia, security tests and PDPA audits are also done frequently to ensure data is secure and meet the latest security standards, which is why business owners will be rest assured that this is a platform they can depend on to manage their organizations.
Furthermore, Kakitangan.com is an official solution provider of Malaysia's SME Digitization Grant, which SMEs can take advantage of to have their HR processes digitized with Kakitangan.com's solution. For enterprises with less than 3 employees, Kakitangan.com doesn't charge for its payroll and leave module, this is a big corporate social responsibility effort that helps over 60% of such SMEs in Malaysia.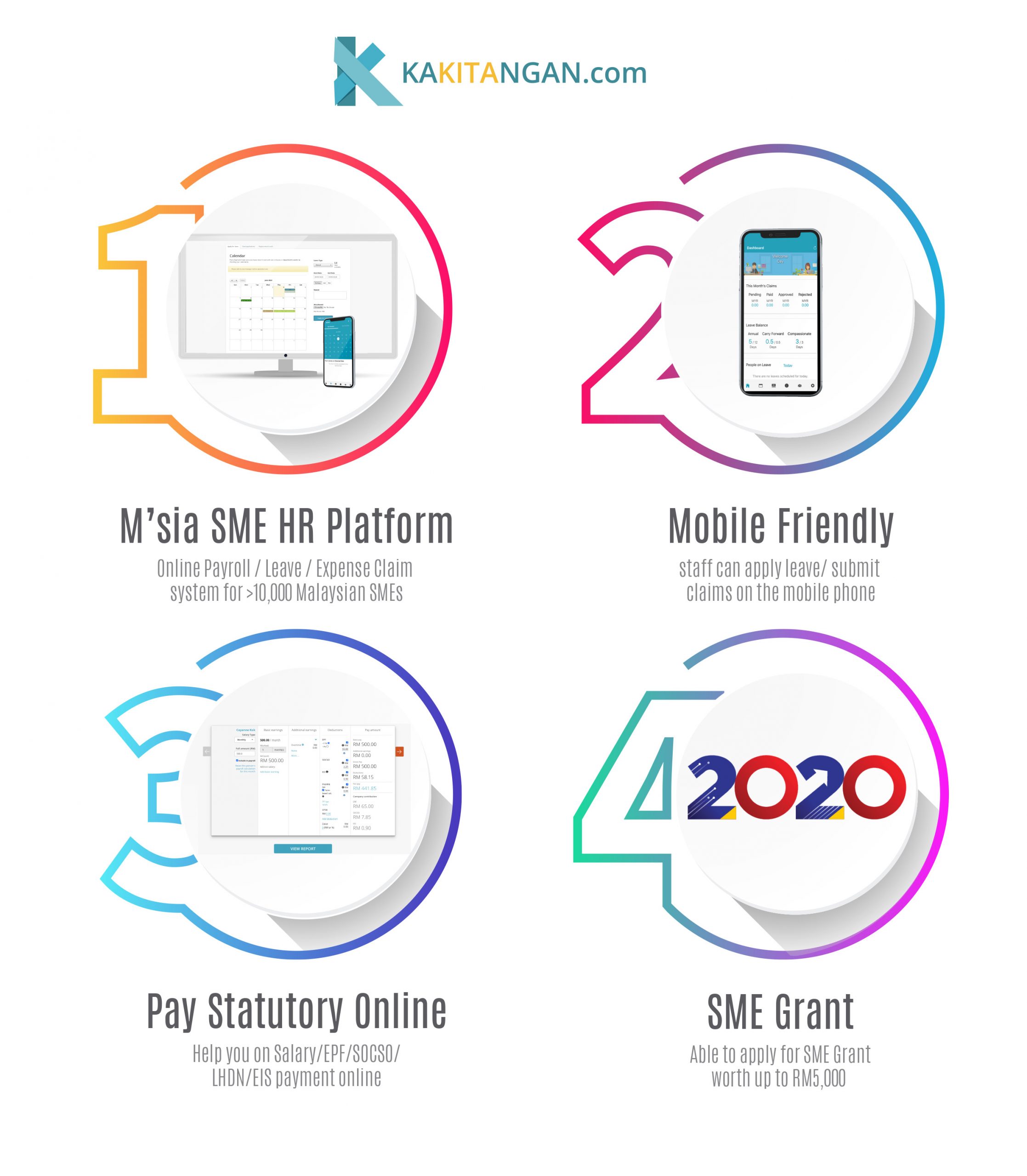 Overall, Kakitangan.com is one of the most comprehensive HR and payroll solutions that we have ever come across and we at KLGadgetGuy have been with them since the beginning of our operations five years ago, it has definitely helped us in eliminating errors that we usually make when calculating payroll using an Excel spreadsheet and many other solutions have failed us in terms of user friendliness and usability.
Kakitangan.com's support has been especially helpful when we encounter any issues as they are always quick to respond usually within an hour after we raise a ticket, they are also extremely knowledgeable when it comes to HR processes with statutory bodies and this is a great benefit when we are unsure of how to deal with them in certain issues.
Don't hesitate, start digitizing your human resource and payroll now with Kakitangan.com.