I have switched to the Galaxy Z Flip 3 from my trusty iPhone 12 Pro Max.
Yeah, big mistake right? Trust me, I was super reluctant to do that as I have dreaded the poor battery life on the Z Flip 3, test driving it for a week is sufficient to make one wonder why would you spend RM4000 on a phone that under delivers in several areas when you can perfectly buy a Galaxy S21+ that has more cameras, better battery and reliability with a slight cash top up.
However, after actually using the Z Flip 3 as my main phone for a week, it finally occurred to me why I no longer don't find these compromises an issue.
It's all about the form factor and convenience.
Back when I was reviewing the Z Flip, I fell in love with how it can effectively shrink the size of a candy bar form factor with flexible display tech, although the phone came with build reliability concerns and an expensive price tag, I would have bought it without a heartbeat if not for these issues.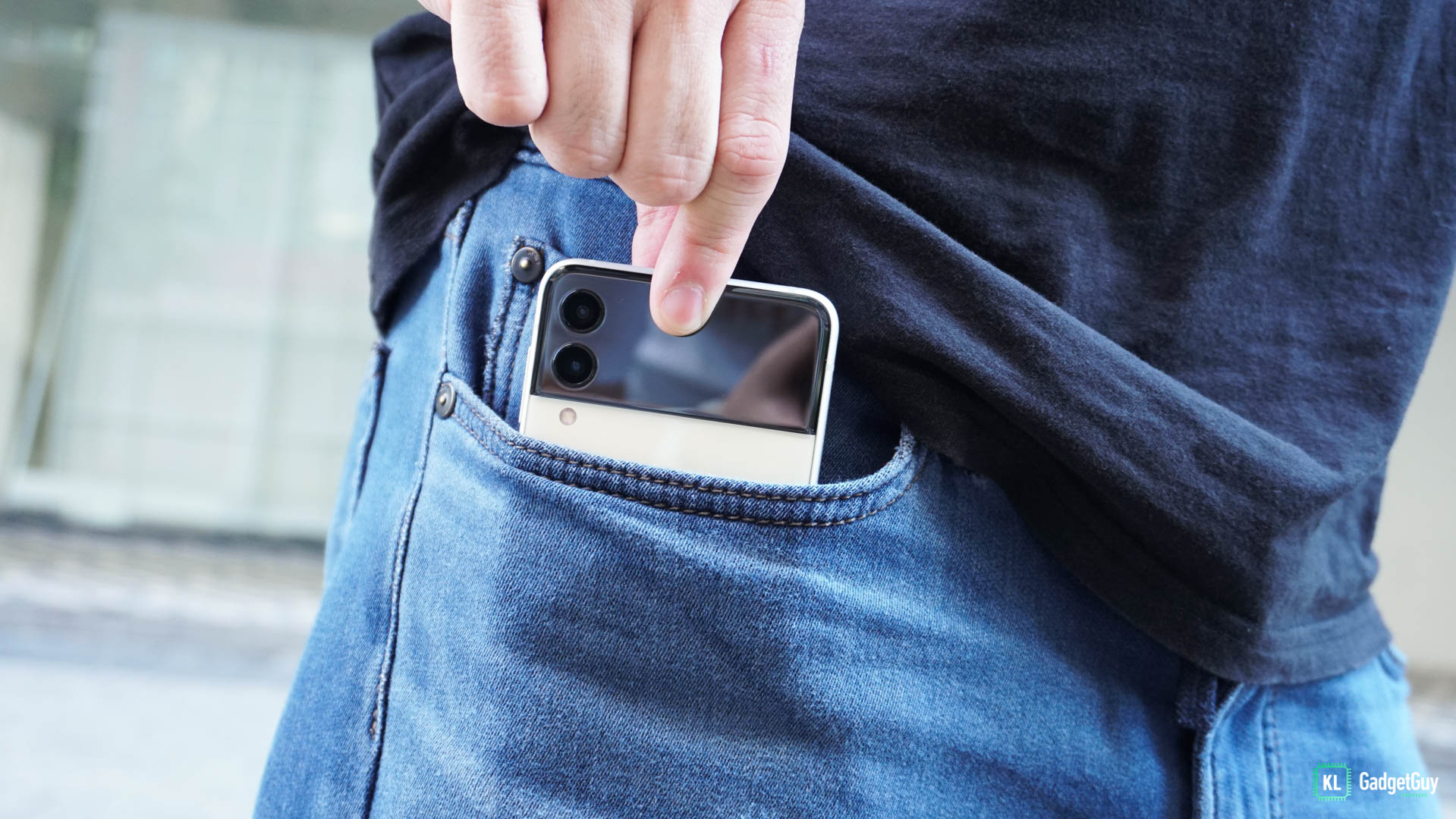 The Z Flip 3 is Samsung's most celebrated foldable device to date with significant upgrades over its predecessor, it added IPX8 water resistance, a larger external display, a bright 120Hz foldable display, which all these additions are amazing technological feats and more importantly, the base 128GB storage model is priced RM1000 cheaper at launch compared to its predecessor and costed a mere extra RM200 for double the storage.
Moreover, the Z Flip 3's design is distinctively different from other Samsung phones, the two-tone design matches well with any color you choose and the dual camera system resides conveniently in the black bar that doesn't require it to have a separate camera bump like the old Z Flip.
Overall, the Z Flip 3 is a gorgeous fashion statement that anyone will say 'WHOA' when they look at it.
Unfortunately, it isn't a phone that delivers a gorgeous flagship phone experience.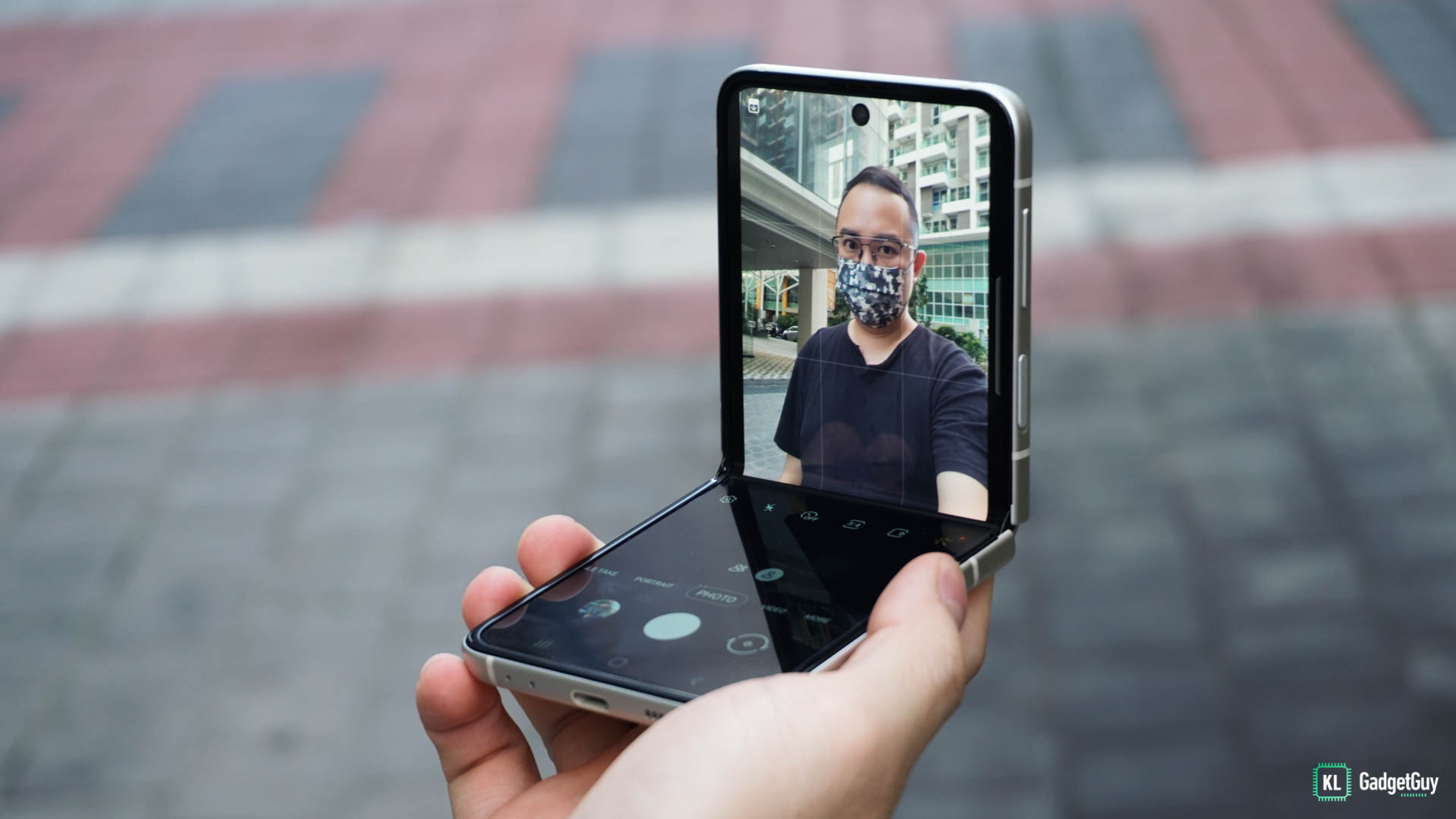 With a Snapdragon 888 chip, the Z Flip 3 is a beast on paper and can definitely excel all your texting and social media browsing tasks effortlessly, but in real world use the Z Flip 3 can struggle to keep up when you are doing a lot of app switching, I can switch between WhatsApp and Facebook Messenger a lot in a busy day, and by merely doing that I can already feel the phone warming up even if it is a mere 5 minute use.
As the Snapdragon 888 is infamously known for its high temperatures, Samsung has to throttle the phone's processor to keep temperatures low, which kind of makes you wonder why they would want a super powerful chip on a slim fashionable phone that users would probably only use 20% of its power, graphics performance is also affected even when I play simple games such as Homescapes.
This brings us to the Z Flip 3's battery life, which comes with a 3300mAh pack split into two cells and similar to its predecessor, you easily lose 2% of battery with just 5 minutes into browsing your Facebook feed, leaving it on idle for eight hours while I sleep consumes around 15% of power, let's not forget to mention the phone requires 2 hours to get it charged from 10%-100% with 15W of power.
While compact phones do come with caveats of not being able to include a larger battery or faster charging, the situation would have improved if Samsung had used a Snapdragon 865 and a 90Hz refresh rate display, because let's face it, smartphone enthusiasts would most likely go for the S21 Series or Z Fold 3 for the best cameras and performance, the Z Flip 3 doesn't need to be an enthusiast phone to be sellable because it has the convenience that others don't.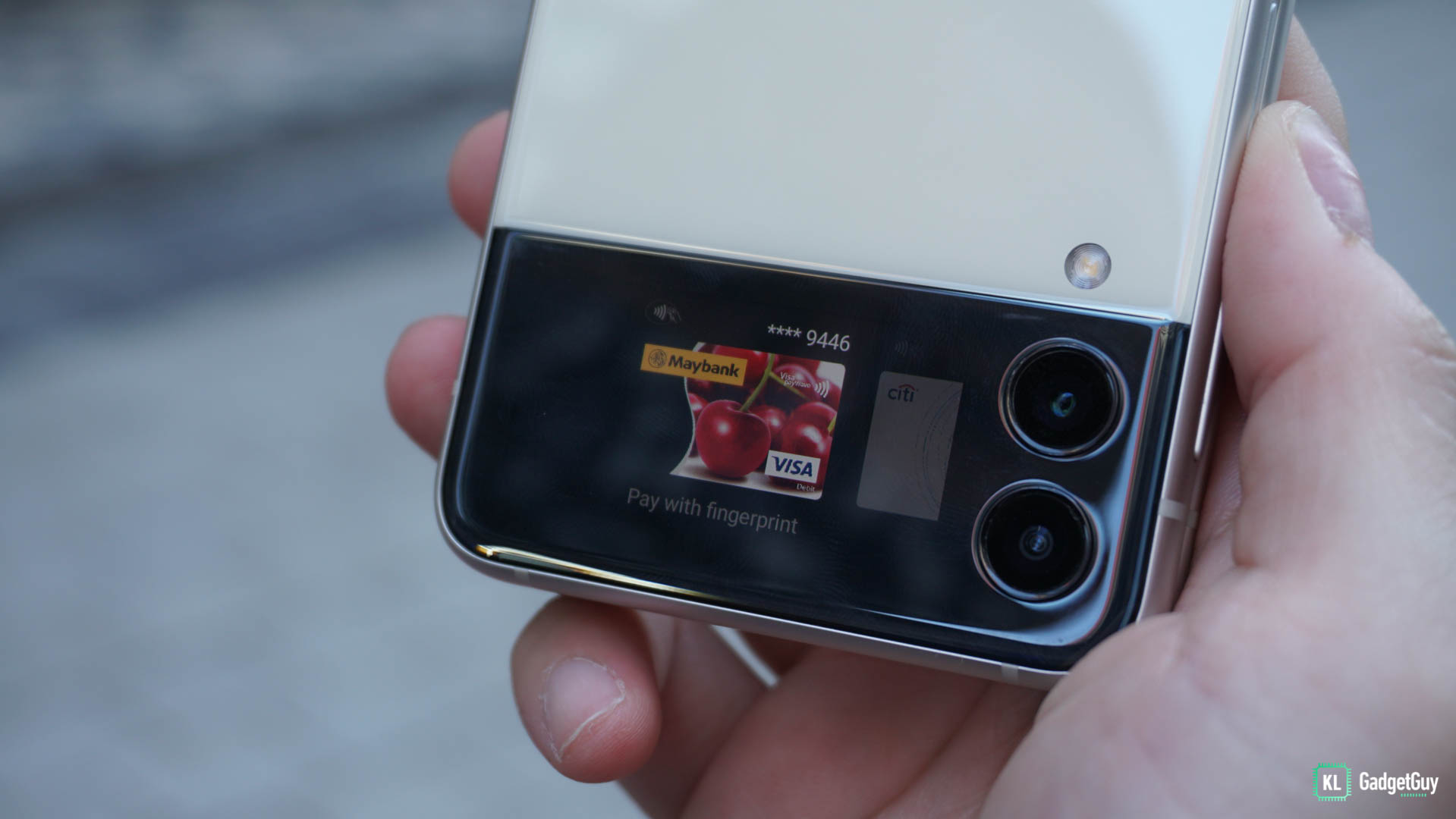 What really made me appreciate the Z Flip 3 is the larger external cover display, apart from showing fancy clock faces and being able to customize them, I use it a lot to check notifications and read a quick excerpt of a long email in a typical busy day.
I can easily access my credit cards by swiping up and make a payment with Samsung Pay while placing my thumb conveniently on the side mounted fingerprint reader, change my Spotify music playback, check what's next on my calendar, do a quick voice recording, set a timer, take better selfies with my girlfriend and frame myself if someone sucked at photography is holding the phone for me to take pictures.
All of these were not possible on the Z Flip and any other smartphones I have owned, and I assure you that this is one thing you will miss if you want to switch away from the Z Flip 3 for a standard candy bar form factor smartphone.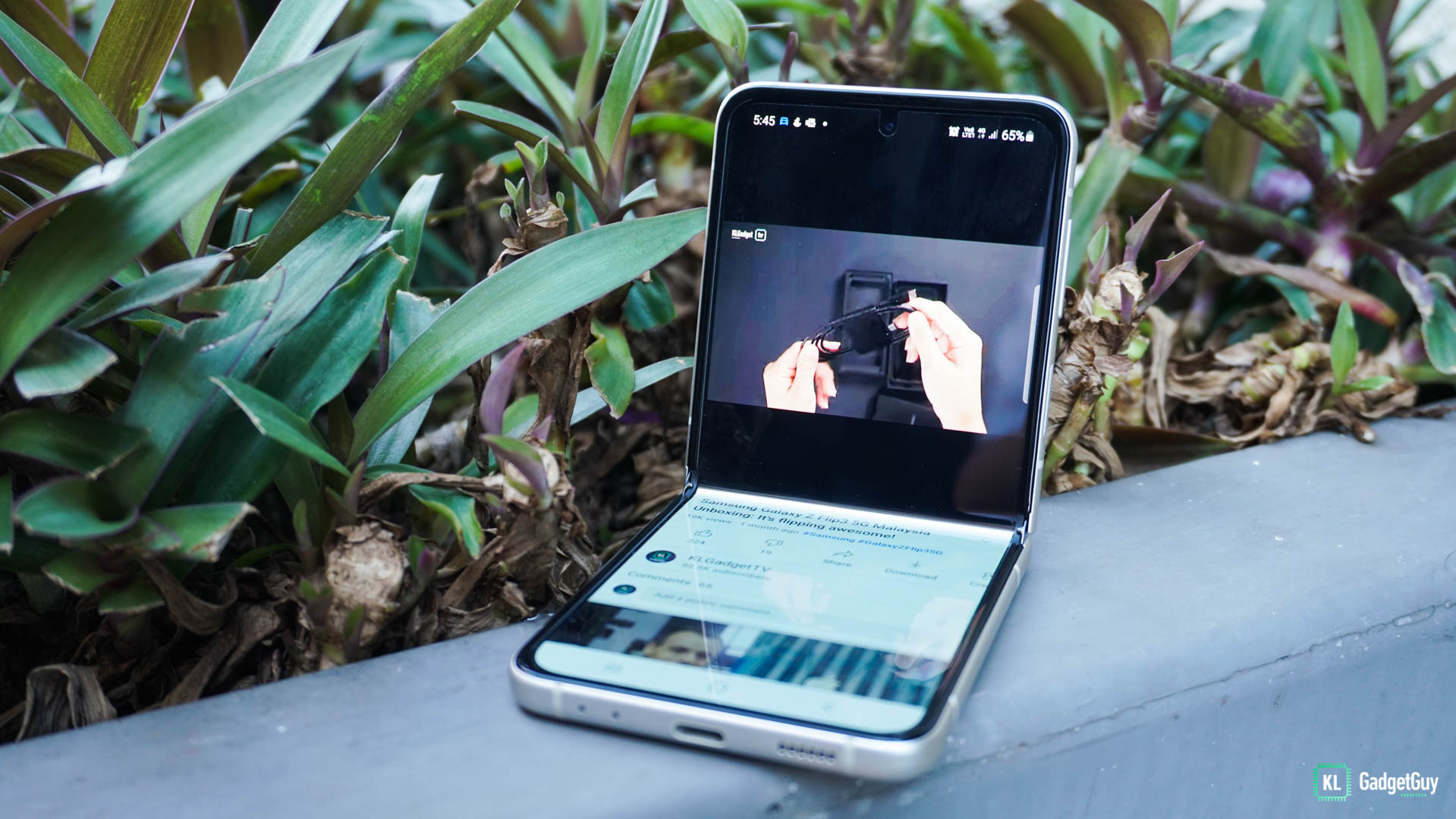 The foldable display isn't without its conveniences as well, Samsung has optimized certain apps such as Google Duo and YouTube to show your ongoing video call and streaming video respectively on the top part of the display when the Z Flip 3 is folded up half way, which I use a lot if I don't want to hold the phone or peering over the screen when it is laid flat on a table.
The Z Flip 3's camera system is pretty good by flagship standards, although both the wide and ultra-wide camera shoots at a modest 12MP resolution, photos have decent dynamic range and detail in good lighting, low light shots are also pretty impressive and Samsung's scene optimizer algorithm does a good job in reducing light flare, though it does tend to over sharpen photos a little when Night mode is used.
Video wise, the Z Flip 3 supports shooting up to 4K resolution at 60fps and doesn't disappoint as a vlogging camera, shooting from the external display gives you a fixed 1440×1440 resolution video at 30 fps – perfect for Instagram format videos.
I have no regrets switching over to the Z Flip 3 as my daily driver despite battery life being the biggest issue here, I use Android Auto in my car so it is charging while I'm driving and I'll just leave it on my wireless charger when I reach the office, so even if it is a busy day of back to back meetings out of the office, I have no issues getting it charged on time when it shows the low battery warning.
At RM3999, the Z Flip 3 is a recommended purchase if you are onto your first foldable phone and especially when you are sick of gigantic smartphones in your pocket, the only question that remains for now is how reliable the Z Flip 3 is over the ownership period, the display crease is still present and there's no dust resistance which can still potentially damage the internals over time.
However, I can certainly assure you that the Z Flip 3 will be the most exciting smartphone you have ever owned.