I have seen a fair amount of handheld mobile printers in the past few years, while they are actually pretty cool gadgets that lets you print your documents wherever you go, most of them are really pricey and don't necessarily deliver a great experience in terms of usability, image quality and after sales support compared to a good old inkjet printer.
I had the opportunity to evaluate the COLOP eMark recently, a mobile printer that focuses on printing imprints, which is unlike any mobile printers out there that can print a full page document. COLOP, the Austrian company famous for its rubber stamps, hopes that this gadget would be the perfect single device to store imprints instead of having several rubber stamps or label stickers.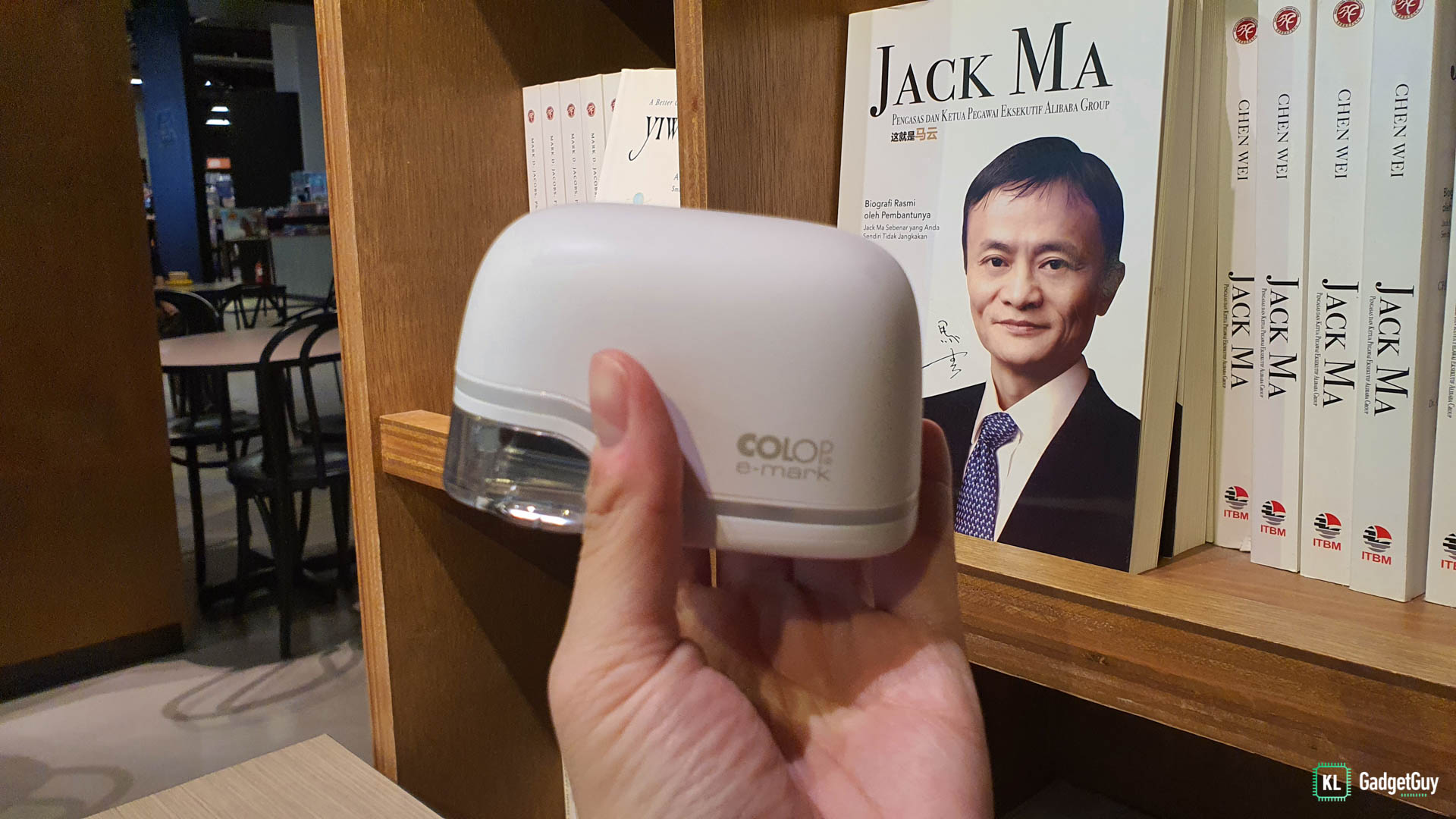 As a business owner, I generally do not find any issues with my rubber stamps and find the rationale of this product to be questionable, but after using for several weeks, I am starting to find its usefulness and can finally conclude my review on this cool and unique piece of technology.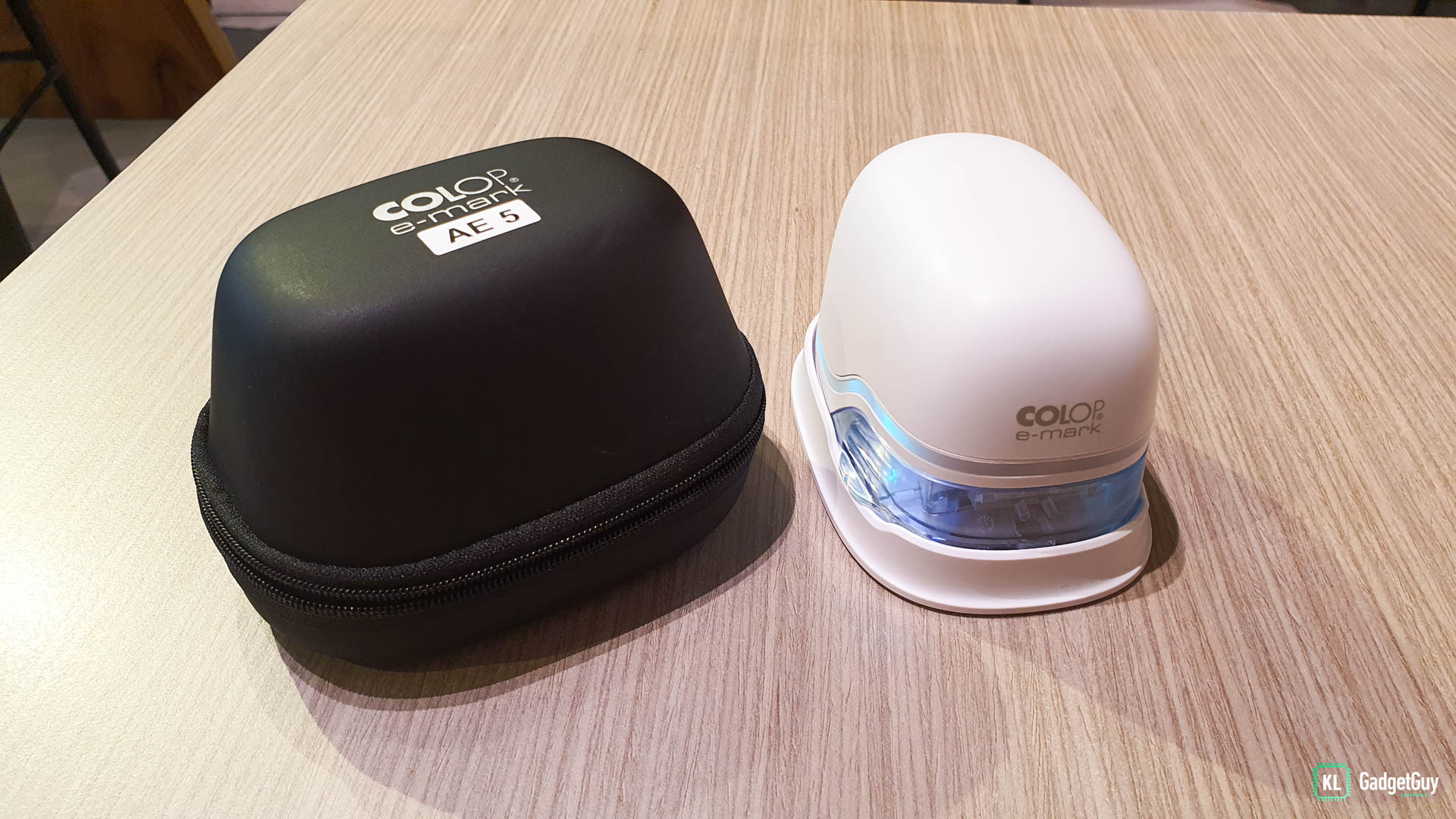 The COLOP eMark is a rather cute little device, as one will most likely see it more like a powerbank or charger than a mobile printer, it comes with color options of black or white, a magnetic holder comes as standard for storing the device and serves as its charging cradle, you also get a black storage case when you purchase the device.
Unfortunately, charging is done via a DC port rather than its Micro USB port, so you will have to bring along a separate charging brick if you intend to transport it around.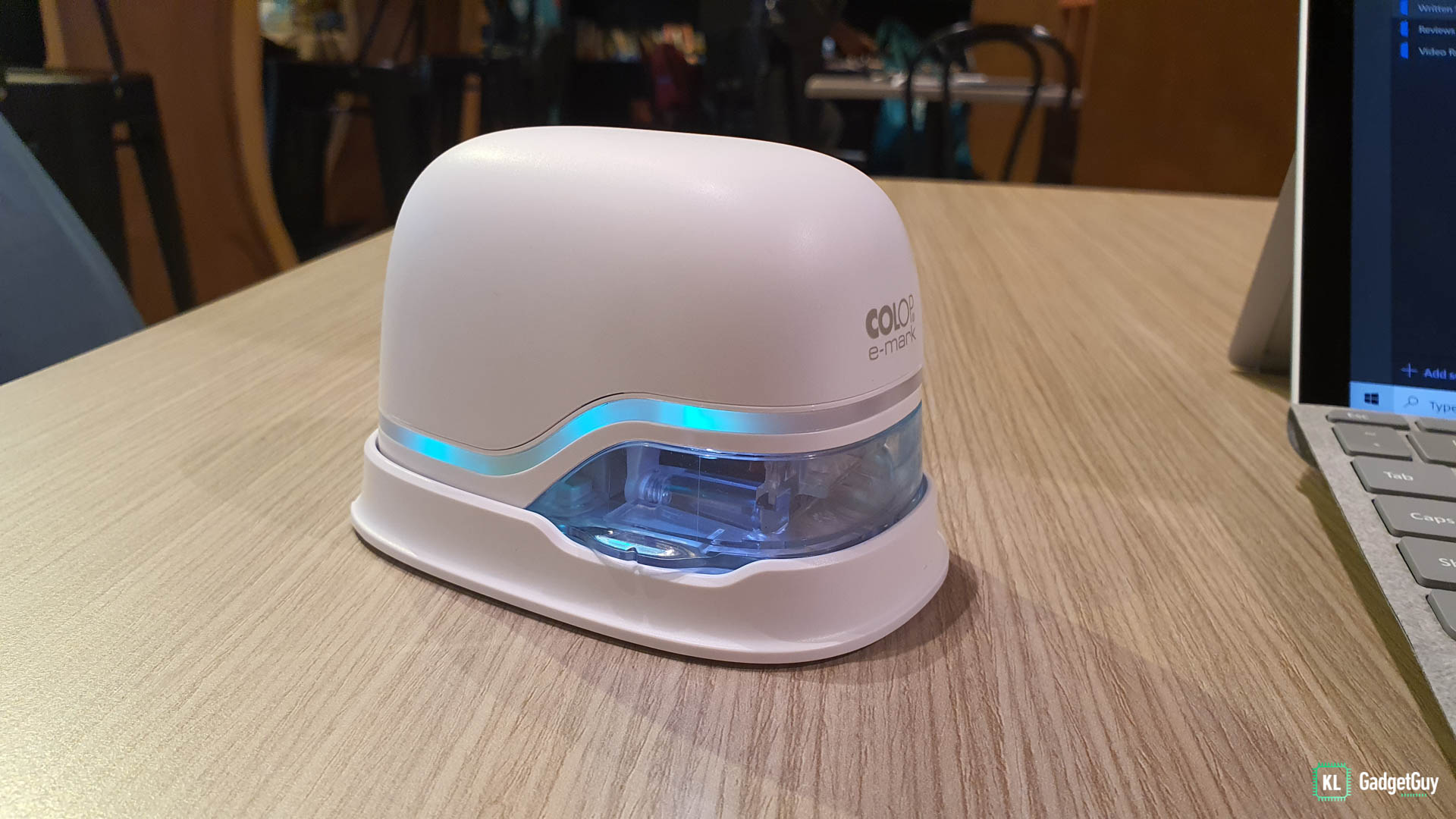 Surrounding the device is a LED strip that tells you which imprint is active, which you will need to remember the colors that your desired imprint is assigned to, though I'd have preferred a small LCD to tell me that, it isn't difficult to get used to.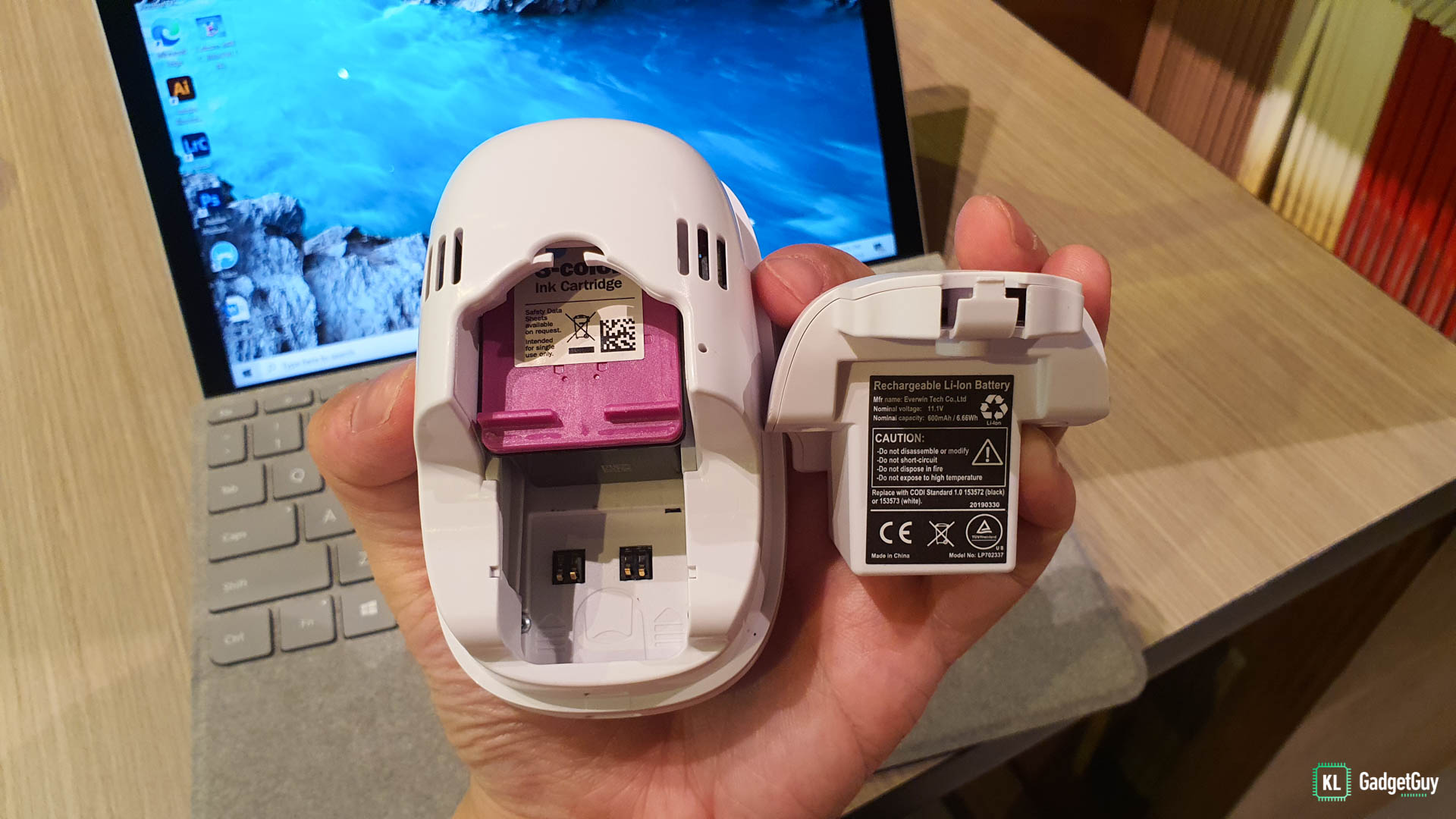 Removing the top cover reveals a removable 600mAh battery for up to 4.5 hours of continuous usage, the COLOP eMark uses a 3-color print cartridge developed by HP that offers up to 5000 imprints, but don't just go buy any HP cartridge as a refill as the eMark's cartridge uses a proprietary contact chip, the eMark's cartridge can be purchased for RM169.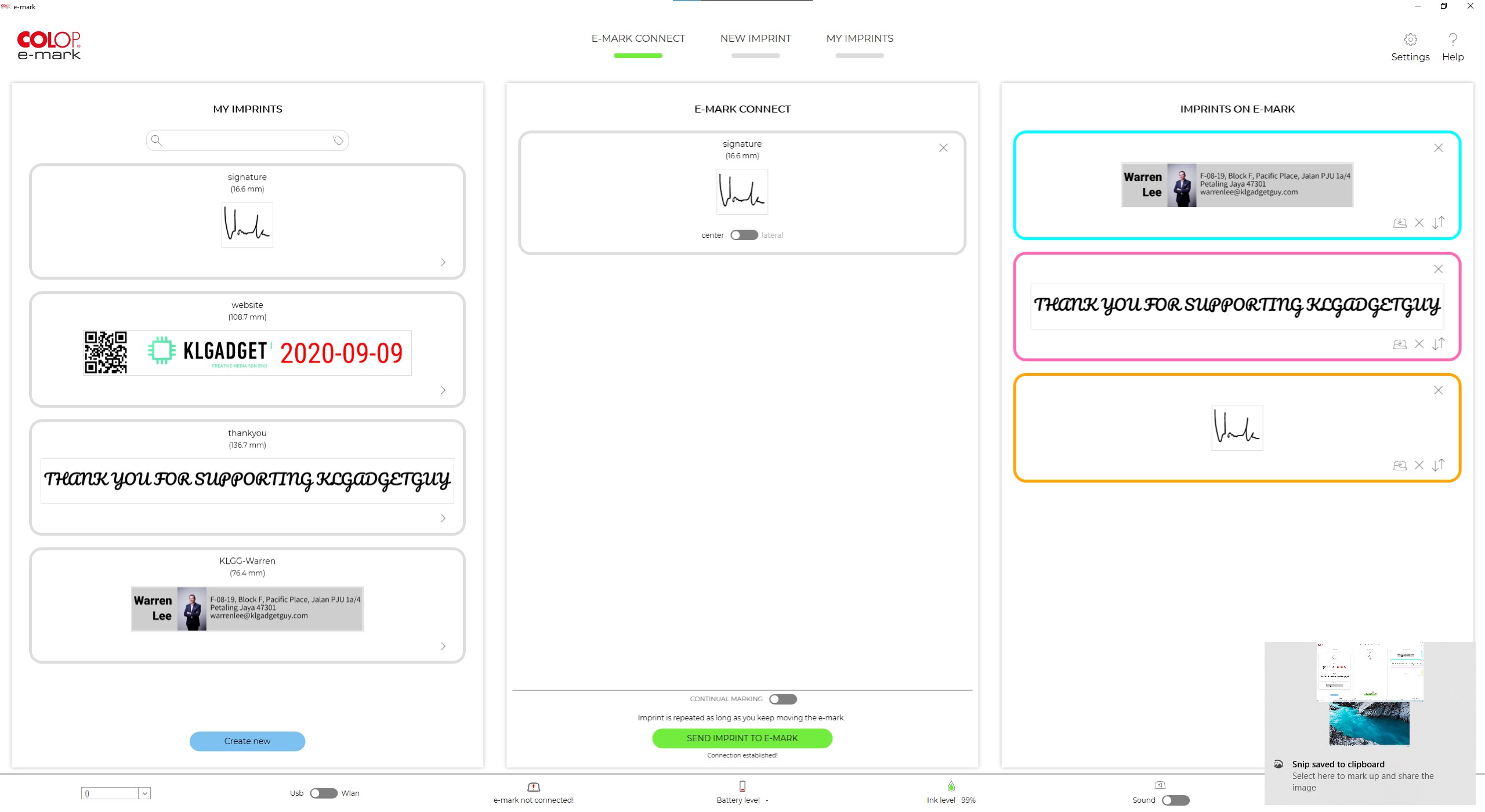 Setting up your imprints can be done with your smartphone or PC over WiFi direct or the MicroUSB port. One thing that I loved about the software is that it offers several imprint templates to choose from if you aren't a design guru, otherwise you can easily import your self designed imprints through the app, one imprint supports up to 150mm width and three lines, which is already sufficient for most users.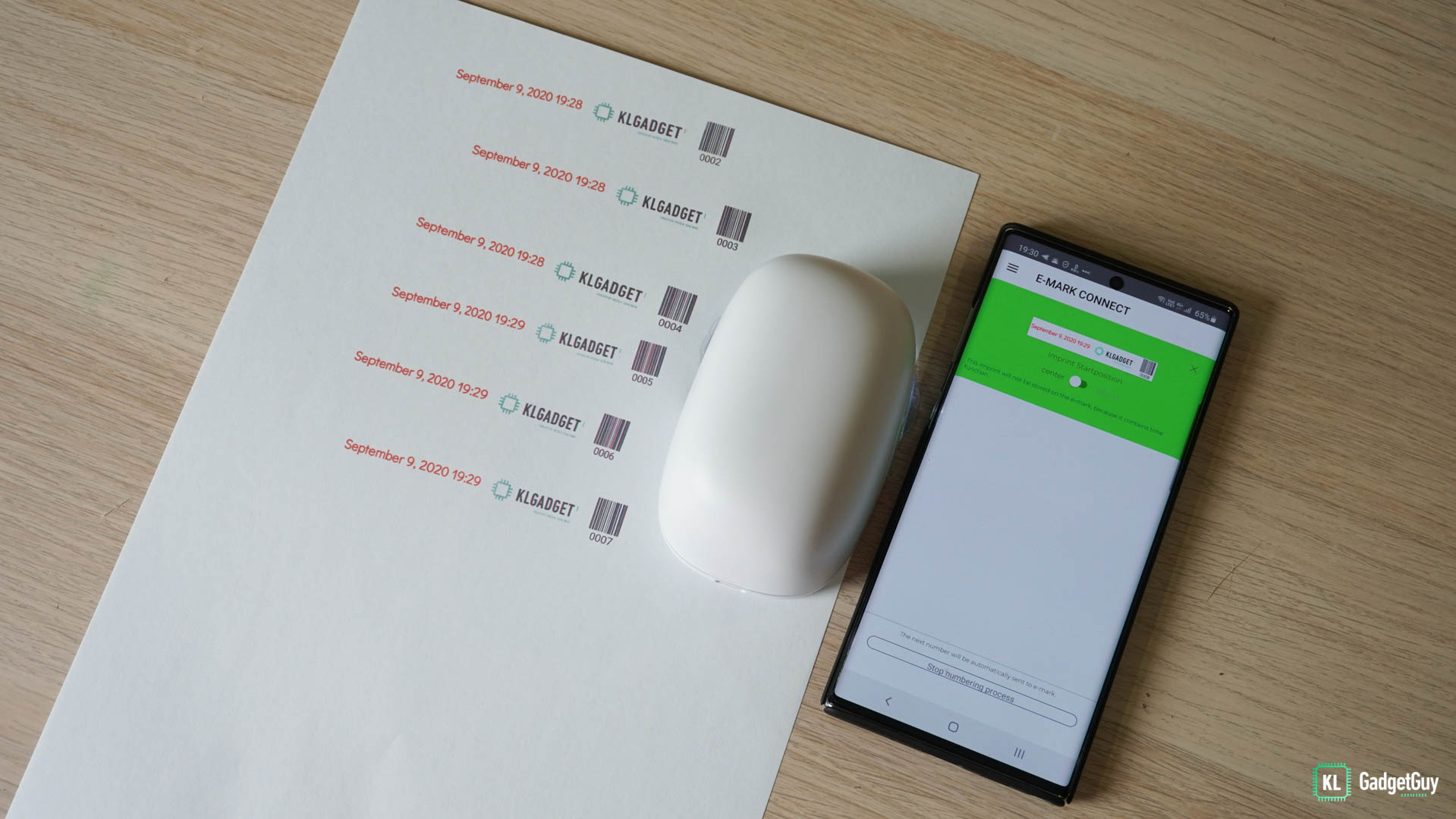 The software is straightforward and you can add elements such as QR codes, bar codes, running serial numbers, dates and images into your imprint, the running number and date is particularly impressive as the device updates them as you complete an imprint, though for that you will need to keep the WiFi connection and the phone app active, as the app is responsible for sending the updated numbering to the device.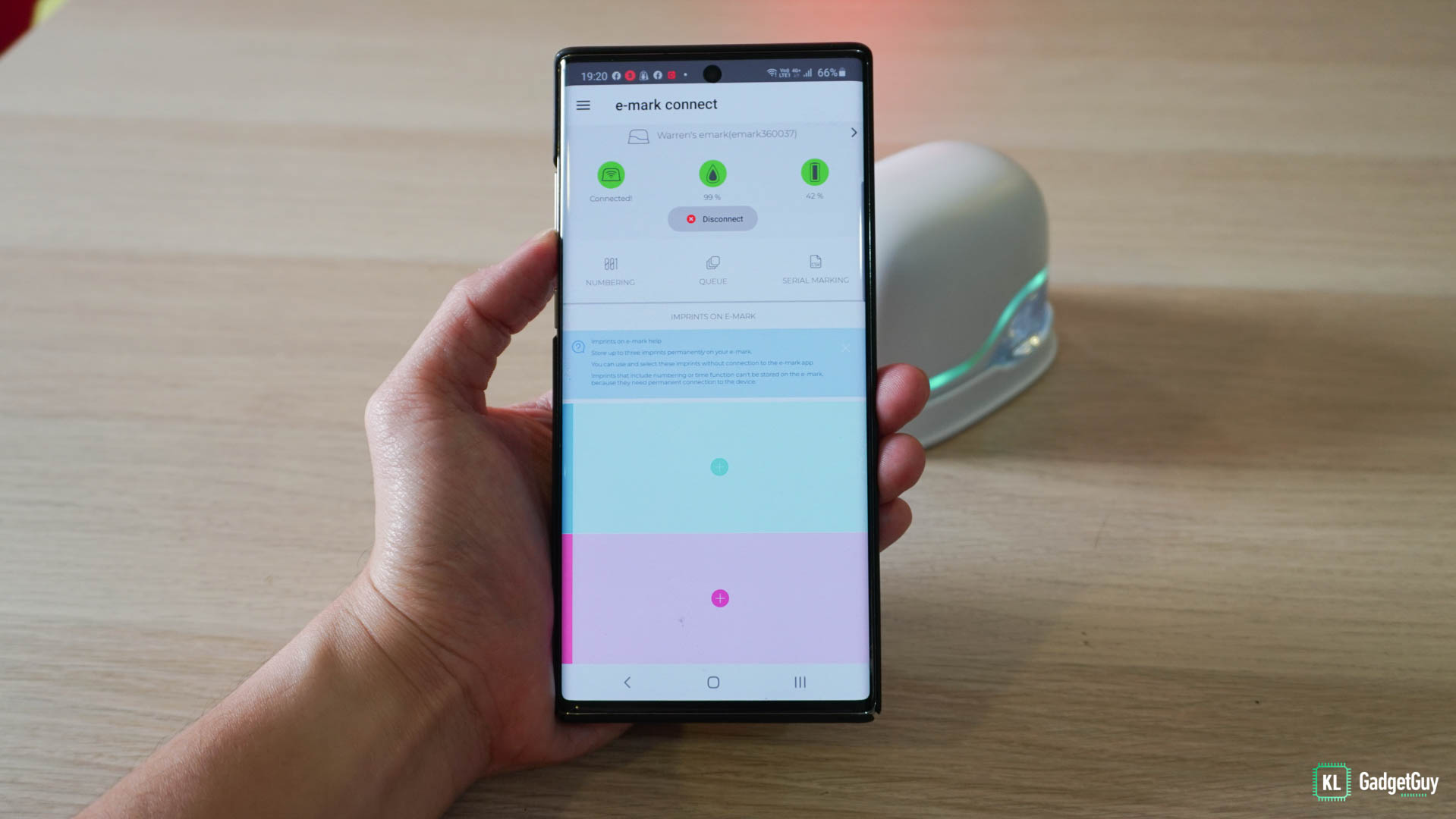 I first configured my imprints using the PC software and it worked flawlessly over a USB connection, but funnily when I connected using the smartphone app over WiFi, it doesn't show the imprints that are stored within the device, this could be a bug that COLOP will need to resolve in the meantime.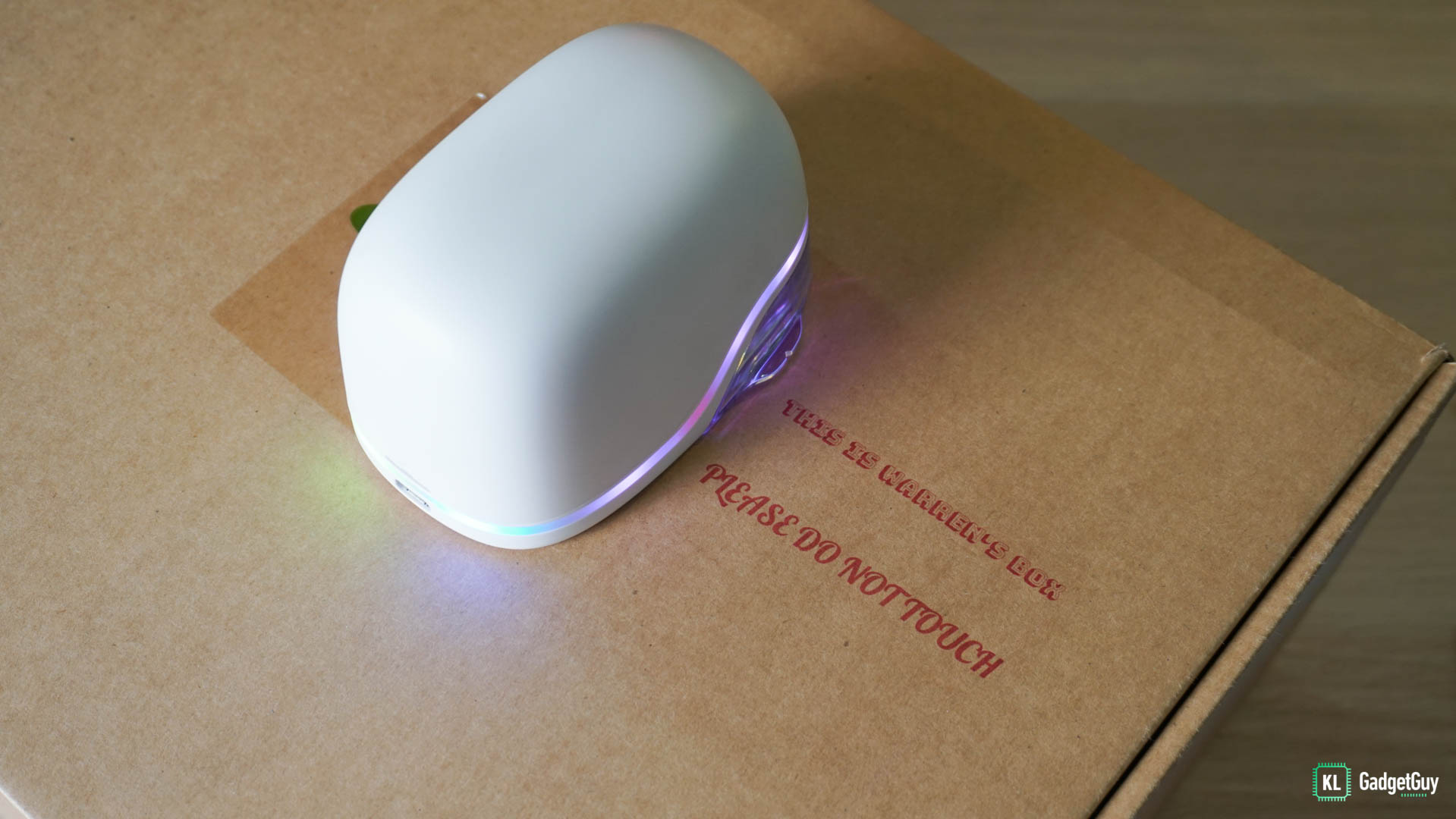 Once you are done with setting up with your imprints, place the COLOP eMark on a solid surface and swipe either from the right or left at a moderate speed, a beep will sound occur when you have successfully printed a line. To switch to other stored imprints, simply tap two times on top of the device until the LED strip shows the color of your stored imprint.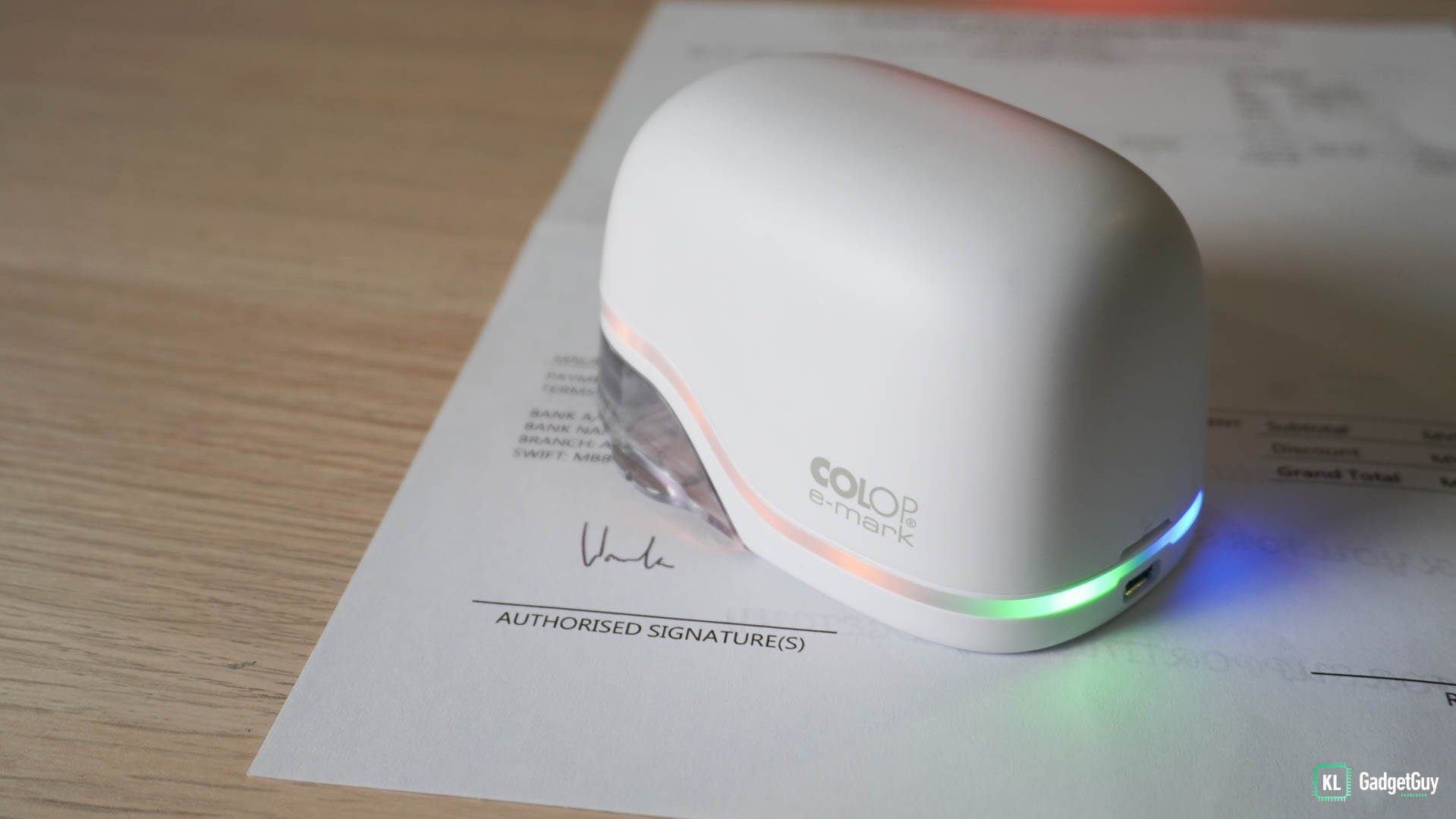 Over the review period, I have been mainly using the COLOP eMark for signing documents and making labels on some of my stuff such as folders and boxes, it has definitely made me more organized and I no longer need to see my ugly handwriting, there's hardly any issue that I can find but I do wished that the device could support more imprints instead of just four, as it takes a bit of hassle to get it connected wirelessly let alone needing to replace some of my imprints that I may still need to use.
The COLOP eMark is definitely a good first attempt from COLOP as a mobile printer made specifically for imprints, while I certainly do not believe that it took the company a long time to come out with this as stated on their website, the technology isn't new but what the company has done well is to introduce it as a very practical gadget for customers such as solo entrepreneurs and creatives, which they will really appreciate for their documentation and labelling work, I can definitely see myself using it more and more if I were to sign tons of documents and could make lesser errors in documentations with it.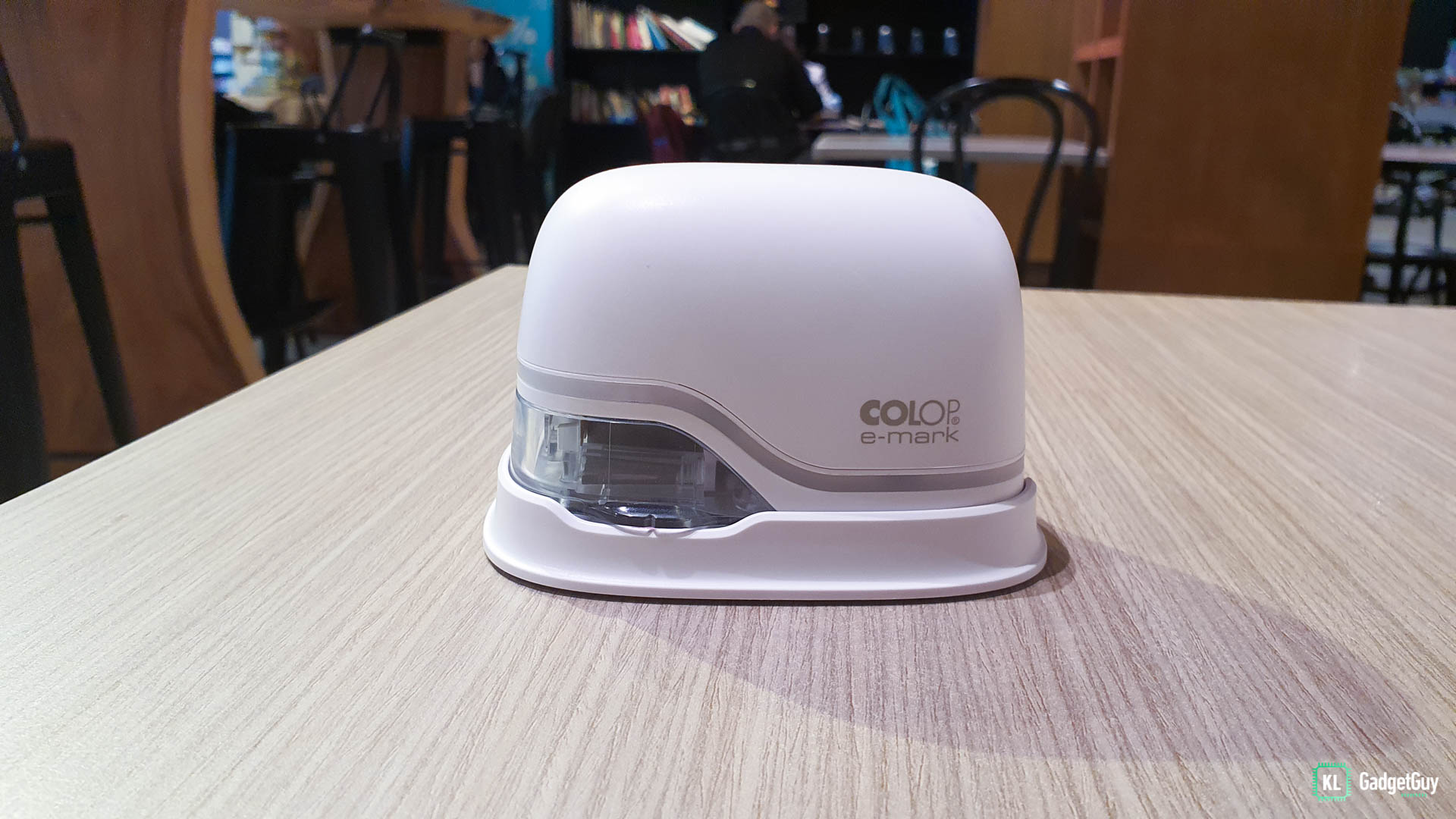 At RM1399, the COLOP eMark is no cheap gadget to own and it is a tough recommendation when you can make a ton of rubber stamps or labels with that money, but on a side note, it eliminates wastage and you have the luxury to keep changing your imprints whenever you want, not to forget to mention its easy to use software and customizability.
The COLOP eMark is officially distributed by A E Stamp Sdn Bhd, head over here to check them out.
The Good
Good print quality
Reasonably priced cartridge
Imprint design templates in software
Reliable wireless connection
The Not so Good
Expensive
Doesn't charge over USB
Only 4 imprints can be stored