AMD has taken to the CES 2021 stage to announce their latest lineup of mobile Ryzen 5000-series CPUs – the product line consist of the Ryzen 5000 U, H, HS, and HX series. 
The top-class HX series are unlocked CPUs that allow for overclocking – the lineup includes the Ryzen 9 5900HX and the Ryzen 9 5980HX, both of which are 8C/16T CPUs with a 45W+ TDP. These chips use AMD's newest Zen 3 architecture.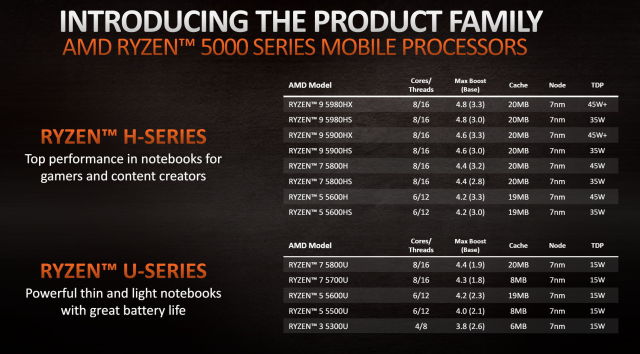 These two chips are also available in HS variants that offer a lower TDP for slim laptops. The HS series also range from a Ryzen 5 5600HS to a Ryzen 7 5800HS. 
You then have the regular H series that offer a TDP of higher than 35 – these include the Ryzen 5 5600H and the Ryzen 7 5800H. 
Lastly, for ultra-portables you have the U series which range from a Ryzen 3 5300U to a Ryzen 7 5800U.  
With these chips, AMD promise up to 16% increase in single-threaded performance and up to 14% faster multithreaded performance over the previous generation. The more efficient Zen 3 architecture means the chips are more power efficient, and AMD says that you can get up to 17.5 hours of general usage on these new processors. 
The new Ryzen 5000 mobile CPUs should arrive in partner brand laptops sometime this February. You can visit AMD's site here to learn more.