AMD has officially announced the release of its new Ryzen 7040U Series processors designed for the ultrathin mobile and laptop market, these processors are the chipmaker's latest and most powerful mobile processors and were first revealed at CES 2023.
This series is the first lineup in AMD's portfolio to be paired with its AMD Ryzen AI technology, the processors are centred around the brand's latest Zen4 architecture and feature an integrated graphics module made up of RDA3 Compute Units. This is an improvement compared to the current range of Ryzen 7000 Series processors, which only have RDNA2-based graphics cores.
The integrated graphics, officially known as the Radeon 700M Series, come in three SKUs, which is Radeon 780M for the Ryzen 7 and 9 CPUs, Radeon 760M for the Ryzen 5, and Radeon 740M for Ryzen 3 CPUs, with the maximum frequency being 2.7GHz and a peak performance of 8.6 TFLOPs.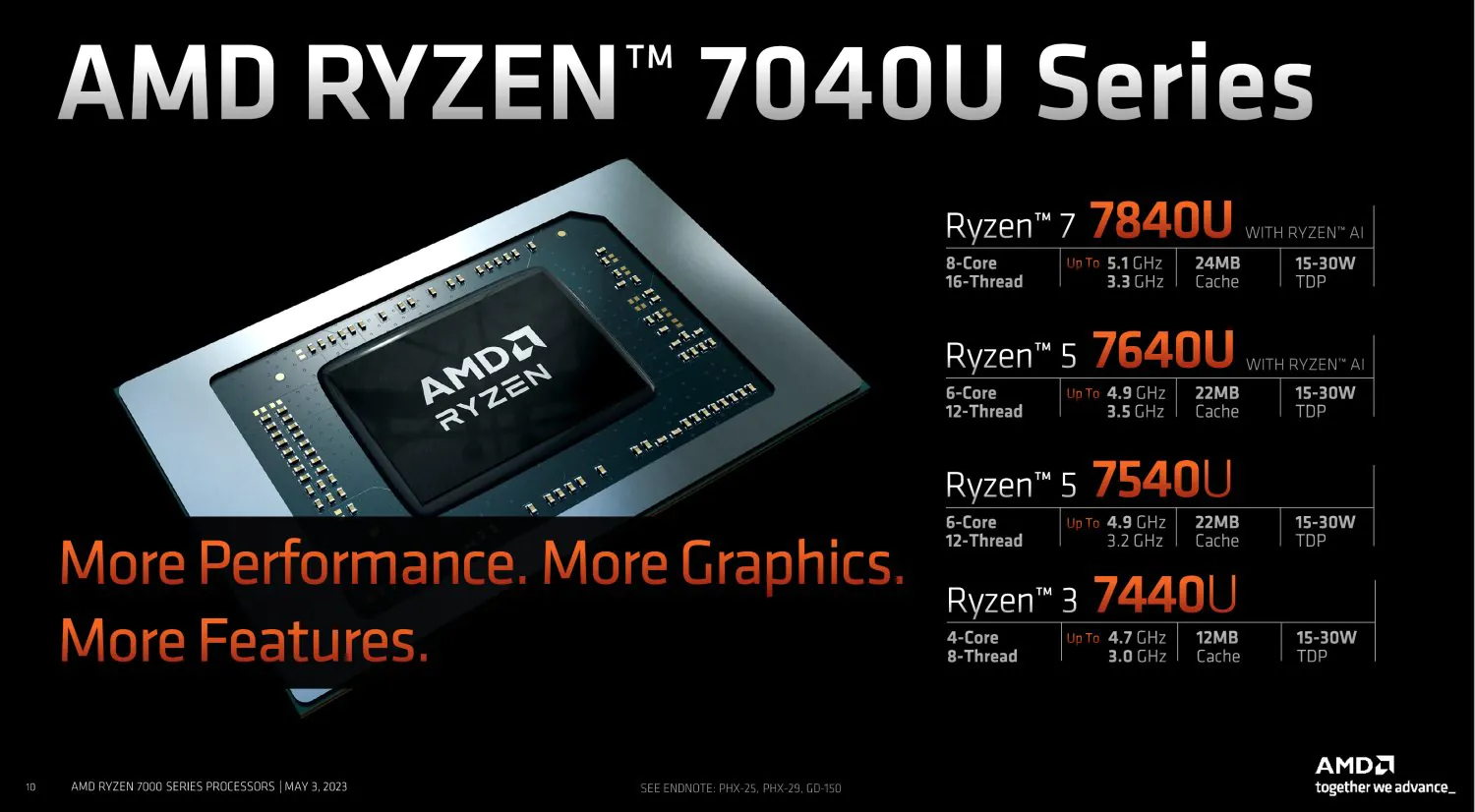 The Ryzen 7040U SKUs are being released in four models: Ryzen 3 7440U, Ryzen 5 7540U and 7640U, and Ryzen 7 7840U., while only the Ryzen 5 7640U and Ryzen 7 7840U support Ryzen AI.
The Ryzen 3 7440U has a base and boost clock of 3GHz and 4.7GHz, respectively, with a 12MB Cache. The Ryzen 5 7540U and 7640U have a 6-cores, 12-threads configuration, 22MB Cache, and are able to boost to 4.9GHz. The former has a lower base clock of 3.2GHz, while the latter is slightly higher at 3.5GHz. The Ryzen 7 7840U, as the leading model, features 8-cores and 16-threads, with a base and boost clock of 3.3GHz and 5.1GHz, respectively, and the largest cache size at 24MB.
According to AMD, all four 7040U CPUs are designed to deliver exceptional battery life of up to 30 hours on a single charge, this will be an interesting claim to watch out as major OEMs release laptops with these chips.