After unveiling its unlimited KONFEM 4G plans for its prepaid users several months ago, Yes 4G is finally offering unlimited plans for postpaid users with the "KONFEM 4G KONFEM UNLIMITED" postpaid plan.
Man, that's the longest mobile plan name we have ever seen.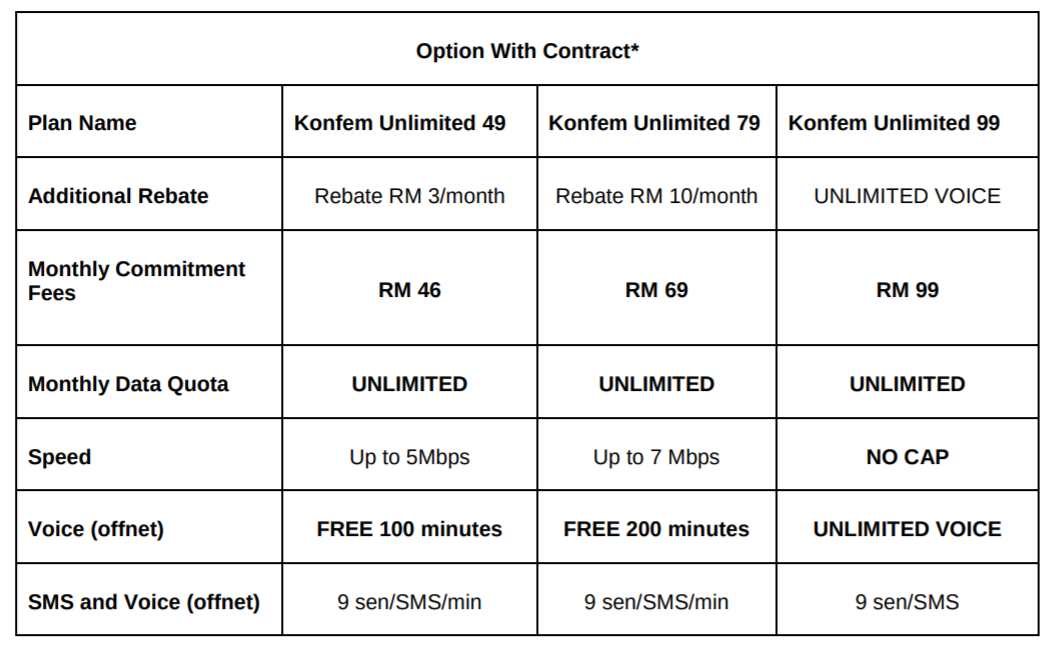 Yes 4G's unlimited postpaid plan is available in three packages, namely the Konfem Unlimited 49 (KU49) at RM49/month, Konfem Unlimited 79 (KU79) at RM79/month and Konfem Unlimited 99 (KU99) at RM99/month.
Both KU49 and KU79 will have unlimited data quota but will have their maximum speeds capped at 5Mbps and 7Mbps respectively, they both also have free offnet voice calls at 100 minutes and 200 minutes respectively.
Best of all, these two plans do not have limitations in mobile hotspot usage, making this a serious contender to U Mobile's Giler Unlimited plans.
If customers opt for a 12-month contract, the KU49 and KU79 plan will receive a RM3 and RM10 monthly rebate respectively for the next 12 months.
The company's flagship unlimited postpaid plan is the most attractive of all, as it offers no speed caps for any type of usage, up to 300 minutes offnet voice calls, unlimited voice calls and SMS to Yes subscribers, while getting on the 12-month contract will get you unlimited offnet voice calls.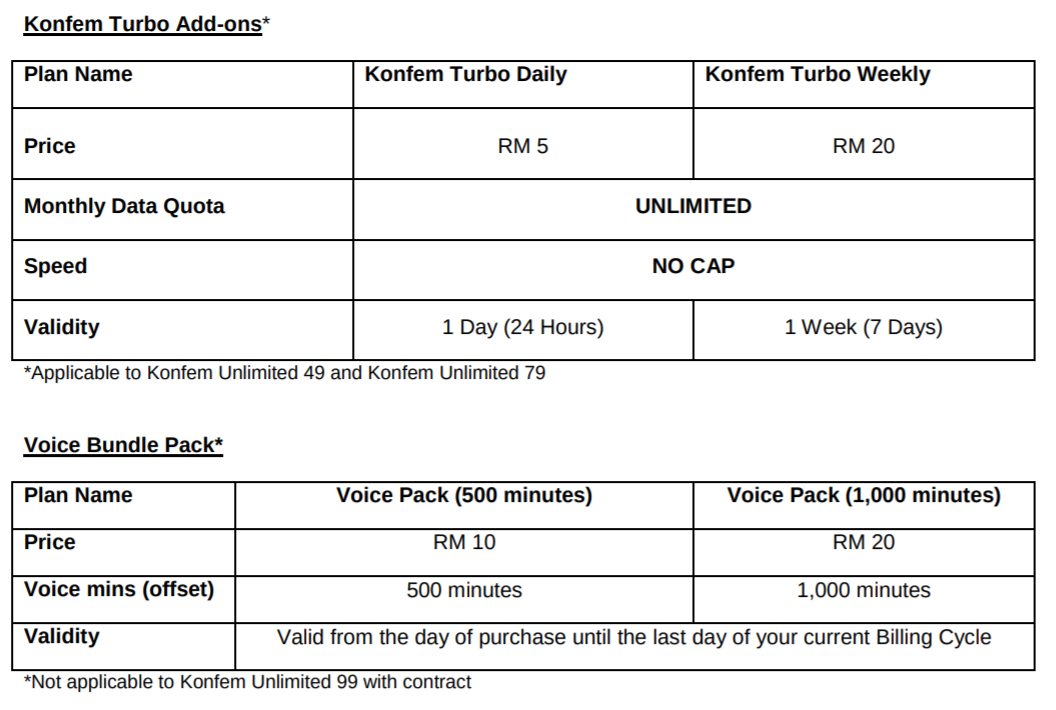 Like the KONFEM 4G prepaid plan, users on the KU49 and KU79 plan can choose to temporarily remove their capped speed by subscribing to a daily or weekly plan priced at RM5 and RM20 respectively.
If you prefer more voice call minutes, Yes also offers a 500 minutes and 1000 minutes voice pack for RM10 and RM20 respectively, these voice packs however will only last till your next billing cycle.
Yes 4G's coverage has seen improvements over the years and though it is still behind other players when it comes to 4G speeds, it has the widest 4G coverage according to OpenSignal, the company has also said that its network is 5G ready and is ready to flip the switch once devices are made available.
Customers interested to sign up for the new Konfem Unlimited postpaid plans can head on over to any Yes stores and resellers nationwide, to add on a note, the company also now offers Mobile Number Portability (MNP) service so that you can keep your current phone number and port over from other telcos.
UPDATE: According to Yes, there is no mobile hotspot functionality for these plans. Well, looks like things aren't as good after all.