16-inch gaming laptops are becoming the norm these days as it offers better viewing experience compared to 15-inch and doesn't feel as big as 17-inch. Whether you are the casual gamer looking for an affordable gaming laptop, or a hard-core gamer looking for the ultimate portable battle station, the Victus and OMEN by HP 16 are 16.1-inch gaming laptops from HP that you definitely need to check out, powered by AMD Ryzen processors, these gaming laptops are set to take on any modern game titles with exceptional performance.
Victus by HP 16 – Designed for the productive casual gamers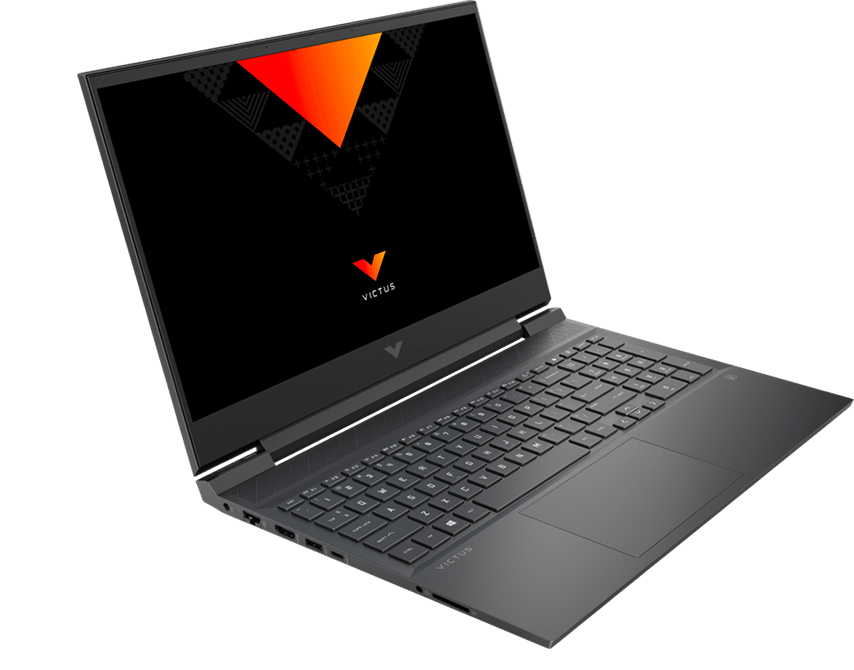 Your gaming journey shouldn't be hampered by a slow performing battle station, the Victus 16 is here to ensure that your subsequent game match is a victory with the performance it offers and accessible price tag.
Powered by the AMD Ryzen™ 7 5800H processor and NVIDIA® GeForce RTX™ 3050Ti Laptop GPU with 4GB GDDR6 memory, the Victus offers exceptional processing power and is ready to take on any modern game titles with ray-traced shadows all thanks to the advanced Ray Tracing and Tensor cores of the GPU.
All thanks to the speedy 512GB PCIe SSD, which can also be upgraded to 1TB, the Victus 16 boots up in mere seconds and game load times are significantly reduced.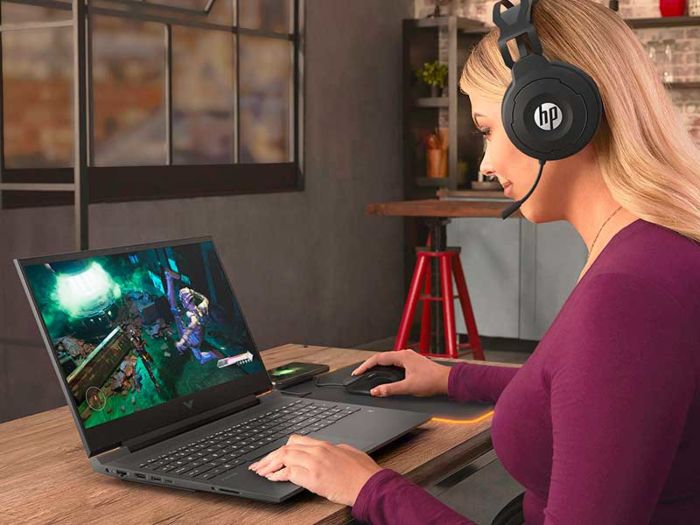 The Victus 16 is the perfect machine for high frame rates games such as Overwatch and Apex Legends, as it keeps you focused on the game with a 144Hz refresh rate on its 16.1-inch QHD panel, images look crisp and graphics tearing is a thing of the past with the most responsive display of its class.
Gaming on the Victus 16 is even more immersive with the Bang & Olufsen tuned loudspeakers, which offers crisp audio and deep rumbling bass without the need to connect external speakers.
As a work and gaming machine, the Victus 16 is equipped with an all-purpose anti-ghosting gaming keyboard that features a numpad for better productivity, the keys also offer a silent and tactile typing experience so that you never need to annoy your co-workers.
Furthermore, the Victus 16 stays cool even when gaming to the extreme all thanks to two large cooling fans ventilating heat out of the wide rear vents.
With up to 8 hours of battery life on a single charge, the Victus 16 is ready to take on your busy day and get things done quickly with its exceptional performance all thanks to the power efficient AMD Ryzen processor. Running low on power? Trust HP Fast Charge to get the Victus 16 up to 50% in 30 minutes.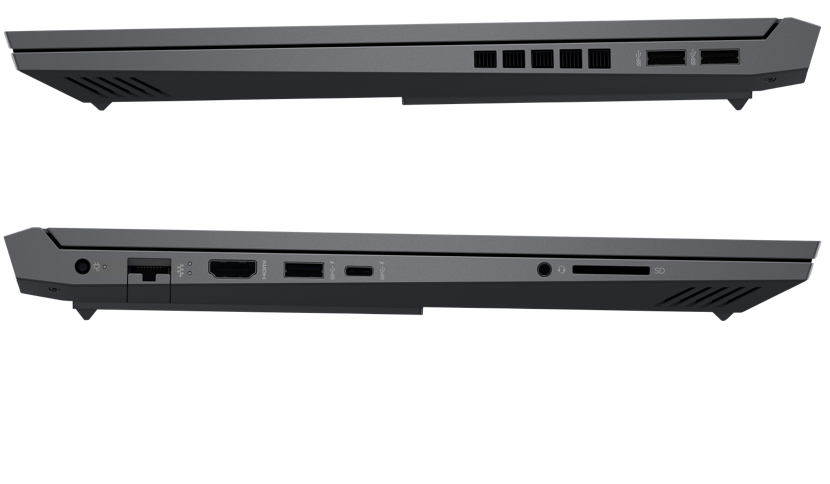 Forget about buying dongles for your gaming laptop, because the Victus 16 comes equipped with the essential ports you need, such as a full-sized HDMI 2.1 port that supports up to 8K 120Hz display resolution, an RJ45 ethernet port for faster network connectivity, and a full-sized SD card reader that's super useful for content creators.
OMEN by HP 16 – The ultimate 16-inch gaming experience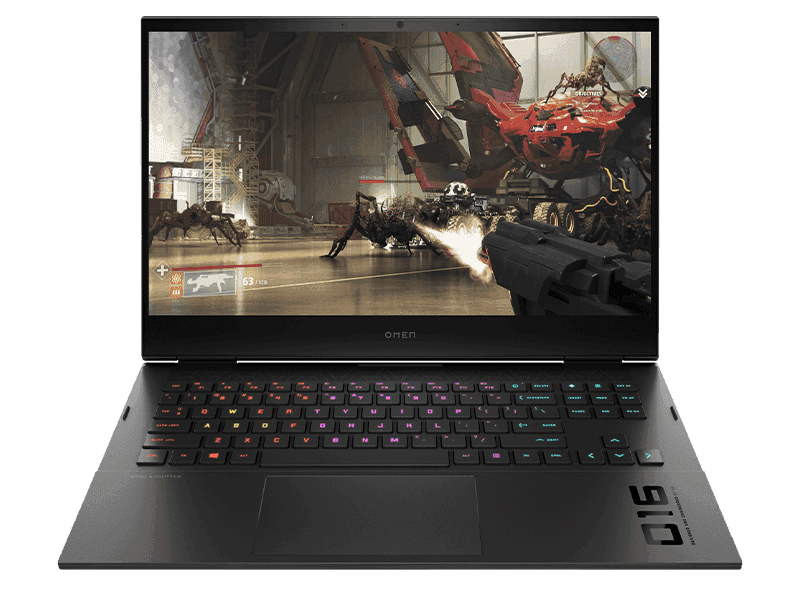 For those looking to level up their gameplay on the go, the OMEN 16 will offer the ultimate gaming experience as HP has filled it with the brim with useful features and eyewatering specs, not to forget to mention a head turning distinguished design that's available in Mica Silver color with a 4-zone RGB backlit keyboard.
The OMEN 16 is powered by the AMD Ryzen 7-5800H processor and AMD Radeon RX6600M GPU with Smart Access Memory, exclusively available for devices that contain both an AMD Ryzen 5000 Series processor and an AMD Radeon™ RX 6000 Series graphics card – providing up to 15% more gaming performance.
On top of that, a 1TB PCIe SSD speeds up boot and game loading times so you never have to make your team mates wait for you to join the game.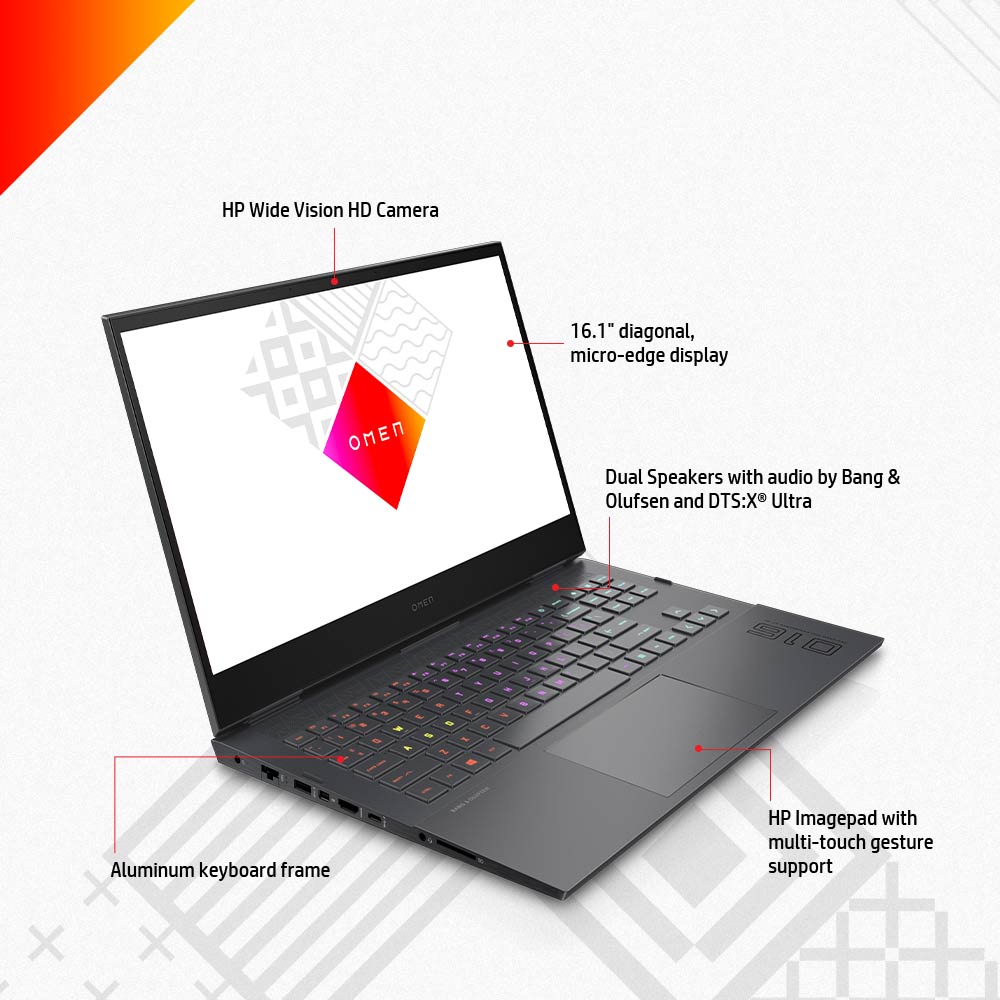 With a super responsive 16.1-inch FHD 144Hz display, the OMEN 16 eliminates graphics tearing when playing high frame rates games and reduces gaming fatigue, complemented by the Bang & Olufsen tuned loudspeakers with DTS: X Ultra that produces high quality surround sound, the OMEN 16 enables gamers to experience the games they were meant to be played.
Great power requires great cooling, which is why the OMEN 16's powerful internals are cooled by the exclusive OMEN Tempest Cooling Technology that ventilates heat out of the chassis through two vents at the back and one on the right with two big cooling fans, gamers will never experience performance throttling even after extended periods of gameplay.
The OMEN 16 is a powerful yet efficient gaming laptop, as the battery lasts up to 9 hours on a single charge for productivity usage, it also supports the HP Fast Charge technology that charges the battery from 0% to 50% in just 45 minutes, which makes this one reliable workhorse when it is off your gaming desk.
OMEN Gaming Hub – Tune your Victus and OMEN for the best experience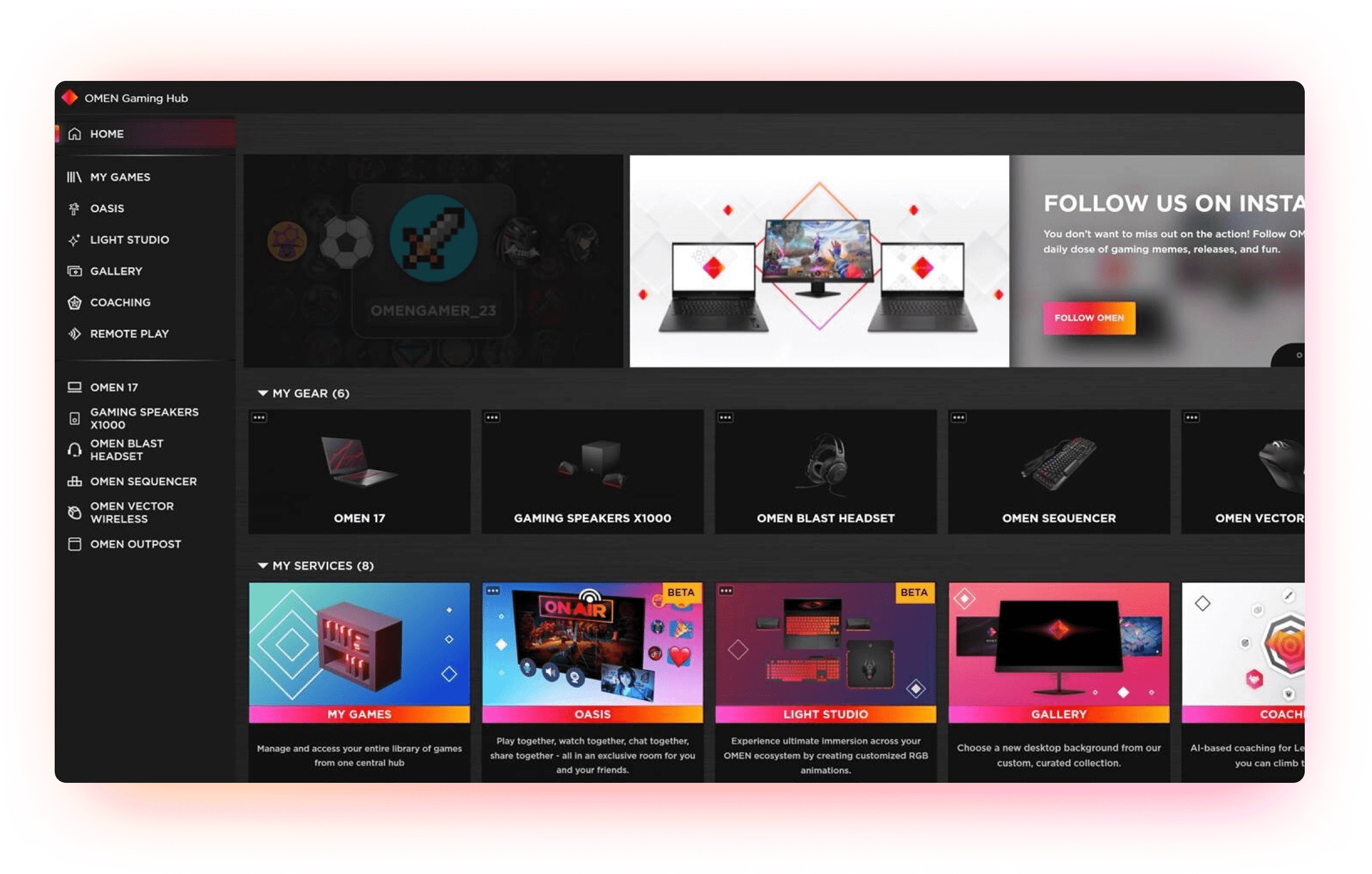 The Victus 16 and OMEN 16 comes with the OMEN Gaming Hub, a one stop dashboard that amplifies the experience your gaming experience with the following features:
Oasis – With Oasis, chat and talk seamlessly. Invite up to 15 friends and stay connected to the hangout of your dreams.
Performance control – choose between various performance modes to match up your gameplay
System vitals – keep an eye on your system's vitals with a dashboard that tracks every key metric in real time. Scan utilization, temperature of your CPU, GPU and memory
Network Booster – bump your game up to VIP status and prioritise it over everything else while Dual Force functionality sends gaming traffic over the fastest connection for the fastest specs
Where to buy Victus 16 and OMEN 16?
The Victus 16 and OMEN 16 retails from RM3,999 and RM6,399 respectively. For a limited time, HP is giving away RM80 e-wallet credit when you purchase a Victus 16 and RM100 e-wallet credit when you purchase the OMEN 16, visit the links below to purchase these great gaming laptops.
HP Victus 16 – Victus by HP Laptop 16-e0127AX | HP Store Malaysia
HP OMEN 16 – OMEN 16 2021 AMD Laptop | HP® Official Site
This article is sponsored by HP.