So like us, you're a busy urbanite who's constantly out and about; you rely on your smartphone and internet connection to get things done on a daily basis – but sometimes Wi-Fi can be hard to come by. So, again like us, you'll have to make use of your trusty mobile data to see you through the day.
If so, you're going to need an unlimited plan on a postpaid basis – because who wants the hassle of reloading credits? But what if your current data plan just isn't quite up to speed – literally? Perhaps you're due for an upgrade; so here we take a look at the best unlimited postpaid plans from these major telcos: Digi, Yes, U Mobile and Unifi.
In the case where one telco offers multiple unlimited data plans, our pick will be the one that comes with more benefits.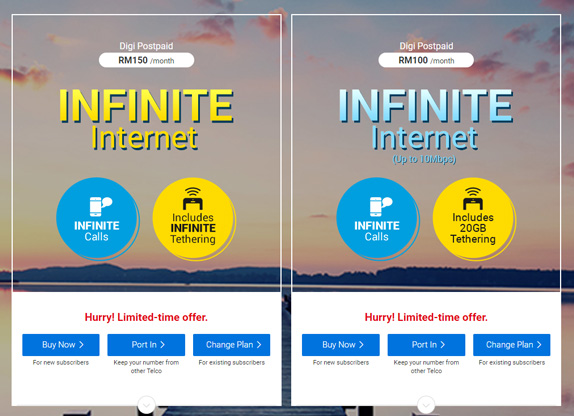 Will you follow them? – Digi Infinite Internet (RM150)
This long-standing telco has been a major player since the early 2000s, and for good reason too – accessibility, consistent network quality, value-for-money offerings are part of what made Digi so popular – that and their creepy Yellow Man mascot of course.
The priciest data plan offering is the Infinite Internet Digi Postpaid plan that'll set you back decent RM150 per month. With this package, you get unlimited internet quota along with free tethering and hotspot, as well as 1,000 free SMS to all networks.
According to Open Signal, Digi's 4G LTE download speeds within Klang Valley peak at around 15Mb/s, which is mighty fast. But unlike Maxis and Celcom, Digi's area of coverage are slightly more limited – but the difference is negligible.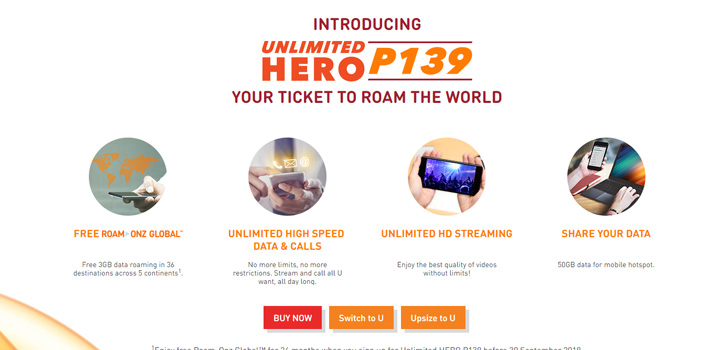 "I can be your hero, baby" – U Mobile (RM139)
U Mobile is one of the younger names in the market, but its signature orange is unmistakable. Other than that, U Mobile doesn't quite have anything going for them.
U Mobile is the definition of accessible with postpaid plans starting from as low as RM28, offering 3GB internet quota, unlimited Waze usage and more. But since we're talking about unlimited data plans, we're going to look at the Hero P139 package which entails a RM139/month commitment. What you get with this package are unlimited calls to all networks, 3GB data for roaming across 36 countries, and 50GB of hotspot allocation.
It's also a common gripe with users that U Mobile doesn't have the fastest 4G down speeds. Open Signal detects an average of around 7Mbps download and a measly 4Mbps upload speed in the Valley. As of 2015, U Mobile claims of a 96% nation-wide coverage but, as it turns out, speeds and reliability is sacrificed.
The good news however, U Mobile's coverage area is only bested by Digi's in this list. There is a cheaper Hero P99 (RM99/month) package that also offers unlimited data, but at least with this, you get unlimited video calls too. We say U Mobile for your next upgrade.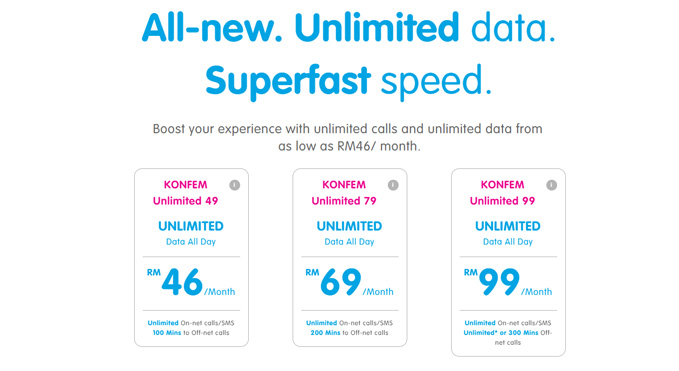 Yay or Nay? – Yes (RM99)
Ah Yes, if it's one thing they do well, it's 4G LTE, because that's all they do. For a telco to specialize in one offering only, you expect them to do it well; and they do for the most part.
Based on Open Signal, coverage is somewhat limited to Greater KL and Johor, while areas along the western belt of Peninsular Malaysia get spots of coverage. However, based on Yes' coverage map, we can see that they've been expanding rapidly across the country despite being a relatively young brand.
Yes' 4G LTE connection speeds average close to 20 Mbps around the aforementioned areas, which is the fastest of the lot.
Plans start from RM46/month while the priciest will set you back RM99/month. You get unlimited on-net calls and 300 minutes of off-net calls. There aren't any other benefits to speak of, but if you want unrivaled speeds, you should give Yes a strong consideration.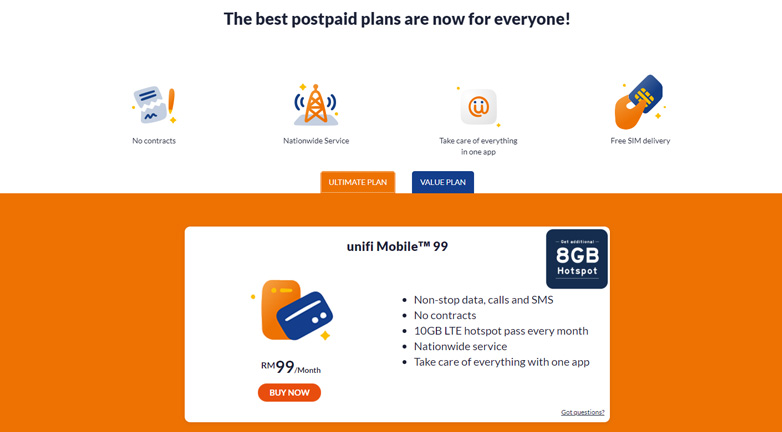 It's not just for your home – Unifi Mobile (RM99)
When you think Unifi, you think high-speed internet; the brand has become the most wide-spread broadband network in the country thanks to its government funded efforts to push high-speed internet in the country.
Unifi also offers mobile plans – it's current Unifi Mobile branding is Webe rebadged. In terms of coverage, it loses out to Digi and even U Mobile. As for speeds, Unifi Mobile does a respectable job of offering 10Mbps download speeds and decent 5.5Mbps up-speeds.
Options are not aplenty with Unifi with only one option available for unlimited data. The Unifi Mobile 99 comes with non-stop data, calls and SMS, no contracts, 10GB hotspot, and as of now you even get addition al 8GB hotspot when you sign up now. You'll be forking out a decent RM99/month, so although there is no unlimited app quota to speak off, we think you're getting proper value here.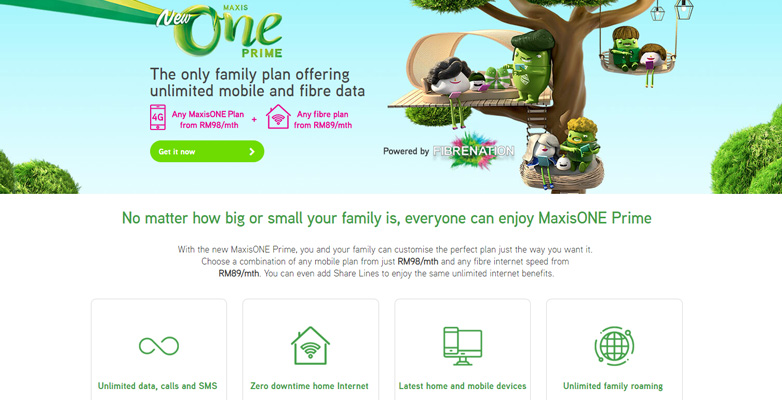 Honorable mention – Maxis
Maxis takes the cake when it comes to coverage, topping all other competitors; but this service does come at a price. Maxis' plans are typically pricier than that of other telcos, but reliability and speed is what you get in return.
Although Maxis doesn't offer a single-party unlimited postpaid package, their Maxis One Prime plan lets you and your family get unlimited data, calls and SMS. But the catch is that you'll also have to sign up for a home broadband deal too.
You'll have to pay at least RM98/month for your mobile plan and at least RM89/month for the home broadband to get this package. But the plus side is that share benefits with sub-lines too.
Verdict
If you're willing to pay extra for reliability, coverage, and speed, Digi with its RM150/month commitment should give you the juice you need. If affordability is priority number one, then Unifi Mobile is the way to go. You're getting respectable download speeds and decent coverage for under RM100.