With 5G now available on every telco, TuneTalk, the AirAsia owned MVNO that operates under the Celcom network, has launched its new Pek Epik plans with an attractive and low monthly subscription price, starting from RM20/month up to RM50/month, they all come with a Fair Usage Policy and not as straightforward as you think, which we will have all the details explained below.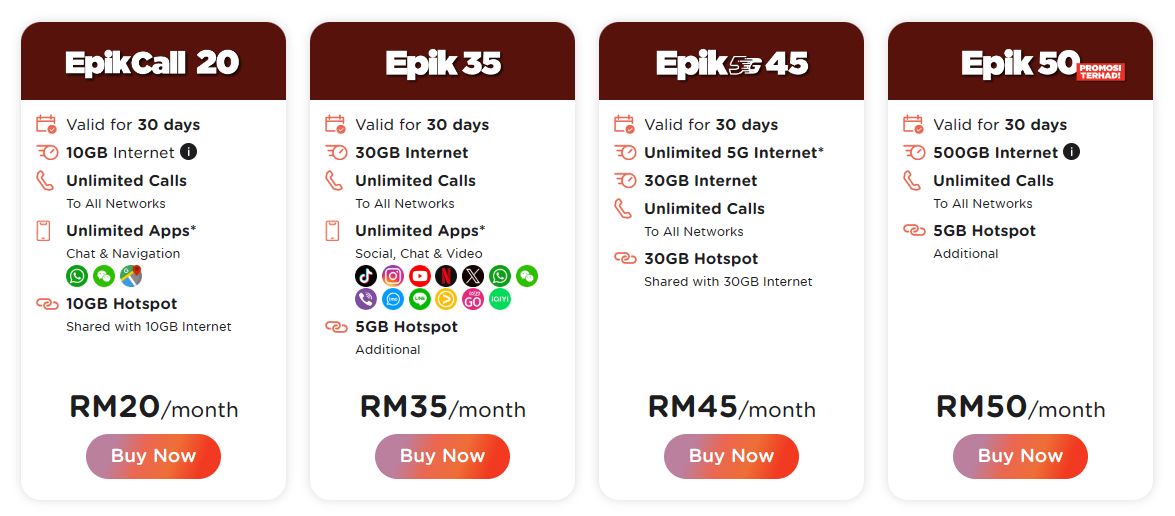 EpikCall 20
For RM20/month with a 30-day validity, the EpikCall 20 plan gives you unlimited calls, and 10GB of 4G quota that can be used for mobile hotspot, while it offers unlimited data for WhatsApp, WeChat and Google Maps, which will save you the hassle should you fully exhaust the quota before the month ends, as you can still access these essential apps if you hadn't had time to purchase any data addons.
However, notice the above screenshot that there is an 'i' legend next to the 10GB Internet word, when you hover your cursor over it, it says that YouTube and Netflix streaming will be limited to SD (Standard Definition) instead of HD, which is a big red flag considering 10GB isn't a lot of data to begin with.
Epik 35
Moving on, we have the next tier that costs RM35/month, the Epik 35 will offer unlimited calls, 30GB of 4G internet quota and 5GB of dedicated quota for mobile hotspot. Interestingly, with just a RM15 topup, not only the SD streaming limitation is removed, you also get unlimited data for social, chat and video apps, and yes, you can stream HD in Netflix and YouTube.
Unfortunately, there's no way to addon a 5G booster of sorts if you want to get on the fast lane with this plan.
Epik 45
Finally, we are getting 5G enabled on this plan that cost RM45/month, but again, what boggles users is that the "Unlimited" 5G Internet is limited to just 70GB of quota and a 100Mbps speed cap, which is hardly 'unlimited', while you get 30GB of 4G quota that can be used for mobile hotspot.
Interestingly, TuneTalk doesn't offer unlimited data for social, chat and video apps like you do on the Epik 35 plan, that's a huge compromise for getting 5G.
Epik 50
The flagship plan of the Pek Epik will cost RM50/month, and while it seems like a great deal that you are getting unlimited calls and 500GB of quota for cheap, you are unfortunately limited to just 4G connectivity with 6 Mbps of capped speed that supports HD streaming, you also get a puny 5GB dedicated quota for mobile hotspot.
Epik 'Poor Value' Plans?
Plans / Passes
SMS Keyword (month)
Data Quota
Speed
Calls
Validity
On Net
Off Net
EpikCall 20
EPIKCALL20
10GB
(4G)
Hi-Speed
UNL
UNL
30
Epik 35
EPIK35
30GB
(4G)
Hi-Speed
UNL
UNL
30
Epik5G 45
(promo)
EPIK5G45
70GB
(5G), 30GB
(4G)
5G (100Mbps)
4G (Hi-Speed)
UNL
UNL
30
Epik 50
(Limited Time Promo)
EPIK50
500GB
(4G)
6Mbps
UNL
UNL
30
While we do respect that every telco and MVNO has the right to offer any plans, TuneTalk's Pek Epik plans are filled with way too many hidden fair usage policy that we recommend you fully understand them before you sign up for it, you can head here to learn more.