When was the last time you visited the cinema? With the current COVID-19 situation, many of us have chosen to stay home whenever possible and that means cutting out a lot of outside activities. But what if you can bring the cinema back home? Well, you really can with the LUMOS Auro Projector — a smart projector that comes with built-in Netflix and YouTube.
What is LUMOS Auro?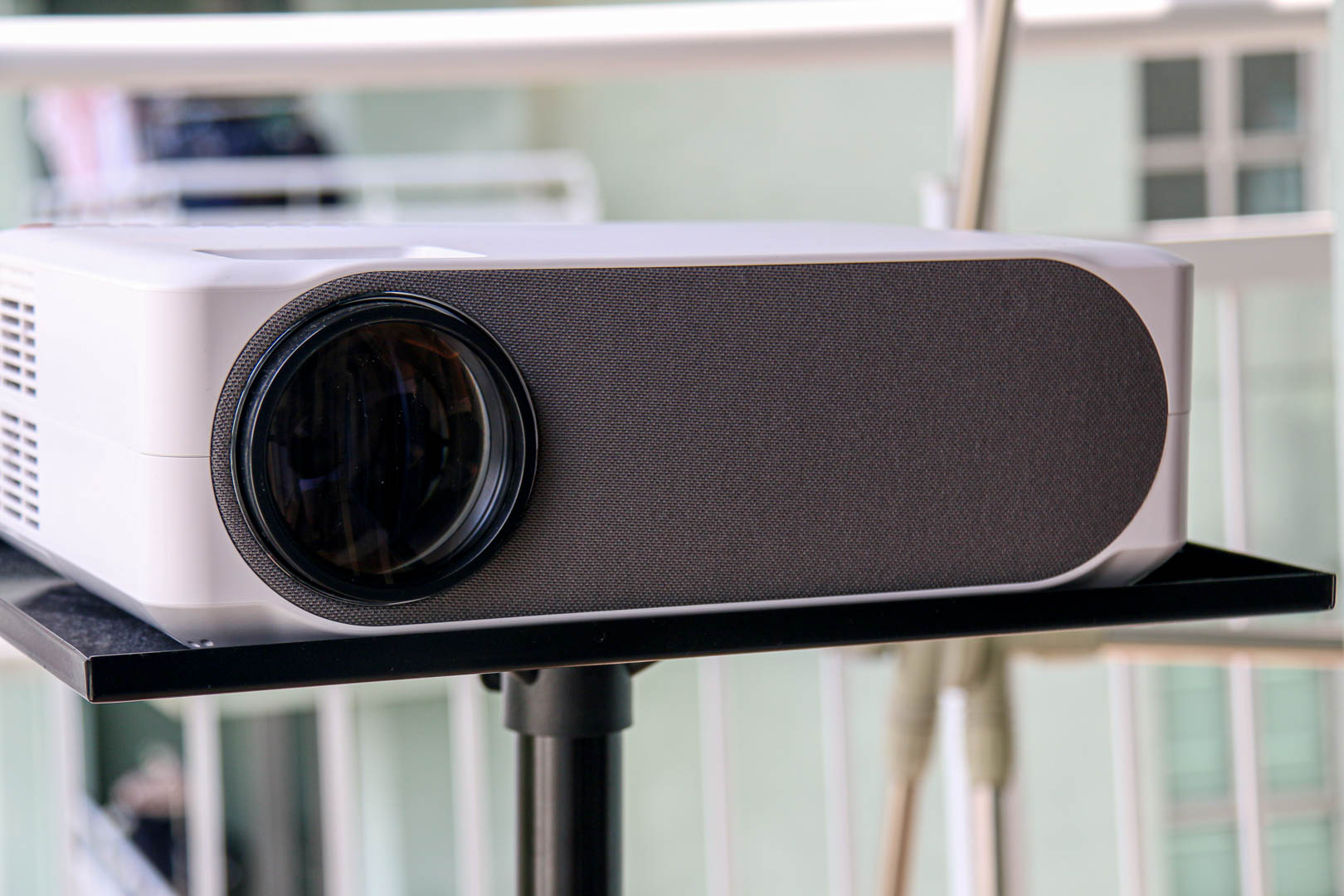 LUMOS Auro is not just your ordinary projector; it's a smart projector that runs on Android OS and comes with built-in apps. Not only can you enjoy apps like Netflix and YouTube, but you can also choose to mirror your phones and tablets to the projector.
Now, here's why I enjoyed the LUMOS Auro…a lot. 
1. It's a cinema at home, what's not to love?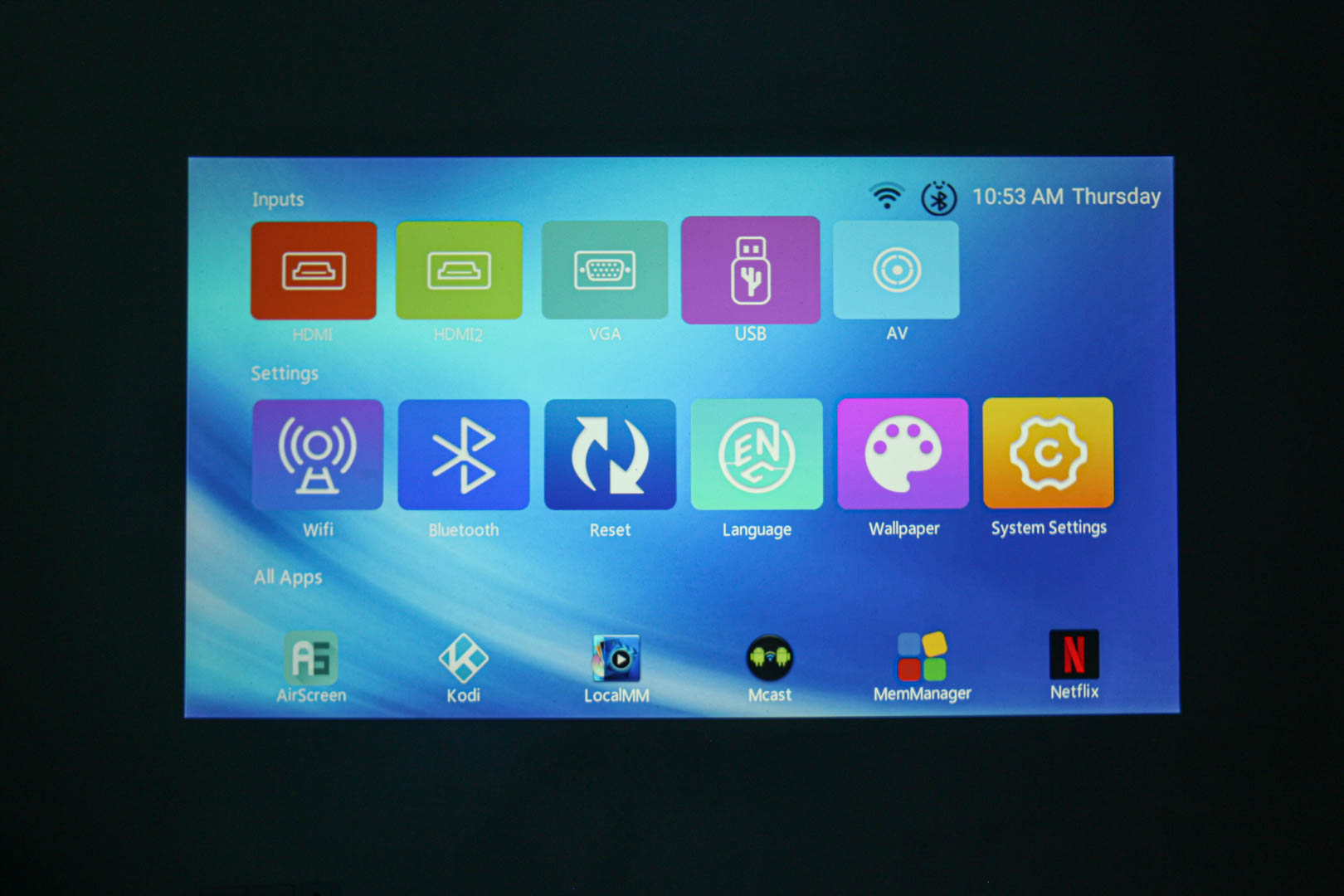 I know I'm being dramatic, but bringing the LUMOS Auro back home with me is literally a life-changing experience — my 32-inch TV is no match for the projector that can project a 100-inch screen when I place it 3m away from my plain wall. 
[sciba leftsrc="https://klgadgetguy.com/wp-content/uploads/2020/12/LUMOSAuro-2.jpg" leftlabel="Lights turned on" rightsrc="https://klgadgetguy.com/wp-content/uploads/2020/12/LUMOSAuro-3.jpg" rightlabel="Lights turned off" mode="horizontal" width=""]
It's not just the massive screen; it's also the 1080p support, allowing me to enjoy my Netflix shows and series in FHD resolution. For the average consumer, the projection looks sharp and clear with vivid colours. This is because LUMOS Auro has 6,000 Lumens, so even when the projector is further away from the wall or my room lights are switched on, I can still get sharp images, but the colours are more faded. 
Tip: The darker your room is, the better the projection looks. 
2. Netflix and YouTube are pre-installed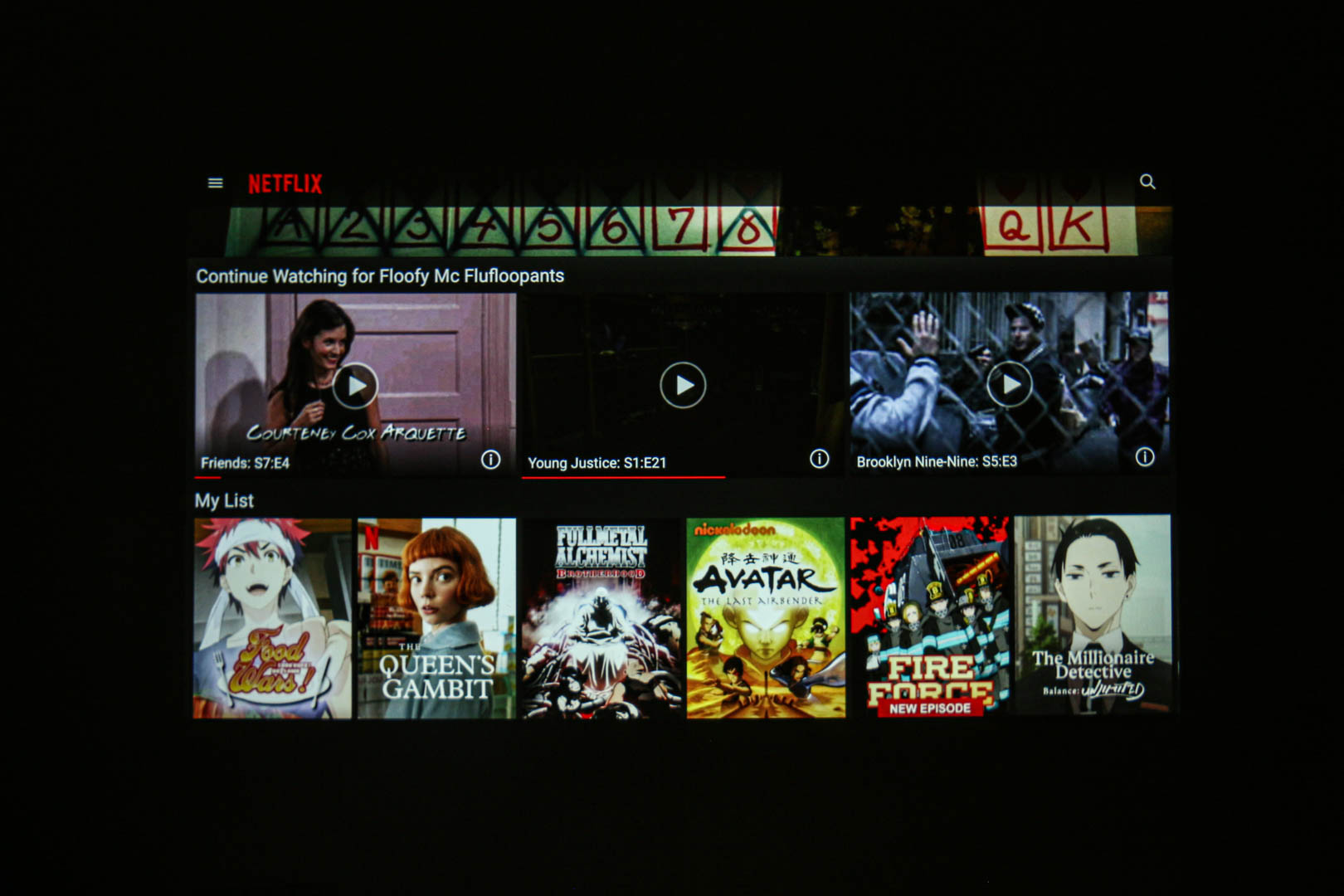 Now, this projector is made for your entertainment needs, so it's a plus that popular apps like Netflix and YouTube are already pre-installed. I'm a person who watches Netflix daily, so being able to just switch on the projector and launch Netflix immediately is convenient. 
Did I mention this projector also has Dolby Audio? It does and the audio sounds great. You can't compare it to a cinema (duh!), but it's definitely better than what I have at home right now.
3. So. Many. Ports.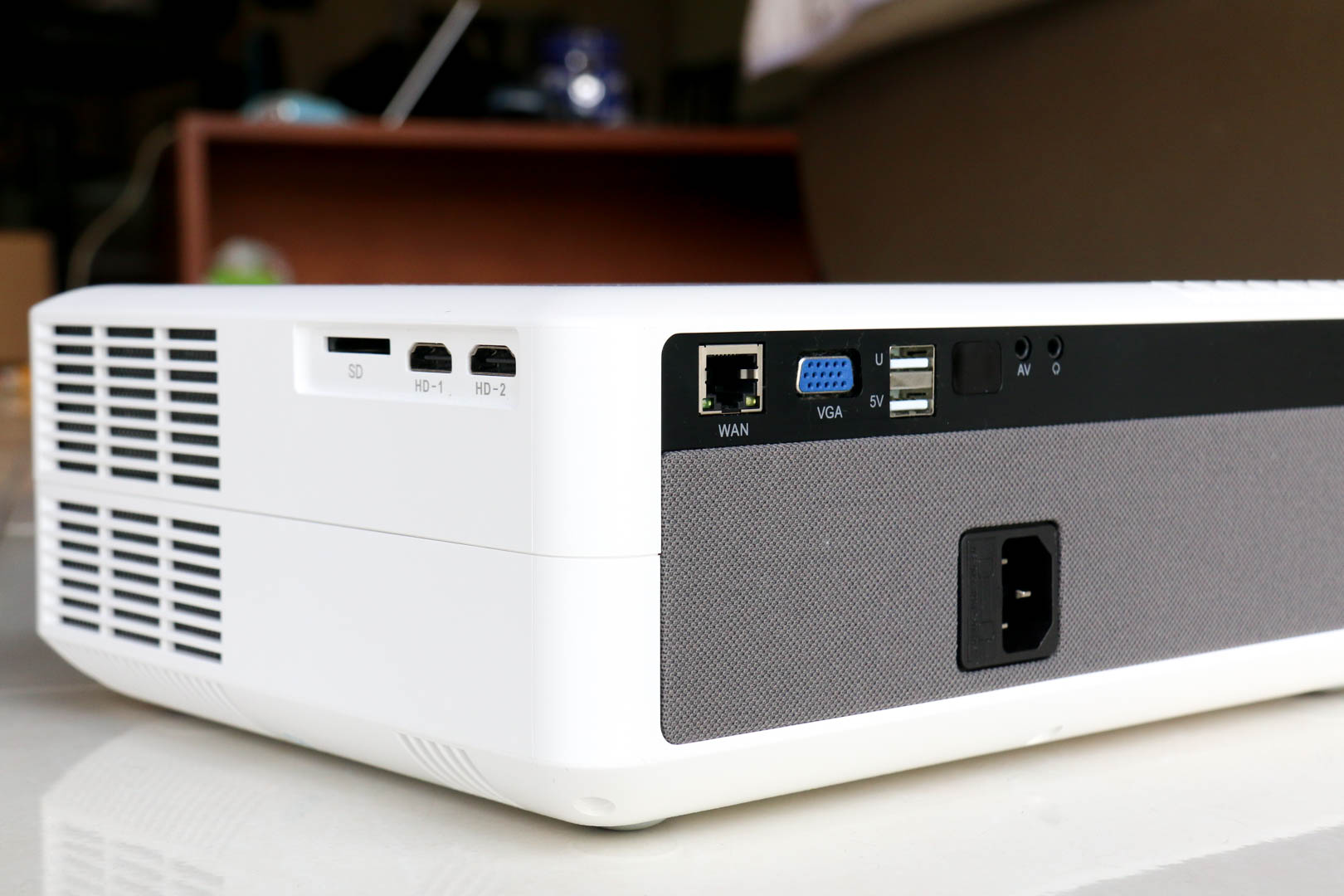 And all kinds of them! LUMOS Auro comes with:
2x HDMI port

2x USB-A port

1x VGA port

1x A/V port

1x SD card slot

1x 3.5mm audio out port

1x Gigabit LAN port
You can choose to connect to the internet using the LAN port, but since it's also WiFi enabled, I've connected mine via the WiFi so there's one less cable on the ground. I can connect my laptop, mouse/keyboard, pen drives; I can even connect my headphones to the projector if I want to watch a movie without disturbing others.
Speaking of mouse and keyboard…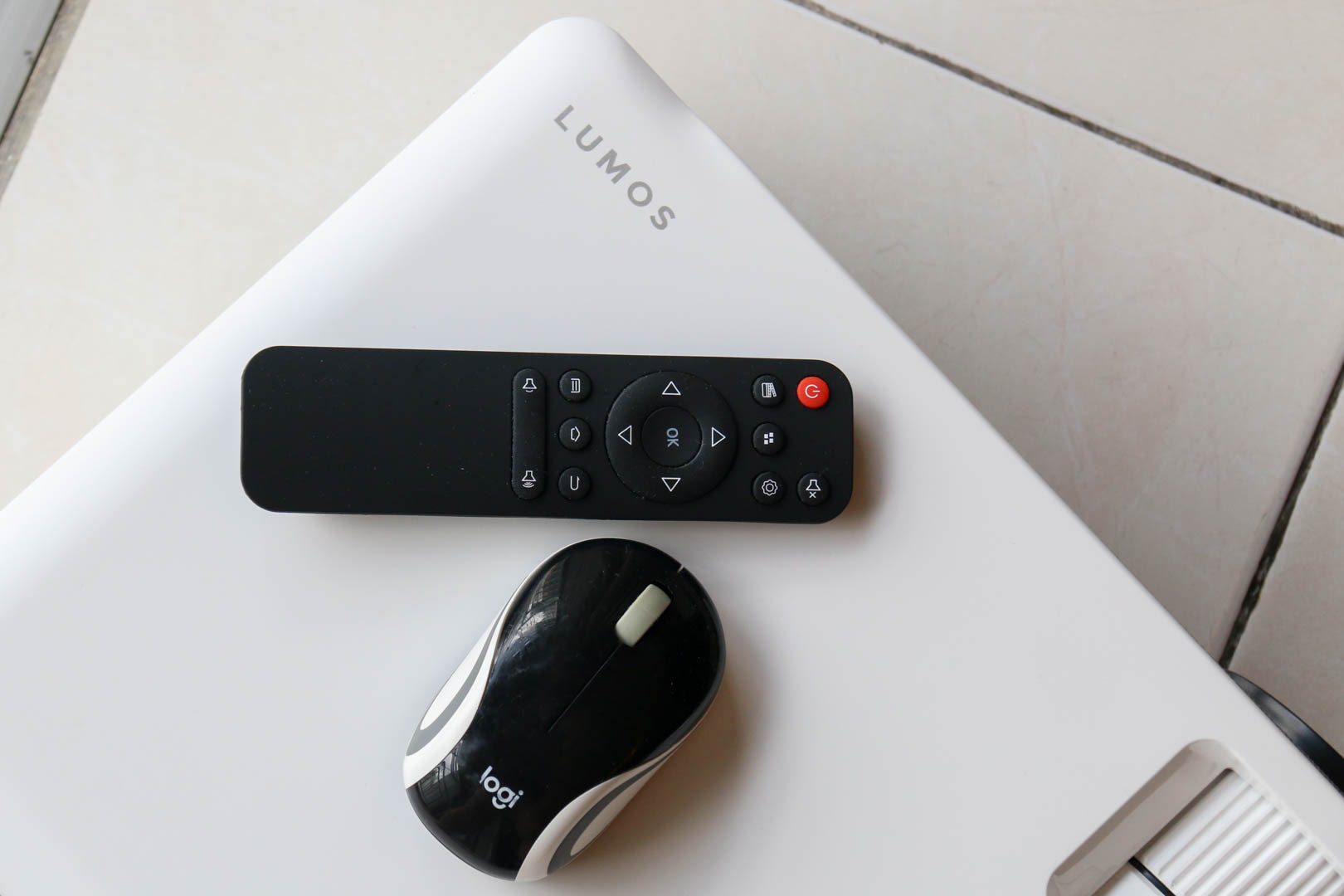 Before I begin, I have to say this: the remote control that comes with LUMOS Auro is alright, but there are limitations. I wasn't able to access my Netflix settings to switch accounts and the only way I could log out of Netflix entirely was to reset the whole projector. But, that's not a problem if you own a mouse that connects via USB or Bluetooth. Using a mouse and a keyboard alongside the projector has made things much easier — instead of spending a few minutes using the remote control to key in my login details, I only needed a few seconds with my keyboard. Navigation via the mouse is also faster as compared to using the original remote.
4. Mirroring your games on a big screen is awesome.
As a person who has been playing Genshin Impact and Call of Duty on her mobile most of the time, it is  nice to finally be able to see my gameplay on a huge display and share it with my friends. However, I did notice that there's a delay in display so it may not be your best option if you're playing reaction-based games.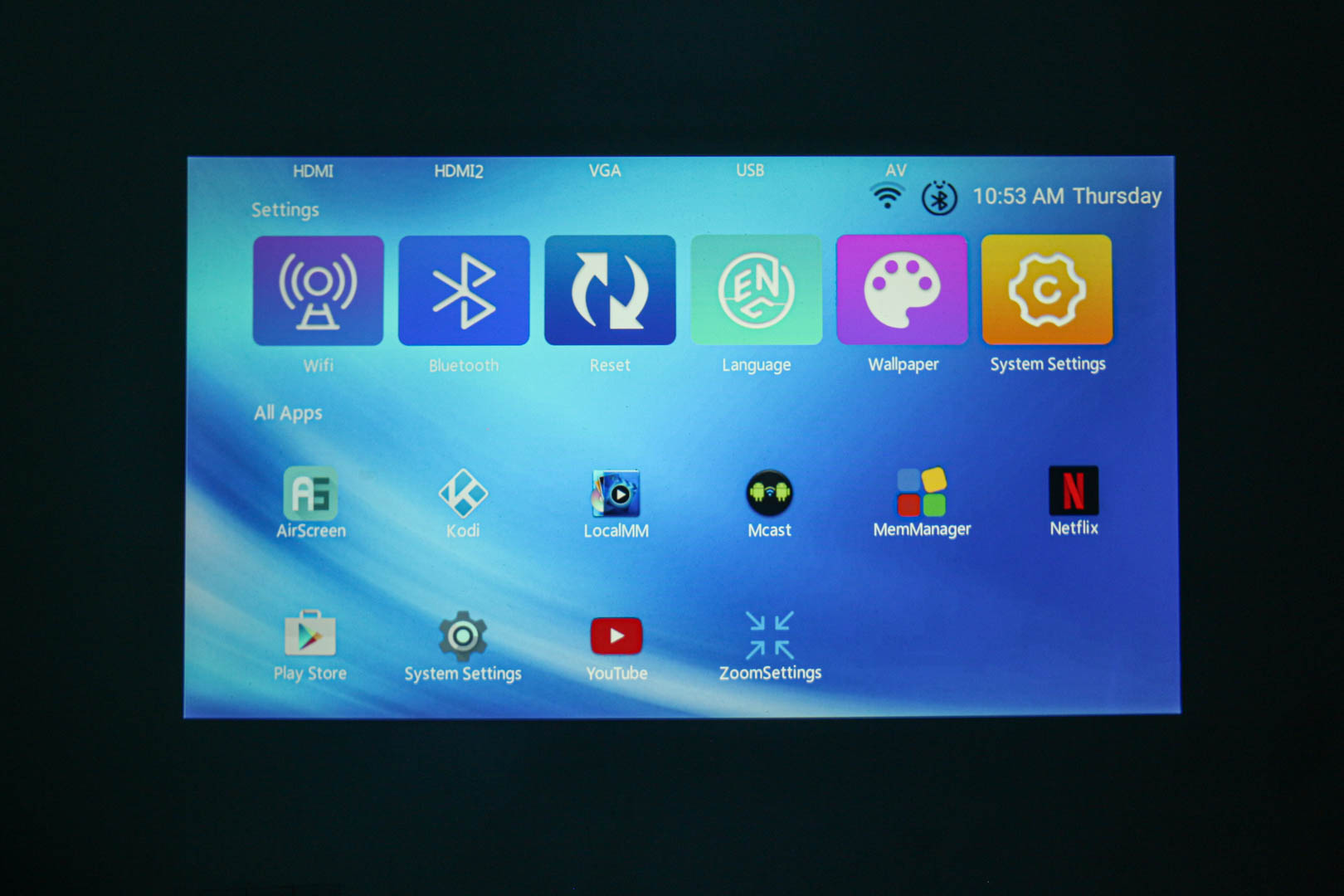 This projector comes with two casting apps — MiraCast and AirScreen. The former is made for Android devices whereas the latter is for your Apple devices. I've been using AirScreen without any issues — connecting my iPhone to the app is fairly easy. However, if you're using newer devices, you may need to update the casting apps in Google Play Store to ensure that they are compatible with the latest phone models.
5. It doesn't matter where you put it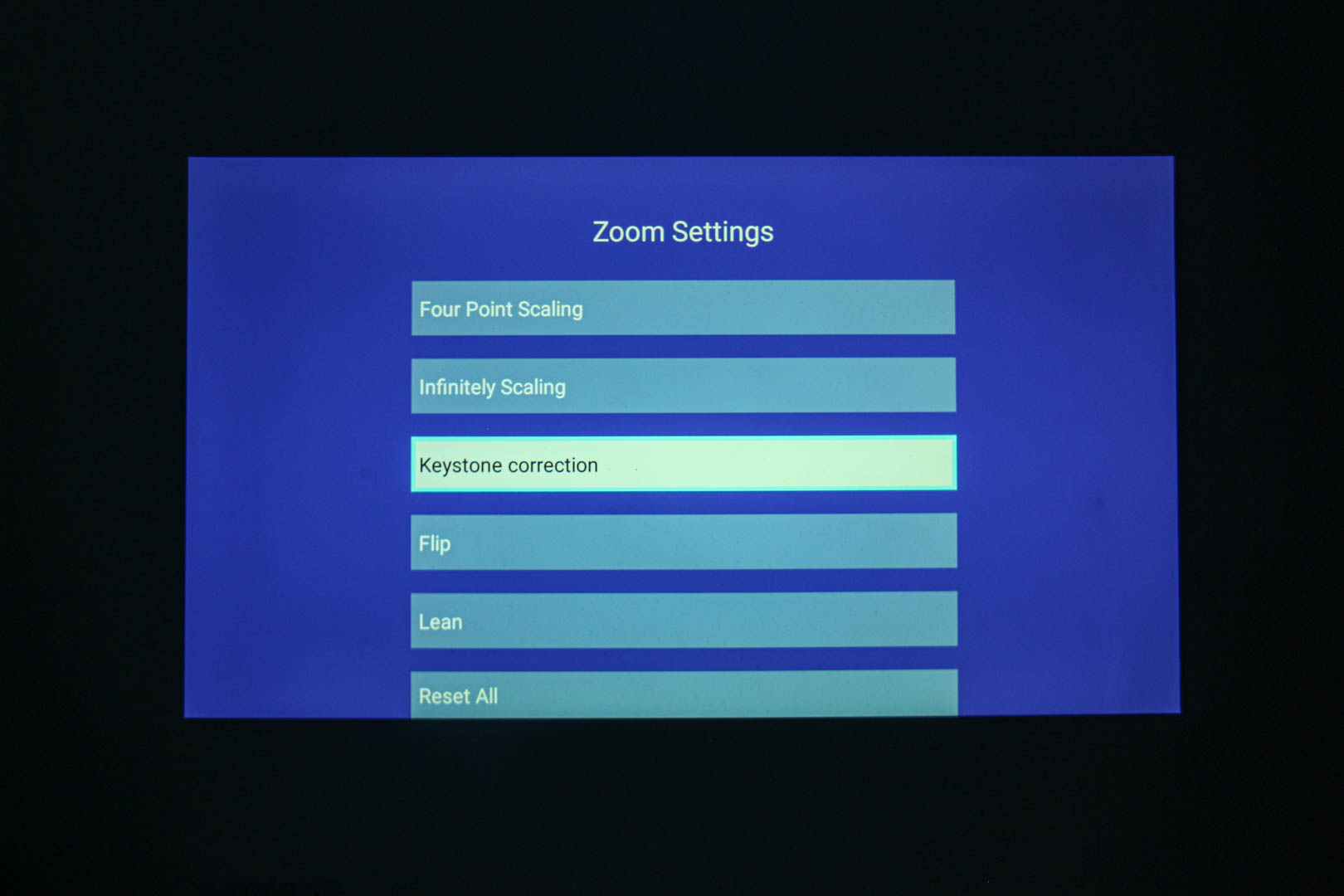 Okay, let me explain. What I'm saying is, LUMOS Auro has Keystone Correction and this helps if you can't project the screen directly towards your wall. Whether it's tilted sideways, upwards/downwards or even placed at a slight angle, you can configure the keystone correction via Zoom Settings. This allows you to adjust each corner of the screen and even do angle adjustments up to 50 degrees. There's also a physical knob if you need keystone correction for tilting. 
Simply put, the projector has an extensive amount of keystone correction so you can take your time adjusting them to get the perfect view. You can even flip the image if you're planning on mounting the projector upside down from the ceiling, but I had mine placed on top of the RIZE stand which has adjustable height up to 120cm.
Price and availability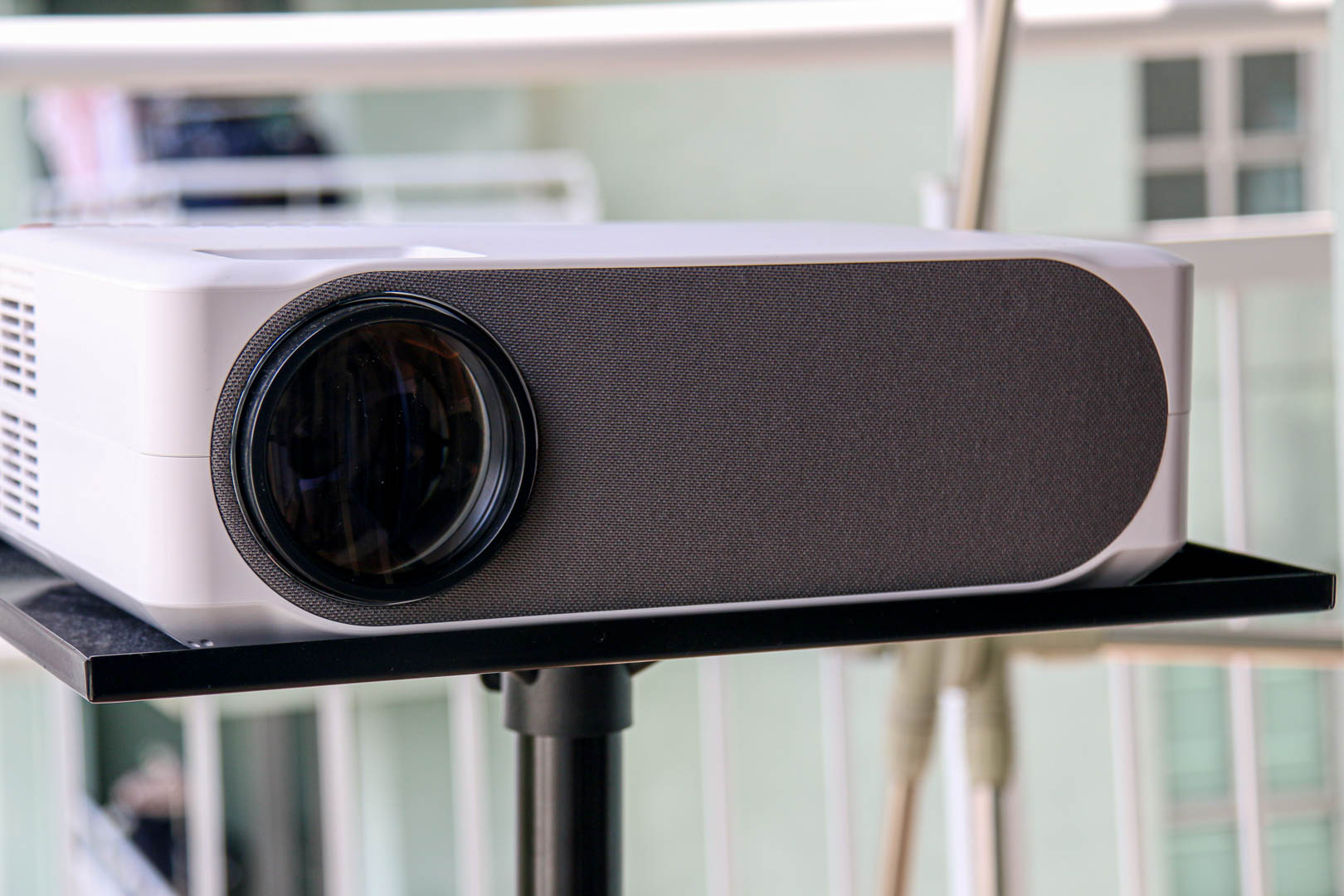 There are two versions of the LUMOS Auro – the regular version and the smart version. The regular version doesn't come with WiFi and Bluetooth connectivity and it's also missing out on Android OS. If you were to buy one, my advice will be to go for the smart version which will cost you RM1,298 – the regular LUMOS Auro is priced at RM999.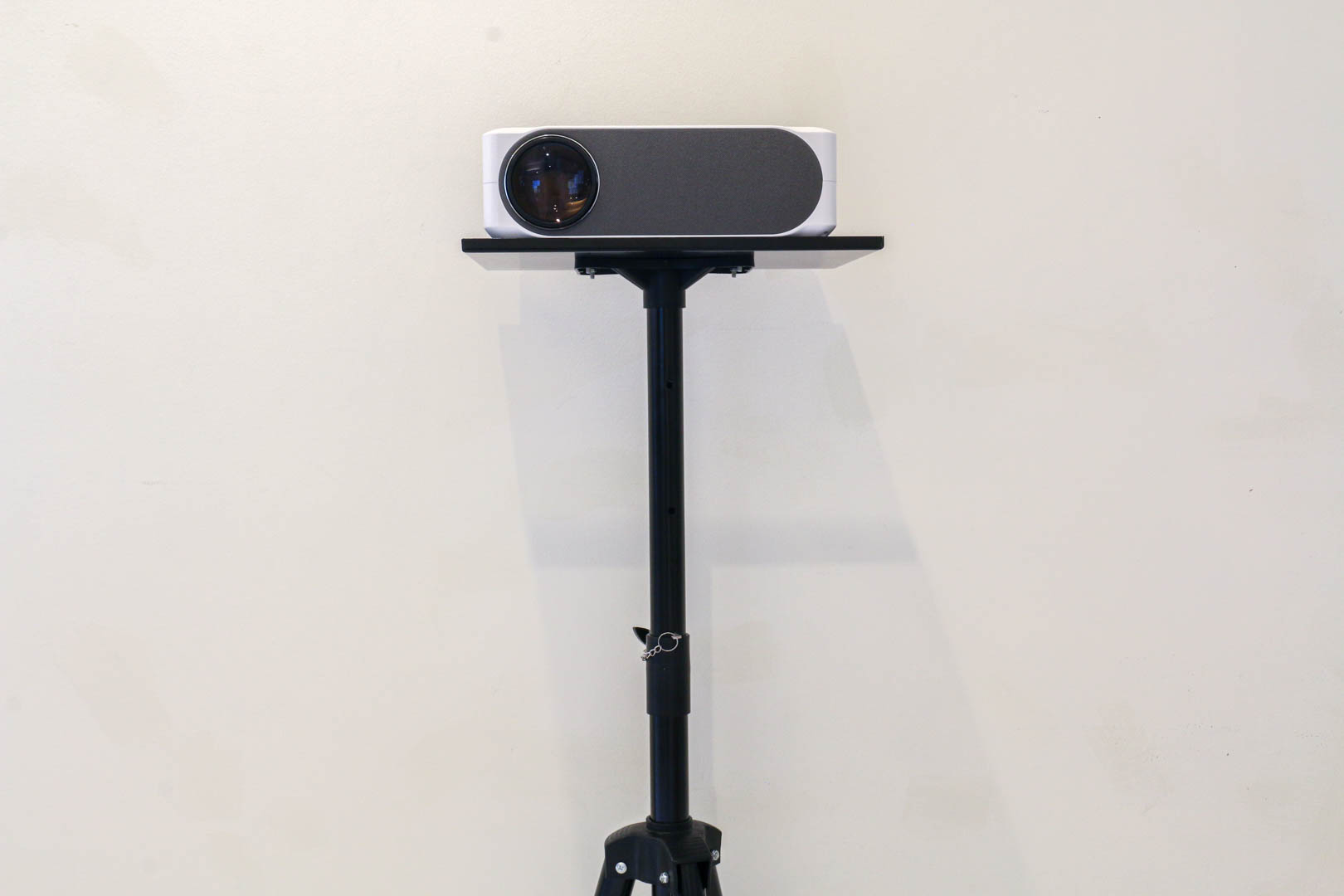 If you're also interested in the RIZE projector stand, you can purchase it in a bundle with the LUMOS Auro by adding an extra RM179.
Did you know?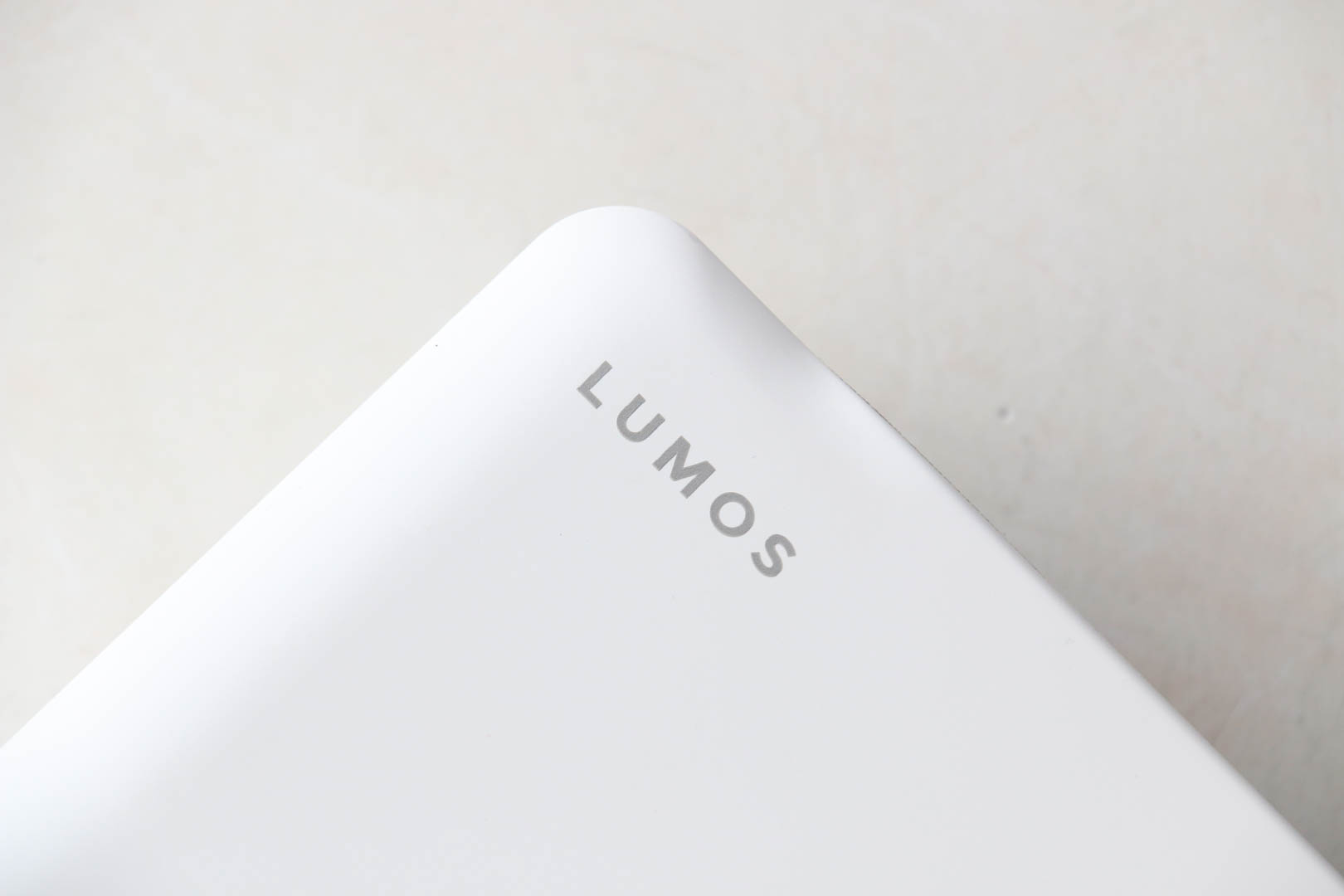 The founders of LUMOS are actually Malaysians and at the time of writing, 95% of the local reviews come with a 5-star rating. The LUMOS Auro is definitely a worthy purchase since you're getting a private cinema at home and also supporting a local company during the pandemic.