Building a gaming PC can be both exhausting and exciting, and one of the component choices you might be contemplating is RAM, which is one of the most important components that helps accelerate your workflow regardless of productivity or gaming.
This ultimately brings us to making the choice between DDR4 and DDR5 RAM, as prices of the latter has come down recently, while picking up DDR4 RAM would get you more motherboard choices, which can ultimately save some money in your PC build.
Therefore, we have the Crucial DDR5 Pro 16GB x 2 DDR5-5600 memory kit in for review, this kit is one of the more affordable 16GB DDR5 kits that we can find in the market right now, and we will be doing a comparison on our 12th Gen Intel build with a DDR4 and DDR5 motherboard to find out whether the kit is worth your money.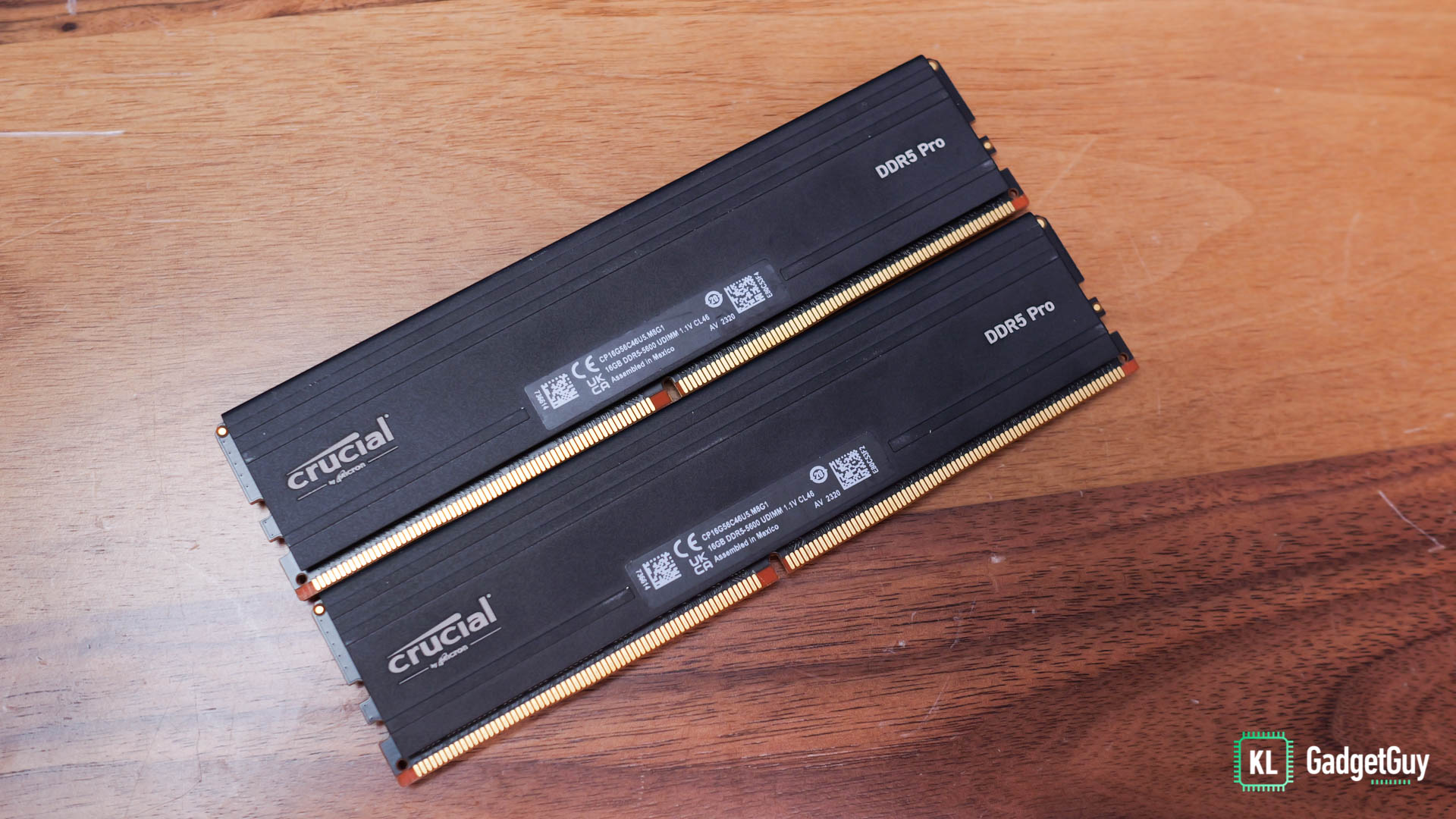 One of the main reasons that you will want to go for DDR5 RAM is the increased memory bandwidth for multi core processors and has better power efficiency than DDR4 as it merely operates at 1.1V, which will greatly benefit applications and games that takes advantage of multi core processing.
The Crucial DDR5 Pro doesn't come with any RGB lighting and features a simple black heat spreader, which is good for those who prefers a less flashy system.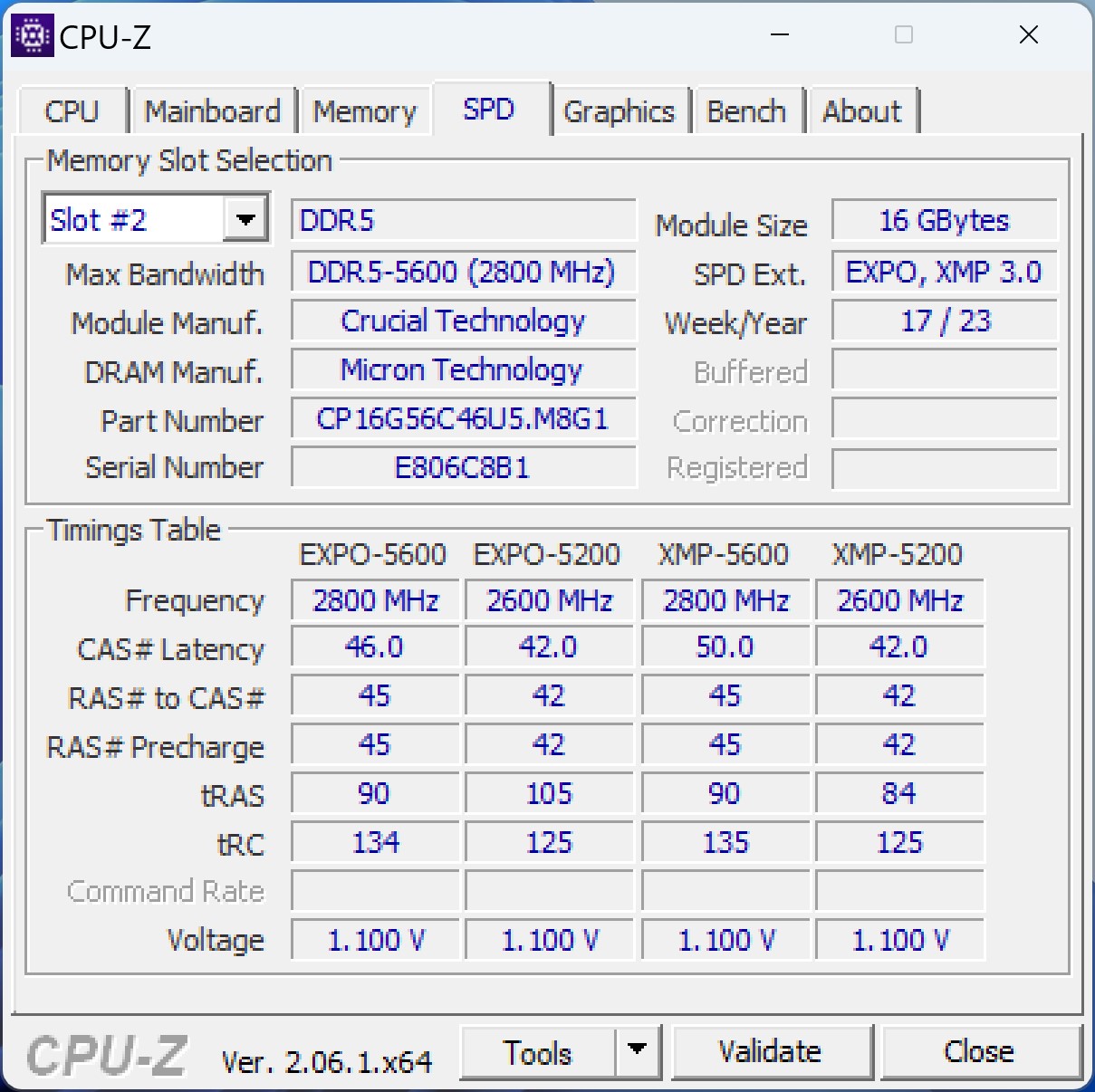 The Crucial DDR5 Pro offers two Intel XMP profiles with speeds of 5200MT/s and 5600MT/s, the overclocked memory timings are a little loose and you definitely lose out to any DDR4 systems when it comes to memory latency.
However, let's take a look at the benchmarks we have performed on both of our systems
DDR4 Test System
CPU: Intel Core i7-12700K
RAM: Corsair LPX Vengeance 16GB x 2 DDR4-3200MHz
Storage: WD Blue SN570 1TB SSD
GPU: AMD Radeon RX6900XT
Mobo: Asrock Z690M-ITX
PSU: Silverstone DA850 Gold 850W
DDR5 Test System
CPU: Intel Core i7-12700K
RAM: Crucial DDR5 Pro 16GB x 2 DDR5-5600MT/s
Storage: Crucial T700 1TB PCIe 5.0 SSD
GPU: AMD Radeon RX6900XT
Mobo: ASUS ROG Strix Z790E Gaming WiFi
PSU: FSP Hydro PTM Pro 1200W
Crucial DDR5 Pro AIDA64 Memory Benchmark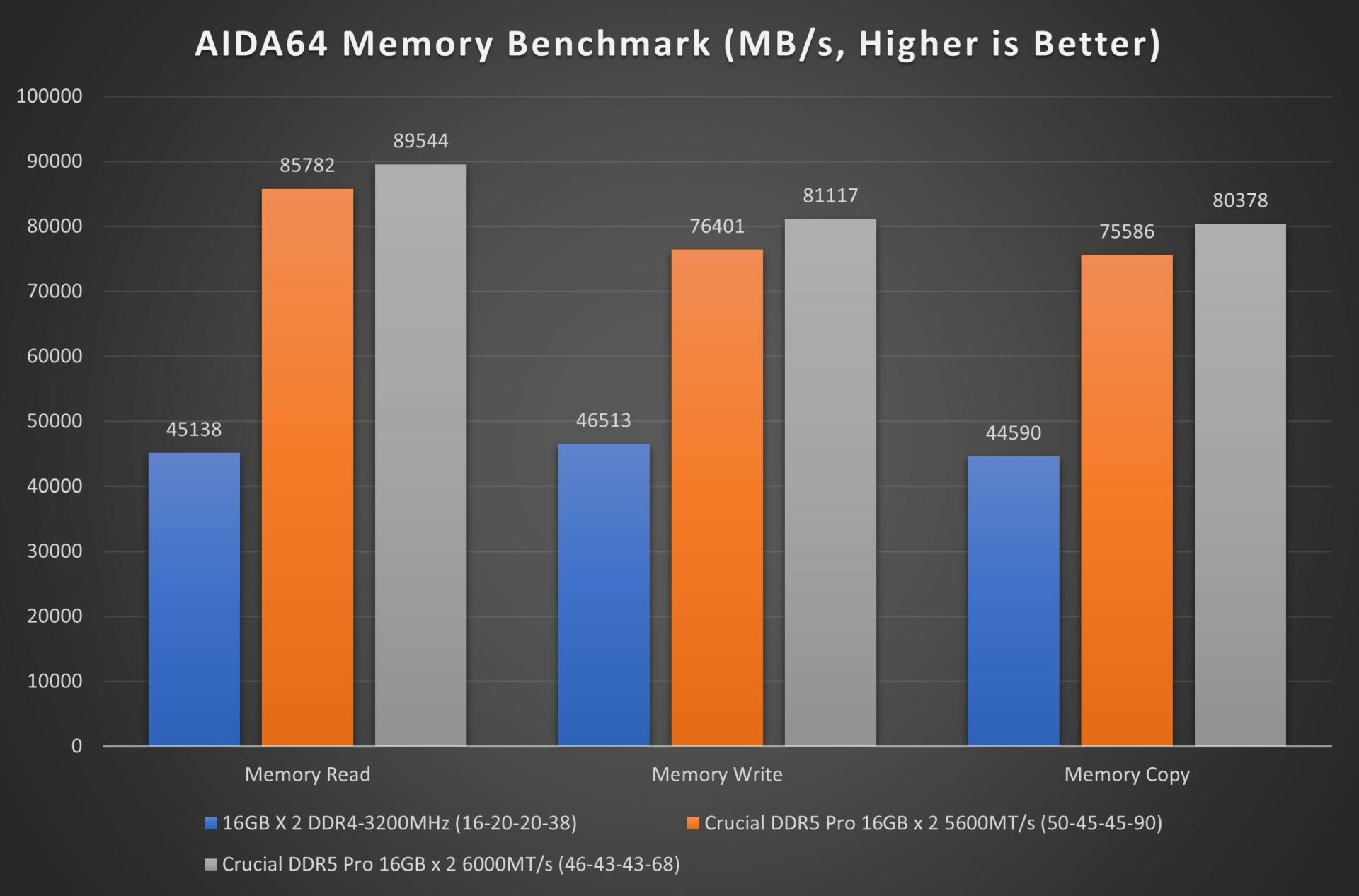 On AIDA64 Memory Benchmark, the Crucial DDR5 Pro clearly pulls ahead of our DDR4 system with two times the memory bandwidth, which is very impressive considering it only uses 1.1V on Intel XMP as our DDR4 RAM requires 1.35V to make it to 3200MHz, though the Crucial DDR5 Pro's default XMP timings gave it a longer latency of 91.8ns compared to 70.9ns on our DDR4 system.
Thankfully, the Crucial DDR5 Pro has a lot of headroom for overclocking and we managed to push it 6000MHz with improved timings of 46-43-43-68 @ 1.3V, which offers slightly more bandwidth in memory benchmarks and a significantly reduced latency of 79.6ns.
Crucial DDR5 Pro Gaming Benchmark
Moving on to gaming, there's very little difference when it comes to their average frame rates, among the four AAA game titles we tested, the Crucial DDR5 Pro managed to outperform the DDR4 system at overclocked speeds in Hogwarts Legacy, Shadow of the Tomb Raider and A Plague Tale: Requiem.
Crucial DDR5 Pro 7-Zip and Cinebench R23 Benchmark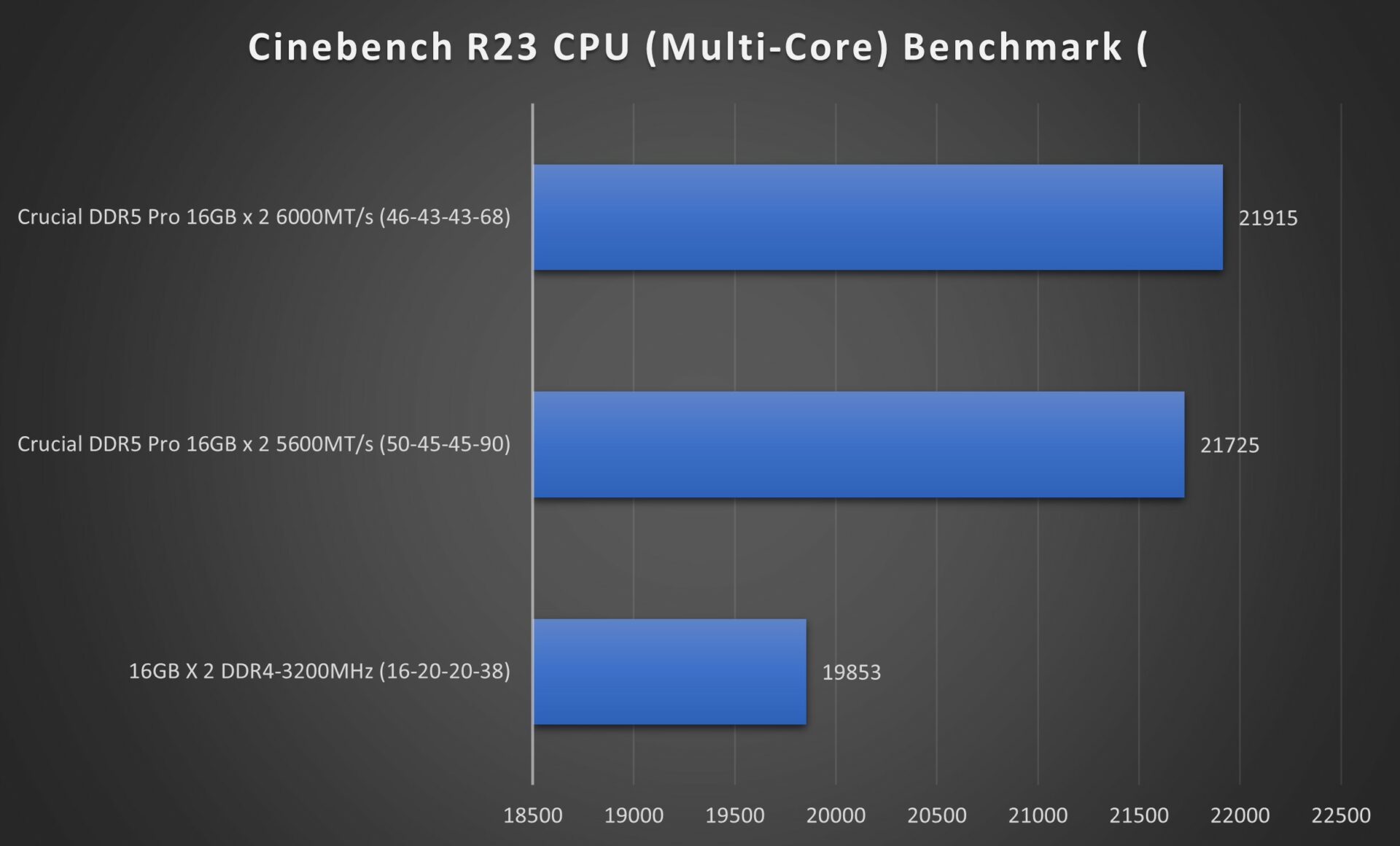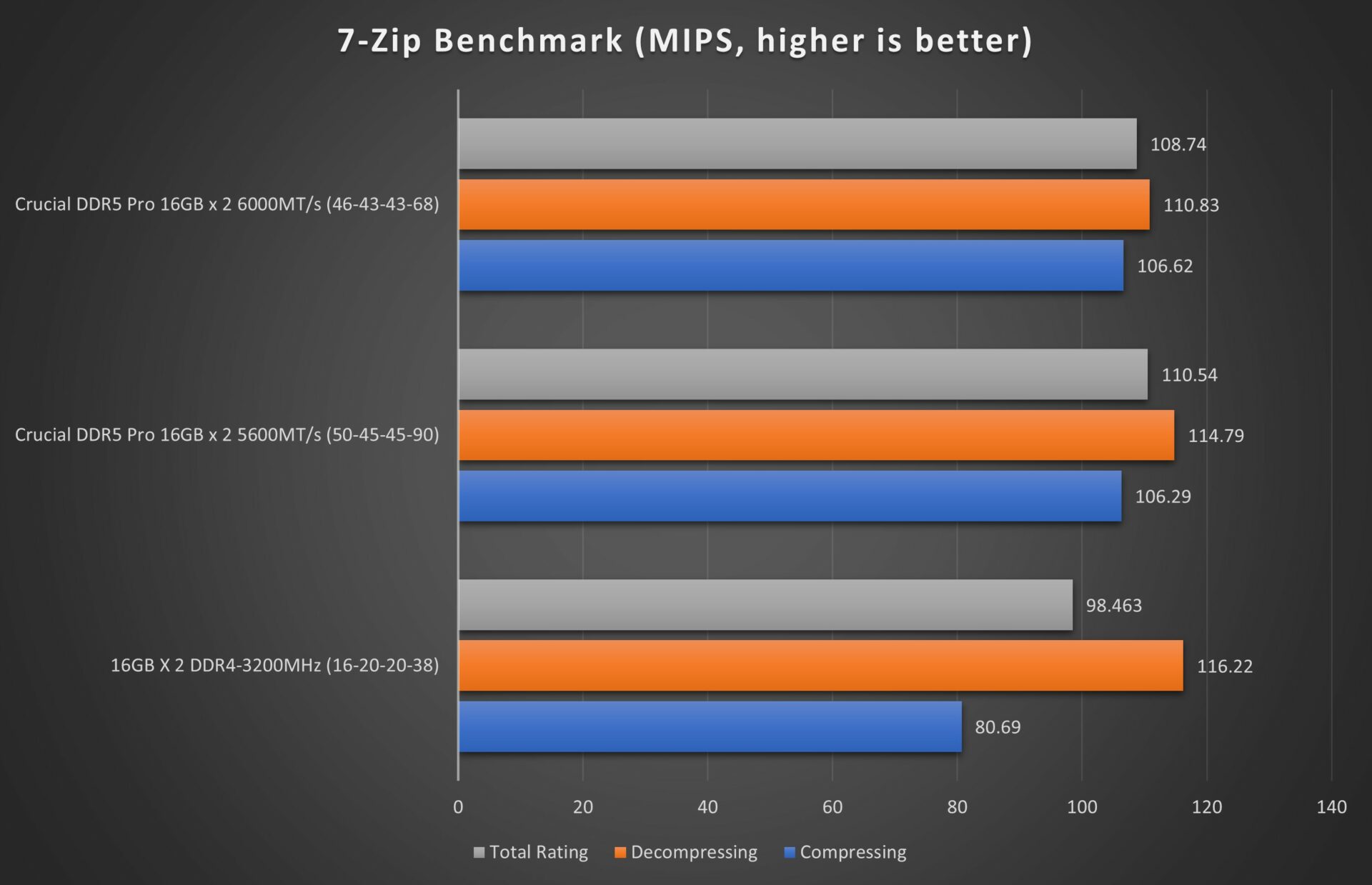 In terms of productivity and creative benchmarks, this is where the Crucial DDR5 Pro really shines over our DDR4 system, where it managed to get more than 30% of improvement in Compressing and Decompressing tasks in 7-Zip. In Cinebench, the Crucial DDR5 Pro offers a 9% score improvement in the multi-core test.
Overall, the Crucial DDR5 Pro is a really decent memory kit and you will definitely get some good performance gains over DDR4 if you are mainly doing creative and productivity workflows, the 32GB memory kit is currently available for purchase at Crucial's flagship Lazada and Shopee store.