After much anticipation, AMD has officially unveiled its Ryzen 7000 series desktop processors, powered by the all new 'Zen 4' architecture and built on TSMC's 5nm process, these new Ryzen processors are squashing Intel's 12th Gen Alder Lake processors in terms of performance.
Four processors SKUs have been announced in the launched, they are namely the Ryzen 9 7950X and 7900X, Ryzen 7 7700X and Ryzen 5 7600X, sporting up to 16 cores and 32 threads, the leading Ryzen 9 7950X processor is claimed to have a single-core performance improvement of up to 29%, up to 45% more compute for content creators in POV Ray, up to 15% faster gaming performance in certain titles, and up to 27% better performance per watt.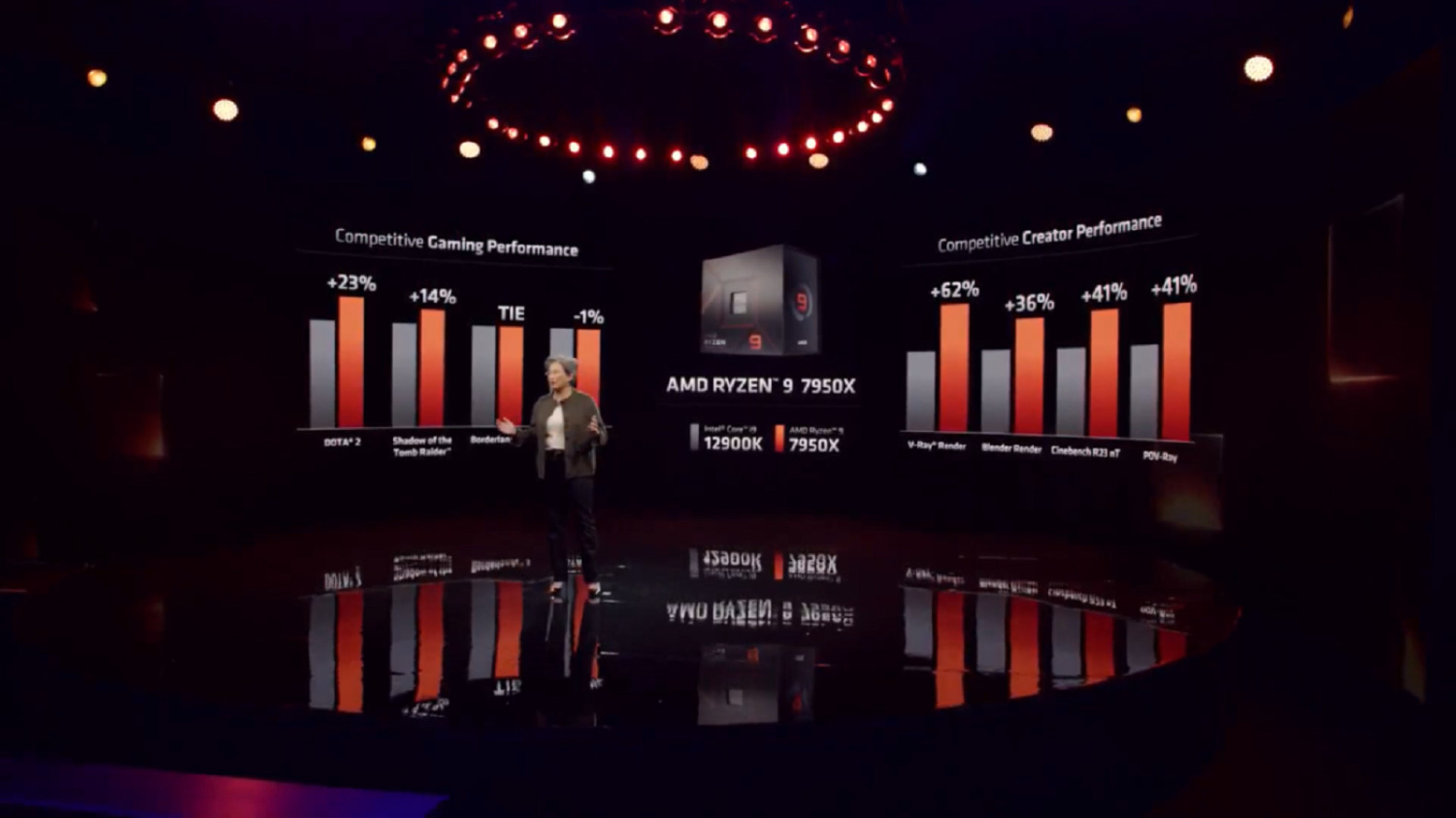 In terms of gaming, AMD claims that the Ryzen 9 7950X is up to 23% faster in DOTA 2, 14% faster in Shadow of the Tomb Raider when compared to the Intel Core i9-12900K processor, which is extremely impressive as it isn't just a minor performance advantage over its competition, it even goes on to claim that the flagship processor has up to 47% more performance-per-watt over the Core i9-12900K.
The new Ryzen 7000 series desktop processors use the new Socket AM5, which is also an LGA socket that no longer have pins on the processor but rather on the motherboard similar to Intel's LGA1700, it enables a host of technologies such as PCIe 5.0 for faster storage and powering next-gen GPUs, dual-channel DDR5 memory and AMD EXPO technology that offers advanced profile settings for DDR5 memory overclocking.
In addition, the AM5 platform will feature four chipsets and are listed below:
AMD X670 Extreme: Bringing the most connectivity and extreme overclocking capabilities11 with PCIe 5.0 support for graphics and storage
AMD X670: Supporting enthusiast overclocking with PCIe® 5.0 support for storage and optional graphics support
AMD B650E: Designed for performance users with PCIe® 5.0 storage support and optional graphics support
AMD B650: Designed for mainstream users with support for DDR5 memory and optional PCIe® 5.0 support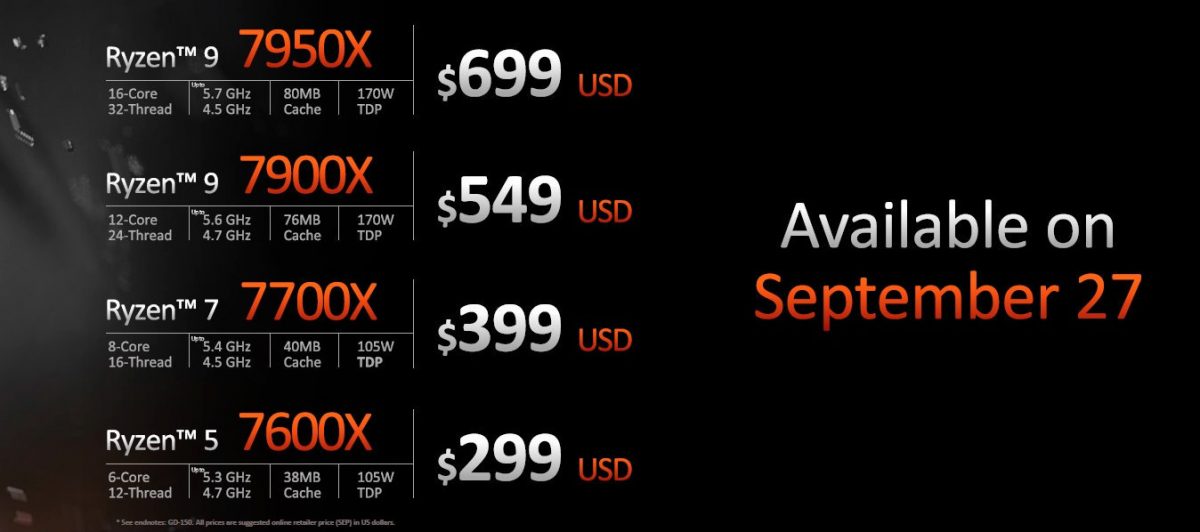 The Ryzen 7000 series processors will be available starting September 27, the Ryzen 5 7600X will retail at US$299, Ryzen 7 7700X at US$399, Ryzen 9 7900X and 7950X at US$549 and US$699 respectively.
AMD X670 and X670E motherboards from various partners will also arrive in September, while B650E and B650 motherboards will only be available in October.