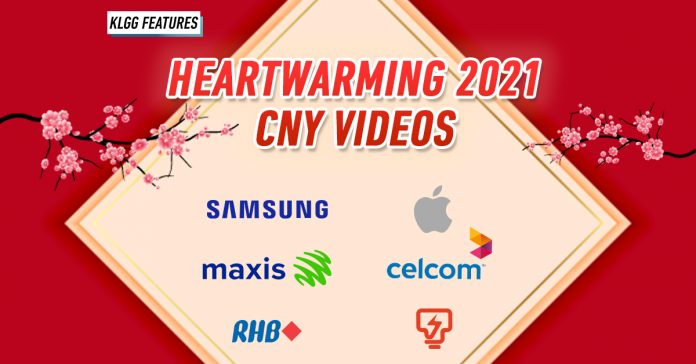 It's the first day of Chinese New Year but we Malaysians may not be celebrating it the usual way due to MCO. Still, there are many CNY videos that were released on YouTube this year, so we're here to share 8 of our favourite 2021 CNY videos.
These Chinese New Year videos will make you cry and smile
RHB
Based on a true story, the video talks about a father who never gave up on his daughter who was diagnosed with Spinal Muscular Atrophy and carried her to school every day. 
Prudential
Prudential reminds viewers to not let wealth and success take over their lives and to remember that happiness comes from simple things.
Maxis
Your family is your home; Maxis tells a story of a little boy who believes that his family gave up on the art of lion dance and that they're not living a happy life, but his family soon changed his mind.
Digi
A tear-jerking video featuring a man who is always generous to his neighbours but never seem to care for himself. The plot twist will make you cry…at least I did.
TNB
Unity is the main value of TNB's CNY video. Though it didn't tug on my heartstrings, it made me laugh a few times.
SingTel
Singapore's telco combined humorous and heartwarming scenes in this video; two families are constantly trying to best each other, but it all comes down to putting their differences aside and celebrating CNY together.
Samsung
We can relate to Samsung's CNY video — it's about changing the tradition as time evolves. Just like the video, we Malaysians have to adapt to the new lifestyle and celebrate CNY in our own ways.
Apple
Apple's CNY video is shot using the iPhone 12 Pro Max and it tells a different story regarding the mythical beast, Nian. The beast may not be as scary as we think…