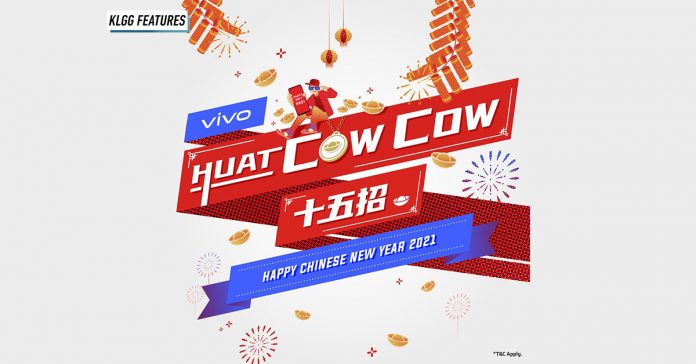 Chinese New Year, also known as Lunar New Year, hasn't always been about red envelopes and family reunion. Instead, it was once about sacrifices to the gods and ancestor ­­– the one true aspect to this festival that stayed till today is good fortune.
This Chinese festival is said to have started over 3,500 years ago during The Shang Dynasty. However, Chinese New Year has evolved into what we come to know today — family reunion, wealth and lion dances. Most of us spend our CNY holidays with our families — eating good food, giving and receiving red envelopes and generally, just spending time together. Some of us also believe that by doing or not doing certain activities, we will be blessed with good fortune for the whole year.
Well, 2021 may be a little different due to unforeseen circumstances, but we'd probably need more luck than before. So here are some tips from vivo Malaysia to ensure your Chinese 'Niu' Year is as huat and ong as it can be!
Tip #1: Red is a must
The colour red represents fire and is a symbol of vitality and good fortune. This is also why most of the red envelopes we receive during Chinese New Year are red in colour.
Well, red outfits are great, but chances are you won't be wearing them every day for the next 365 days. Instead, you should opt for something red in the things you'll carry everyday — a bag, a phone case or even a pair of red earrings.
Tip #2: Start your Chinese 'Niu' Year with a reliable phone
You should always get the best products especially when it comes to something you use daily. In this case, vivo has just the right phones to start your Chinese 'Niu' Year — the vivo X50 Pro and the vivo V20 SE. If you continue reading, you'll get to find out more about these phones including their limited time offers that will save you a great amount of money.
Tip #3: Health is wealth, so stay home this Valentine's Day
Valentine's Day also falls on the third day of Chinese New Year; instead of going out for fancy dinners, why not stay home this year and celebrate with your partner and family with some home-made dinner?
If you're away from home, you can always set up video calls and deliver gifts over — after all, it's the thought that counts. Nothing is better than the gift of good health, so it's best we stay home this year to prevent unfortunate situations from happening to us and our precious ones.
Tip #4: Have yourself some Ong Lai tarts
One of the must-have CNY food is the pineapple tart which is also known as Ong Lai. The word 'ong' means good fortune and the word 'lai' means come — in short, eating and serving pineapple tarts is similar to ushering in good fortune.
Tip #5: 899 — the lucky number in 2021
If you're superstitious, then you'd avoid numbers like 4 and embrace numbers like 168, 888 and so on. This CNY is the Year of the Ox, and some believe the number '899' is the best number as it sounds like 'HUAT COW COW'. For those unfamiliar with this term, it means "maximum prosperity" in the Hokkien dialect.
Coincidentally, vivo has a phone that is priced at exactly RM899 and it's none other than the vivo Y20s. It has a huge 5,000mAh battery — no need to worry that it'll run out of juice while you're taking photos and videos with your friends and family. vivo also added Multi Turbo 3.0 in the vivo Y20s, meaning your gaming sessions will only be smooth and lag-free.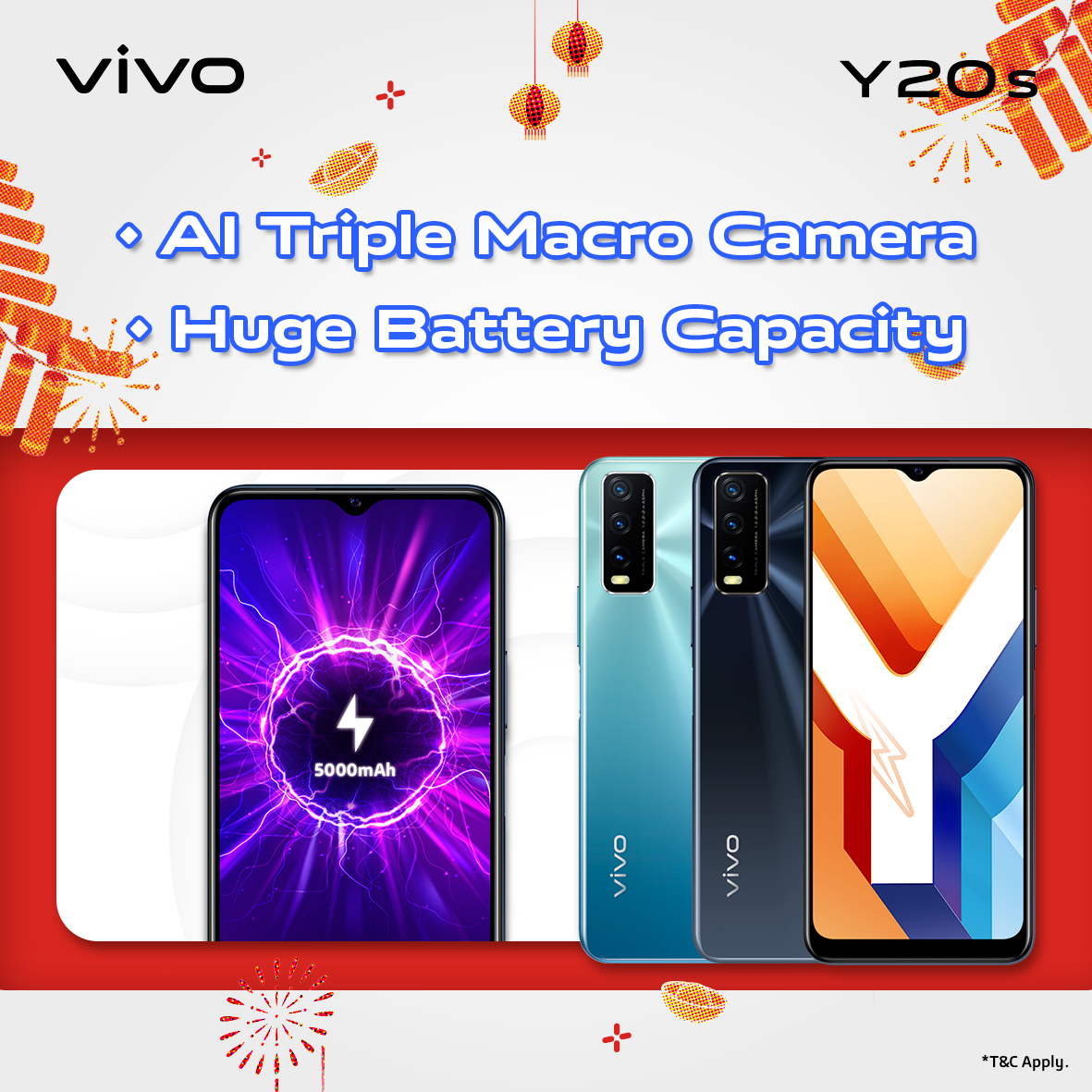 Once it's after the festive season, you can also depend on this phone to carry out your daily work tasks and without facing extra issues like hindered performance, bad connectivity and insufficient storage.
Tip #6: Spread the festive vibe through creative CNY greetings
The Year of the Ox made it easy for us to make puns with our CNY greetings. Whether you go with the traditional greetings or the new, creative ones, wishing others good fortune and happiness is always a nice deed.
If you want to get creative, here are some phrases from vivo Malaysia:
Wishing everyone…
Healthy Cow Cow
Bonus Cow Cow
Ang Pao Cow Cow
Love Cow Cow
Wallet Cow Cow
Chinese New Year Huat Cow Cow
Tip #7: Don't skip the Nian Gao (Glutinous Rice Cake)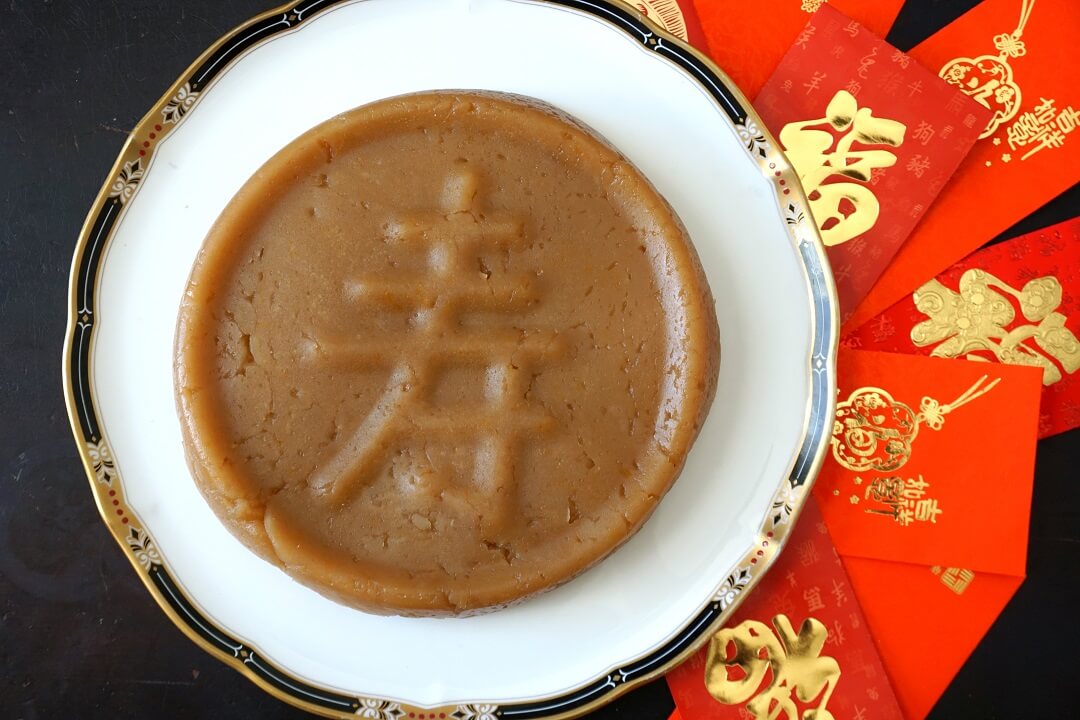 In Mandarin, Nian Gao represents growth — there's a phrase called "年年高升" that means growing each year, so eating Nian Gao is to hope for progression whether in personal growth, career or wealth.
Tip #8: Defeat the dark
Have you heard of the mythical beast named 'Nian'? In the past, it was said that Nian will come out during Chinese New Year to feed on crops, livestocks and humans themselves. The villagers soon discovered that the beast is afraid of the colour red and to prevent it from attacking, they would put red lanterns and light up fire crackers to that it's bright and loud.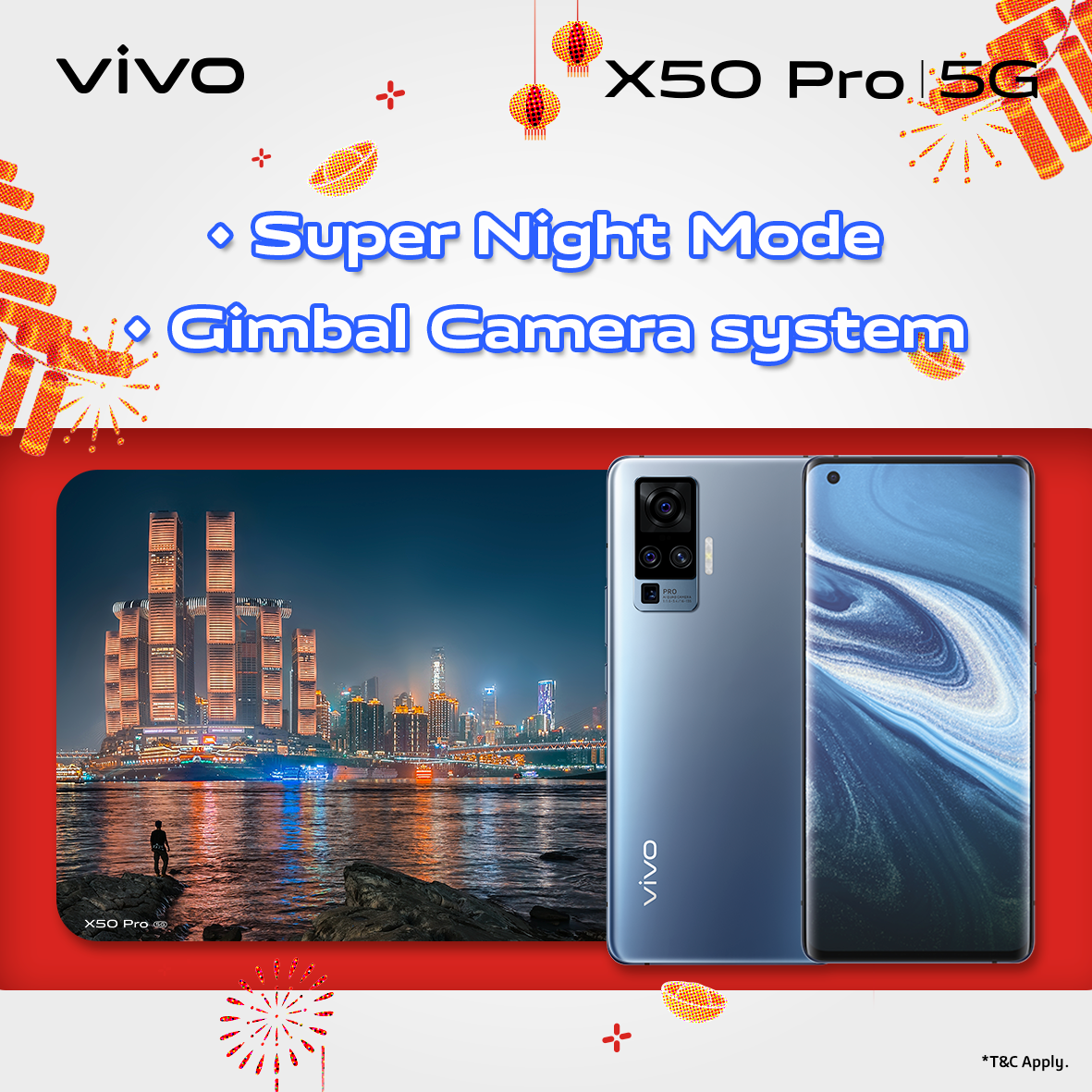 The moral of this story is to never give up; you will win the battle if you persevere. Just like how the villagers defeated the beast with bright lights, you can defeat the dark night with the vivo X50 Pro's Super Night Mode feature. Celebrating from dusk till dawn? The vivo X50 Pro is your best friend in snapping clear, memorable photos with your friends and family. Shooting videos is also not a problem; the X50 Pro has a built-in gimbal camera so shaky footages can be avoided.
Tip #9: Increase your fortune with lucky items!
We Chinese don't just depend on colours and numbers, we also believe there are certain items that will welcome fortune into your home. For example, a Golden Ox, a Fortune Cat, or even a Feng Shui Money Tree. It's more than just the symbol of fortune; getting these items can also spruce up your home and increase the CNY vibe.
Tip #10: Tangerines – the more, the better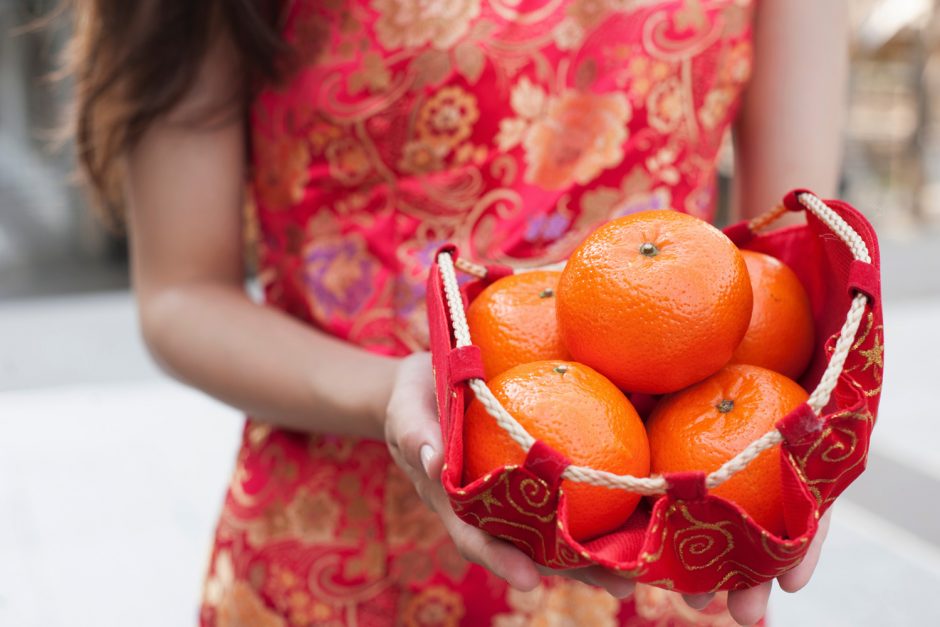 Tangerines, also known as mandarins, are the compulsory fruit to get during CNY. Unlike oranges, they can be peeled easily and are called "gold" in Mandarin. This auspicious fruit is believed to represent wealth, so the more you eat it, the more money you'll get in that year. You can also choose to gift others with tangerines as it symbolises giving them "wealth".
Tip #11: New year, new outfits
One of the traditions during CNY is to wear new clothes so you can discard your old (bad) luck and bring in new change and fortune. Remember tip #1, so make sure you get yourself some red outfits this CNY. You can also check your zodiac signs and find out what is your lucky colour in 2021 so you know what other colours to get for your new clothing.
Tip #12: Drink more water
Why? Well, you guessed it ­– water symbolises prosperity in feng shui. Flowing water indicates good income and water itself is associated with life. Needless to say, drinking water is a healthy habit, especially during CNY as most of us will end up snacking on lots of different Chinese delicacies. Remember, health is wealth.
Tip #13: It's time to refill your rice container
把米桶装满 – this translates to refilling your rice container, but it also means filling up your wealth. In the olden days, doing this is interpreted as having food for the rest of the year; it's a blessing for folks back then to have their rice container full.
Tips #14: Spending time with your precious family.
Another important aspect of Chinese New Year is "团圆" (unity). Spending time with your loved ones is one of the many ways to guarantee good fortune, but it's also about creating memories with the ones who matter.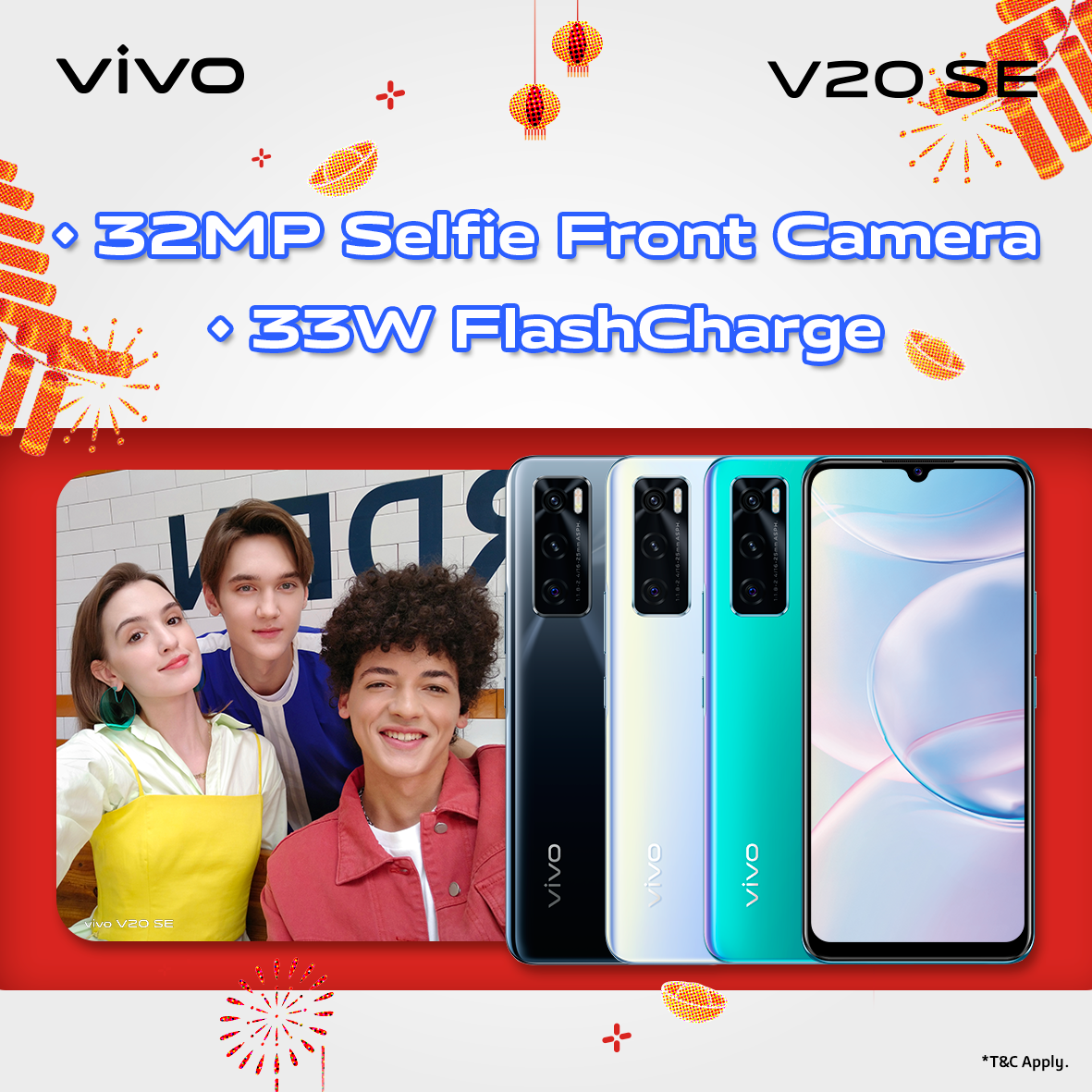 The best way to treasure this memories is to turn them into moments you can relive; the vivo V20 SE series offers great cameras for this purpose. Not only does the vivo  V20 SE has a 32MP front camera to let you take beautiful selfies with your family, but it also has a Super Night Mode when you need it at night. In addition to that, it comes with 33W Flash Charge technology so you can quickly charge your phone and continue capturing memories with your friends and family.
If reading all the tips above has been tedious, vivo put them all in a list in its latest video, "CNY HUAT COW COW 2021". Spread the joy with those who matters and get a limited-time offer to get yourself a vivo X50 Pro and V20 SE.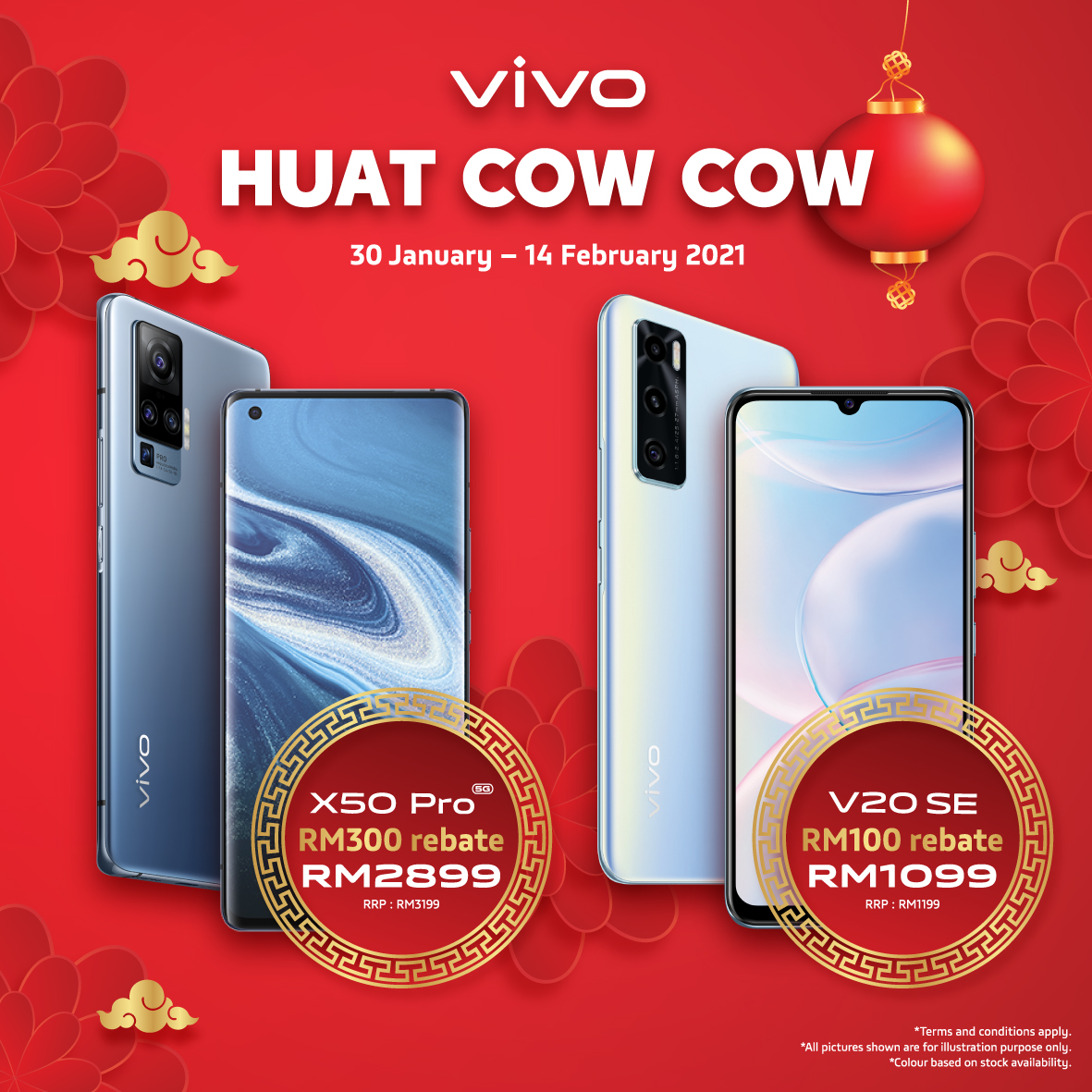 Originally priced at RM3,199 and RM1,199, the vivo X50 Pro and V20 SE can now be yours at only RM2,899 and RM1,099 respectively. What better way to spend your angpao money than to get yourself a pretty phone with great performance?
Purchase these phones from any vivo concept stores, vivo's official site and vivo's official stores on Shopee Mall and Lazmall.