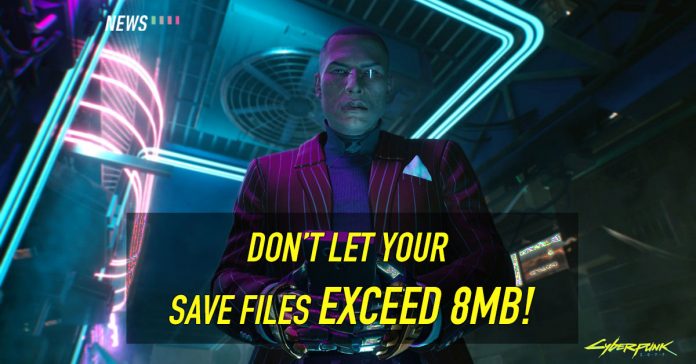 Cyberpunk 2077 is not off to a great start; the game has been so buggy that developer CD Projekt has withdrawn the game from the PlayStation Store. However, a new issue has surfaced — many players whose save files are above 8MB complained that the files are now corrupted.
Cyberpunk 2077 players are flooding the internet with complains
PSA: [STEAM/PC] crossing about 6 mb in your save files will cause your game to take 30 seconds to 1 minute to load. Crossing 8 mb will cause your game file to corrupt and not be able to load at all. DO NOT CRAFT TO MAKE MONEY from r/cyberpunkgame
Users have been bringing up this issue on both Reddit and CD Projekt's forum; one Reddit user said that crossing the 6MB mark will cost the game to take longer load while crossing the 8MB limit will cost the game to corrupt — those on the forum also spoke of the same issue. Unfortunately, there is no solution yet as GOG.COM's support centre asks Cyberpunk players to "keep a lower amount of items and crafting materials" as these are the things that increases the save file size.  
Once your save file is damaged, there's no turning back

Players are also told that the damaged file cannot be recovered and to use an older save file instead. To make it worse, even if the future patch increases the save file size limit, corrupted files will remain the same and cannot be retrieved. If you're one of the unlucky ones, you should see the image above when your file is corrupted.
CD Projekt has to overcome numerous hurdles
This is only one of the many problems concerning the game. CD Projekt may be sued by its investors for "misleading information." In addition to that, The New York Times reported that the company's stock has reduced by 41% and as we've heard recently, Sony and Microsoft are offering refunds to those who are dissatisfied with the game.