ASUS has just launched three new lineups their laptop offerings which pack the newest 11th-Gen Intel Core CPUs.  
ZenBook 13/14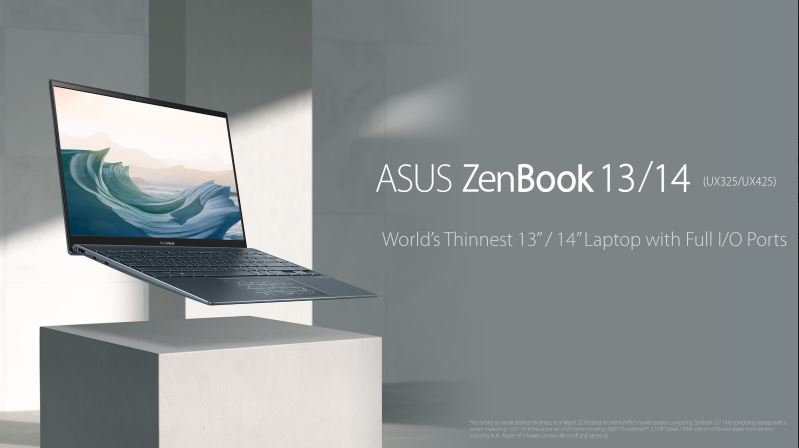 The premium end of the spectrum is filled by the ZenBook series and both models come up to an Intel Core i7-1165G7 CPU. There's 8GB of 3,200Mhz DDR4 RAM, and up to 512GB of PCIe NVMe SSD storage. For graphics, you get the capable Intel Iris Xe. 
The laptop comes with a 4-sided NanoEdge display, which basically means really thin bezels around the panel. Both laptops have a thickness of just 13.9mm while the 13-inch model weighs 1.07KGs, and the 14-inch laptop is 1.13KGs.  
With its slim body, ASUS is calling these devices the world's thinnest laptops with full I/O ports; and ther is a decent selection – 1x USB 3.2 Type-A, 1x Thunderbolt 3 Type-C, 1x Thunderbolt 4 Type-C, 1x HDMI, and 1x microSD card reader.  
Another feature touted by ASUS is the AI noise-cancelling audio input and output features which includes a ClearVoice Speaker which uses AI to filter out ambient noise in both upstream and downstream scenarios. There's also far-field normalization which optimizes the volume of a person's voice in relation to their distance from their recording device. 
The ASUS ZenBook 13/14 laptops are available in Pine Grey and Lilac Mist. 
VivoBook

 S15 and 

VivoBook

14/15
Moving on, ASUS' midrange options get the 11th-Gen Intel treatment too with both the VivoBook S15 and VivoBook 14/15 laptops getting the same Intel Core i5-1135G7 CPU. The laptops also get up to 8GB RAM and 512GB of storage via a PCIe NVMe SSD. The difference is that the S15 comes with the Intel Iris Xe graphics, while the VivoBook 14/15 can be equipped with up to an NVIDIA MX350 GPU. 
The VivoBook laptops come with a FHD IPS panel with ASUS' NanoEdge display design too. The keyboards are backlit and sport a unique yellow accent on the Enter key for extra flair.  
When it comes to I/O ports, you're looking at 2x USB 2.0, 1x USB 3.2 Gen1 Type-A, 1x Thunderbolt 4 USB-C, 1x microSD card reader, and 1x 3.5mm audio jack for the S15 laptop; the VivoBook 14/15 laptops also pack plenty of ports which also include up a headphone jack. 
These laptops too come with ASUS' AI noise-Cancelling technology and the brand's Intelligent Performance Technology which lets users tweak performance outputs on their devices, which in turn determine the noise levels produced as well – so should a user need the laptop to be quiet, Whisper Mode should be enabled, while Performance Mode should be preferred for recourse-heavy tasks. 
When it comes to colours, the VivoBook 14/15 comes in Hearty Gold, Transparent Silver (not actually transparent), and Indie Black; while the  VivoBook S15 comes in Indie Black, Gala Green, Resolute Red, and Dreamy Silver. 
The ASUS ZenBook series is priced from RM3,999 for the Core i5-1135 model, and RM4,699 for the Core i7-1165 version. The VivoBook S15 is priced from RM3,399 for the Core 15-1135 model, while the VivoBook 13/14 series will set you back at least RM3,099 with the same CPU. 
Visit ASUS's website here to learn more about these new laptops, and to find out where to purchase.