It's all about value when it comes to buying a new smartphone – besides just getting the best device for, within your budget, value also means getting the best deals to go along with your new smartphone. It's just being a smart consumer!
Digi's refreshed PhoneFreedom 365 plan epitomizes everything a smart consumer looks for – it gets you more savings by offering a discount on your phone while also making your data plan cheaper.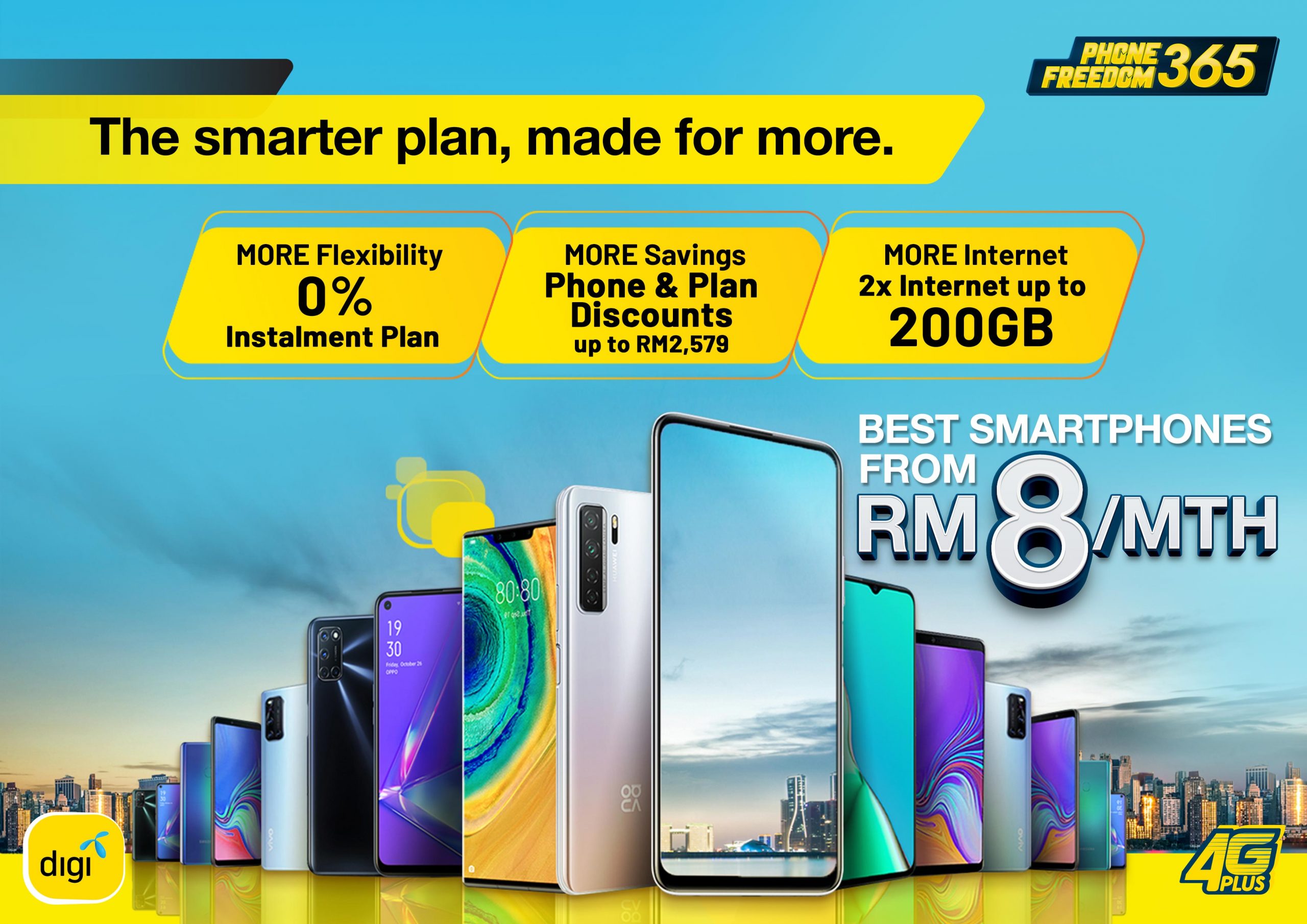 But how much savings are you getting to be exact? For starters, you can get a brand-new phone for as low as RM8! Uh-huh, pinch yourselves. The list of phones includes the iPhone 6s, Samsung Galaxy A21s, and OPPO A53!
It gets even better though because it's not just the phones that are going for cheap, but Digi's reliable postpaid plans are too! Anything from Digi Postpaid 120 and up gets discounted.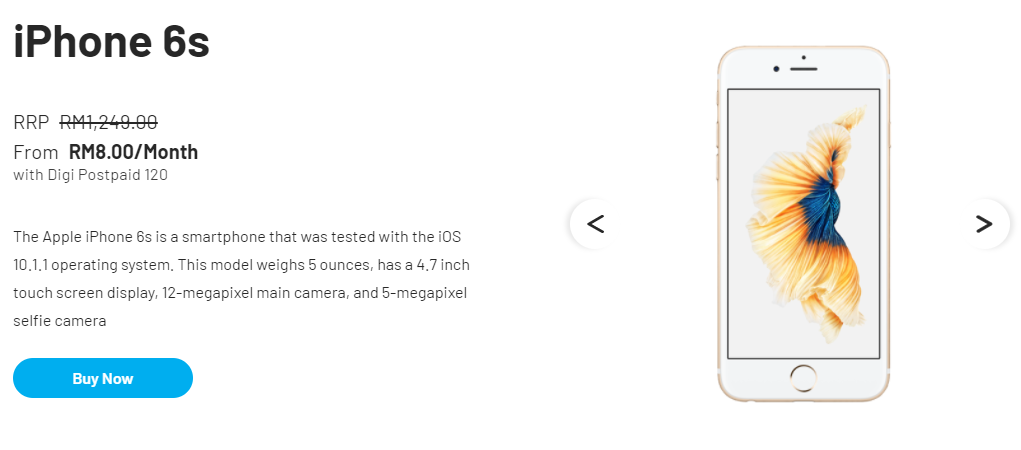 So, combine an RM8 smartphone with at least the Digi Postpaid 120, and you'll get one heck of a deal. Take for example the iPhone 6s – it retails at RM1,249, but because you're paying RM8/month for 24 months, the phone only costs a grand total of RM 192! You're saving a whopping RM1,057 on your smartphone! Do note that this applies to those eligible for the RM0 upfront device payment deal.
Plus, it's savings galore from here – your Digi Postpaid 120 plan is now rebated to just RM105/month (RM360 after 24 months) – meaning you're essentially saving a massive RM1,417 on both your new phone and data plan!
But wait, there's more – the bigger your data plan, the bigger your discount! Digi Postpaid 160 will see you save RM480 after two years, while Digi Postpaid 190 will save you RM600 when the contract ends. To add to the value, you're also getting a whopping 200GB of high-speed internet when you sign up for the Digi Postpaid 190 plan! Have a look at the table below for a clearer picture of what's in store:
| | |
| --- | --- |
| Digi Postpaid plan with PhoneFreedom 365 | Total Plan Savings |
| Digi Postpaid 120 (RRP RM120) | RM15/month rebate – total savings of RM360 after 24 months |
| Digi Postpaid 160 (RRP RM160) | RM20/month rebate – total savings of RM480 after 24 months |
| Digi Postpaid 190 (RRP RM190) | RM25/month rebate – total savings of RM600 after 24 months |
All that money saved is enough to buy you a new phone – but you don't have to because, with PhoneFreedom 365, you can upgrade to a new device for free after your 18th month with your current contract.
So why Digi, right? Other telcos offer smartphones from as low as RM1 like Maxis, or RM0.99 with U Mobile. Well, Digi offers the biggest savings compared to the other big players so you don't break the bank when you a powerful flagship like the Samsung Galaxy Note 20 Ultra 5G! Here's a breakdown to show you how Digi differs from the rest:
If you're not convinced yet, PhoneFreedom 365 is open to anyone – including existing users and new customers alike. Plus, Digi's RM1 deal lets you add–on subscriptions to Viu, Dimsum, and more for, well…RM1!
If you sign up for Digi Postpaid 160 and Digi Postpaid 190, you're also entitled to free Digi Shield coverage which is an accidental and liquid damage warranty program which covers you for up to two years.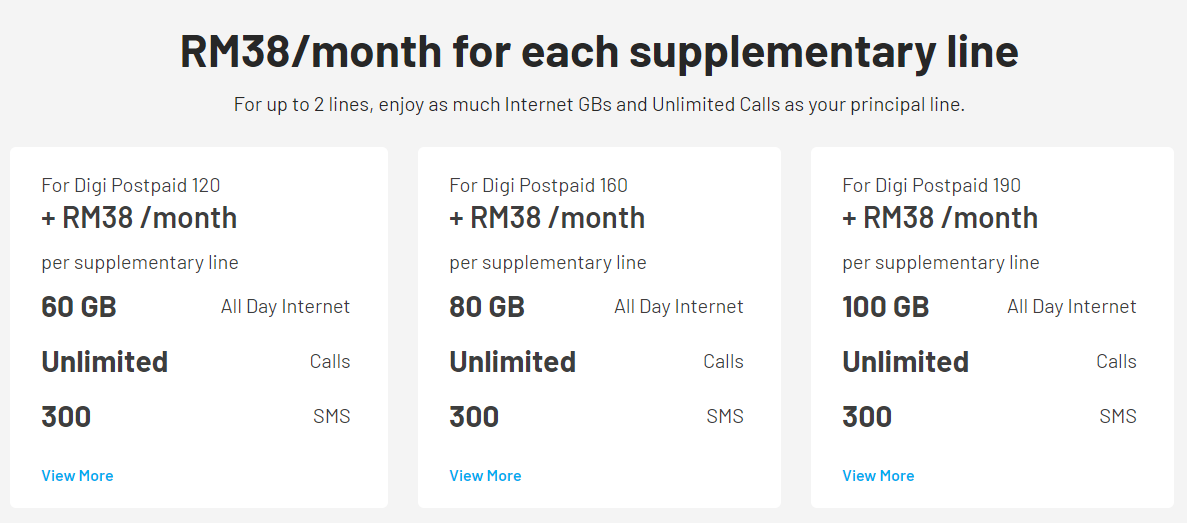 Since you're rocking all that data and watching your favourite oppa on Viu, don't be surprised if your family gets jealous – perhaps you could appease them by giving them the same amount of internet you have for just RM38! The only catch is that they need to be a supplementary line holder.
If Digi's offerings have got you drooling for a brand–new phone and a data plan upgrade, visit their website here to learn more or to sign up.