Digi has introduced the new-and-improved Digi PhoneFreedom 365 offering which now promises more savings and more internet. 
Own a new phone for less

 
Enjoy rebates when you get the latest smartphone of your choice and bundle it with at least a Digi Postpaid 120 plan; this guarantees you a total of RM360 in savings on the plan itself! The deal applies to plans up to Digi Postpaid 190 which gets you a total of RM600, which is massive! 
Digi Postpaid plan with PhoneFreedom 365
Total Plan Savings

Digi Postpaid 120

RM360

(RM15 discount per month for 24 months)

Digi Postpaid 160 

RM480

(RM20 discount per month for 24 months)

Digi Postpaid 190 

RM600

(RM25 discount per month for 24 months)
That's just for the data plan, but when you also take into account the cost of the device, you also stand to get more savings! Take for example if you get the new OnePlus Nord, your monthly instalment for the phone is only RM68 after discount, meaning after your two-year contract, you're only paying RM1,632 instead of the full retail price of RM2,399! You also have to take into consideration there are no upfront payment charges when you sign up too! 
Free phone upgrade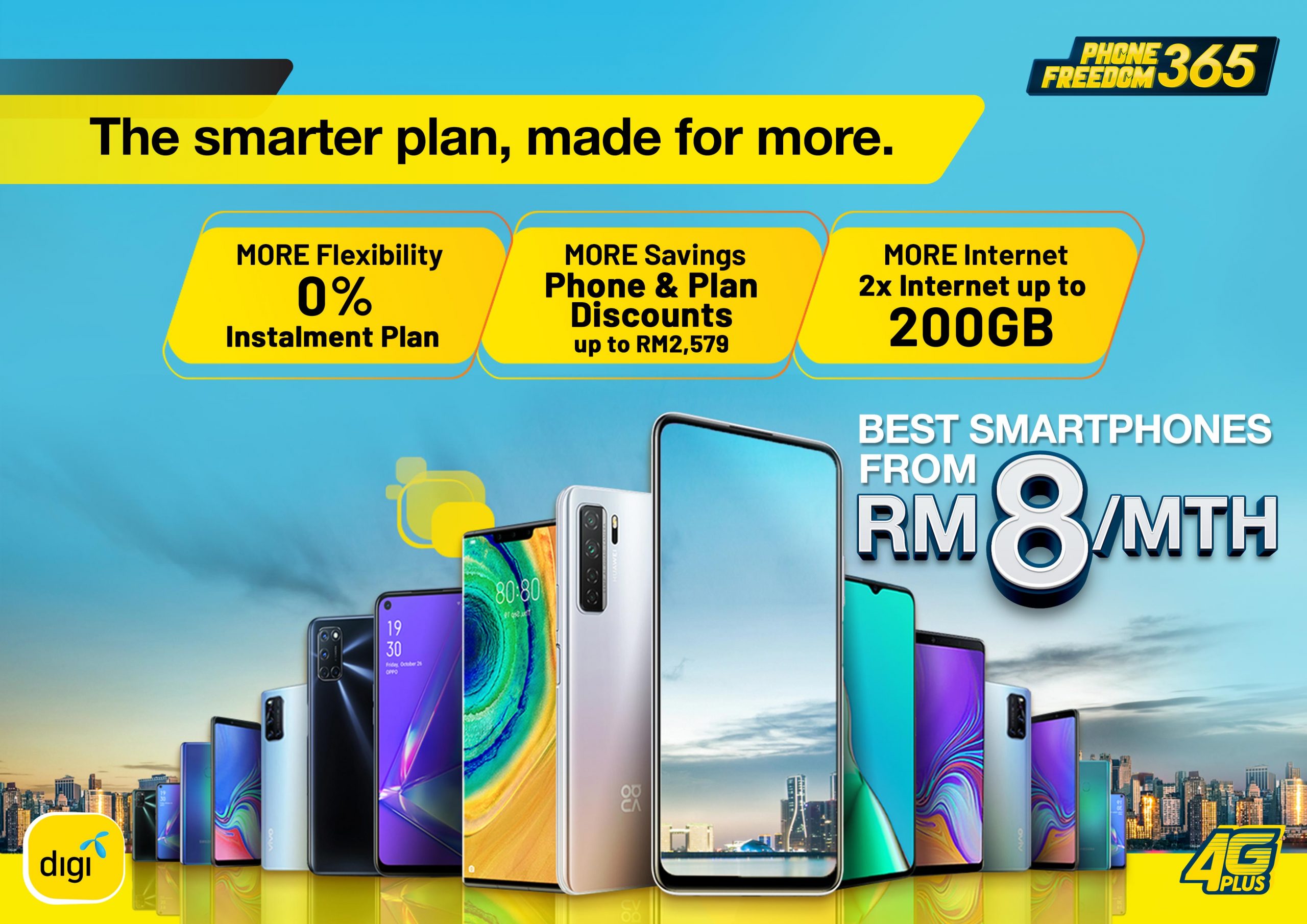 As usual of PhoneFreedom 365, you can also get a free phone upgrade when you're on the 18th month of your current PF365 contract. On top of that, users who subscribe to the Digi Postpaid 160 and Postpaid 190 plans are also protected with Digi Shield, a device damage warranty program which covers you for two years. 
More goodies for subscribers

 
Customers who subscribe to PhoneFreedom 365 will enjoy double the internet and can sign up for services like Viu, Mubi, and Dimsum from just RM1 through the Super RM1 deals. Get your family members signed up with Digi and they can also enjoy the same amount of internet as you with just RM38 for a supplementary line. 
Visit Digi's website here to learn more about the new PhoneFreedom 365!