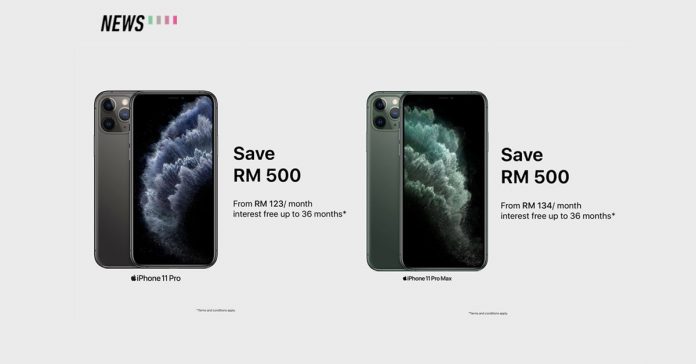 The new iPhones will be out this year — if it's not further delayed — but if you can't wait to get a new iPhone for yourself, the iPhone 11 Pro and 11 Pro Max are currently on sale for RM500 less.
The iPhone 11 Pro starts at RM4,899 while the bigger model starts at RM5,299. However, you can now get these flagship phones at discounted prices and also via instalment plans. 
0% interest instalment plans
To get the iPhone 11 Pro and 11 Pro Max via Switch's Easy Payment Plan (EPP), you'll need a credit card from the following banks:
CIMB
Citibank
Hong Leong Bank
HSBC
Maybank
Public Bank
RHB
Standard Chartered

 

UOB
Depending on the bank you choose, you'll be able to pick instalment plans from six months to 36 months; some banks will also require PWP (Purchase with Purchase).
iPhone 11 Pro & iPhone 11 Pro Max (discounted price)
At the time of writing, all the storage configurations for both models are available. These are the discounted price for each model:
iPhone 11 Pro
64GB: RM4,399
256GB: RM5,099
512GB: RM5,999
iPhone 11 Pro Max
64GB: RM4,799
256GB: RM5,499
512GB: RM6,399
The iPhone 11 Pro and 11 Pro Max can be purchased at any Switch outlet or online. Check out Switch's Facebook page to find out more.