Today's telco plans are all about unlimited internet and the same goes for U Mobile; the telco company recently improved its Giler Unlimited GX30 and GX38 prepaid plans to come with more internet quota and higher speeds. 
Giler Unlimited GX30 & GX38: 2x internet speed, 2x hotspot quota

These upgrades will be effective from June 12 onwards with no additional charges. U Mobile doubled the amount of internet speed for the GX30 plan — the speed limit is now capped at 6Mbps. On the other hand, the GX38 plan will be reduced to RM35/month and offers unlimited calls to all networks. U Mobile also bumped up the hotspot quota from 3GB to 6GB for both plans.
U Mobile vs Hotlink vs Celcom Xpax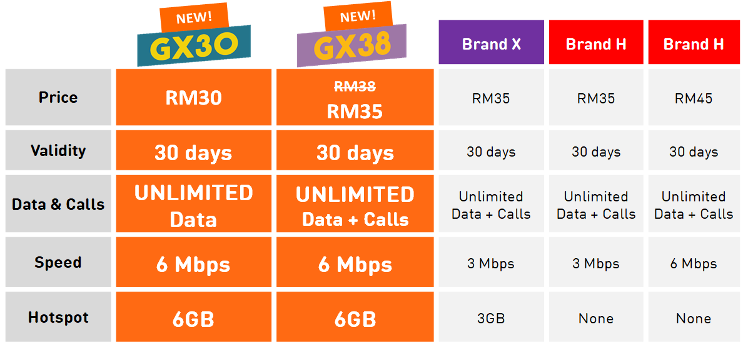 The only reason why one plan is pricier than the other is that it offers unlimited calls. If you're someone who often makes phone calls, then the GX38 is the prepaid plan to go for. Compared to the Hotlink Prepaid Unlimited and Celcom Xpax Truly Unlimited prepaid plans that were released recently, U Mobile's GX30 and GX38 plans offer higher internet speed capped at 6Mbps. Hotlink does have another prepaid plan that offers 6Mbps internet speed, but it will cost you RM45/month.
Data Booster 5
If the U Mobile prepaid plans aren't enough, you can also add on Data Booster 5 to get 10GB of high-speed data at RM5 — this is valid for two weeks. In addition to that, U Mobile is giving out GoInsure 3 — Personal Accident insurance that covers COVID-19 — for free to all eligible prepaid and postpaid U Mobile users who are either Malaysians or Permanent Residents.