The iOS 13.5 update introduced a host of useful additions including COVID-19 exposure notification and faster unlock when the user is wearing a mask. The software update also brought along with it a security flaw that allowed iPhones to be jailbroken within days of its rollout. 
Fixing the problem
In response, Apple is pushing out a major update the in the form of iOS 13.5.1 in order to patch the issues. As we reported earlier, the high-profile vulnerability was discovered by the Unc0ver team and it's said to allow people to add exceptions to existing security rules.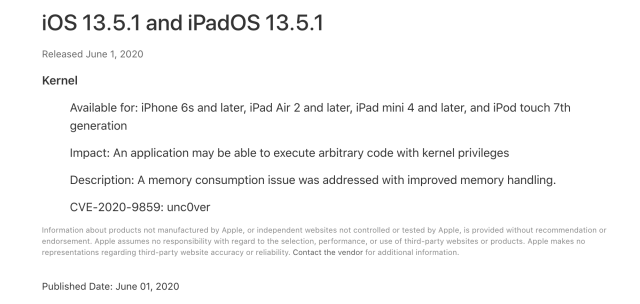 Learning from mistakes
This, of course, also means people can exploit the jailbreak for malicious purposes. In 2015, a whopping 225,000 jailbroken Phones were hit with a malware attack that stole AppleID accounts, personal data, App Store purchasing information and more.  
The good news is at this point, many people understand the risks of jailbreaking their iPhones and are likely to not do it – those who do probably know what they're doing too.       
The iPadOS 13.5.1 update will also be released at the same time to address the same issue but on Apple's tablet devices. The updates should arrive soon, so keep an eye out and patch your device as soon as you can.