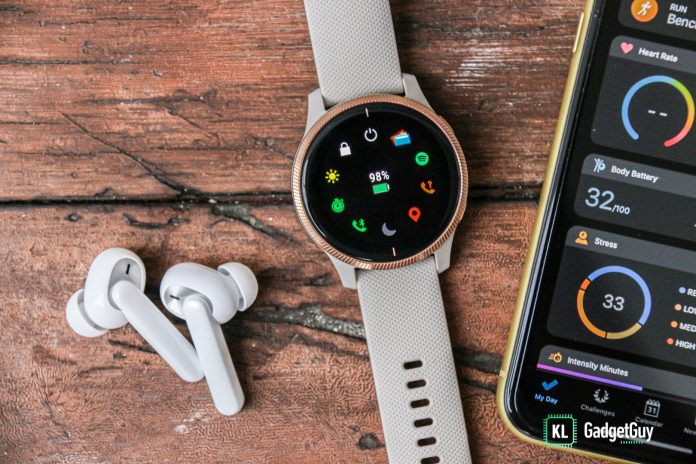 I wasn't a fan of wearing watches but since I picked up a fitness tracker two years back, I never looked back. I enjoyed tracking my heartbeat when I work out, checking notifications without taking out my phone but most of all, the feeling of accomplishment when I see the calories burned or when I've achieved the goals I've set. This time, I got to check out the Garmin Venu – Garmin's first smartwatch with an AMOLED screen.
Design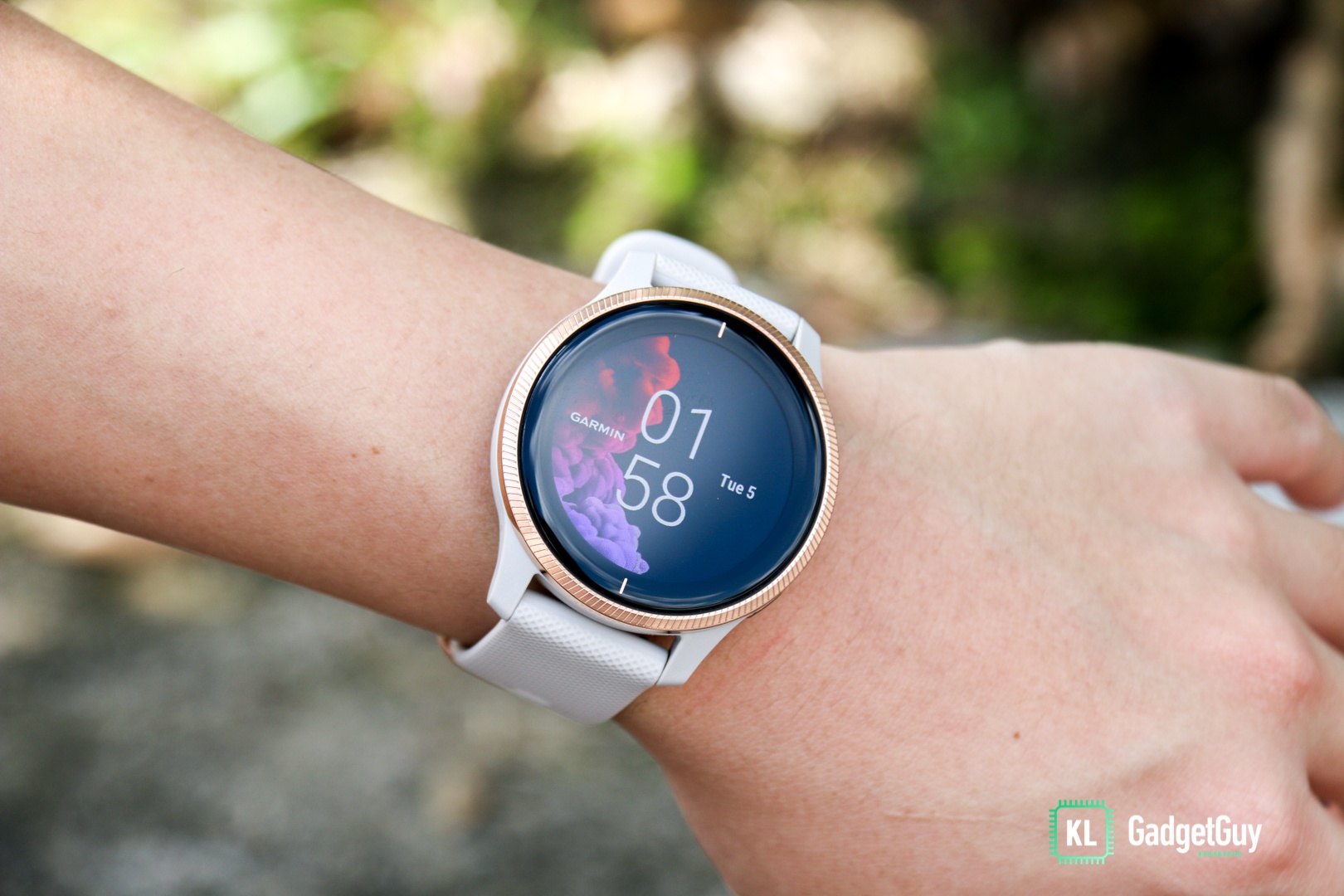 The Garmin Venu is no doubt a pretty smartwatch. The rose gold case paired with the light sand strap is an elegant combo and really makes the display stand out. Of all the color variants offered, this color combo is the one I prefer the most. Despite being aesthetically pleasing, I find the Garmin Venu less comfortable to wear compared to my previous smartwatch, the Fitbit Versa 2. It doesn't feel as lightweight as the Versa 2 and I find myself wanting to remove the watch every few hours just to let my wrist "take a break". Being a clumsy person, it's reassuring that the watch comes with a Corning Gorilla Glass 3 and a 5 ATM water-resistance so I don't have to worry about dropping it by accident or getting it wet when I do the dishes.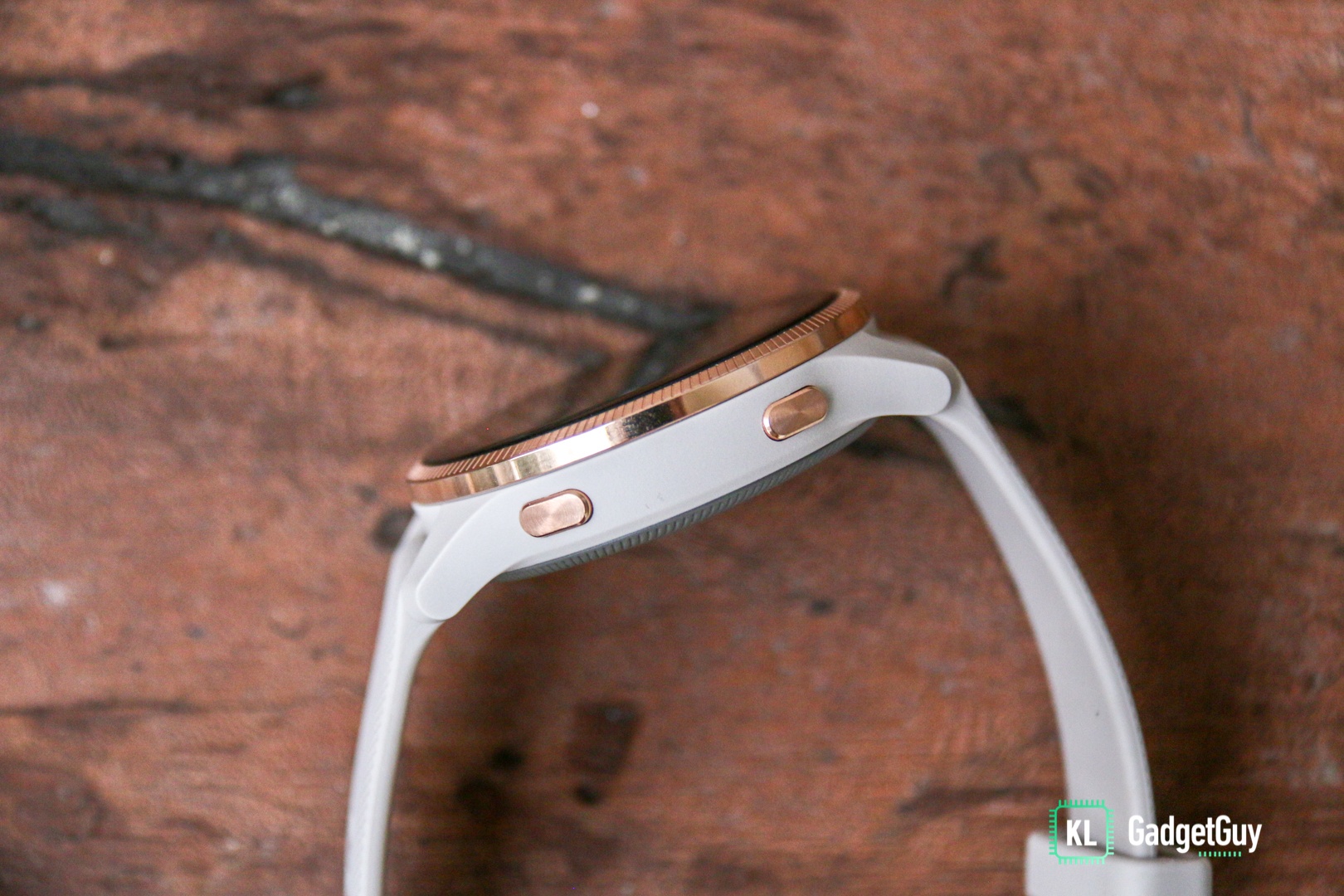 The smartwatch also comes with two buttons which are fairly easy to get used to. The top button brings you to the menu when you press and hold while the lower button leads you to the settings. If you tap on the lower button, it'll also function as a 'back' button. However, apart from the menu and settings, everything else can basically be controlled via the touch screen. You can even swipe right on the display to go back to the previous screen.
Display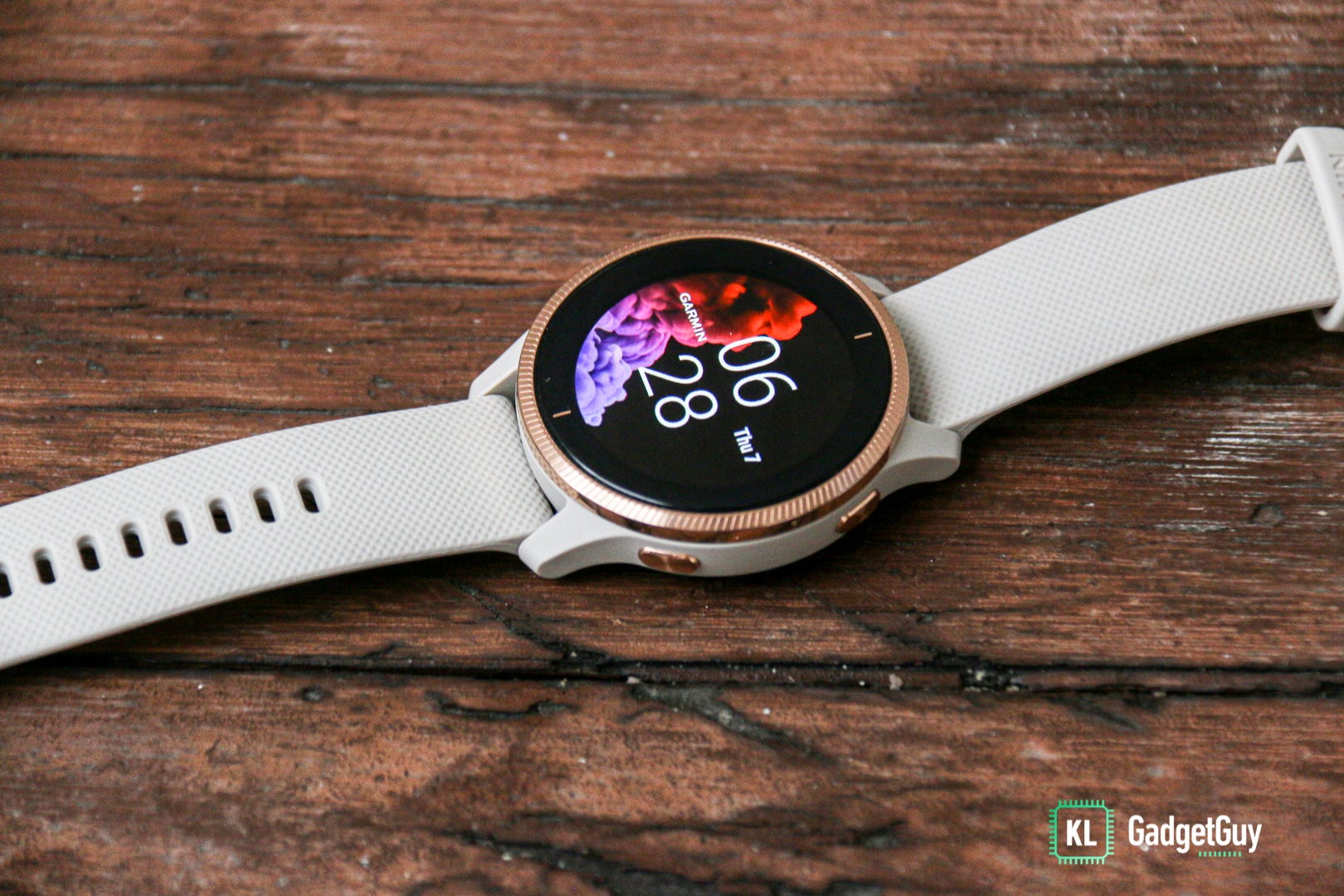 The AMOLED display on the Garmin Venu has both pros and cons. The display has vivid colors and animations are really sharp and pleasant to the eye, but it can be a bit too bright at night – even with its lowest brightness. At first glance, I thought that the display was quite large but after a while, I realized that the bezels are obvious, but at least it's thinner than the one on the Versa 2.
The touchscreen optimization can also be improved as I notice that it'll sometime lag when I scroll through the features. I also needed some time to get used to navigating between all its functions since it's my first time, so I wouldn't say that its UI is user-friendly. The Garmin Venu also has an always-on display but I preferred to switch it off to preserve its battery life. To put it simply, the AMOLED display is more of a bonus feature than a necessity.
Battery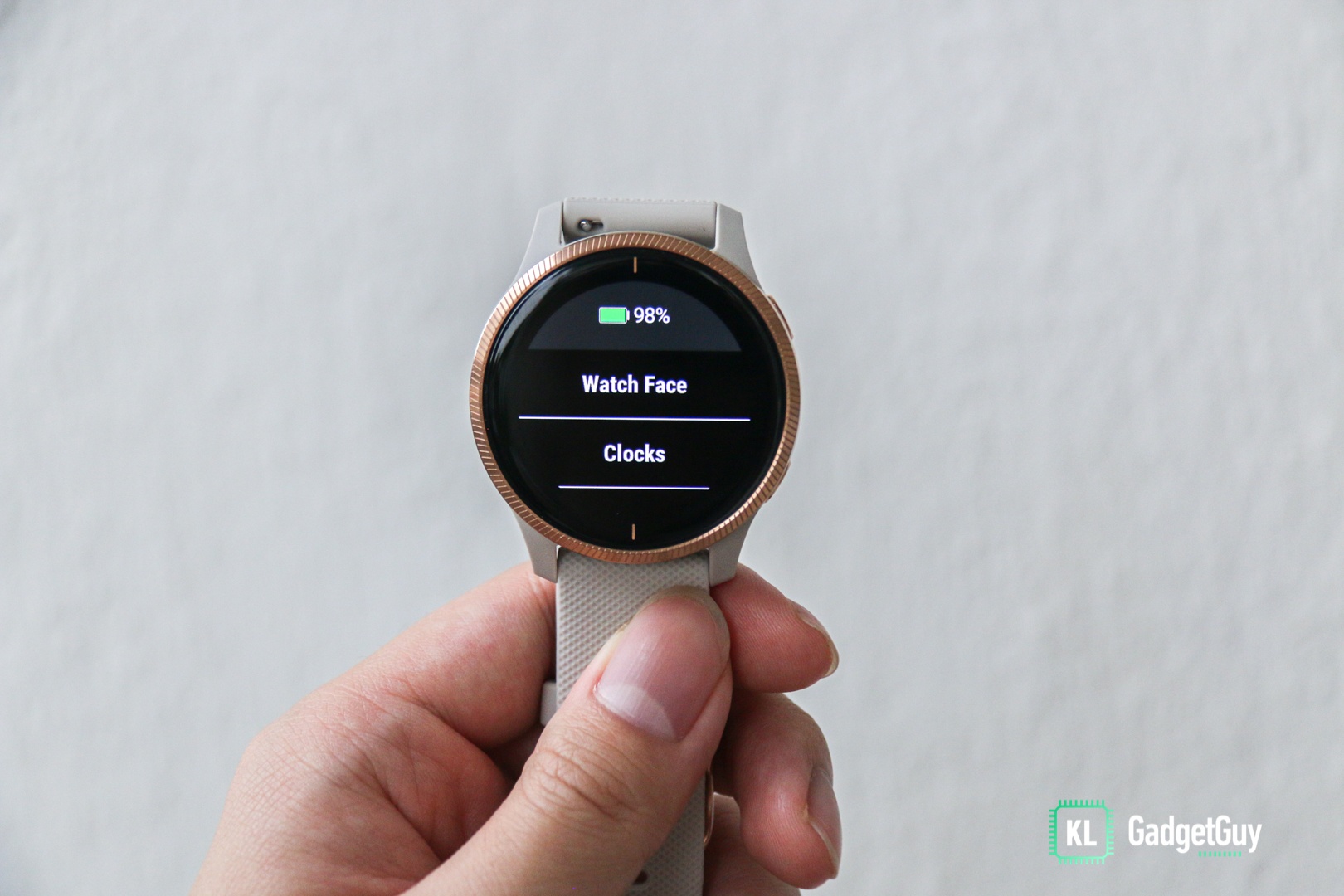 I'd like to jump straight to the battery because I figured it's an important purchasing factor for most. Even though Garmin decided to use an AMOLED panel on this smartwatch, the battery life is still impressive. It can last about five days – comparable to the Versa 2 – and that's more than what any of the Apple Watches can offer. If you turn on the always-on display, the battery quickly depletes and can last you around two to three days at most – depending on how you use it. It only takes a little over an hour to charge this device and though this might not be a big deal to most, I like that the Garmin Venu charger is small and easy to carry around.
Health Features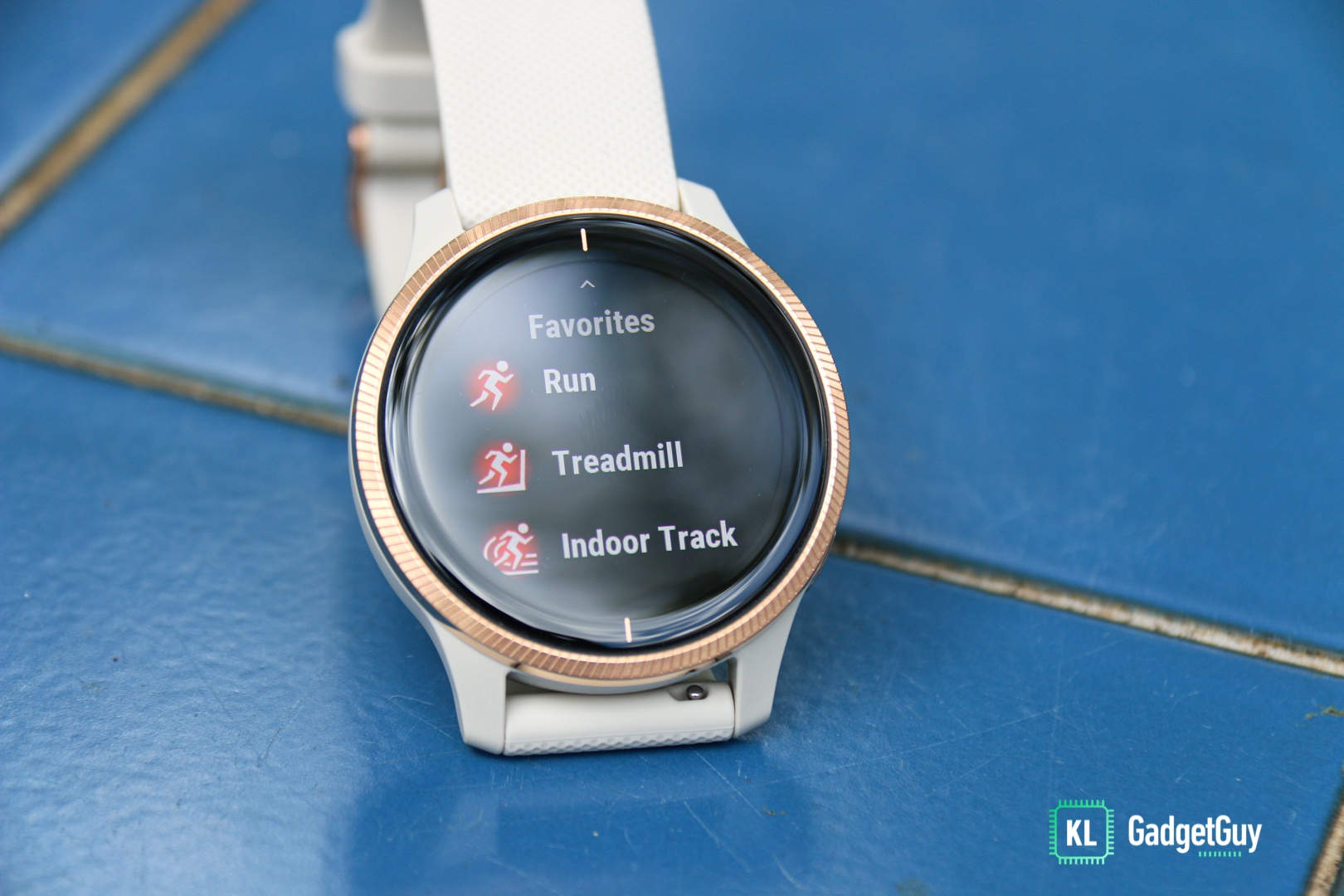 The Garmin Venu comes with many health and fitness tracking features, but my favorite one is the stress tracking feature. It keeps me aware of my stress level and when it is high, the watch advises me to take a break and do some breathing exercises. It's a love-hate relationship, really; I love keeping track of my stress level, but I also become more restless when my stress level is high.
Another feature I enjoy is the body battery that tells me how much my body battery is charged and drained. It allows me to determine what activities cause my body batteries to drain quickly so I can balance out my tasks throughout the day without over-exhausting myself. I must say though, first-timers might find all these a bit confusing. The data and terms are quite technical so some may have to Google to find out what these features are really about.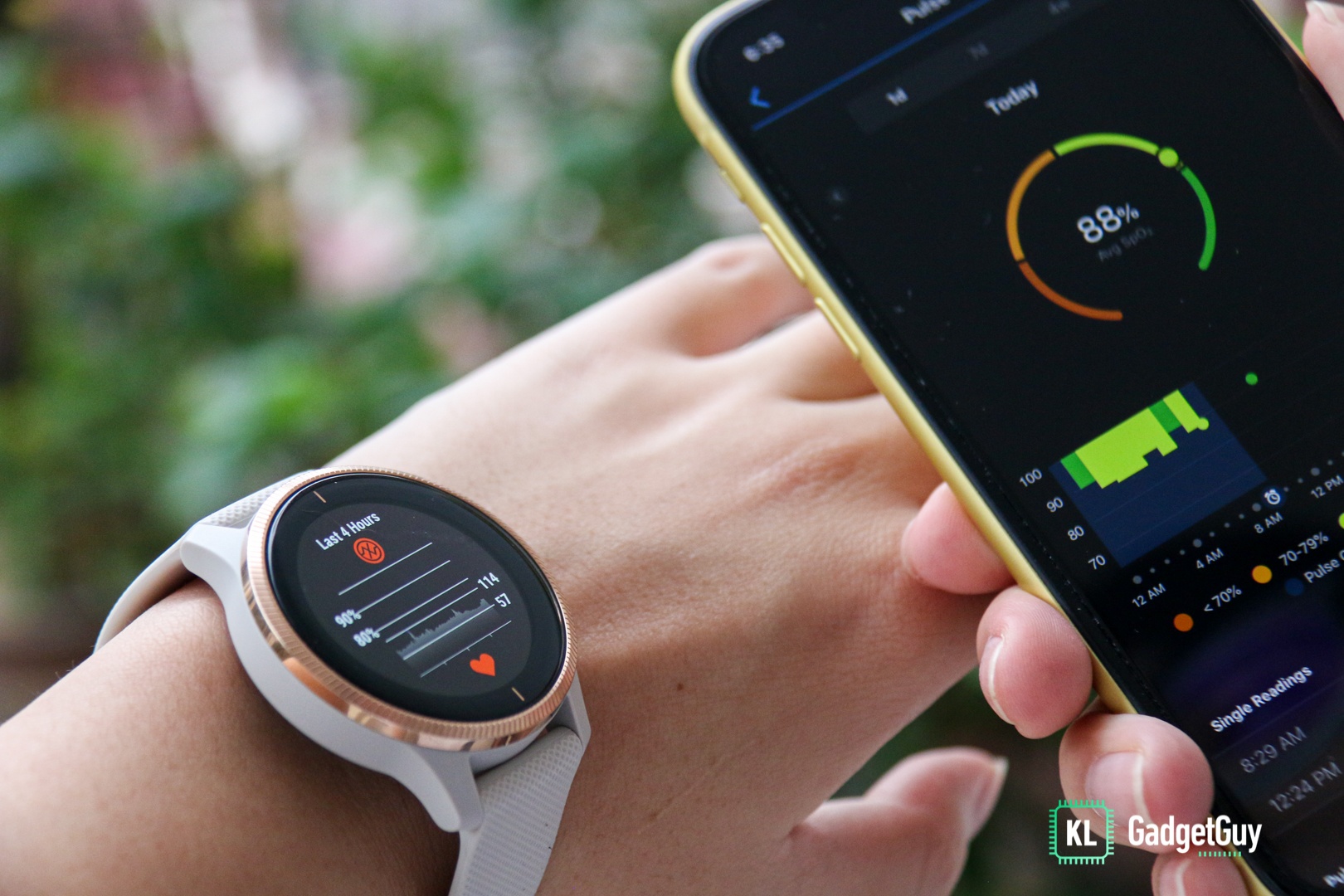 The Garmin Venu is an advanced fitness tracker/smartwatch, so for those who don't need advanced features, the Garmin Venu is a bit over the top. For example, the Pulse Ox monitor that measures your blood oxygen level. This feature is more important to those with chronic health conditions such as asthma, chronic obstructive pulmonary disease and etc. to determine if their treatments are working or in case of sudden fall in their bloody oxygen level.
Apart from the features I've mentioned above, this watch offers tracking for your sleep, water intake, calorie intake, and for females, your menstrual cycle.
Fitness Tracking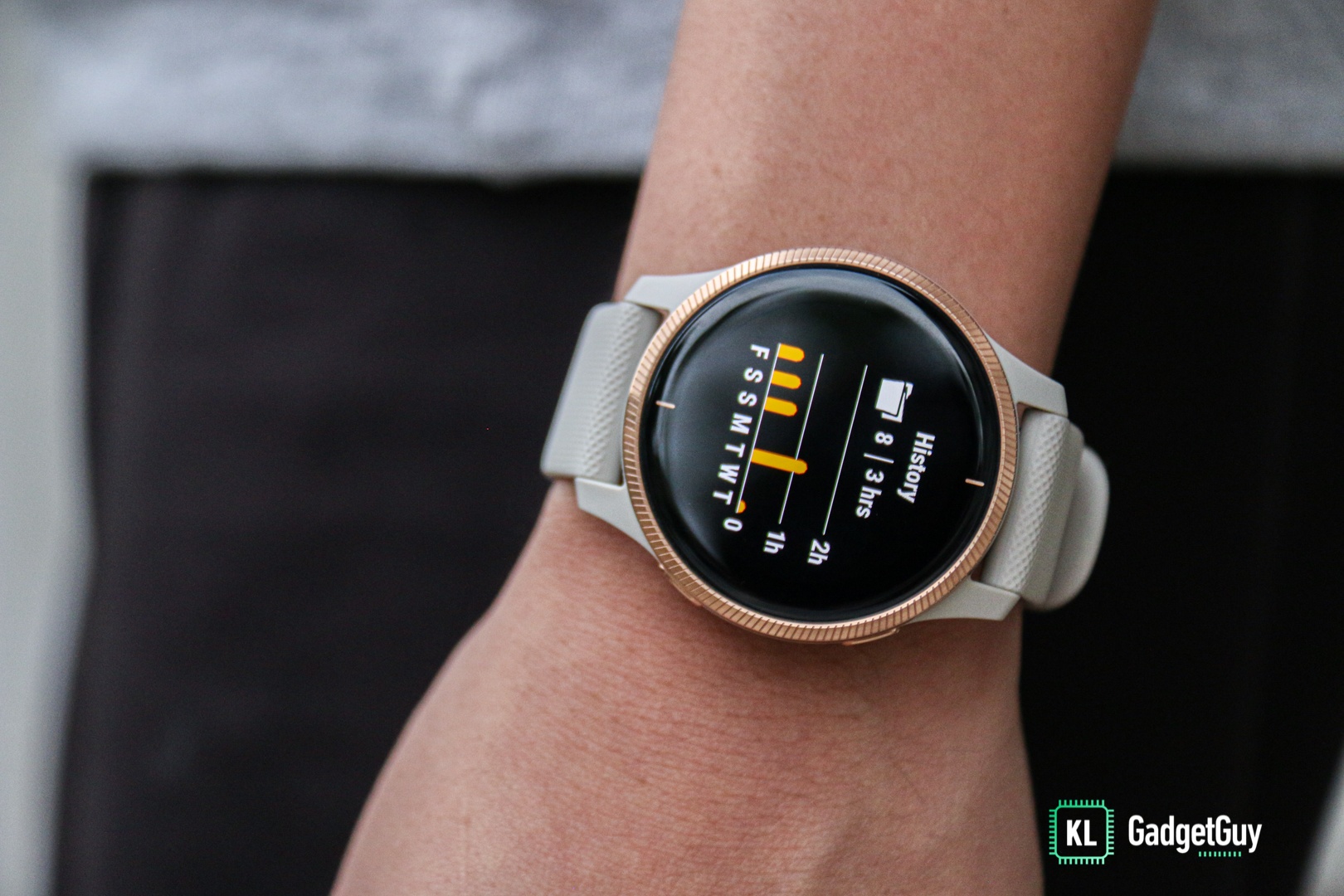 As for its fitness tracking, the Garmin Venu offers a number of activities for you to pick from such as yoga, pilates, strength training, running, indoor tracking and more. You can use the watch to track how many sets of exercises or how many yoga poses you've done by the end of the session. One thing I wished Garmin has included in this smartwatch is auto-detection for workouts. It's one of the more important features to me as I tend to forget to log my workouts.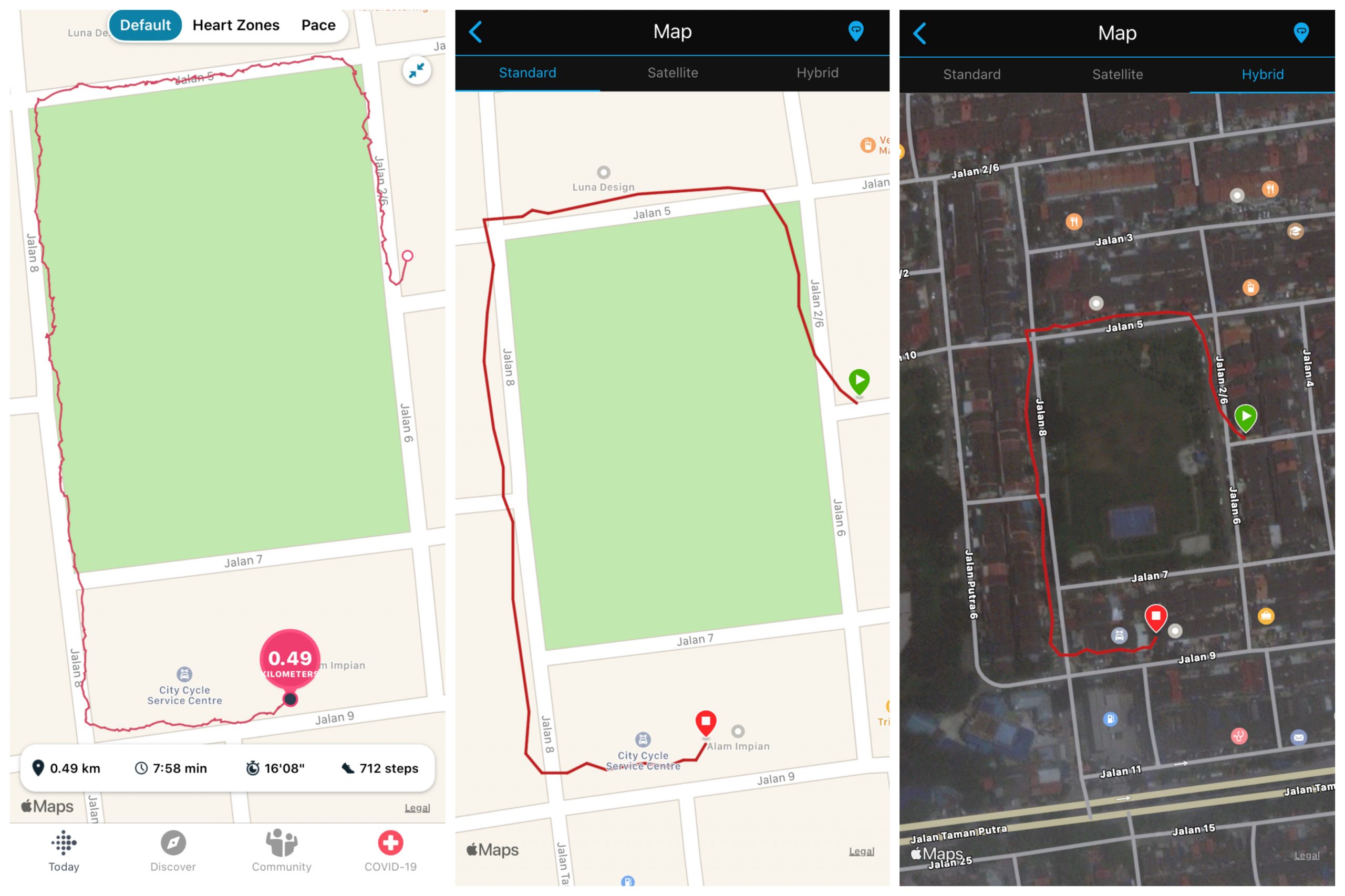 The Garmin Venu has an in-built GPS, meaning I get to track the distance when I'm out running or cycling, but it isn't as accurate as I've expected. I wore both the Garmin Venu and Fitbit Versa 2 and went for a walk around my neighborhood and the devices had a 0.03km difference. If we look at the hybrid map, the Garmin watch clearly shows that I've been walking through houses instead of being on the road.
Smartwatch Features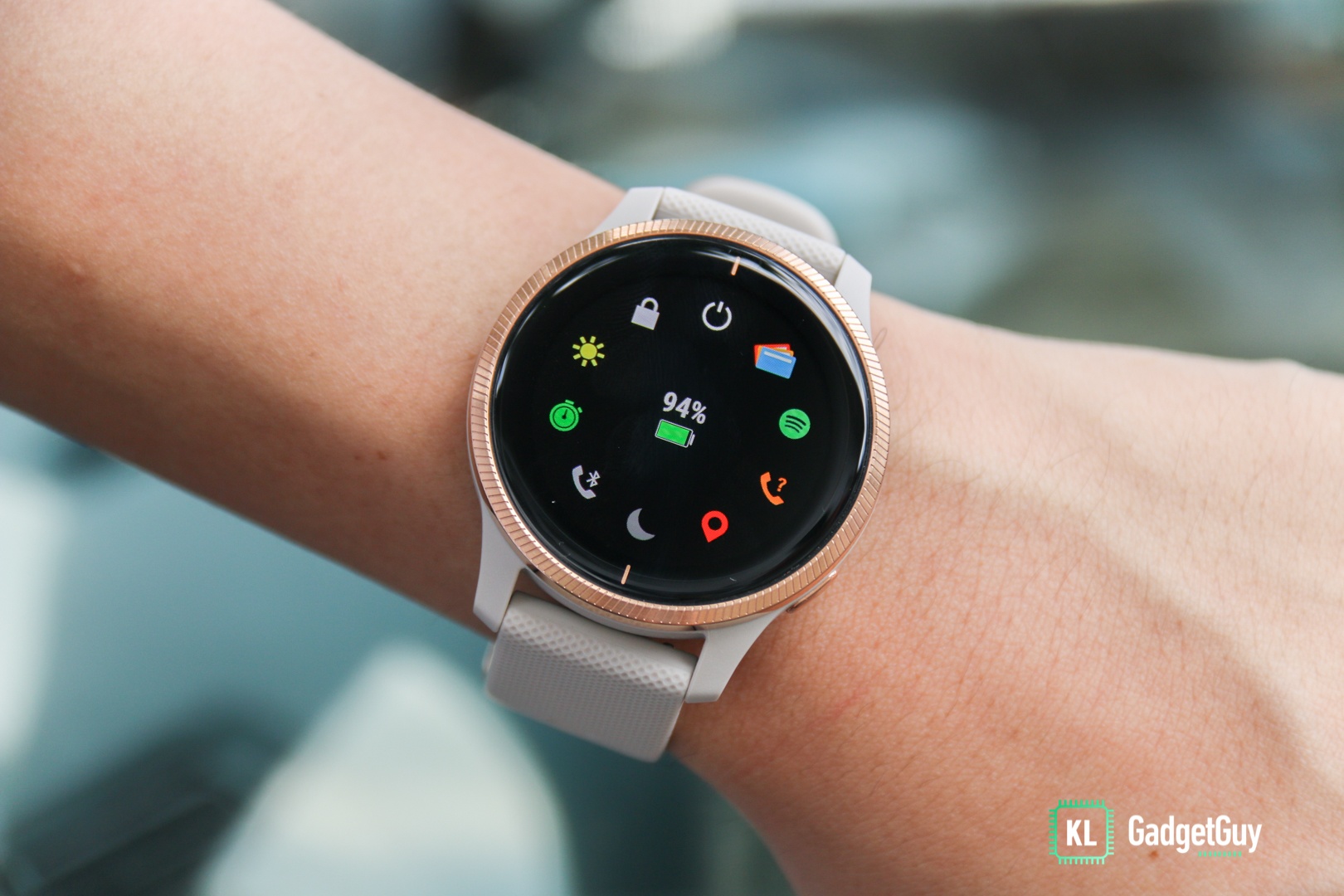 It also has features like adding music to the watch and controlling music playback. It's great that I can transfer up to 500 songs to this watch because I can really just rely on this and the built-in GPS to go for my outdoor exercises – I won't need to rely on my phone for tracking and music entertainment. For an advanced fitness tracker, I think it's really smart for Garmin to include incident detection and LiveTrack. The first one notifies my emergency contacts if I've been in an accident and the second one allows my friends and families to track my whereabouts when I'm out.
The Garmin Venu is a fairly good smartwatch overall, but it works better with Android phones than iPhones for one simple reason – Android users can respond to replies through the watch and iOS users can't. That's one feature I can't enjoy since I'm using an iPhone.
Verdict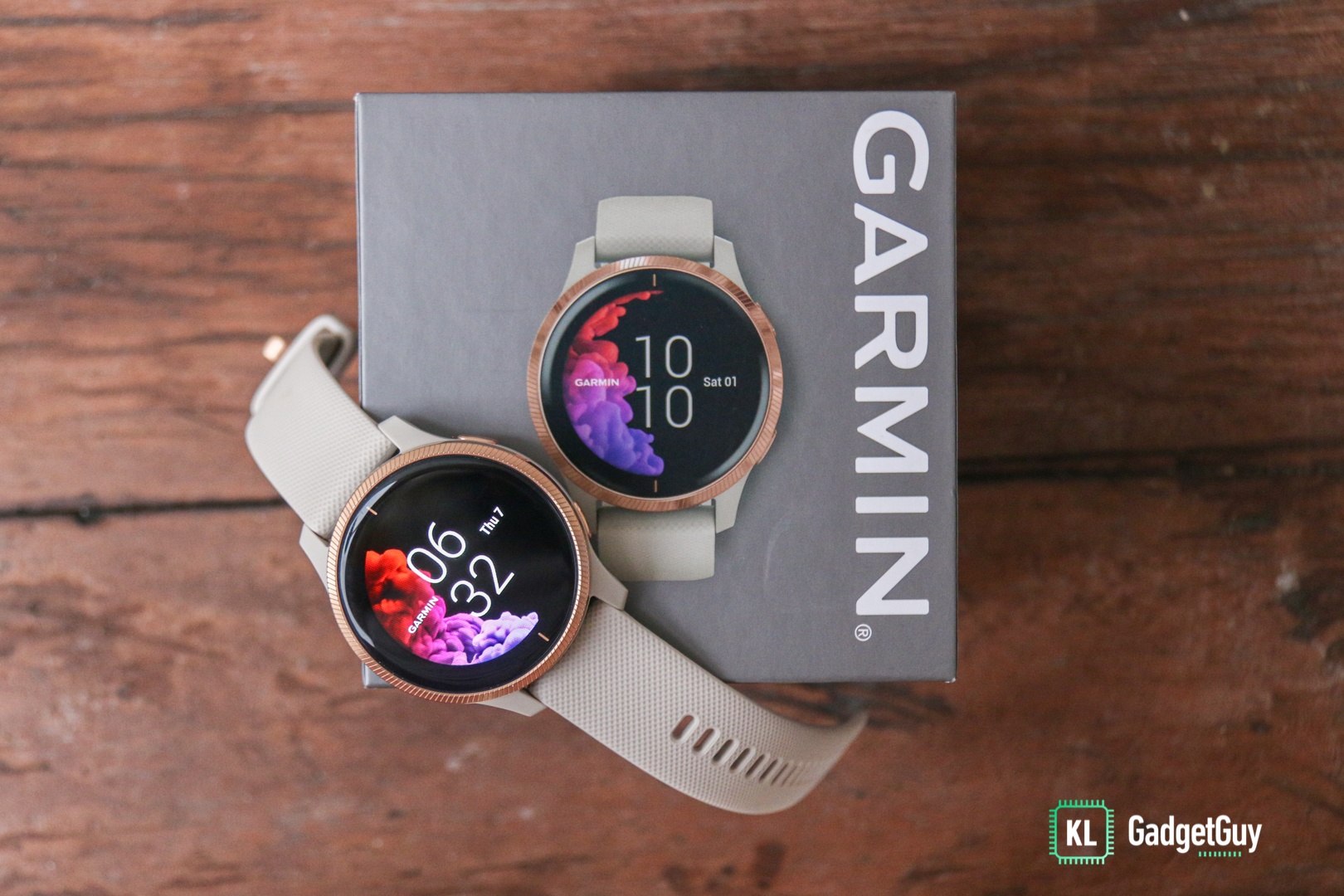 The Garmin Venu is an attractive combination of a smartwatch and a fitness tracker, but as a smartwatch, it still can't compete with the likes of Apple Watch. If we look at the fitness perspective, this watch has already offered more than what the average consumer will need. Its display is also one of the most appealing ones I've seen, but as I've mentioned, Garmin needs to improve its touchscreen optimization, especially since this watch comes with a hefty price tag of RM1,799. For people like me who aren't professional athletes or sports enthusiasts, I think the Garmin Venu is more of an overkill. The Fitbit Versa 2 is sufficient if you can overlook some features like the built-in GPS, music storage and round watch design. Plus, the Fitbit Versa 2 is much cheaper at RM898.
The Good
Beautiful, vivid display
Advanced fitness tracking features
Good safety features
In-built GPS
Music storage
Long-lasting battery
The Not So Good
Laggy touchscreen
Not comfortable when worn for long
Takes a while to get used to controls and navigation
Doesn't automatically track workouts