During a product presentation in Barcelona last month, HONOR released the latest iteration of their MagicBook laptop. It was due to debut at the annual Mobile World Conference, but the event was cancelled because of the pandemic.
Unfortunately, this is not that laptop – the HONOR MagicBook we're reviewing today is the first-generation model that was introduced back in 2018. The only difference this time is that it's been refreshed with an AMD Ryzen 5 CPU with Radeon graphics. 
This also means that the laptop won't get a pop-up webcam like the newer model and won't have the Azure Blue Chamfer design that was a stand-out feature.  
I'm mentioning the looks because the first-generation MagicBook doesn't have a lot going for it – it's not a premium device and i'ts relatively basic; but you know what? That's actually a good thing because it gets the basics right! 
The device itself feels sturdy and isn't too heavy – it weighs around 1.45KG and is 0.62-inches in thickness. Although the laptop is easy to carry around, the metallic finish is easily scratchable, so you have to be careful about treating the laptop too rough.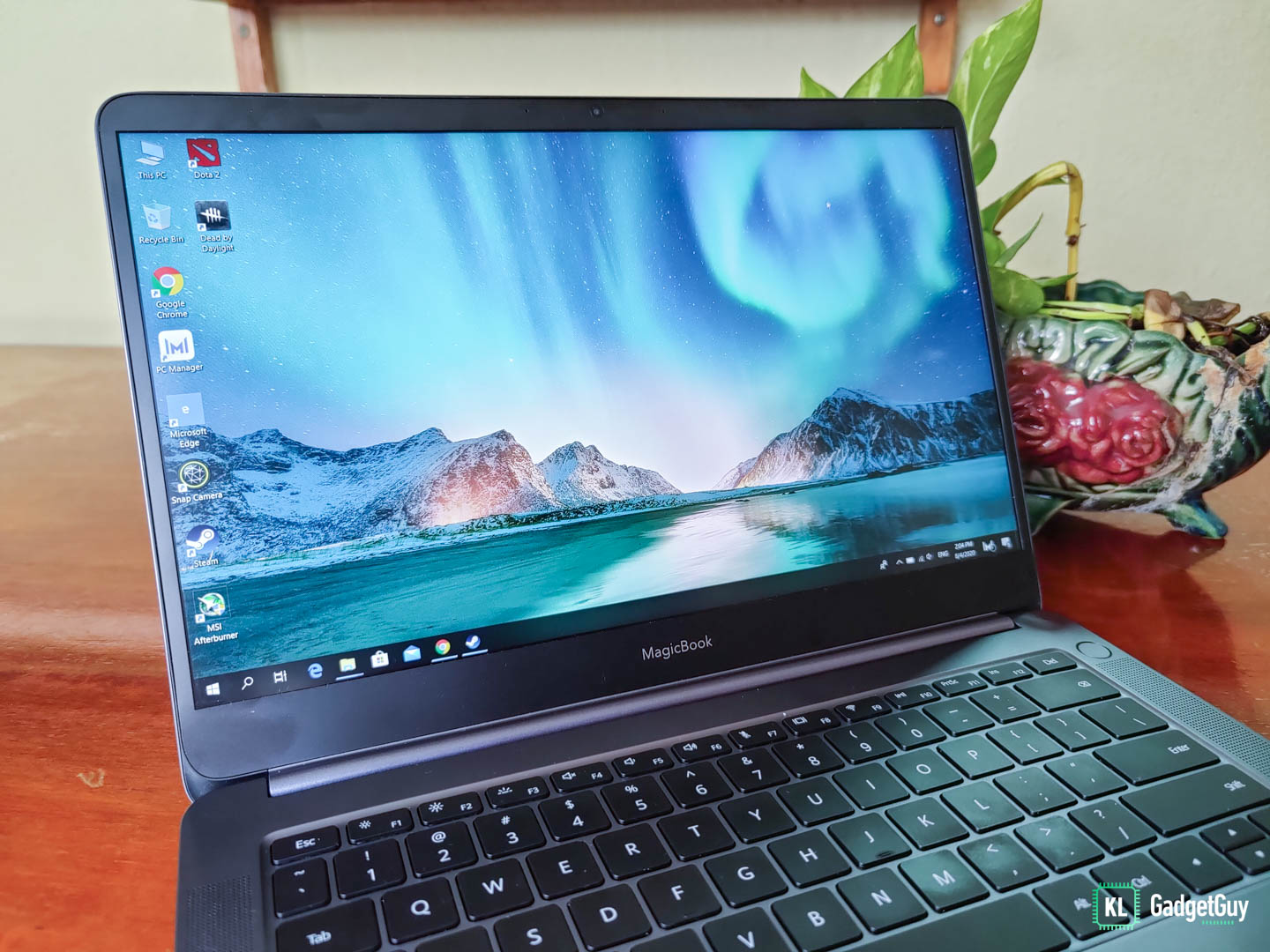 When you open up the laptop, you'll be greeted with a premium-looking 14-inch FHD display with an anti-glare coating. It pushes a 157ppi pixel density that looks great at max brightness. Speaking of – the display is a little dim, so outdoor usage can be bothersome under direct sunlight. 
The tone reproduction of the display is a little warmer than I would've liked, but a little bit of tweaking with the software of your choice can easily fix that.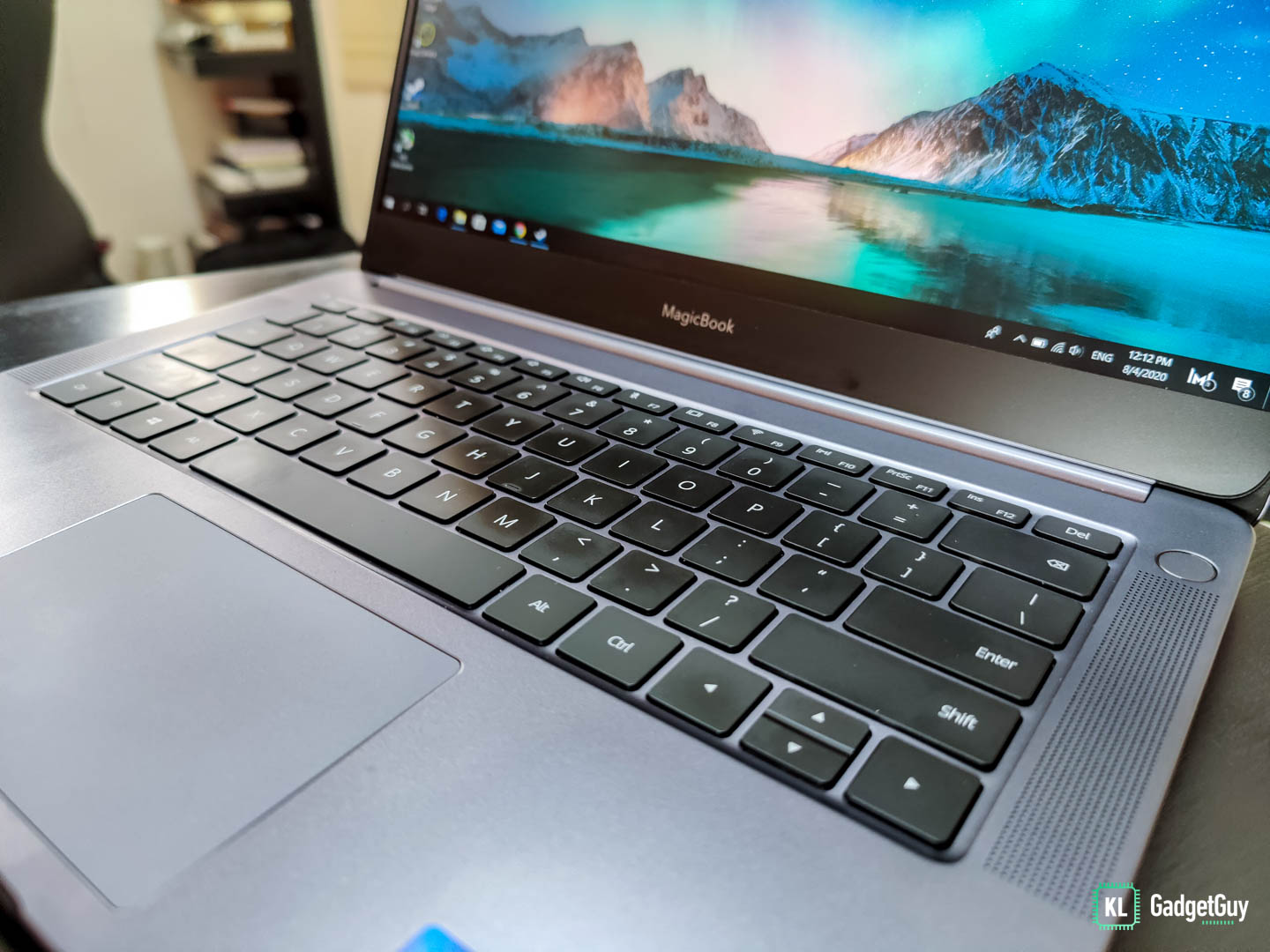 Next up, the keyboard here is backlit with white lighting, and there are three brightness settings – at its maximum, it shines well-enough in the dark, but I've seen brighter backlights. Perhaps this is a battery-saving measure taken by HONOR. The keys are almost flush to the panel, and it stays silent making it suitable for the office setting.  
On top of that, it actually feels quite good to type on. I bottom out my key presses and I get a satisfying tactile click with every key stroke. It feels mushier than some laptop keyboards I've experienced, but my spelling accuracy is great on this.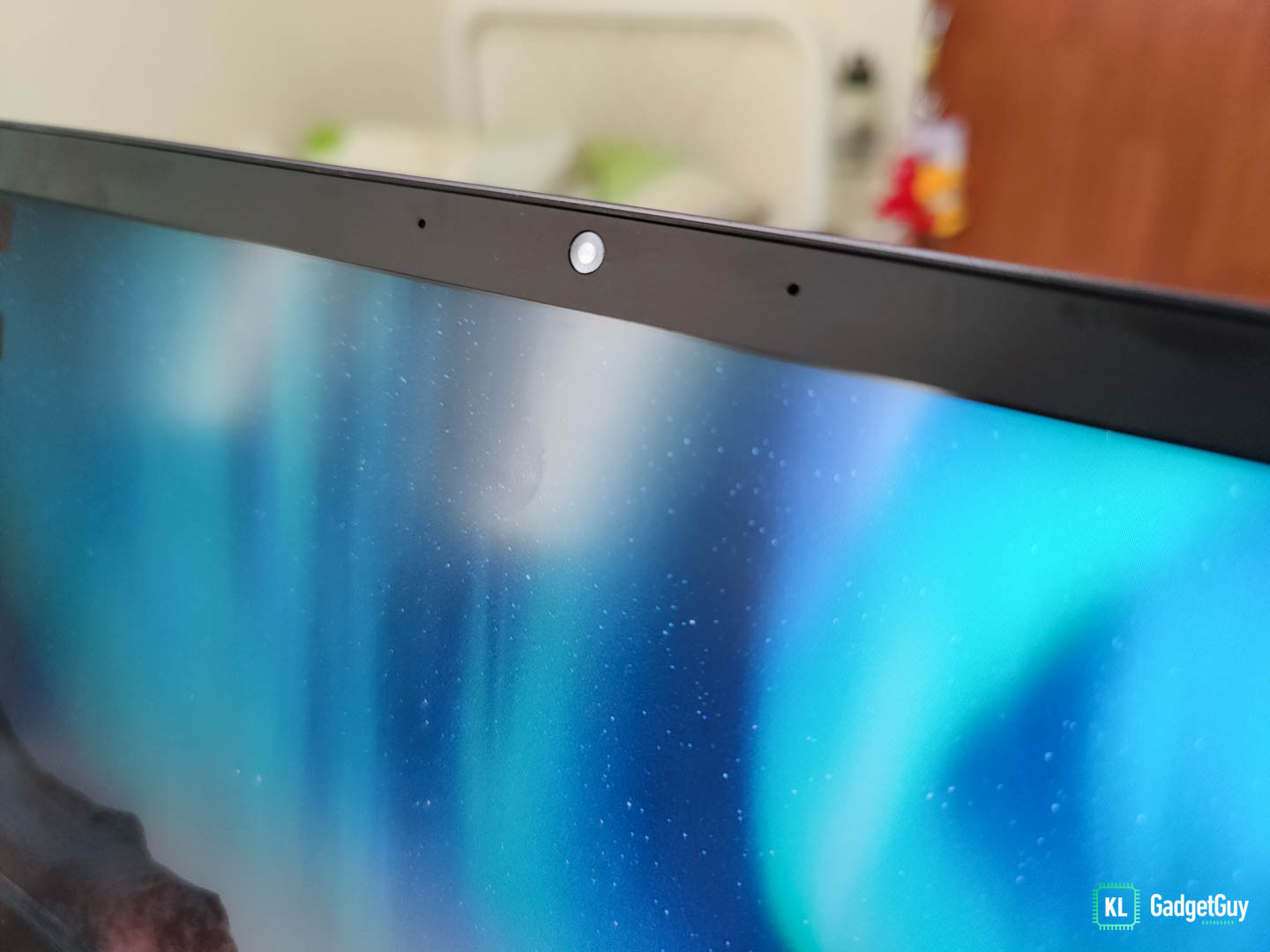 The webcam on this laptop is a 1MP shooter that, although isn't the greatest, delivers clear enough images and audio for video conferencing.
The touch pad at the bottom is simple and sizeable – its texture is smooth and detects my gestures with no problems. A left click can be registered in the middle of the touch pad as well as the bottom left. I haven't had any issues with this and it works as well as any touchpad.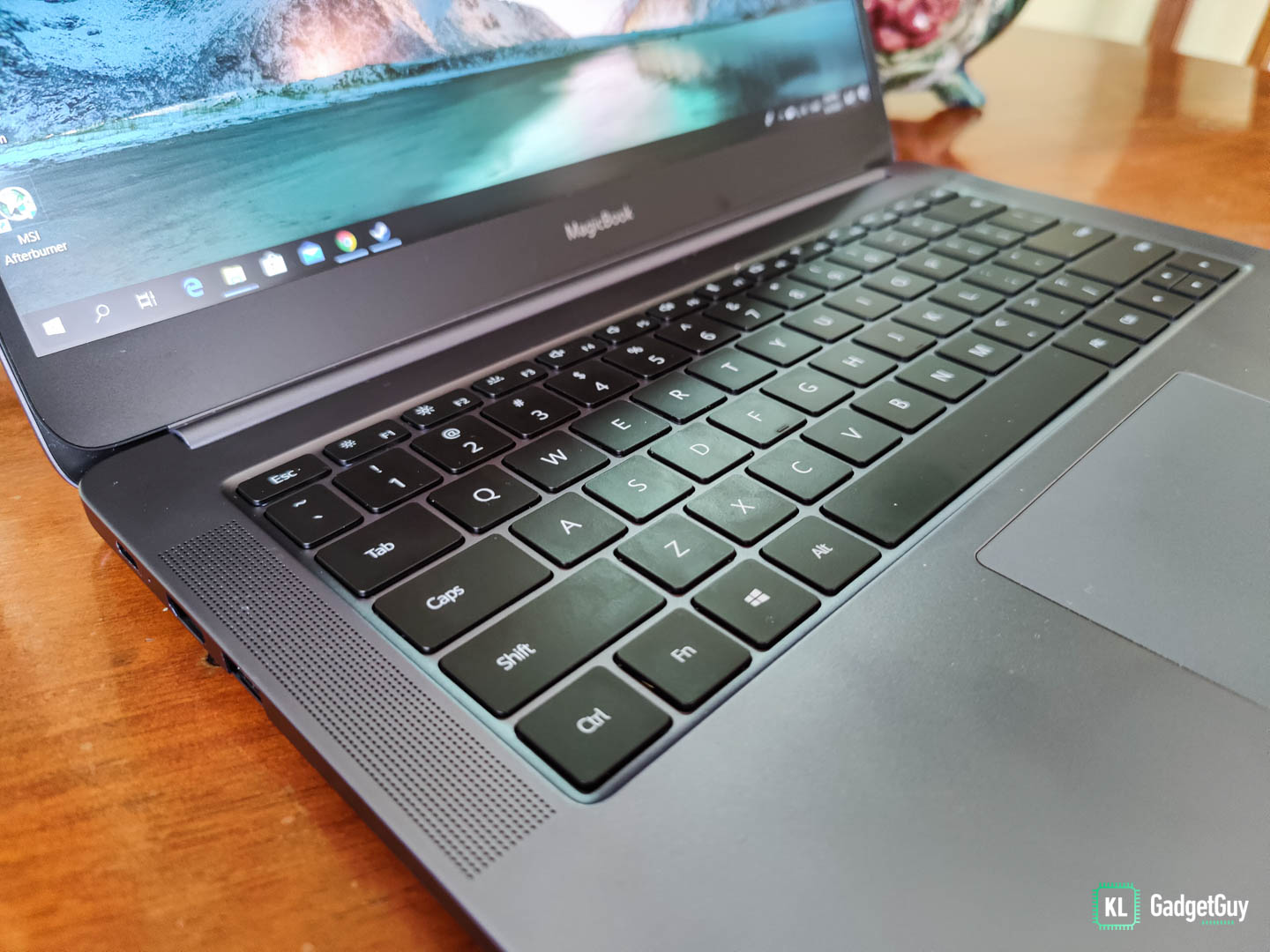 For audio, you get two upward-facing speakers on the sides of your keyboard, and two more speakers at the bottom. Thanks to Dolby Atmos, the laptop is able to create a surround-sound like audio quality that has impressive depth for a laptop as small as this. You also get crisp highs and mids, but the bass suffers quite a bit. Regardless, Netflix binging on this laptop is fine and I can hear dialogue clearly.  The laptop does come with a 3.5mm headphone jack too so you can plug in your audio gear if you want.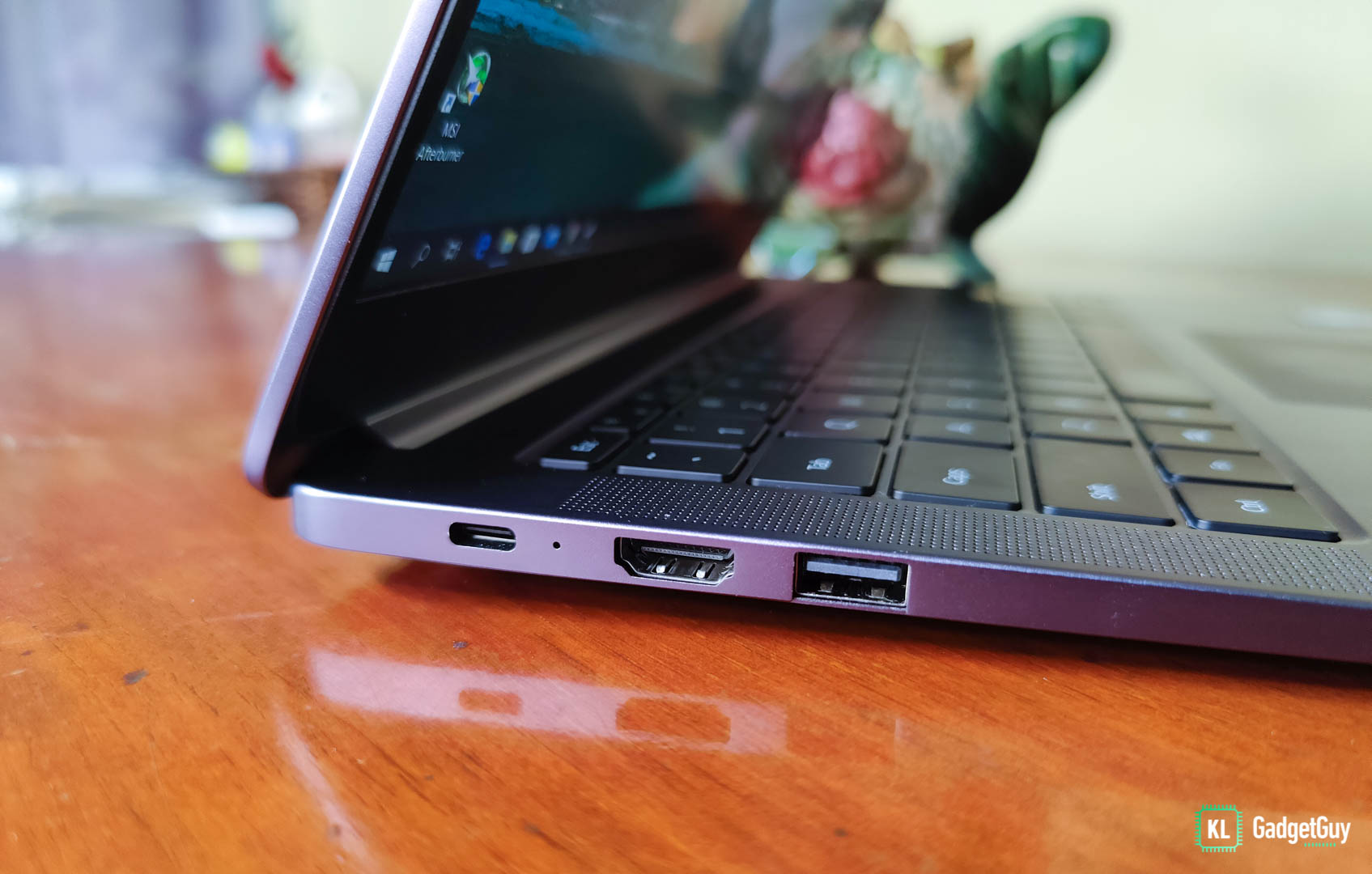 On top of that, you also get a respectable array of I/O ports – one USB 2.0 Type A port, one USB 3.0 Type A port, one USB-C port for charging and data transfer, one HDMI port and one 3.5mm headphone jack. With Bluetooth peripherals now becoming the norm, the amount of ports provided here should be adequate. 
Moving on, let's talk about performance – the laptop is equipped with an AMD Ryzen 3500U CPU which has Radeon Vega 8 integrated graphics. The CPU has a base clock of 2.1GHz and can be boosted to 3.7GHz when under heavy load. You get 8GB DDR4 2400MHz RAM alongside 520GB of PCIe SSD storage – this is the configuration you get. Do keep in mind that you'll be unable to upgrade either one.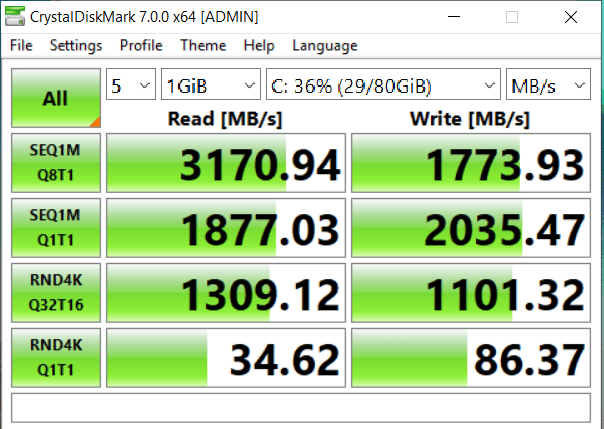 With the SSD, the laptop boots up quickly and programs open up in no time; multitasking with the laptop is a breeze too. The laptop is also able to handle light to medium editing work for videos and photos.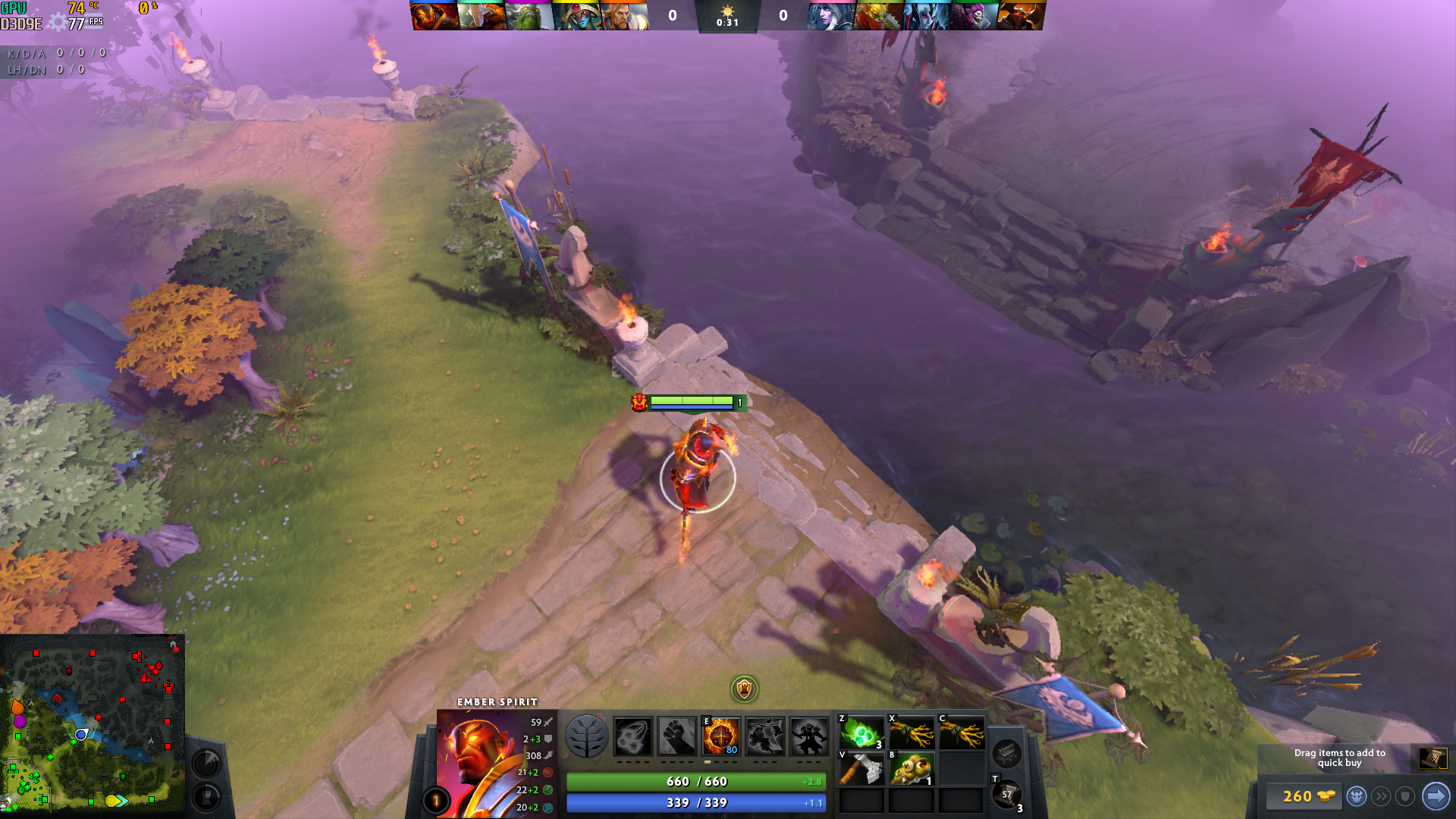 The HONOR MagicBook is by no means a gaming laptop, but if you really need to get in game or two it'll do do fine especially with the Radeon Vega 8 graphics. E-sports titles can run at 1080p on low-medium settings while getting a steady 60FPS on average; I tested out Dota 2 and used the second lowest graphics preset and achieved over 60FPS with occasional dips into the 50s while at 1080p resolution. The laptop does get toasty after about an hour of gaming, but then again this isn't a gaming laptop. 
But speaking of thermals, on regular usage, you won't feel any heat on the palm rests; plus, the fans are very quiet. Driving home the point that this laptop is made for the office and classroom environment.  
Furthermore, the laptop boasts impressive battery life as well – its 57.4Wh battery allowed me about 8 hours of work, media consumption, and social media scrolling. On top of that, the 62W USB Type-C power adapter that comes with the laptop can fully power the device in about an hour and a half from 20%.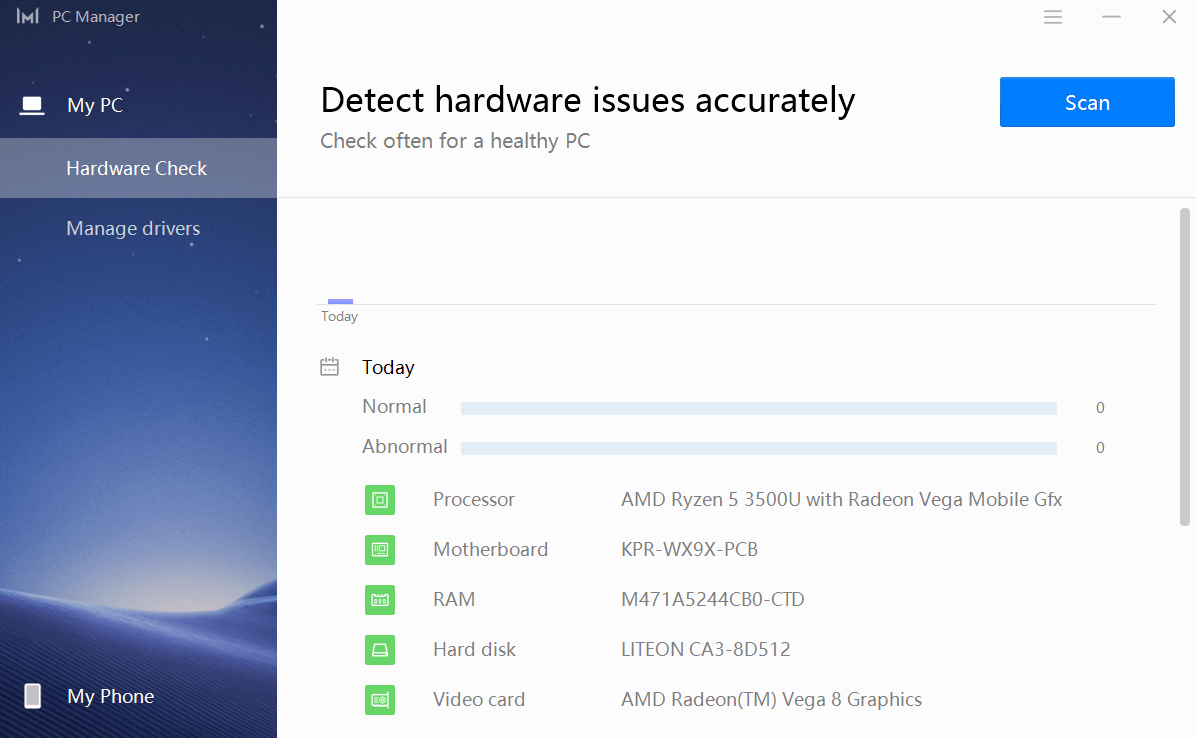 In terms of features, Magic-link lets you quickly share files from a compatible Huawei or HONOR device with Android 10, all with a single tap. The laptop's power button also doubles as a fingerprint reader that allows biometric log in. It works as expected with dry fingers – if it's wet, you'll have a 50% success rate, which is pretty normal. Then there's the pre-loaded PC Manager software that lets you monitor resource usage, hardware status as well manage drivers – I found this to be a useful one-stop software to keep on top of how the device is doing. 
Verdict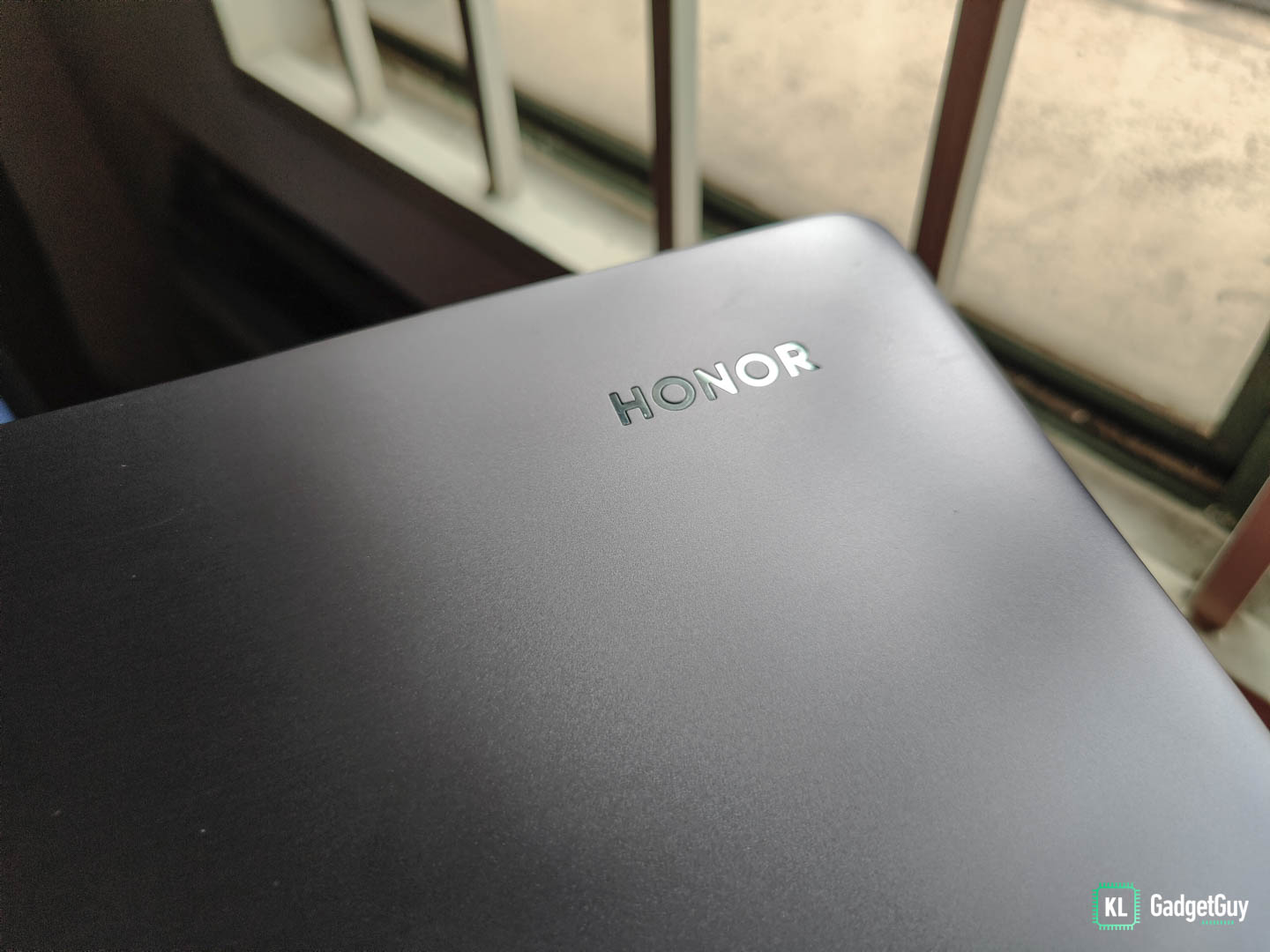 The HONOR MagicBook is an impressive device that gets all the basics right – it's built sturdily, has great performance, remains quiet, and has a long battery life. The impressive display and audio quality make media consumption enjoyable too. 
Despite not having upgradable RAM and storage, you're getting more than enough for regular usage, plus one or two e-sports game titles installed. It comes pre-loaded with Windows 10, but with no licensed access to Microsoft Office. However, you can always use the free cloud-based versions of the software such as Microsoft OneDrive, or Google Drive to get your work done.  
For RM2,299, the laptop is well worth it for those who're looking for something for work or school.  You can purchase the laptop via HONOR's online store or on their official Shopee page.
The Good
Impressive display
Sturdy build
Silent and cool when under load
Decent audio
Comfortable keyboard
Good performance for light editing and gaming
Great battery life and charging speed
The Not so Good
Easily scratch-able material
Dim keyboard backlight
Lack of upgradability