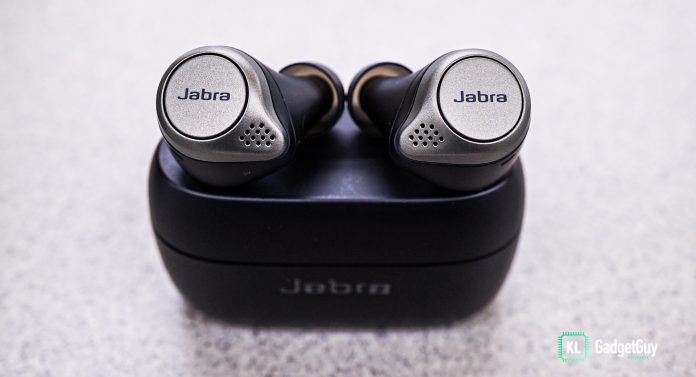 Wireless earbuds are everywhere these days; whether on the MRT or walking down the street, you're almost guaranteed to see someone wearing a pair of these. Perhaps pretending like they're the coolest people on Earth. While you can get cheap renditions out there just to look trendy, they're not going to sound the greatest.; here's where the Jabra Elite 75t comes in; it oozes class in both its aesthetics and sound quality.
First things first, let's talk about the design of the Elite 75t. If you're not a fan of the AirPods and its long stem, then you'd be more inclined to prefer these earbuds that have shorter stems — much shorter than the previous Elite 65t. They're also smaller and lighter, making them more comfortable to wear and have a more secure fit in your ears. As a matter of fact, I've been hitting the gym with the Elite 75t instead of my Elite Active 45e – and so far? It hasn't fallen off, not even once. These earbuds also come with an IP55 rating, so a bit of sweat and jogging under drizzling rain will be fine. If your ear is slightly larger/smaller than others, no worries; Jabra made sure to include three different silicon eargel sizes (S, M, L) when you purchase the earbuds.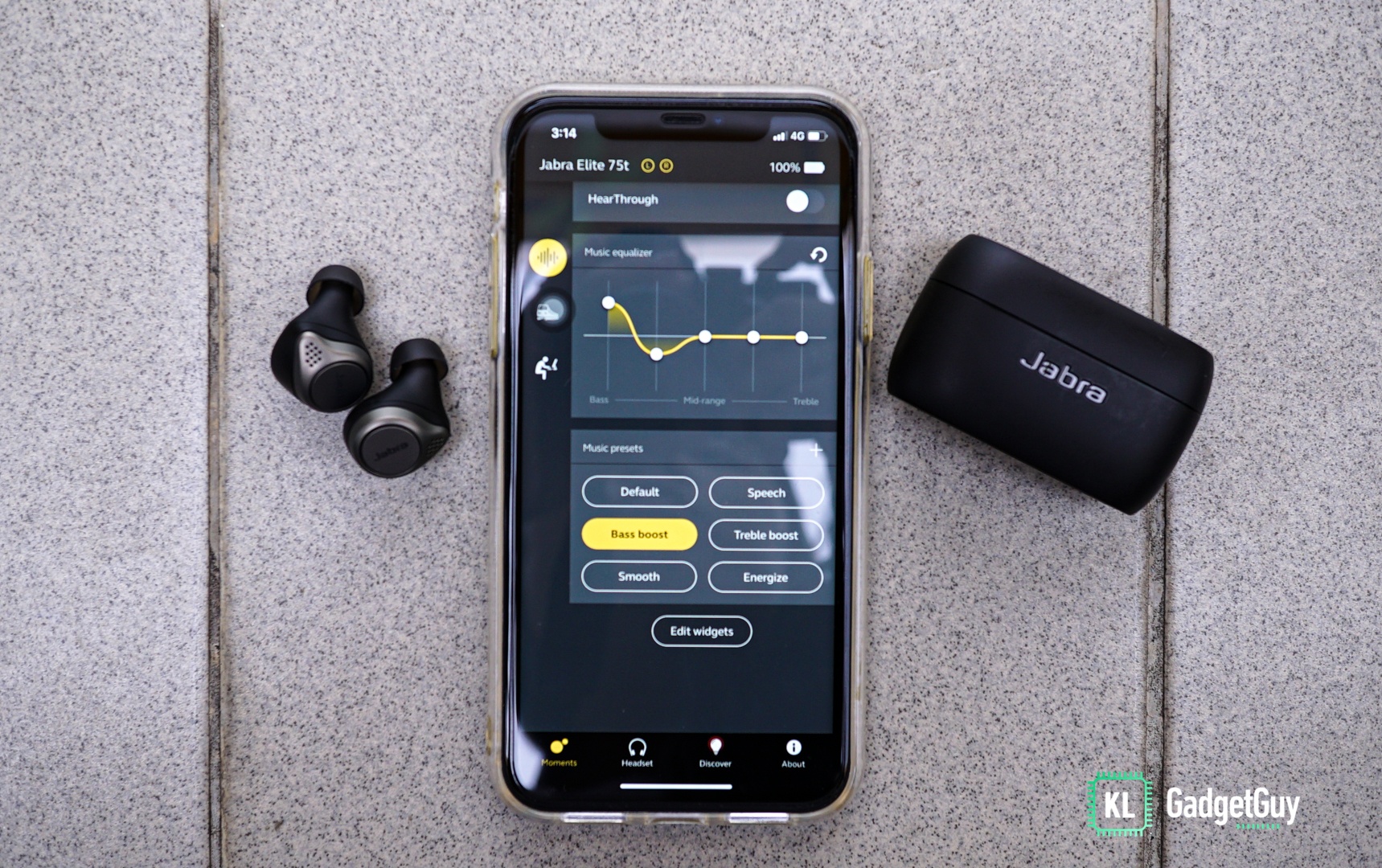 Plus, they're not just handsome-looking devices either – functionality on the Elite 75t is well-thought out too. It's easy to set up and start using. You can manually pair the earbuds to a device by opening the case and long-pressing the buttons located on the buds, for three seconds. You can also connect to them to two devices at once, so it's more convenient for you to switch between your laptop and your phone. Unfortunately, you'll have to hit pause on one device before you can listen to the audio on the other. Still, I've experimented, and the best way is to disconnect the earbuds before using them on another device. Now, the earbuds only have two buttons — one on each earbud. These functions are pretty straightforward:
Single tap left: on/off HearThrough; mute/unmute calls
Single tap right: play/pause music; answer calls
Double tap left: skip music
Double tap right: activate Voice Assistant; end calls
Hold left: decrease volume
Hold right: increase volume
I've got the hang of these functions pretty quickly — especially since I don't usually use Voice Assistant and nobody ever calls me (sobs). So, it depends on the individual how quickly he/she gets familiarized with the features.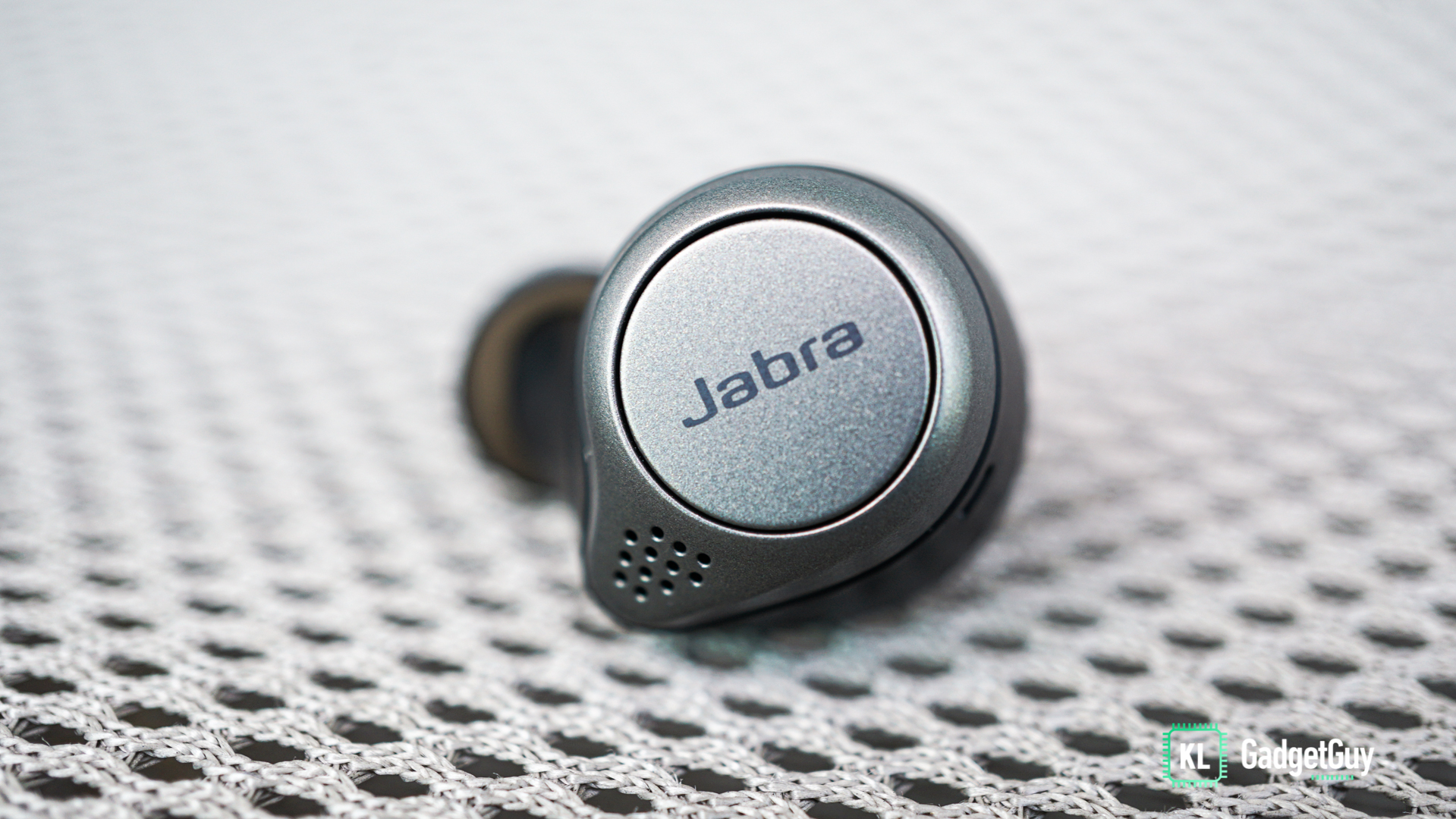 I have one minor qualm however – which is the inability to use the left earbud on its own. I can use the right earbud for mono playback or calls, but that's not the case for the left one. Jabra's explanation is that the left earbud is connected to the right earbud (instead of the device), which is why it cannot go solo. An update is due to rollout later this year which should allow the left earbud to function independently.
But, the Elite 75t makes up for the minor inconvenience with great audio quality, especially if you like strong bass. It has depth without compromising clarity. At high volumes, the audio doesn't crackle either, while offering depth in detail too. You'll be able to distinguish clearly between each instrument and I attribute this to the balanced mids and highs. Overall, you get a complete package in terms of audio quality that gives you this warm vibe. Even so, Jabra still has its own app (Jabra Sound+) which you can use to personalise your sound profile to your own taste.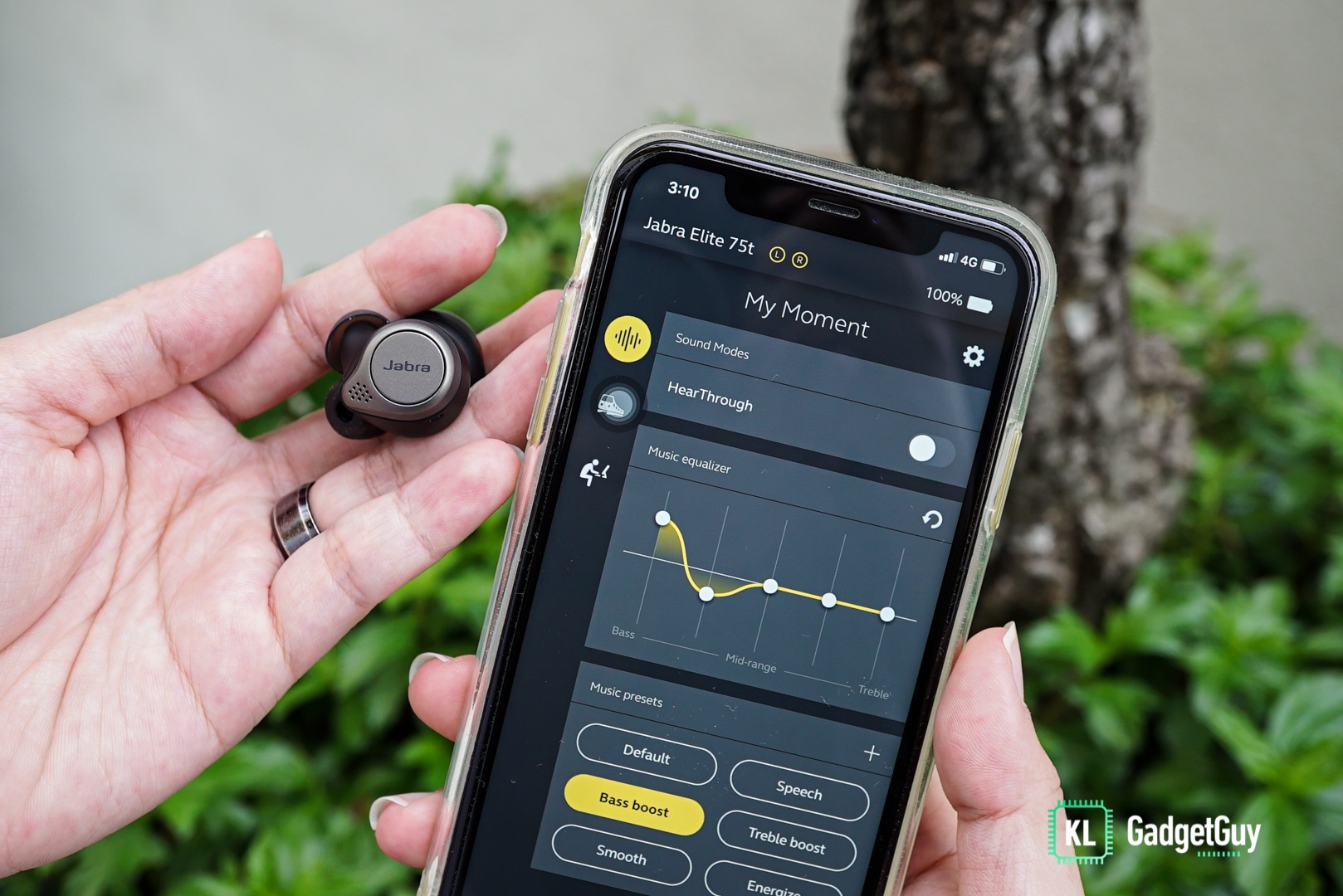 Through the app, you can either select the presets that are available, or you can tweak your equaliser to fine-tune your preferred sound. Despite being in the same class as the AirPods Pro, the Elite 75t lacks an Active Noise Cancellation feature. But in spite of that, with passive noise cancellation and snug-fitting earbuds, the Jabra still offers impressive noise isolation.
Besides music playback, these earbuds come with 4 microphones which make them great at phone calls. I find this especially useful when I have a phone call to take while at cafes with music in the background and chatters around me.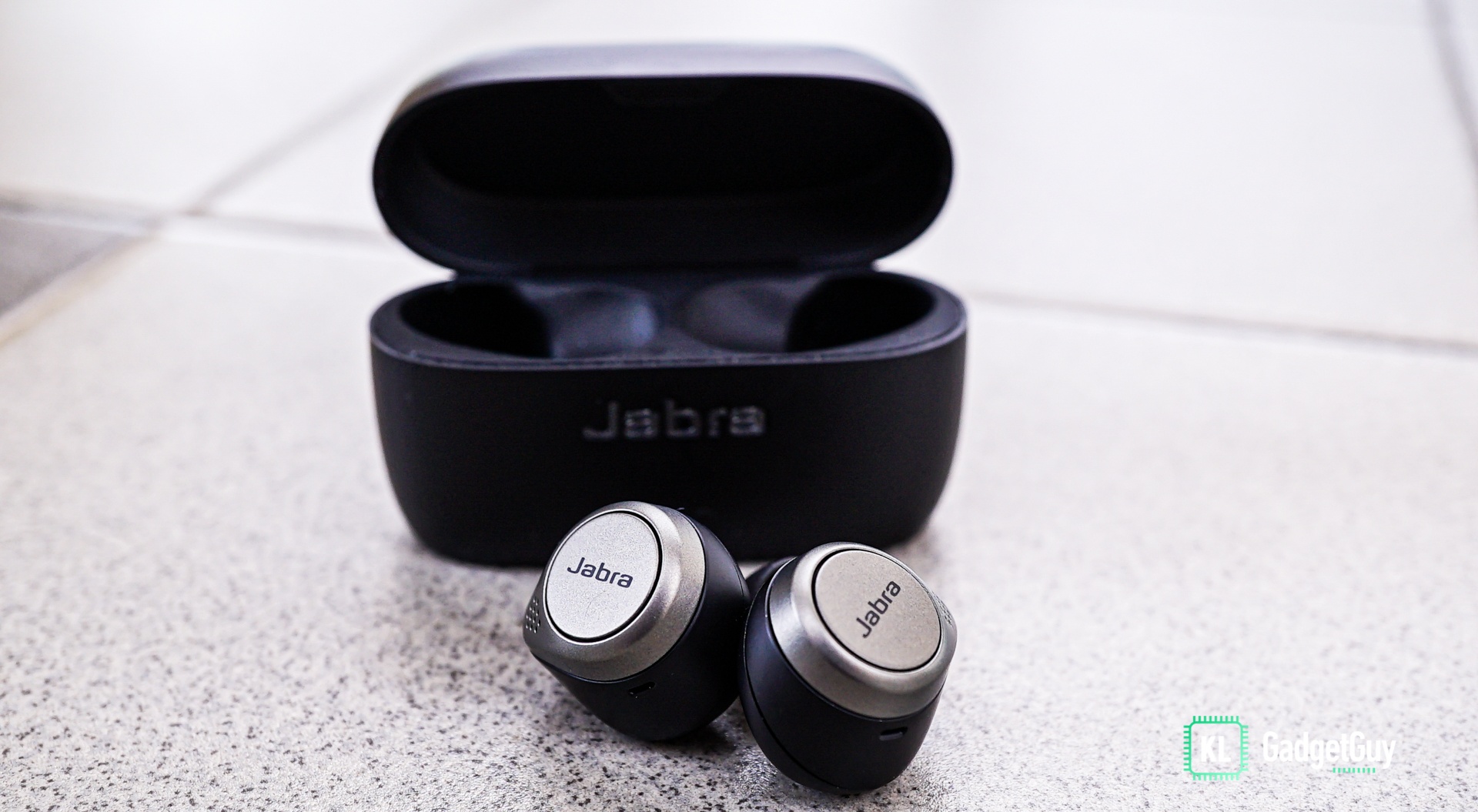 When it comes to battery life, the Elite 75t may not be able to defeat the recently launched Samsung Galaxy Buds+ that boasts 11 hours of music playback, but they definitely triumphed over the AirPods Pro that only lasts up to 5 hours of music playback. On a single charge, these earbuds can last me about 7 hours, or up to 28 hours with the charging case. There's also fast charging, in which 15 minutes I get an extra hour of music playback. I would've preferred a variant of the Elite 75t with a wireless charging case, but that's only available a little later. Nonetheless, the Sleep Mode feature will help save you power when it automatically powers down the earbuds when not in use or disconnected.
Verdict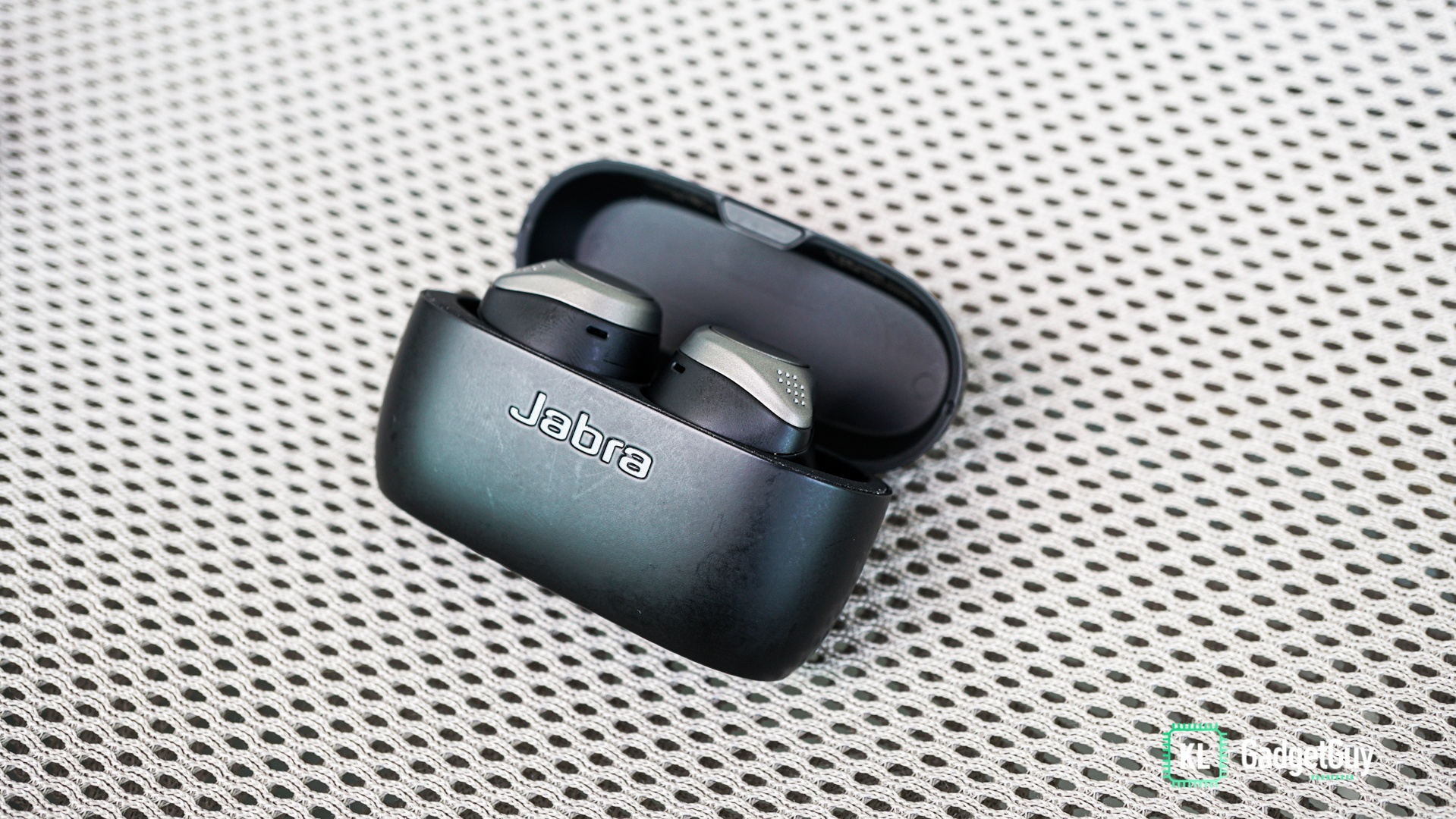 For a pair of wireless earbuds priced at RM949, the Jabra Elite 75t offers great comfort and impressive sound quality. Being so lightweight and small, you can bring these earbuds with you wherever you go – excluding wet activities, of course. While they don't support wireless charging like the AirPods Pro, they compensate by offering a longer battery life.
The Good
Excellent audio performance
Long-lasting battery life
Comfortable
Dust and water-resistant
The Not So Good
No wireless charging
Left earbud can't be used independently