Reports are suggesting that Huawei are doing fine in terms of sales despite being heavily embroiled in the US-China trade war. 
According to Counterpoint Research, Huawei is the second highest performer last year in terms of smartphones shipped, one place ahead of Apple. The leader of the pack of course is still Samsung.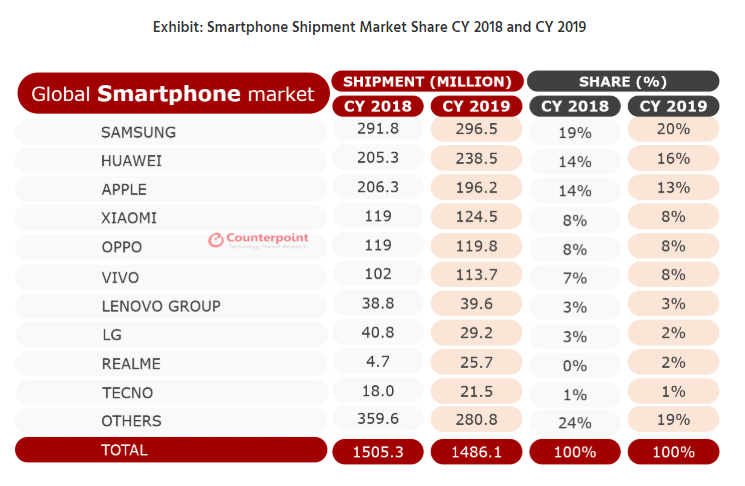 Despite recording the best sales figures in Q4 of 2019, Apple's third place finish speaks volumes to how well Huawei is doing despite the Trump-mandated sanctions. According to 9to5Google, China makes up for 60% of the smartphone shipments for Huawei – and this is important because it says a lot about how Huawei's own ecosystem is doing in their native country.  
In Malaysia, we still won't be officially getting GMS with Huawei's upcoming smartphones, but Huawei's own HMS should be able to hold its own with a host of familiar apps already available in the app store. Furthermore, Huawei recently made public that the Mate 30 Pro 5G will be arriving in the country after getting approvals from SIRIM. 
Meaning Huawei will also be well and truly in the 5G arena when the mass rollout comes later this year.  Based on the statistics above, we also see Huawei's 2% market share from 2018 – the highest increase among its competitors. If this trend continues, the sanctions could possibly have very little effect on the Chinese brand after all.