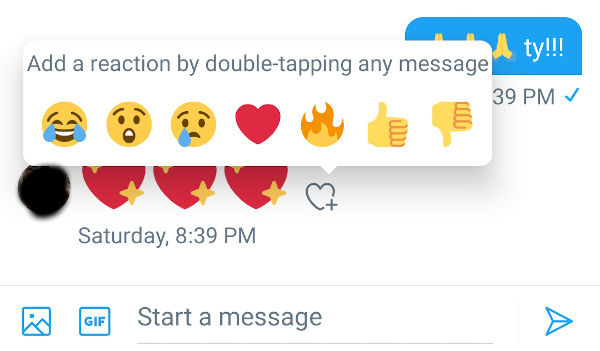 Twitter is adding emoji reactions to its DMs, just like how you can react with different emojis on Facebook. Twitter users can now react to their friends' messages — be it texts or attachments.
The new feature is already out and available for both iOS and Android users, in addition to those who are using the web version. However, if you're using the older version that comes with out the new feature, then the reactions given will be seen as text-based messages.
Say more with new emoji reactions for Direct Messages!

To add a reaction, click the ❤️➕ icon that appears when you hover over the message on web or double tap the message on mobile and select an emoji from the pop-up.

For more about DM reactions: https://t.co/sdMumGDBYl https://t.co/QxMVmGt8eY

— Twitter Support (@TwitterSupport) January 22, 2020
Unlike Facebook, Twitter does have a few different emojis. For instance, the face with heart-eyes and angry face emojis on Facebook are replaced as a normal heart and fire emoji on Twitter. Sadly, there's still no feature that lets you use emoji to react to tweets.
Despite Twitter announcing the new feature, there seemed to more complaints than praises. Twitter users are asking for other features and one particular user voiced out saying, "We didn't ask for this." The most-requested feature is still the edit option will not be happening any time soon. In fact, Twitter CEO Jack Dorsey said, "We'll probably never do it."