I live in a 3000 square feet house, which as you would have probably guessed, WiFi coverage is absolutely an issue even with the most expensive wireless routers I have invested, even the D-Link COVR C1203 that I reviewed a while ago isn't able to cope with my family's extreme usage of the Internet, though it provided somehow decent coverage across the house. Therefore, I was happy to receive a set of Linksys's Velop AC3900 Mesh WiFi system for evaluation, and I finally don't have to deal with any WhatsApp messages from my family complaining about our WiFi at home.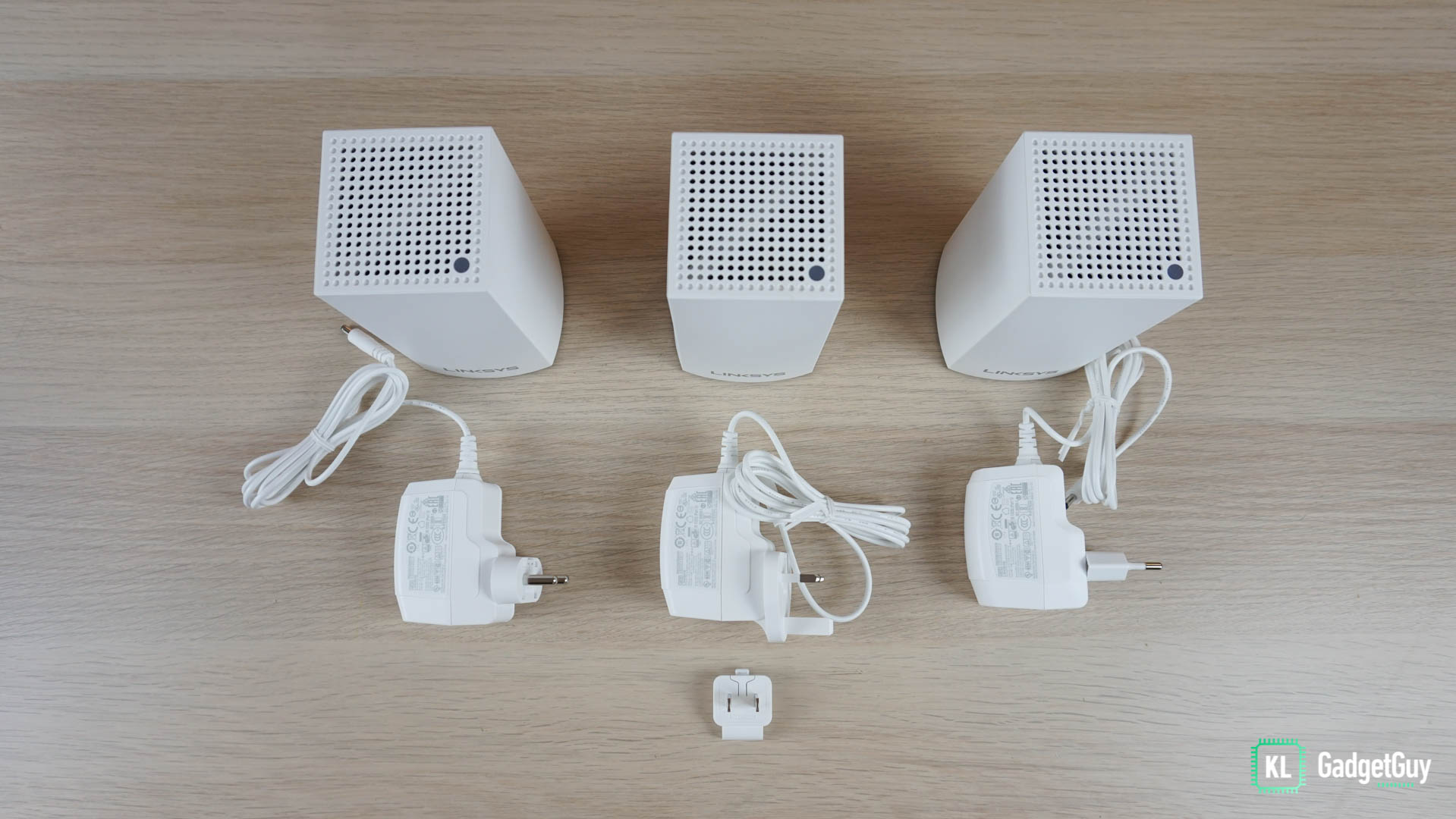 The Velop AC3900 comes with three nodes out of the box, they are DC powered and Linksys has included three adapters for each of them, which saves you the convenience of buying adapters if you are thinking to use it on other countries. To be honest, one would mistaken the model AC3900 as the total combined wireless speed of the device, which however isn't the case, as the combined speed per node is 1300Mbps, so multiply that by 3 and you get 3900Mbps, so don't expect this to be a champ in simultaneous heavy file transfer tests.
I commend the design of the nodes as they take up a very small footprint and doesn't look too bulky to fit into tight spaces, there is also no need to take note on which is the main node unlike the D-Link COVR I reviewed last time, each of them feature two Gigabit LAN ports for WAN and LAN connectivity, which is perfect if you still need to perform a wired connection to certain devices.
Setting up the Linksys Velop AC3900 is pretty straightforward if you are familiar with Linksys networking products. Otherwise, all you need to do is to power up the first node that's connected to your Internet gateway, download the Linksys WiFi app on your phone, the app will then automatically detect the node you just turned on using Bluetooth, no need to enter any WiFi passwords.
I also like the fact that Linksys has made it extremely simple to understand the status of the nodes with an LED indicator on top, where it pulses pink when it is in setup mode, red if there is a connection or setting error, and static blue when successfully connected, it is easy to peer over the top when you need to know if your network is working properly.
Managing the Velop AC3900 happens entirely on your phone, as most of the essential configurations such as Parental Controls, Wireless and Port Forwarding can be done on the app, the system will also automatically update its firmware without any user intervention, hence once you are all set, there's almost no need to access the system's settings apart from getting your WiFi password or grant Guest Access to your network.
The Velop AC3900 supports transfer speeds of up to 867Mbps in 5GHz and 400Mbps in 2.4GHz mode, it automatically switches between network bands if your device supports the higher frequency network so there's no need to create two separate access points.
Most of the time, I find most of my devices usually connected on the 5GHz band when I'm near one of the nodes, as I move away to dead spots of my home it automatically switches to 2.4GHz for the best coverage, it does affect Internet speed a little, but I still have no problems loading up web pages even when I'm at the worse spot at home – the restroom specifically.
Although Linksys claims that the Velop AC3900 can cover houses of up to 4500 square feet, I'd suggest you probably take 80% of that coverage area.
Retailing at RM969 at Lazada, the Linksys Velop AC3900 isn't the cheapest Mesh WiFi system considering it is a dual band WiFi system with per node having a 1300Mbps combined wireless transfer speed, however what would really make you want to own this is the reliability and consistency it delivers over its cheaper rivals, not to forget its simple setup process and management software.
The household approves.
The Good
Great coverage
Design allows to be placed in tight spots
Easy-to-use software
Reliable wireless connection
Seamless switching between 2.4GHz and 5GHz bands
The Not so Good
Wireless transfer speeds could be better
Price could be slightly cheaper