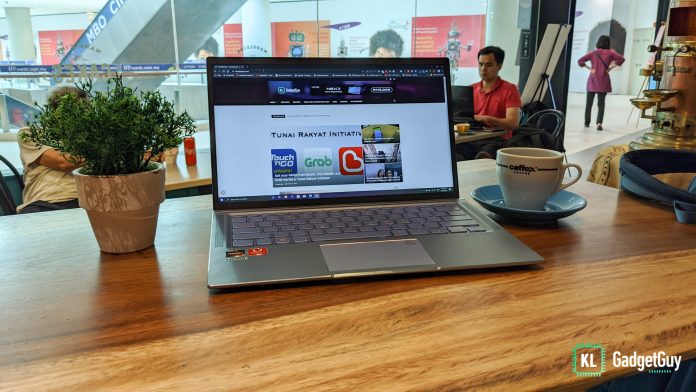 AMD's third gen Ryzen Mobile CPU has gotten really popular in 2019 on mid-tier premium laptops, not only these machines cost lower than their Intel counterparts, they also have decent power efficiency and better graphics performance that allows you to do lightweight creative work and gaming. If that's the kind of laptop that you are looking for, the ASUS Zenbook 14 (UM431D) might grab your attention with its extremely premium build for under RM3000.
ASUS ZenBook 14 UM431D Video Review
You really can't find any colors that's more unique than the ZenBook 14, unlike most laptops in this range that comes with either a black, gold or silver color finish, this one gets a unique color that ASUS calls it Utopia Blue, there's smooth chamfered edges around the machine to give it a premium feel, the loudspeaker grille sports a honeycomb style design and the cooling vents are positioned at the back, and last but not least, its 1.39kg weight gives you a real pleasure on transporting it around.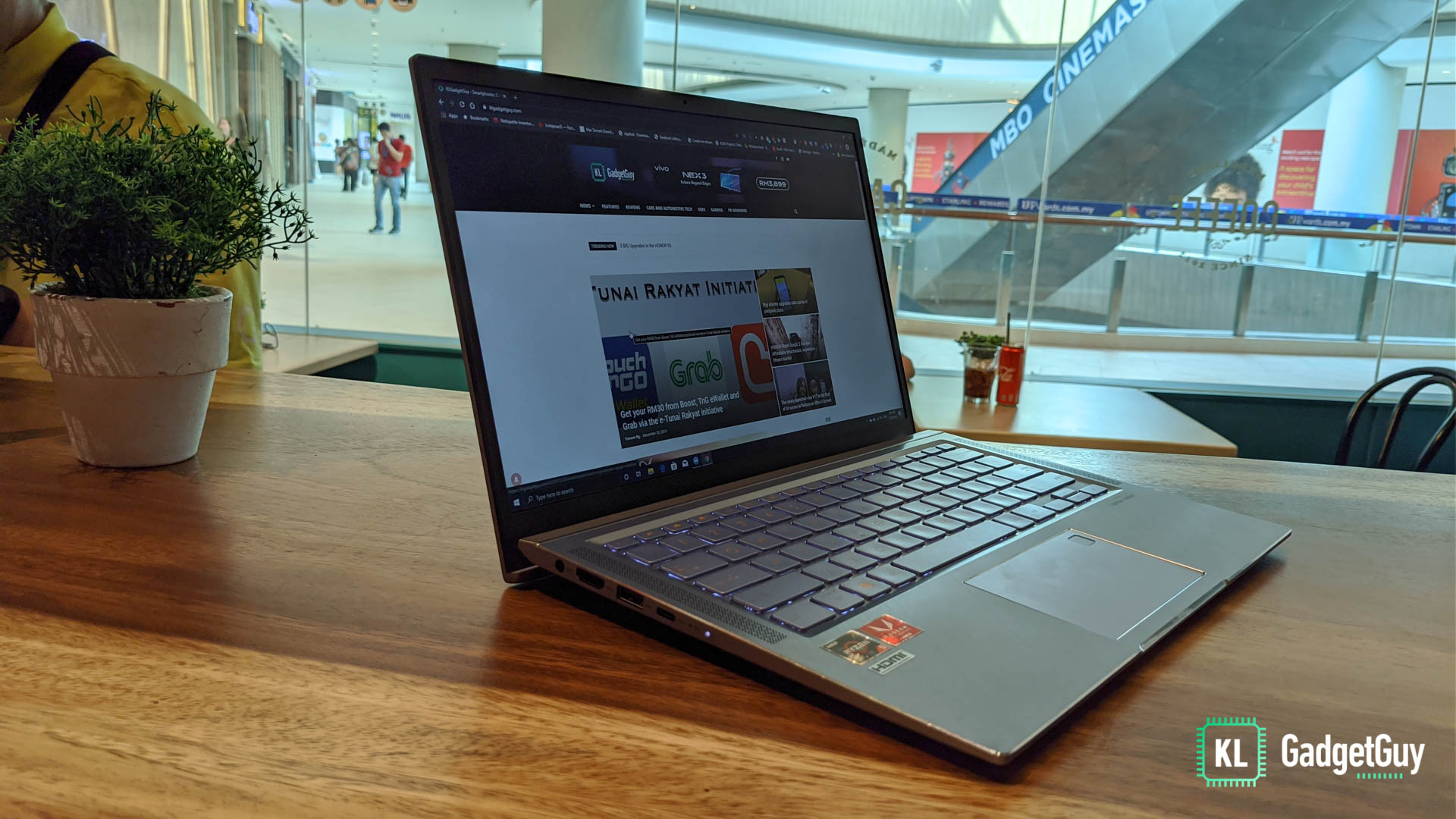 A few things are standard here as a ZenBook, which includes an ErgoLift hinge that tilts the laptop to a better typing position, a NanoEdge slim bezel display with a good webcam position, and a trackpad with a reliable fingerprint reader. The loudspeakers are the most impressive ones I've ever heard on a sub RM3000 laptop, it has two bottom and top firing speakers tuned by Harman/Kardon, sound quality is actually pretty close to a MacBook and they sound really loud when maxed out.
The Zenbook 14 features a 14-inch Full HD IPS panel with 8-bit color reproduction, which is also something uncommon on laptops on the same price range and offers a great viewing experience, though brightness is pretty standard at 300 nits, you can definitely do casual creative graphics work on this display.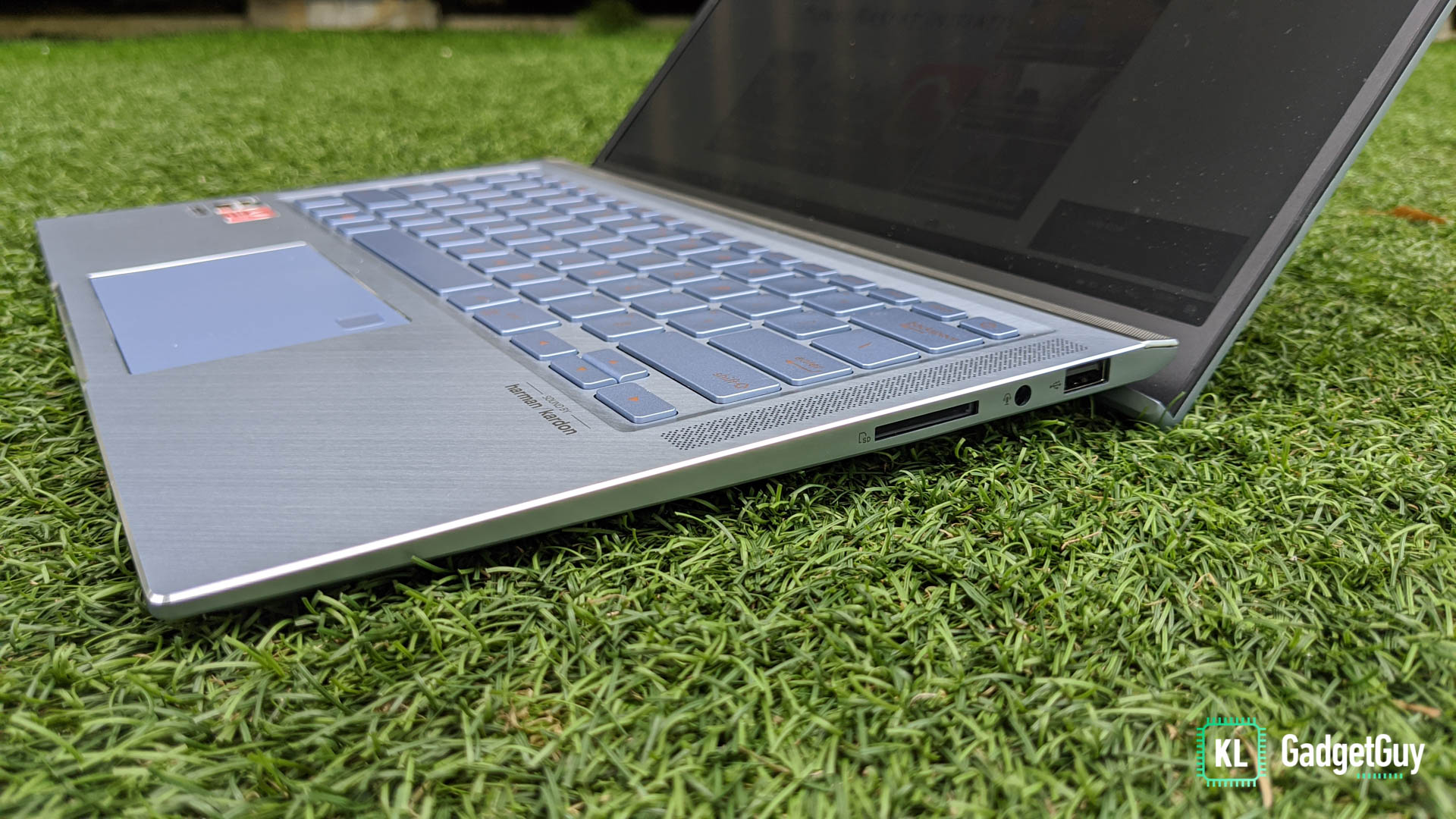 I have always been impressed with ports selection on ZenBooks and this time ASUS managed to include a SD card slot, which is a rarity on ultrabooks and extremely convenient if you are a creative user, the USB-C port doesn't support power delivery charging but thankfully supports USB 3.1 Gen 1 speeds. The ZenBook 14's keyboard is excellent with great key travel and tactile, the trackpad however isn't great but it isn't terrible as there is a slight lag in its tracking performance.
Most ultrabooks of the same class don't usually allow users to access their internals, however that's not the case with the Zenbook 14, it is extremely easy to pry open once you manage to unscrew those tiny pentalobe screws. The motherboard layout is familiar across other mid range laptops, though I have to applaud ASUS for including a huge single fan for cooling and allowing the user swap the M.2 SSD, there isn't an extra RAM slot and you are stuck with 8GB of RAM for the rest of the ownership.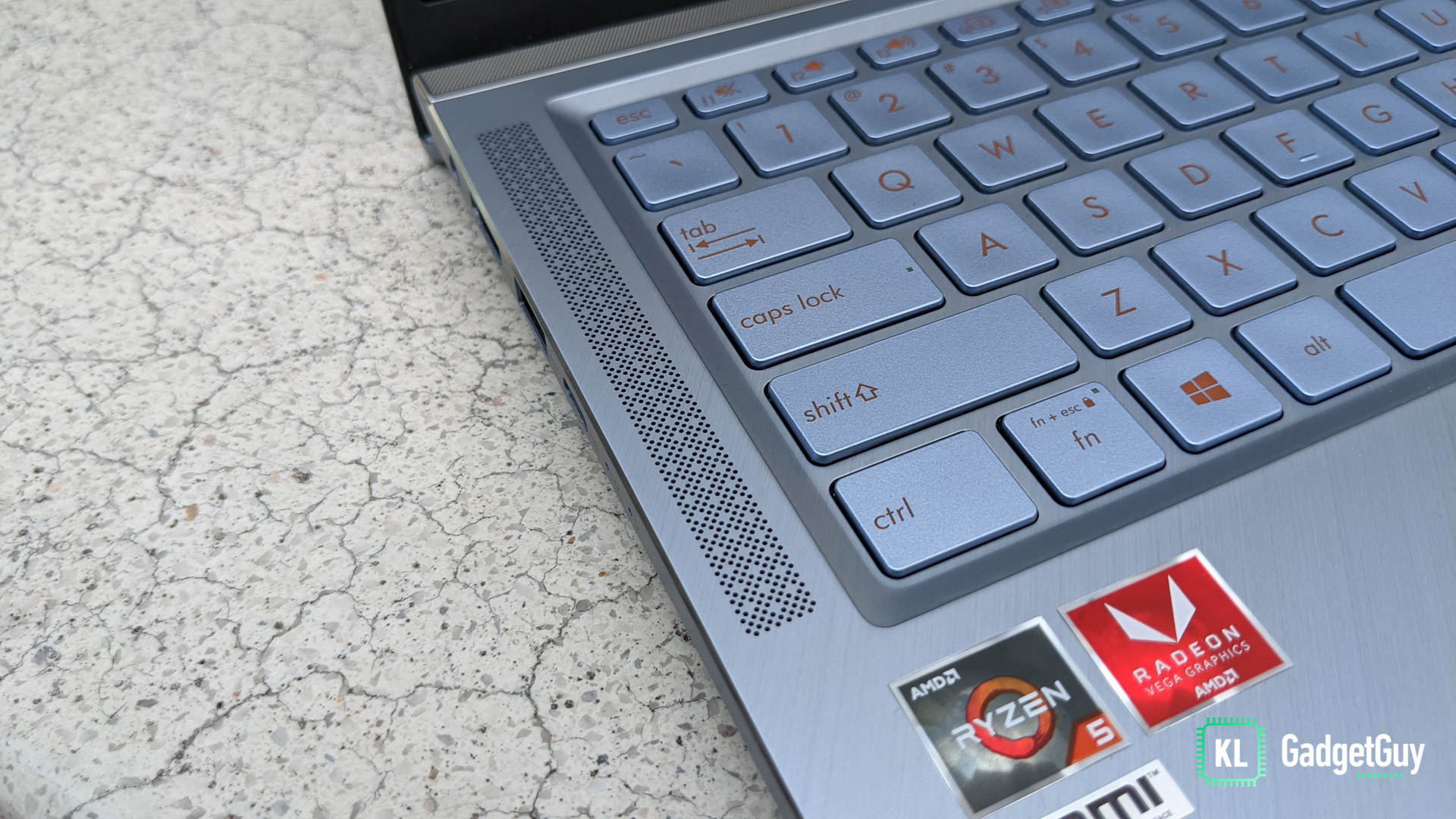 As the Radeon Vega 7 integrated graphics shares memory with the system's RAM, there's only 6GB of available RAM and can cause the ZenBook 14 to struggle when you have too many apps running in the background, especially when it comes to web browsing on Chrome, switching between tabs will sometimes cause the page to reload, there's no way to reconfigure shared graphics memory if you ever want to, so you might want to consider this investment if you are a heavy multitasker.
Like I mentioned in the beginning of this review, the beauty of AMD Ryzen mobile powered laptops is the ability to run lightweight graphics processing tasks all thanks to the much better Radeon integrated graphics. I tried editing a five minute long 4K video on Premiere Pro 2020 and while there's still a slight lag after adding some effects, it plays my edited preview with no sweat at full 4K resolution.
In terms of lightweight gaming, I find it to perform better than the HP Envy x360 that I reviewed last round, though I still unfortunately have to set graphics setting to the lowest and even reduce screen resolution to achieve more than 30 frames per second in games like Shadow of the Tomb Raider and Devil May Cry 5, it can handle MOBA games like DOTA 2 and League of Legends without much graphics compromise.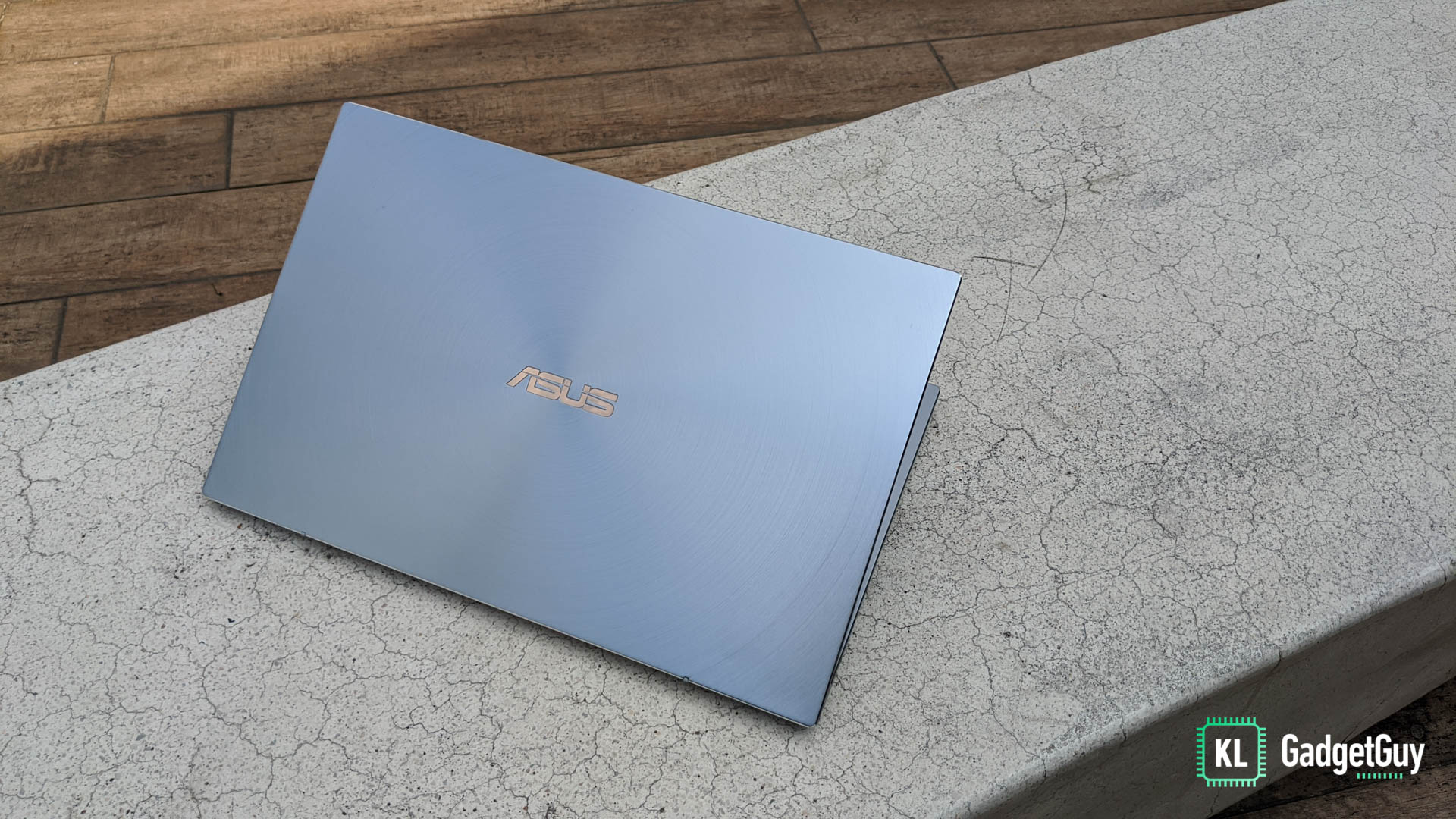 Most of you are probably concerned about thermals on AMD Ryzen laptops back on my HP Envy x360 review, I'm happy to report that the ZenBook 14 has no issues on that, as idle temperatures remain around 36°C and gaming will bring it up to 62°C, it is very reasonable for an efficient system-on-chip and I have not encounter any throttling issues during the period.
Apart from thermals, AMD powered laptops have long been criticised of battery life, the Zenbook 14 doesn't disappoint fortunately and gave me up to 7 hours of usage on a single charge, it is still a farcry from ASUS' 12.5 hours claim, but considering I'm always pushing it with a dozen of browser tabs and streaming Spotify in the background, I am not going to complain.
Retailing at RM2999, the ZenBook 14 falls under the competitive mainstream laptop category, where other brands are also offering laptops with a similar set of hardware, but what's going to make you want to consider this machine would be its great hardware build and design, although it's quite a shame that it doesn't give you the option to increase RAM, you can still at least upgrade the SSD if you ever want to, this is the most beautiful AMD Ryzen mobile powered laptop that you will ever get the chance to own.
The Good
Unique color option and great craftsmanship
Decent everyday computing performance (if you don't multitask a lot)
Upgradeable storage
Good display panel
Speaker is better than many others
The Not so Good
Non-upgradeable RAM
No USB-PD charging