If you're a gamer, it's likely that you've been told regularly to never buy a pre-built PC – and this was true a few years ago when the PC-building culture wasn't as popular as it is now. To counter that, mega-brands have to adapt to continue selling their pre-builts, and one company that has done so well is ASUS with their ROG Strix GL10CS desktop. 
It's a mid-range PC that's priced from a very affordable RM2,499 – ours comes with an Intel Core i5-9400 CPU paired with an Nvidia GTX 1660Ti GPU and it costs RM3,999. You can also get the range-topper with a Core i7-9700K and GTX 1660Ti for RM5,399 too.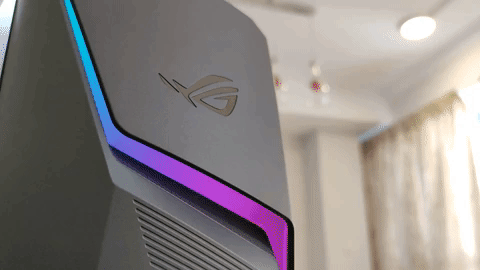 Right off the bat, you get a decent looking chassis with an interesting-looking front panel that's angular and has a single RGB strip running from top to bottom, in a 'Z' pattern. Upon closer inspection, the case is plastic on the front and top, while the side panels are metal. Besides that, the chassis doesn't have a lot going for it – the back plate is left unpainted too.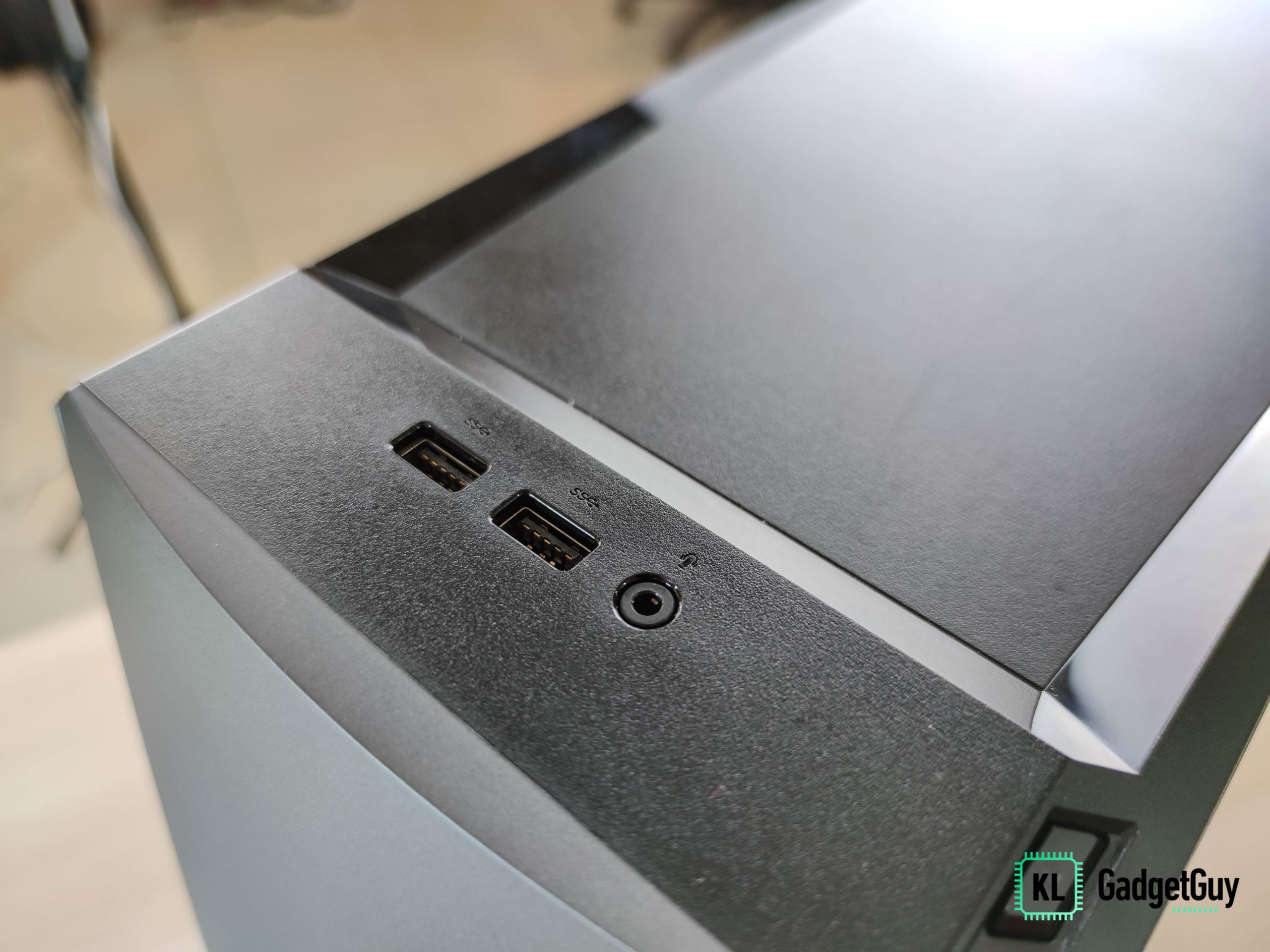 In terms of I/O ports, you get two USB Type A front panel ports and a headphone jack; at the back two more Type A 2.0 and two Type A 3.1 ports. For display, you get a one 2 HDMI, one DVI and one DisplayPort; while for connectivity and audio. It's completed with an ethernet port and your usual audio in and out jacks. 
Its micro ATX size makes it portable and light – it also measures 42.8cm high with a width of 18cm. Carrying this around is not difficult at all. But with a small form factor, comes limited room for upgradability. Removing the side panels require you undo four screws, two on each panel – it's easy enough to do even if a bit outdated. 
In terms of cooling, the CPU is attached to a stock cooler. There's only one exhaust fan available – despite there being vents on the front panel, there doesn't look to be provisions for front-mounted fans either. The top of the case also doesn't offer ventilation.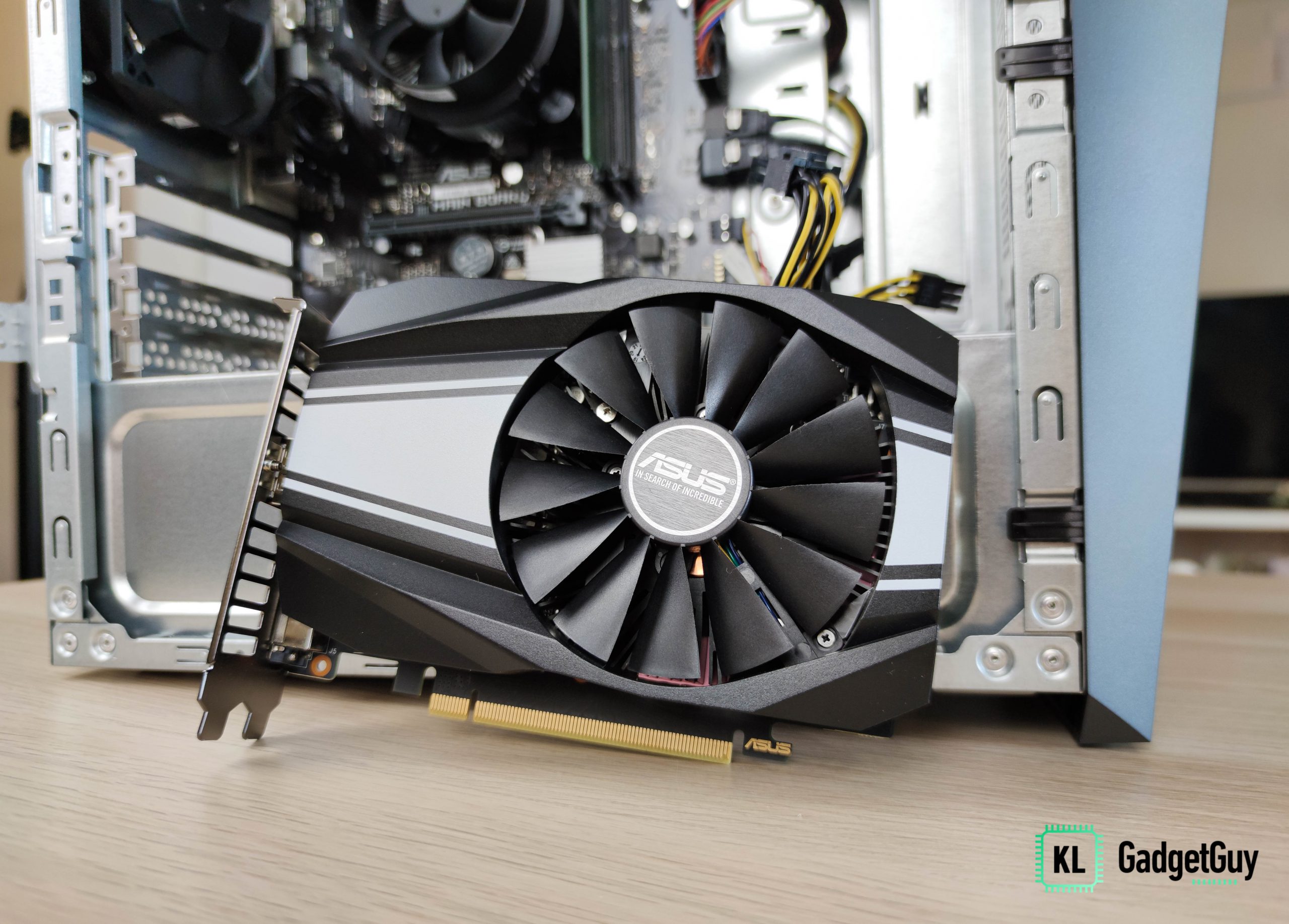 Now, let's talk specs. As mentioned, this comes with an Intel Core i5-9400 CPU coupled with an Nvidia GeForce GTX 1660Ti 6GB. You get one stick of RAM – mine was 8GB DDR4 memory at 2,666Mhz. You can upgrade up to 32GB RAM via a second slot.  
The micro-ATX motherboard here is quite stripped down in terms of aesthetics and it runs on an Intel B360 chipset. We can't tell if the mobo used here is from any of Asus's retail options, but it has the bare basics.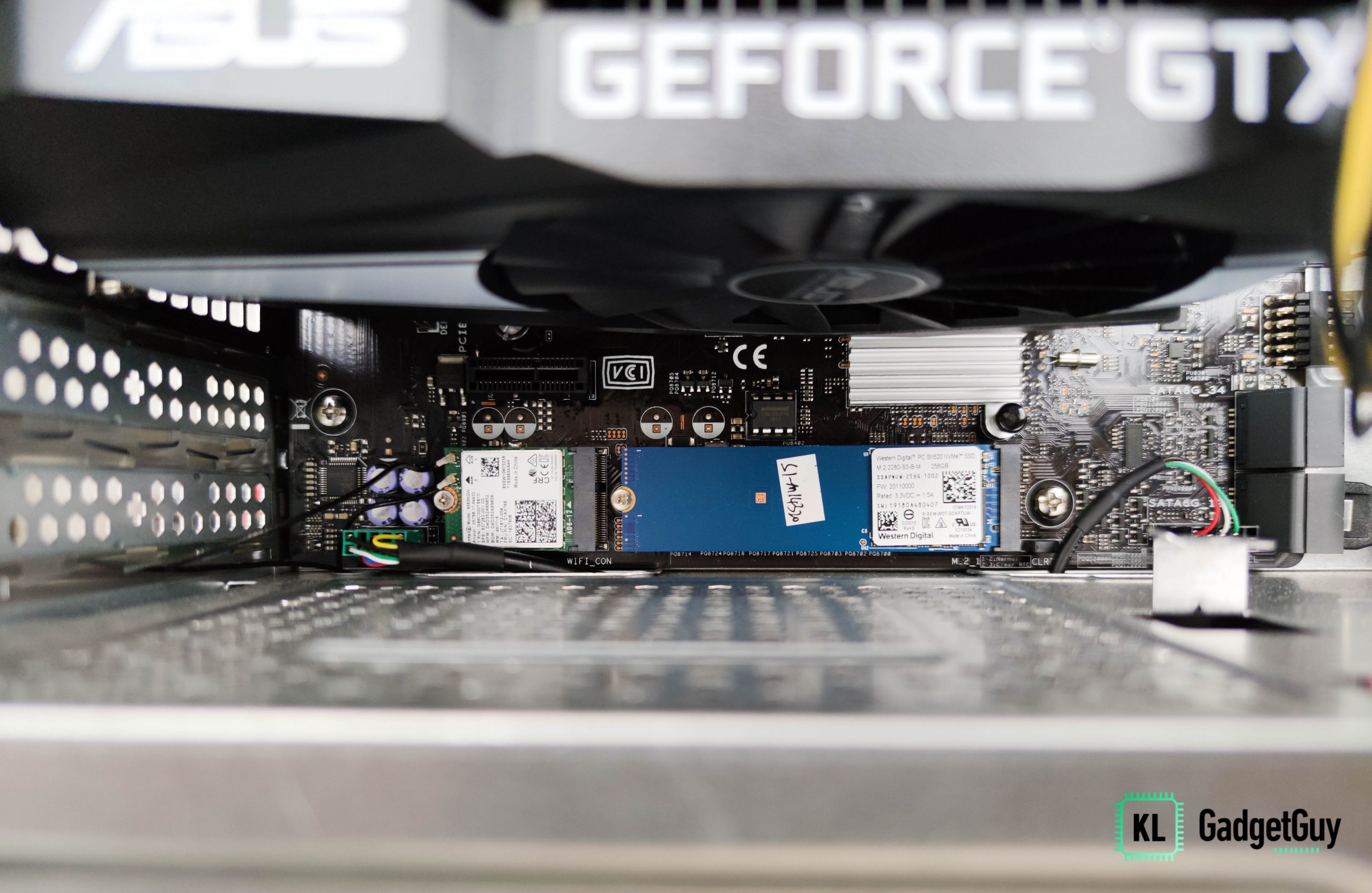 The only available expansion slots on the mobo (out of the box) is a PCIe 1x slot. Your only PCIE x16 slot is occupied by the GPU, meanwhile both M.2 connectors are taken up by the NVME 256GB SSD and the 2×2 WiFi card. 
So, unless we're talking about adding an extra stick of RAM, there's not much room for upgradability unless you swap out the parts. But this is expected of a micro-ATX board. The 1TB HDD and 500W 80+ rated PSU sits in an isolated enclosure at the bottom of the desktop. One problem with this is that, out of the box, the cable management at the back makes it difficult to get to these two components. Also, a 500W PSU may not be enough should you decide to upgrade your components down the line – I'd expect that to be the first to go if you're thinking of beefing up your rig.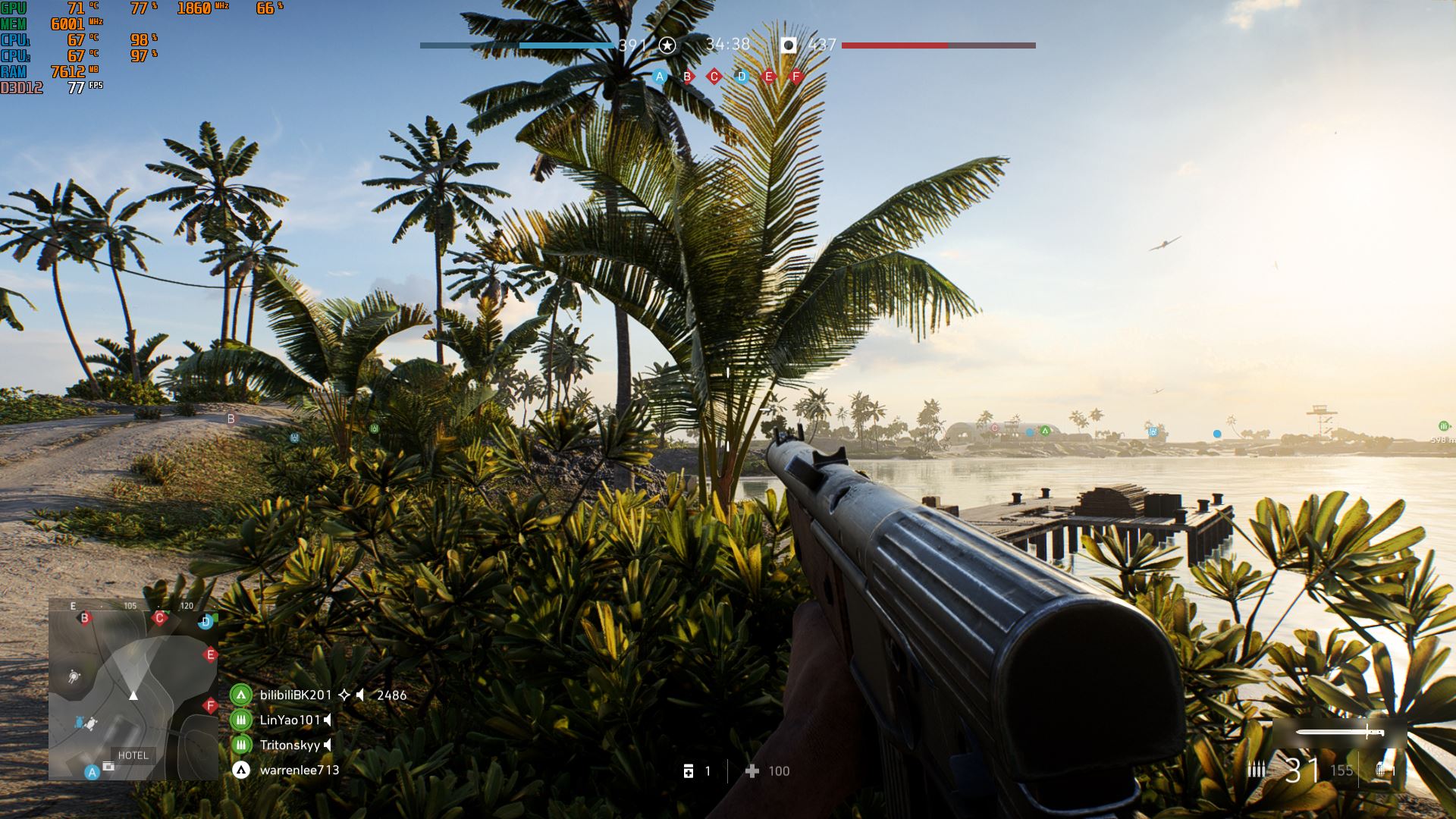 But I've been rambling on long enough – let's talk about performance. The Core i5-9400 + GTX 1660Ti configuration is a familiar one, so we're not going to get into too much detail here. All titles tested were played on 1080p resolution. Over on Battlefield 5, we got a steady 60-70 fps on the ultra. GPU temps maxed at 80 degrees Celsius, with CPU temps reaching low 70s.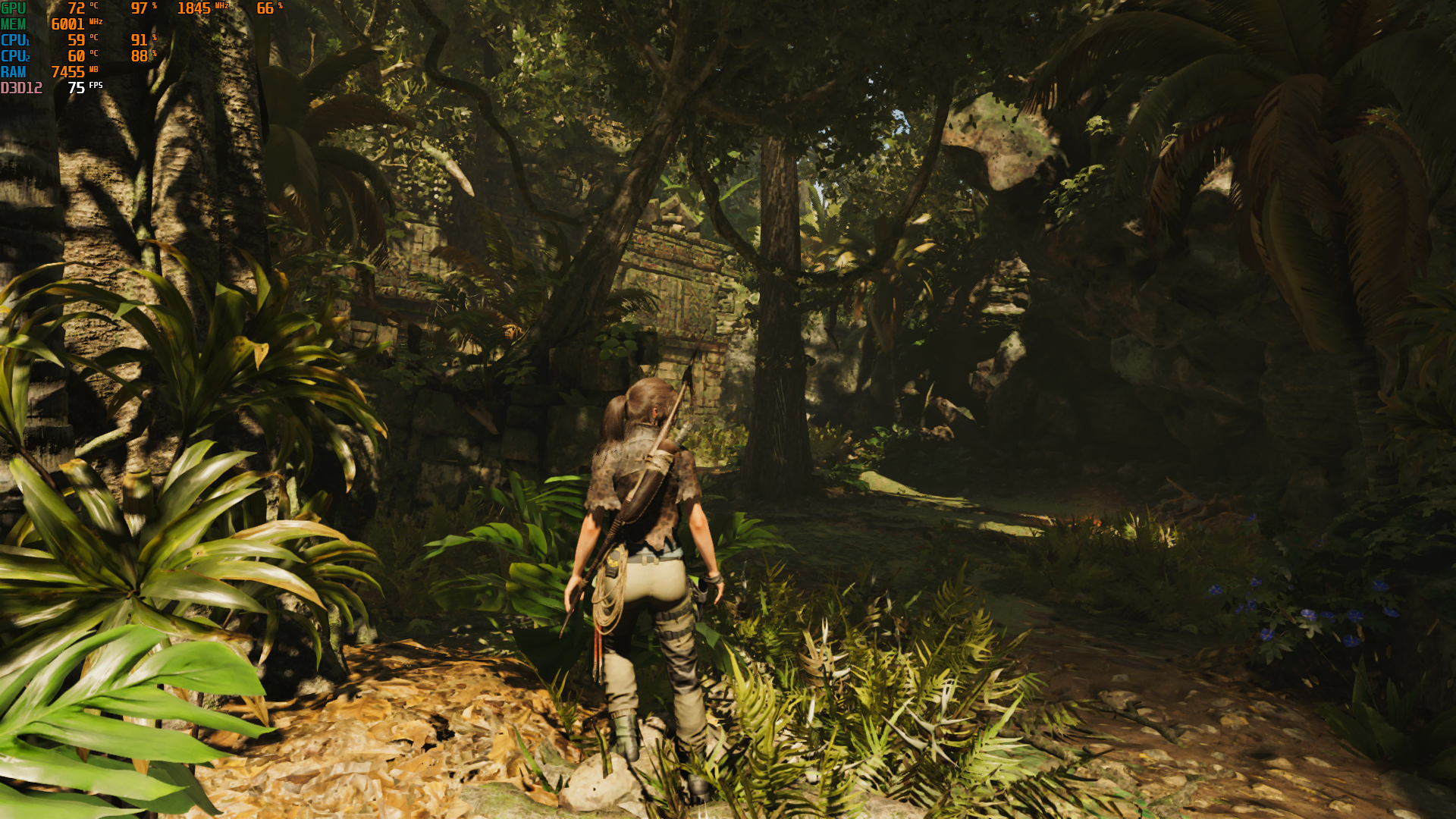 Moving on to Shadow of The Tomb Raider, on the highest settings with v-sync on, stereoscopic filters off, the machine managed a around 80 fps in high foliage areas. Temps on the GPU got up to mid 70s while the CPU got up to low 70s.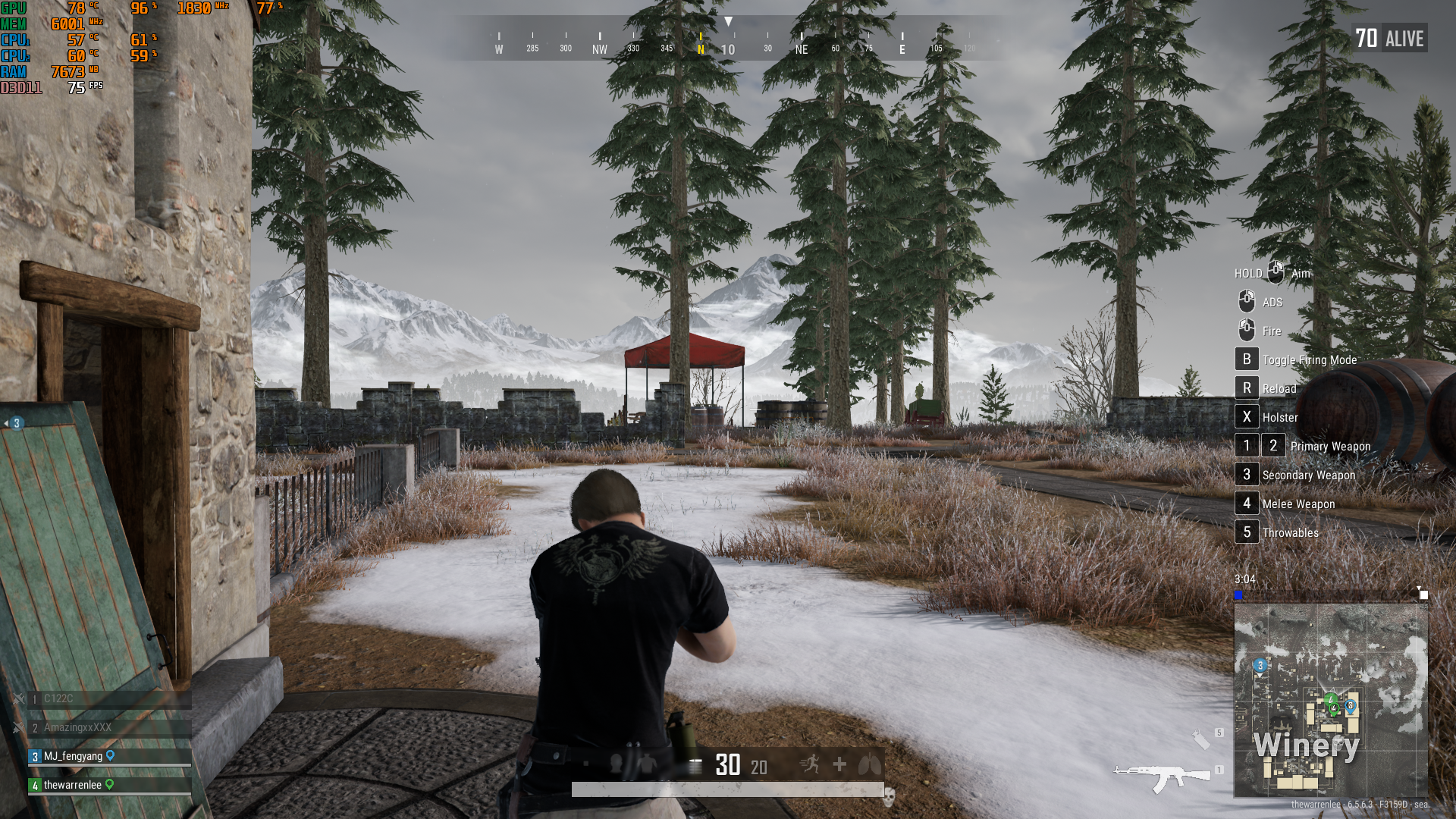 PUBG scored a good 80 fps with v-sync one. There were slight drops occasionally when outdoors, but thankfully no stutters here. GPU temps stayed below 80 degrees Celsius, while CPU temps maxed at around mid 60s.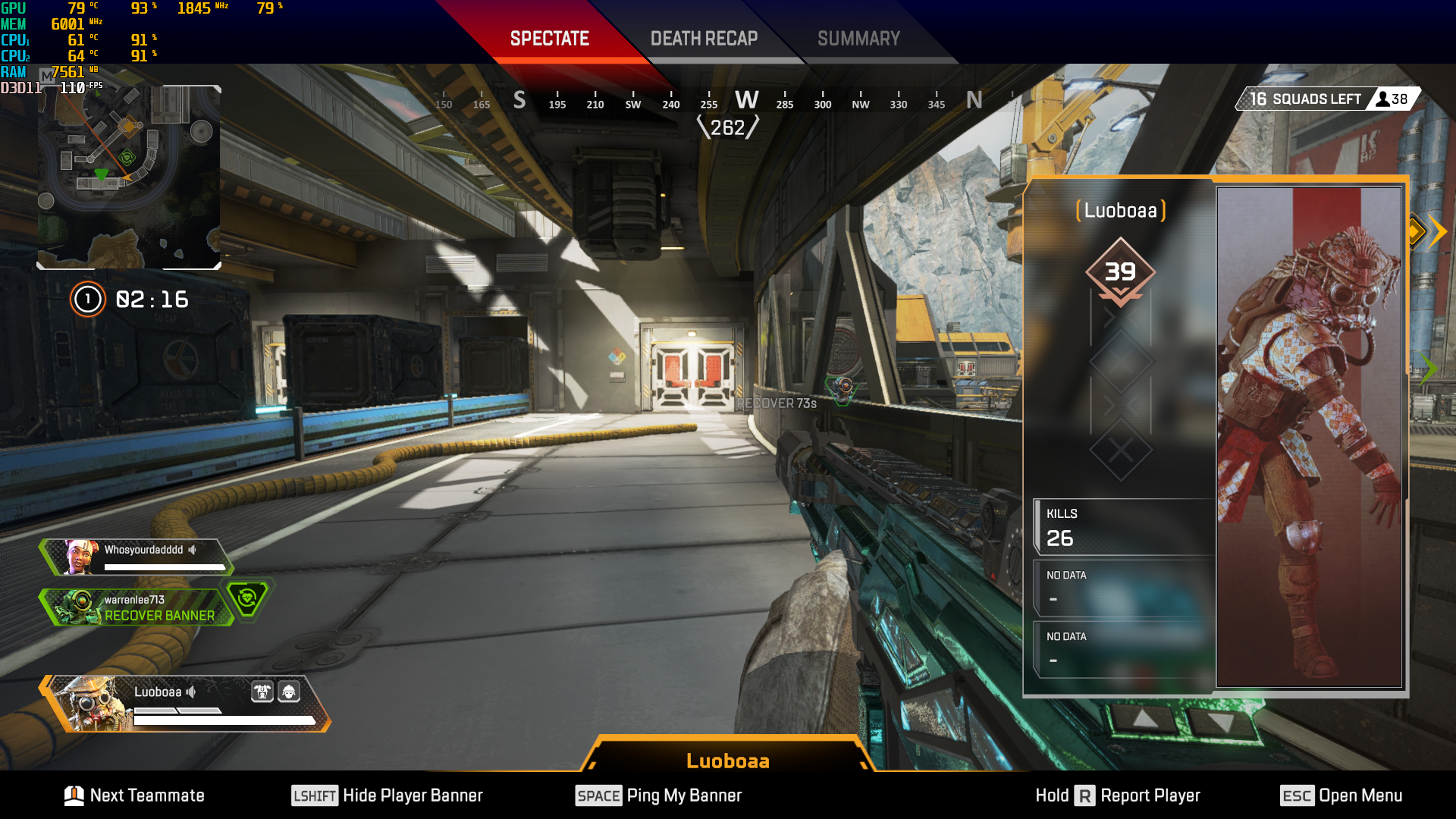 We also tested out Apex Legends and got about 110 fps indoors and 100 outdoors. During heavy firefights, expect a drop to around 80-90 fps. Temps for the GPU was at a constant high 70 degrees, while CPU temps hovered around mid 60 degrees.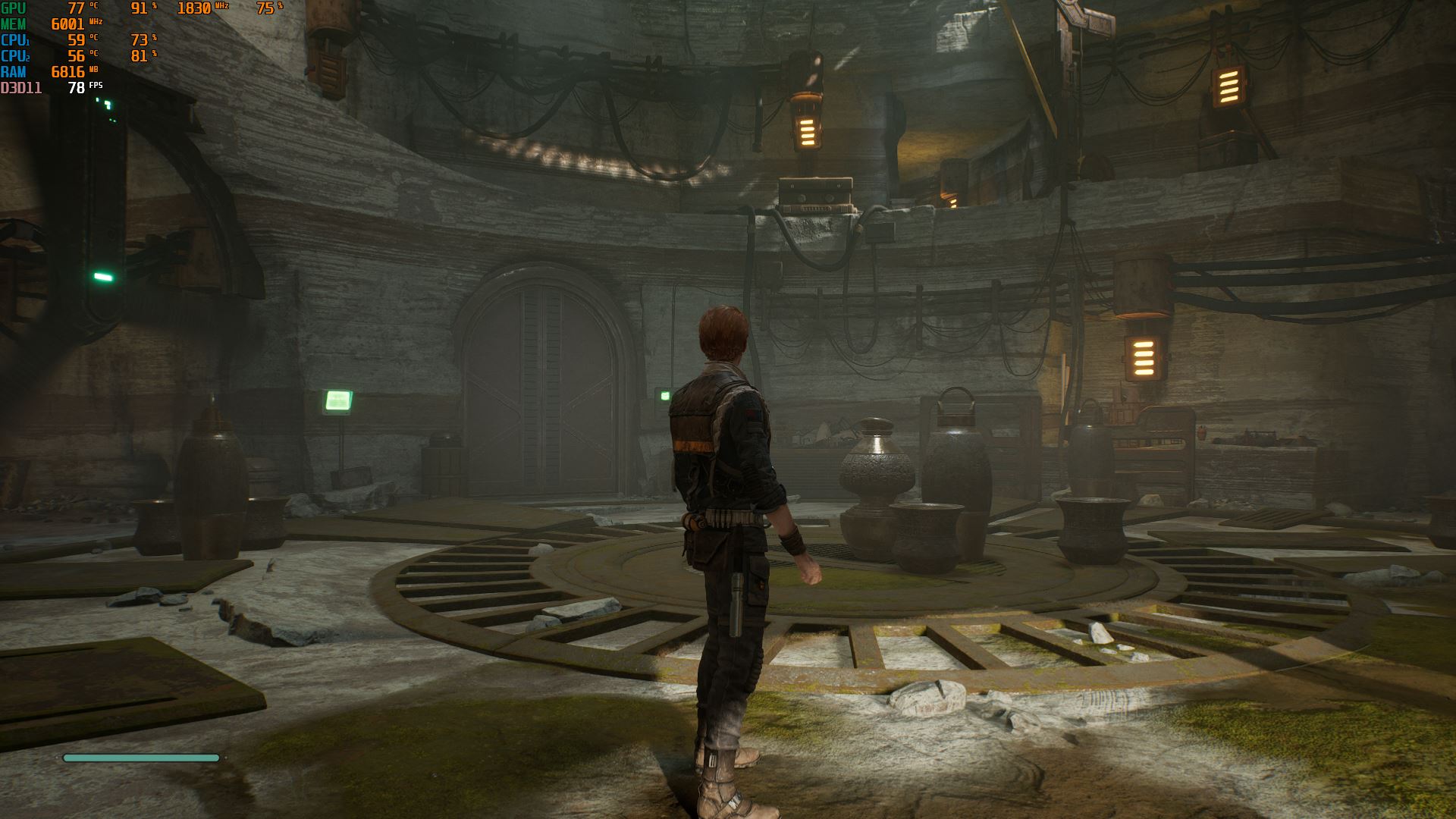 Finally, we also tested out Star Wars Jedi: Fallen Order – on the highest settings again, it averaged around 68 fps during battles and around 80 fps when roaming around. GPU temps are a constant high 70s while CPU temps stay at a cool 60 degrees.  
So, despite having limited cooling options, the desktop remained relatively cool for about three hours of gaming on each title. But herein lies a problem – fan noise. One moderate to heavy loads, obnoxious whirring can be heard, and that's the GL10CS' biggest problem. But If you've got headphones on, then I guess that's one way of resolving the issue. 
If you're interested in benchmarks, the PC scored cored 5,838 on Time Spy and 13,086 on Fire Strike. Storage benchmarks saw a sequential read and write of 171 MB/s and 169 MB/s respectively for the HDD, while an impressive 1,700MB/s and 637MB/s read and write on the SSD. 
Verdict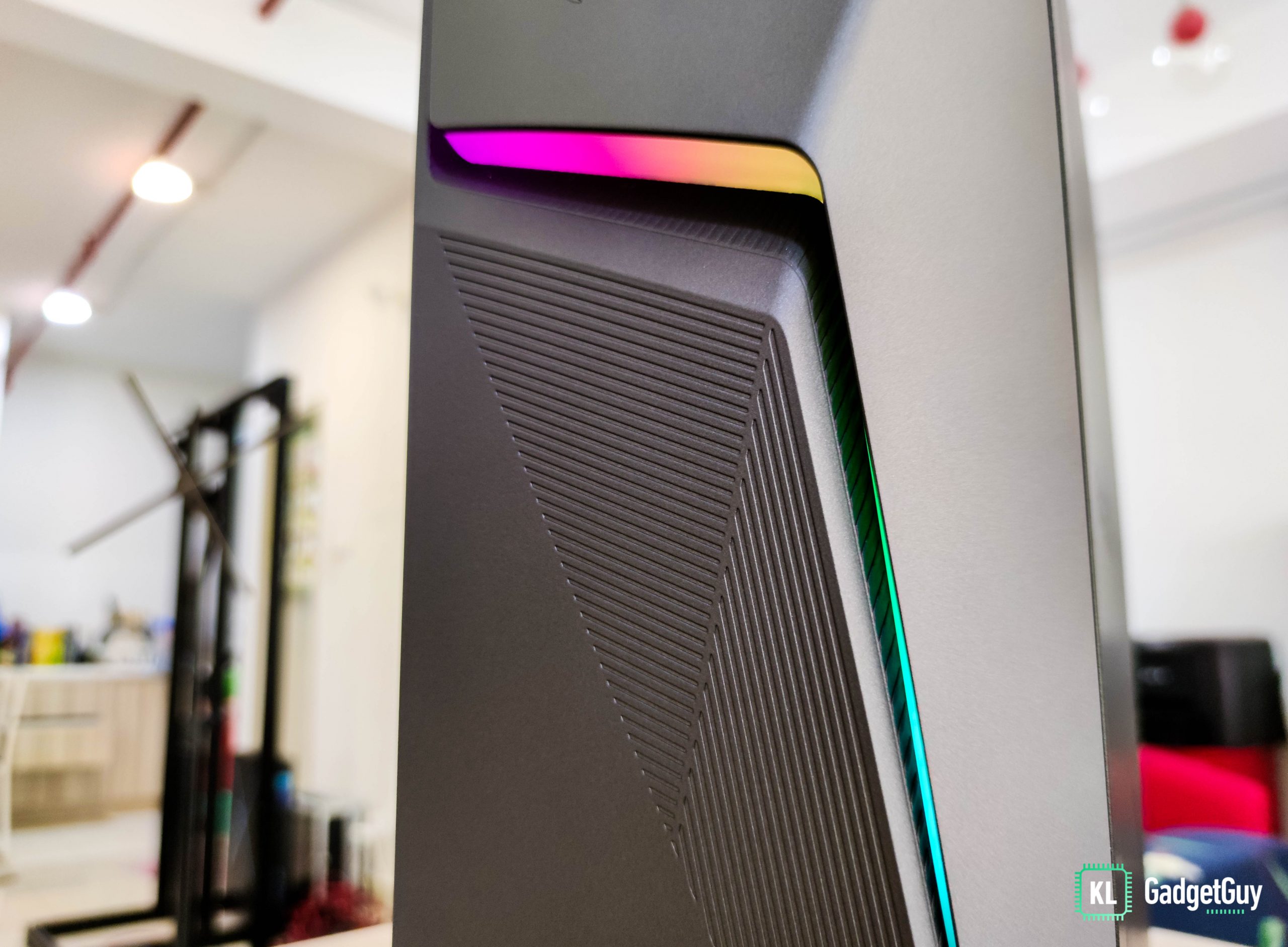 The ASUS ROG Strix GL10CS is a built like a plug-and-play desktop and it shows – certain elements like the case, mobo and fans (or lack there of) remind you that this is an affordable pre-built mid-tier PC.  
Despite this, it performs well in the one area it's supposed to excel in – gaming. It's Intel Core i5-9400 + GTX 1660Ti configuration is more than capable of delivering reliable 1080p performance at around 100 fps. Despite having only 8GB RAM, I experienced very minimal stuttering too – but we still say go for an extra 8GB if you can. 
But let's go back to the "never buy a pre-built" sentiment for a bit – I've tried to build a system to resemble the GL10CS, and managed to keep it within a budget of RM500 less than what the ASUS costs. With a custom build, you at least know what parts you're getting. 
But hey, think of that RM500 as a surcharge for having it built for you and being able to just plug it in and game almost instantly – you also get a decent-looking case that's light and easy to carry around for LAN parties.  
We'll always tell you to go for a custom build whenever you can, but if you're looking for the convenience as well as the warranty service you'd get from a Tier 1 brand pre-built rig, the ASUS ROG Strix GL10CS is a decent buy. Visit ASUS's website here to make your purchase. 
The Good
Good gaming performance
Ample configuration options
Plug-and-play
Lightweight
Nice-looking case with RGB
The Not so Good
Loud fan noise
Slightly expensive
Outdated case side panels
Lack of provisions for intake fans
Limited upgradability