In the ever-raging battle between Nvidia and AMD in the GPU market, Team RED looks to be getting the edge over Team Green in the midrange segment – the newly-launched AMD Radeon RX 5700XT provided better 1080p performance than the RTX 2060 Super for a very similar price. 
But if that's too pricey for you, your next best option could potentially be the Radeon RX 5600XT – it's not out yet, but ASRock has had specs for their version of the card leaked online. It looks to be a competitor to the Nvidia GeForce GTX 1660 series cards – and more closely pitted against the GTX 1660Ti.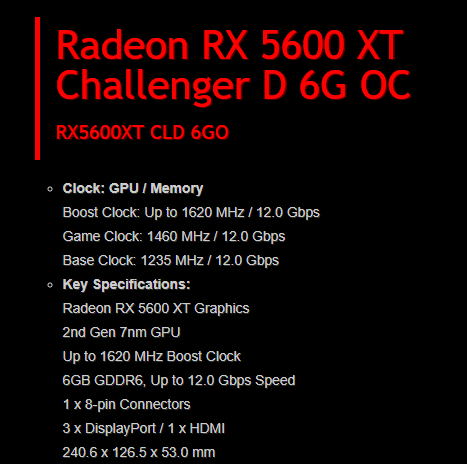 According to the leaks, it's got a base clock speed of 1,235 Mhz, a game clock speed 1,460, and a boost clock of up to 1,620Mhz – which are lower than the GTX 1660Ti's 1,500/1,770 base and boost clock speeds.  
Despite this, leaked benchmarks for show the RX 5600XT beating out the GTX 1660Ti by some margin – Team Red scored 6,446 to Team Green's 6,405 on Time Spy, 4,756 to 3,364 on Fire Strike Ultra, 9,198 to 7,049 on Fire Strike Extreme, and 18,906 to 14,288 on Fire Strike.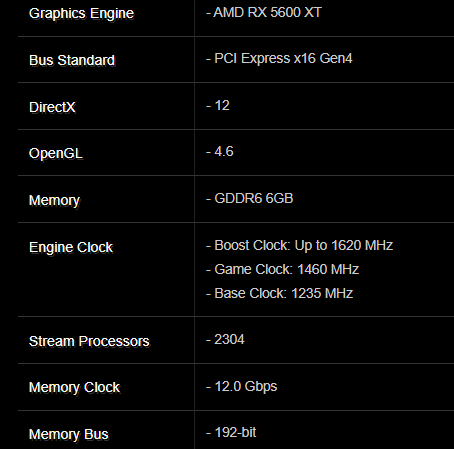 The Radeon is built on a 7nm Zen 2 architecture and can take advantage of the latest PCIe 4.0 interface. It comes packed with 6GB GDDR6 memory with a 12GB memory speed. 
It requires an 8-pin connector for power and for display, it boasts three DisplayPort 1.4 ports and one HDMI port. 
It looks like an impressive 1080p GPU so far and if its priced competitively, we could see even more people flocking to AMD soon. There's no word on how the card will look like yet, but it's likely we're going to see AMD's reference cards at the upcoming CES 2020 convention.